Welcome to Smugglivus 2012! Throughout this month, we will have daily guests – authors and bloggers alike – looking back at their favorite reads of 2012, and looking forward to events and upcoming books in 2013.
Who: Karen Mahoney, YA/UF author of The Iron Witch trilogy as well as the Moth Series. Karen is also a good friend and honorary Book Smuggler.
Recent Work: Karen was super busy in 2012 with the release of The Wood Queen, the second book in the Iron Witch trilogy; Falling to Ash, the first full length novel in the Moth Series; as well as starting a very cool webcomic following Moth's adventures: Moth Tales.
Karen is here today doing a joint review with Ana, please give it up for Karen, folks!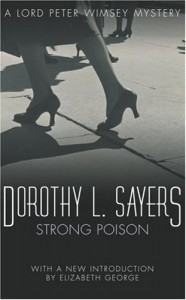 Strong Poison by Dorothy L Sayers (Lord Peter Wimsey #6); First published 1930, this edition 2004 by New English Library; Paperback, 204 pages
Can Lord Peter Wimsey prove that Harriet Vane is not guilty of murder–or find the real poisoner in time to save her from the gallows?

Impossible, it seems. The Crown's case is watertight. The police are adamant that the right person is on trial. The judge's summing-up is also clear. Harriet Vane is guilty of the killing her lover. And Harriet Vane shall hang.

But the jury disagrees.
Ana: And now, for something completely different. We invited Karen Mahoney as a Smugglivus guest and when brainstorming about content, we decided to do a joint review. We picked Strong Poison for two reasons: we were both in a historical crime fiction mood and because I had been told that Strong Poison was the place to start with Dorothy L. Sayers' Lord Peter Wimsey series. The reason why this is the place to start is the fact that this book features the start of a romantic relationship between its main character and a woman – a mystery writer – named Harriet Vane. In a way, it is actually really funny that we picked up a crime novel because of its romantic storyline. And after reading it, I can totally understand why so many people love this. In fact, I fell so hard for Strong Poison as well as the Wimsey-Vane relationship that I went on an obsessive binge and read Have His Carcase, Gaudy Night and Busman's Honeymoon in quick succession. I can honestly say, without a shadow of a doubt, that these books are now some of my all time favourites.
Kaz: I must just interject here and say that ANA was actually the one in the mood for historical crime fiction. All I said to her while we were book-shopping in Foyles was: "I feel like something different. I've been reading tons of urban fantasy and paranormal romance and need to branch out a bit." I'd just come off the back of a crime and thriller kick, before losing myself in UF/PR again (and am now onto contemporary YA, just as a point of interest – I know! Ana probably can't believe that because I don't read much contemporary YA). So the idea of some classic detective fiction appealed to me as something COMPLETELY different. I can honestly say that I didn't expect to love this book as much as I did, and am so glad that I kept an open mind. Thanks, Ana!
Ana: So. Strong Poison. The main investigation concerns mystery writer Harriet Vane who has been arrested for the poisoning of her former lover and all signs points to her being guilty. Except Lord Peter Wimsey – a gentleman detective and the main character of this series – is 100% sure she is innocent. Also, he falls in love with her at first sight and is determined to prove her innocence so that he can marry her. If she will have him.
The story progresses as Lord Peter sets out to investigate the circumstances of Harriet's former lover's death and although this is a nice cosy mystery storyline, I can't really say this is the most distinctive aspect of the novel. I actually correctly guessed the murderer, the motive AND the "how did he do it" in no time at all. [Kaz: I didn't guess it for ages. Clearly, you are far more of a sleuth than I…] No, the most distinctive aspects of the novel are everything else about it: the characters, the writing, the humour, the metatext, the subplots, etc.
All that said, I'd like to concentrate on three aspects of this novel (which are applicable to the series as a whole) that struck me the most.
1)These books are hilarious. If there was one thing I was NOT expecting was for them to be so funny. It all boils down to Lord Peter's voice of course which is often self-deprecating and nearly always used to disguise his more serious (and deeply emotional) side. I think the quote below gives a good indication of what I am talking about (context: he had just proposed to Harriet for the first time):
What would your father think about it?"

"Oh, my mother's the only one that counts, and she likes you very much from what she's seen of you."

"So you had me inspected?"

"No-dash it all, I seem to be saying all the wrong things today. I was absolutely stunned that first day in court, and I rushed off to my mater, who's an absolute dear, and the kind of person who really understands things, and I said, 'Look here! here's the absolutely one and only woman, and she's being put through a simply ghastly awful business and for God's sake come and hold my hand!' You simply don't know how foul it was."
Kaz: I absolutely agree with Ana about the humour and Lord Peter's voice. My very first thought about him was that he reminds me of Sir Percy Blakeney from The Scarlet Pimpernel (note the vague name similarity!) – foppish and, as seen by others, rather silly on the surface… but underneath there's a lot more going on. The image is a shield. I'm not yet quite sure what Lord Peter is covering up, or protecting (I need to read more of the books), but I don't mean that to sound sinister. I just think he's very guarded and afraid to fall in love; afraid to be his true self. Also, as in Sir Percy Blakeney's case, both men are clearly using their foolishness to disguise their superior intelligence and the good deeds they're doing quietly in the background. I could totally picture Anthony Andrews as Lord Peter Wimsey, eyeglass and all!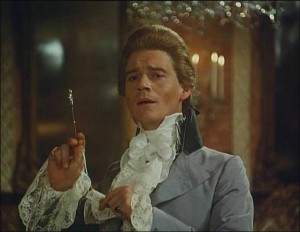 Another modern-day version of Lord Peter could be Bruce Wayne/Batman. Stay with me on this one: privileged, financially secure upbringing; secrets hidden behind a mask of triviality and partying; superb DETECTIVE. Need I go on? *ahem*
Ana: 2)Critical approach to gender roles and sexism. In other words: feminism for the win. There is the way the characters are so forthcoming about how they think about gender roles and how astute and critical those are. And because I didn't know anything about Dorothy L. Sayers or these books (please don't judge me) I was SO NOT expecting that these characters would be like that or that the meta would be so awesome and I loved the portrayal of female characters altogether. This book was written and is set in the 30s and I was like MY ASSUMPTIONS ABOUT THE 30S: they are all wrong. This just goes to show how what we think as "realistic historical portrayals of women" are our ignorance showing.
Kaz: I loved this facet of the novel, too! I hadn't read a single Dorothy L. Sayers book before now, neither did I know anything about the author. (I've just ordered a collection of her early letters with some of my Christmas book vouchers because I suspect they'll make very interesting reading… I would particularly like to find out if Sayers was an admirer of Wilkie Collins' character, Marian Halcombe from The Woman in White.) Even though we don't see enough of Harriet Vane in this book – in my humble opinion – we have so many other wonderful female characters to enjoy. I was especially fond of Miss Katharine (Kitty) Climpson, a great friend and colleague of Peter's. She acts as a sort of secret agent for him, and has the perfect disguise as an ageing spinster who runs an employment agency for secretaries – ladies who are also called upon to help in Lord Peter's investigations. LADY SLEUTHS, ftw! As Kitty herself points out while trailing a potential witness:
The male detective, particularly when dressed as a workman, an errand-boy, or a telegraph-messenger, is favourably placed for 'shadowing'. He can loaf without attracting attention. The female detective must not loaf. On the other hand, she can stare into shop-windows for ever.
Ana: 3) The romance. Oh my sweet baby Jesus, this is quite possibly one of my most favouritest romances of all time. EVER. Their interactions are not only smart and witty but also respectful of each other's boundaries. They start off on the wrong foot – with Peter proposing on a whim and being slightly pushy about it as Harriet is on death row and not exactly inclined to think about romantic entanglements – but the text and the characters acknowledge this. The best thing is how Harriet does NOT GIVE IN to his pushiness because she wants to be completely sure there is real love there, not anything that is simply about being grateful (because how could she not be grateful when he has saved her life). Suffice it to say that theirs is a difficult romantic relationship that is about negotiation above all and it takes nearly 5 years for them to sort their issues. In the meantime, our collective hearts get through the wringer BUT the way things are resolved (Gaudy Night: read it) in the end are as perfect as any fictional relationship has any right to be.
Kaz: I already invested in the next two books – Have His Carcase, Gaudy Night – but have yet to read them, so I don't know how the romance turns out. However, we see enough in >Strong Poison to make me VERY hopeful. Very hopeful indeed. I just love the banter between Peter and Harriet:
'If anybody ever marries you,' said Harriet, 'it will be for the pleasure of hearing you talk piffle.'

'A humiliating reason, but better than no reason at all.'
4) I'd like to add a fourth item to our list. I'm already in agreement with Ana on the above points, but I got a HUGE kick out of Sayers' sly commentary about the life of a novelist in the early 20th century. She managed to get in all kinds of things: commercial versus literary fiction; the poverty of the writer and how, very often, fame strikes after they are long dead; extreme publicity stunts in an attempt to sell more books; not to mention her sly digs at readers and reviewers. At a dinner party we have the following scene where people are discussing whether or not Harriet really did murder her lover—a fellow writer:
'I've no doubt she did it, and I don't blame her,' said Captain Tommy Bates; 'perfectly foul blighter. Has his photograph on the dust-cover on his books, you know – that's the sort of squit he was.'

'But he was a very fine writer,' protested Mrs Featherstone.

'Well, I wouldn't have the muck in the house,' said the Captain, firmly. 'I caught Hilda with it, and I said, "Now you send that book straight back to the library." I don't interfere, but one must draw the line somewhere.'

'How did you know what it was like?' asked Wimsey, innocently.

'Why James Douglas's article in the Express was good enough for me,' said Captain Bates. 'The paragraphs he quoted were filthy – positively filthy.'

'Well, it's a good thing we've all read them,' said Wimsey. 'Forewarned is forearmed.'
Ha! Lord Peter Wimsey is my hero.
Ana: Finally, a couple of quotes that I loved in the book. I love this interaction between Peter and Harriet while he visits her in prison (Harriet starts it):
But, by the way, you're bearing in mind, aren't you, that I've had a lover?'

'Oh, yes. So have I, if it comes to that. In fact, several. It's the sort of thing that might happen to anybody. I can produce quite good testimonials. I'm told I make love rather nicely – only I'm at a disadvantage at the moment. One can't be very convincing at the other end of a table with a bloke looking through the door.'
I absolutely adore the fact that Peter wants Harriet as his equal in every way– nothing more, nothing less.
And then this one that says a lot about Harriet – and I 100% understand her:
Philip wasn't the sort of man to make a friend of a woman. He wanted devotion. I gave him that. I did, you know. But I couldn't stand being made a fool of. I couldn't stand being put on probation, like an office-boy, to see if I was good enough to be condescended to. I quite thought he was honest when he said he didn't believe in marriage — and then it turned out that it was a test, to see whether my devotion was abject enough. Well, it wasn't. I didn't like having matrimony offered as a bad-conduct prize.
I love this series. It pleases me. I'd give this one a 9 out of 10.
Kaz: I agree 200%. I'd give it a 9 as well and I am already utterly hooked! Because I'm so happy to fall in love with something new, I'd like to share that love. I have a UK paperback of Strong Poison to give away – and to add a little sweetener to the pot I am also giving away my one and only ARC of THE STONE DEMON (US edition) which will be out in April 2013. This is the third and final book in The Iron Witch trilogy. Both books go to one winner, anywhere in the world.
Thanks for letting me play reviewer for the day, ladies. Happy Smugglivus, one and all!

Thank you Karen, this was super fun!
And now for the giveaway.
GIVEAWAY DETAILS:
Leave a comment here to win a copy of both Strong Poison and The Stone Demon (ARC). Giveaway is open to ALL and will run until Saturday January 5, 11:59PM (PST). Good luck!