Old School Wednesdays is a weekly Book Smuggler feature. We came up with the idea towards the end of 2012, when both Ana and Thea were feeling exhausted from the never-ending inundation of New and Shiny (and often over-hyped) books. What better way to snap out of a reading fugue than to take a mini-vacation into the past?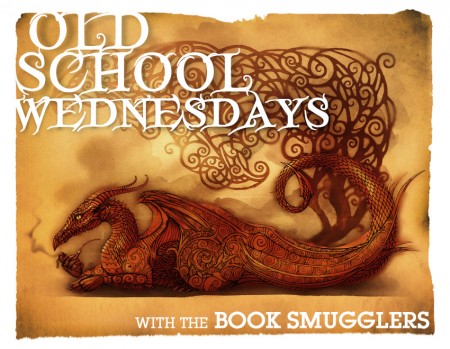 Logo designed by the wonderful KMont
In March 2013, we asked YOU for your favorite old school suggestions – and the response was so overwhelmingly awesome, we decided to compile a goodreads shelf, an ongoing database, AND a monthly readalong/book club.
This month, we tackle the second book in Rick Riordan's much beloved Percy Jackson and the Olympians series, The Sea of Monsters.

Author: Rick Riordan
Genre: Contemporary/Urban Fantasy, Middle Grade, Greek Mythology, Reimaginings
Publisher: Disney Hyperion Books
Publication date: First published 2006 (this edition 2014)
Paperback: 279 pages
The heroic son of Poseidon makes an action-packed comeback in the second must-read installment of Rick Riordan's amazing young readers series. Starring Percy Jackson, a "half blood" whose mother is human and whose father is the God of the Sea, Riordan's series combines cliffhanger adventure and Greek mythology lessons that results in true page-turners that get better with each installment. In this episode, The Sea of Monsters, Percy sets out to retrieve the Golden Fleece before his summer camp is destroyed, surpassing the first book's drama and setting the stage for more thrills to come.
Stand alone or series: Second book in the Percy Jackson and the Olympians series.
How did we get this book: Bought + Review Copy from the Publisher.
Why did we read this book: Because we're big Percy Jackson fans, and this year marks the 10th anniversary of Percy Jackson and the Oylmpians series! As part of the festivities, we're happy recipients of the following very cool Camp Half Blood survival pack, courtesy of Disney-Hyperion.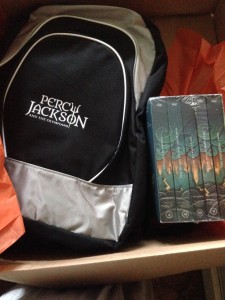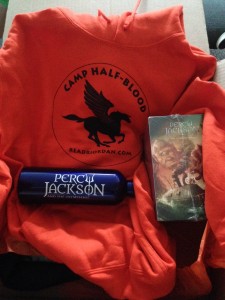 We'll be posting reviews of the entire original Percy Jackson and the Olympians series over the next three months, plus some other goodies. Check HERE (or #ReadRiordan) to get all of the Percy Jackson goodness.
Format (e- or p-): Print
Review:
Ana's Take:
Percy Jackson, the demigod son of Poseidon is back with a new adventure, new challenges and a different mission in this second book in the Percy Jackson and the Olympians series.
Percy has been looking forward to going back to demigod summer camp at the end of school year but a new threat – and a dramatic attack – against the campers sends him on a new quest. Except this time, he is going without the approval of his mentors. With his old friend Annabeth and new ally Tyson, a strange kid that behaves even more strangely than most campers, Percy must simultaneously save the camp, his fellow demigods, his best friend Grover and maybe, even, one of the greatest Greek treasures: the Golden Fleece.
I enjoyed Percy Jackson and the Lightning Thief and was keen on getting to read the sequel. In fact, reading the Percy Jackson books is proving to be an interesting reading experiment for me because these books are so action-focused and I rarely find myself reading those. I wouldn't say these are my favourites but the mix of a sharp voice and action-filled plot with a side of Greek mythology and portentous prophecy is actually pretty fun to read.
Right off the bat, the two things that I find myself enjoying the most when it comes to these books are the continuous adventure as the kids jump from danger to danger (this specific entry was a great kick-back to some of my childhood favourites like Jason and the Argonauts); and Percy's friends Annabeth, Grover and Clarisse. The latter, in fact, is growing on me to the point where she might actually become a favourite character. Clarisse, the daughter of the God Ares is as abrasive as you can expect and with a huge chip on her shoulder to try and prove herself worthy of her father's name.
"Proving themselves worthy" is a recurring theme in these books – imagine the incredible pressure these kids work under: to be the kids of GODS and to carry on whatever torch they must in order to survive. This, coupled with the fact that the creepiness of the Gods are continuously remarked on (although watered down for kids' sensibilities) makes for a sharp read. Percy himself finds that he has a half-brother and that he is not that special when it comes to his father (if he had any doubts). Although the focus on the Gods turning to America as the new seat of "Western Civilisation" is rather annoying and I could certainly do with different perspectives (read: non-white) within the novel.
Still. Good, fun. Bring on book 3.
Thea's Take:
It's a big year for re-reading, for me. Especially where Old School Wednesdays are concerned. Rereading Percy Jackson from the beginning is its own kind of delight–when I was a younger kid, I had a great love for mythology, particularly Greek mythology. Had Percy been around during my childhood, I would have been an ENORMOUS fan. (I only discovered Percy, Annabeth and Grover as an adult–but I still am quite fond of them all.)
In The Sea of Monsters, Percy has already successfully completed one quest and is eager to leave Manhattan for Camp Half Blood on Long Island–a desire that's growing even more intense when Percy starts having weird dreams about his best friend (and Satyr minder) Grover being in serious danger.
Things at Camp Half Blood aren't all roses, however–someone has poisoned Thalia's tree, and as a result the magical barrier protecting the camp from enraged monsters hungry for demigod blood is failing. To make matters worse, Percy's favorite teacher (the only camp councilor and mentor he's ever actually liked), Chiron, has been accused of the crime and asked to leave the grounds. With Grover missing, Chiron replaced with the nefarious Tantalus, and tensions rising within Camp Half Blood, Percy and Annabeth are more eager than ever to embark on a quest to save Thalia's tree from dying. The Golden Fleece (yes, that Golden Fleece) is every demigod's best hope at survival… Problem is, the camp elders Dionysius and Tantalus have picked Clarisse (bully and daughter of Ares) to champion the Quest. That's not quite reassuring enough for Percy and his friends–and soon, the half-son of Poseidon is forced to take matters into his own hands.
I love this second book in the Percy Jackson series–not only does it expand the scope of adventure (and it's AT SEA! HOORAY!), but it also takes a closer look at the implications of having Gods as parents, the weight of expectation on the children of those Gods, youth's irrepressible and ever-constant questioning of the status quo, and the age-old question of Fate versus Free Will. Oh, yeah, and the scope of action, the powers revealed, and secret family lineages come to fruition, too. Thematically, as Ana says, the book deals with the weight of expectation in a really impressive way. Living up to a sibling or a parent's legacy is tough–imagine how much tougher that might be if one's parent is an immortal of legend? You know what's even more interesting to me than the weight of parental expectation? Riordan's examination of children who are let down by their parents, and frustrated with the lack of attention (or other mistreatment) they may receive at their immortal progenitors' hands. The two best examples of that are Clarisse, who gets a scene with father Ares (and he's a jerk), and Luke, who is so angry with his father Hermes that he wants to tear Olympus down, brick by brick. The other character we meet in this second book is Tyson, who Percy believes to be a homeless teenager who is granted admission to his private school as a community outreach program–but, he's not. No spoilers, but Tyson's story and his own parentage, particularly at the end of the book, is not a happy or pretty tale. But Tyson and Percy? They are the best.
There's also the element of Fate v. Free Will that plays a major role in this book and the series overall. So far, we know that there is an Oracle, and that there is some Prophecy that involves Percy–a prophecy so disturbing, that no one, including Annabeth and Chiron, will give him a straight answer. The Sea of Monsters, like The Lightning Thief before it focuses on this prophecy and Percy's role in the future of all that touches Olympus, thanks to the schemes and plans of exiled, chopped up Kronos, the great nightmarish Titan parent of the Olympian Gods. (TALK ABOUT YOUR PARENTAL ISSUES, GUYS.) There isn't enough Kronos in this particular book… but he's coming. OH, HE'S COMING. And with a cliffhanger like the end of The Sea of Monsters, you know it's gonna be GOOD.
Of course, this isn't a flawless book–to Ana's point, homogeneity is a frustrating thing. This is a book about Greek Gods and the shifting of power from ancient Greece to "the West" (most centrally, the Empire State Building in New York as the new homebase for Olympus)–and that's all and fine and good, I just wish there was a little variation from the largely white main cast.
Still, there's so much good stuff here that I can't help but get caught up in the adventure all over again. I cannot wait to dive into the next book, next month.
Rating:
Ana: 6 – Good
Thea: 7 – Excellent