Title: Passing Strange
Author: Daniel Waters
Genre: Horror, Young Adult, Speculative Fiction
Publisher: Disney/Hyperion (US) / Simon & Schuster (UK)
Publication Date: June 2010 (US & UK)
Hardcover: 400 pages
Karen DeSonne is used to pretending to be something she's not. All her life, she's passed as a normal all-American teenager; with her friends, with her???? family, and at school. Passing cost her the love of her life. And now that Karen's dead, she's still passing – this time, as alive.

Meanwhile, Karen's dead friends have been fingered in a high-profile murder, causing a new round of anti-zombie regulations that have forced nearly all of Oakvale's undead into hiding. Karen soon learns that the "murder" was a hoax, staged by Pete Martinsburg and his bioist zealots. Obtaining enough evidence to expose the fraud and prove her friends' innocence means doing the unthinkable: betraying her love by becoming Pete's girlfriend. Karen's only hope is that the enemy never realizes who she really is – because the consequences would be even worse than death.
Stand alone or series: Book 3 of the Generation Dead series
How did I get this book: Review copy from the UK Publisher
Why did I read this book: Author Daniel Waters is a Smuggler favorite – his Generation Dead series keeps getting better (I loved both Generation Dead and Kiss of Life), so when we were offered a copy of Passing Strange, it was a no brainer. No pun intended.
Review:
Passing Strange opens with a new perspective: Karen DeSonne. Beautiful. Confident. Zombie. In a departure from the dominant perspectives of Phoebe Kendall and Adam Layman, Karen's story is every bit as haunting and beautiful as the prior two books. Ever since Generation Dead I have been intrigued by this beautiful, confident zombie – especially since we learned that she was a teen suicide, and suicides never come back. At least, they never did before Karen. But Karen is…different. Passing Strange is Karen's story – about her feelings, her depression, the events leading to her suicide, and the hard months after she has come back as a teen zombie (as you might guess, relationships with her parents and sister, her mother especially, are strained). These revelations and insights to Karen's character are well worth the two book wait – Mr. Waters handles Karen's depression, suicide, and her relationships with the honesty and respect they deserve. Karen's inner voice (before this book completely unheard) is beautifully detailed, spunky, and…well, so Karen.
While this is a character focused book, a revelations book, it also advances the overall series arc – tying up loose ends, especially where bigotry and opposition to the "differently biotic" are concerned, especially through the character of Pete Martinsburg. In Passing Strange, Karen decides to "pass" as human (with the aid of contact lenses, a little hair dye, and her almost-human fast reflexes) by holding a normal job at the mall. And, when she notices Pete Martinsburg (the bully that made hell of Tommy's time on the football team, the same venomous bigot that killed Adam Layman, the same anti-zombie zealot suspected of framing the undead for numerous attacks and even deaths) checking her out – unbeknownst to him that she is in fact Karen and a zombie – she makes a decision. Karen has long suspected Pete and his meathead friends of impersonating the undead, framing them for the murder of a lawyer, and she sees a valuable opportunity. Under the fake name Christie, Karen begins to date Martinsburg – and what she discovers he has planned next is nothing short of terrifying. Karen must earn Pete's trust and stop his next plan, but at great risk – for if Pete discovers Karen's true identity, she will be re-terminated. Permanently. From a plotting perspective, there's a lot going on with Passing Strange and I was pleased with the general progression of the story (and, as I mentioned above, with the change in point of view). While the plotting is a little on the melodramatic side, it is because of the strength of the characters that the novel – that the series, really – works. Karen, as mentioned before, is exquisite as a narrator, sounding very distinct from Phoebe, but ever as endearing as a heroine.
And then, the other two characters we learn a lot more about in this novel are Pete Martinsburg himself, and the fearsome zombie Takayuki – and both characters are extraordinary. Pete is a loathsome, vile excuse for a human being. His past actions and his vitriol in this book make him an easy character to hate – but I love that Mr. Waters gives him a depth, a certain understanding that even if it does not excuse his behavior, it explains how he has become the way he is. We've already heard about Pete's lost love, Julie, in prior books, but in Passing Strange in his relationship with Karen/Christie, more of those layers are peeled back, and we see how broken Pete is, how misdirected his anger and impotence. I'll never like Martinsburg, but I can understand him – and I think that was Daniel Waters' point with this complicated character. The same goes for Karen's friend, the troubled Takayuki. Misguided and angry in his own way, Tak and his band of followers deal with the continued survival of the zombies in the small Connecticut town – whatever the consequences. Tak's revelation in this book isn't entirely unexpected, but touching nonetheless. He's a character I always felt a little wary and a little cold towards, but Passing Strange examines his feelings and reasons beautifully too.
One more thing – I love the parallels Mr. Waters draws here with Karen's "passing" for a living teen. It is an intriguing concept, with obvious parallels – I'm thinking of "passing" in the racial sense. Karen's narrative reminded me in some ways of Passing by Nella Larsen; although Karen's decision to pose as a living teen has different motivations than Irene's in that novel. Essentially, Mr. Waters' series *is* a book about tolerance and injustice, suppressed rage and hope and fear and love, and these books, Passing Strange in particular, mimic a familiar history with Tommy spreading his message of equality and understanding, marching on Washington D.C., Karen passing for the living, taking a job, even fooling a boy. For this reason (along with Daniel Waters' solid writing and complex characterizations), Generation Dead remains one of my favorite paranormal YA series', and I cannot recommend it enough.
Notable Quotes/Parts: No official excerpt is up for the book, but you can check out author Daniel Waters' blog, the UK Facebook page, and UK publisher page for more information about this awesome book.
Additional Thoughts: I mentioned Passing by Nella Larson above, and I do think it is an apt book to keep in mind when reading Mr. Waters' work (his zombie metaphor is a solid one). Here's the skinny on Passing: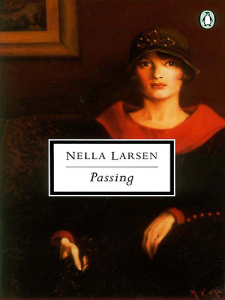 Married to a successful physician and prominently ensconced in Harlem's vibrant society of the 1920s, Irene Redfield leads a charmed existence-until she is shaken out of it by a chance encounter with a childhood friend. Clare Kendry has been "passing for white," hiding her true identity from everyone, including her racist husband. Clare and her dangerous secret pose an increasingly powerful threat to Irene's security, forcing both women to confront the hazards of public and private deception. An important figure in the Harlem Renaissance, Nella Larsen was the first African-American woman to be awarded a Guggenheim fellowship. Her fictional portraits of women seeking their identities through a fog of racial confusion were informed by her own Danish-West Indian parentage, and Passing offers fascinating psychological insights into issues of race and gender.
Rating: 8 – Excellent
Reading Next: East by Edith Pattou