A few weeks ago we reviewed a recently released Middle Grade Horror novel, the excellent The Cavendish Home for Boys and Girls by Claire Legrand. When talking to Thea about the book, she mentioned how it reminded her of some of her favourite childhood reads, especially Roald Dahl's Matilda, a book that was also mentioned as influence by Ms Legrand in this post about favourite Middle Grade Heroines.
This is where I admit that I never read Roald Dahl.
I KNOW.
I mean, obviously I have known about his books and I have watched plenty of movie adaptations of his works but given as to how his novels were never available to me as a child growing up in Brazil (rather, I don't think they were), I never actually read any of them. Until now.
With Halloween Week approaching, I decided to not only read Matilda but also to take this opportunity to read a couple of other classic Middle Grade novels as well – The House With the Clock in its Walls and The Children of Green Knowe – and make it into a Classic Middle Grade Horror Novel Marathon.
So, here we are.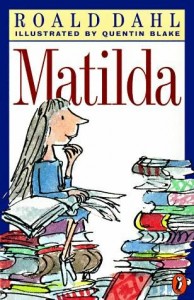 I started with Matilda (Puffin, first published in 1988). I guess I should probably start by saying that ok, maybe, technically Matilda is not really a Horror book. But if you take into consideration the telekinetic powers she develops? And the horrible mental and physical abuse she endures and witnesses? Then yes, it could well be a Horror novel.
In any case, Matilda is a young prodigy who at barely 5-years-old demonstrates an intelligence and maturity beyond her years. She is able to read anything and she loves books with a passion; she has awesome mathematical skills but also, possibly the worst parents in the entire universe. They do not appreciate Matilda, they don't even like her, and so they ignore the child completely. It is a horrible kind of abuse especially for a bright young child like Matilda who is completely aware of the unfairness of it all. And more: part of her parents' ignorant disregard for Matilda's intelligence stem from their belief that as a girl Matilda could not possibly be this clever. Right then, for this observation about the evils of ingrained sexism, I already love this book.
But then Matilda goes to school and on top of having the Worst Parents she also is unlucky enough to have the worst Head Teacher EVER in Mrs. Trunchbull, an evil bully of a woman whose outrageous behaviour towards the kids goes unchallenged by parents and teachers as well as kids because she is so completely over the top evil. I loved how Matilda managed to make friends, fight back and save the day in the end. What a heroine.
Matilda is a book for children about pad parenting, about bad teachers, about sexism and expectations for what girls can and cannot do, about the love for reading (even if sometimes it comes at the expense of other things like Television. TV tells awesome stories too, you know? It doesn't have to be one or other. But I digress.) and the fact that children should to be heard and be allowed to have a voice.
The ending took me entirely by surprise not because of how the ending came to be (as I was expecting it) but because of the emotions it evoked. That's probably the best thing about Matilda: the plot is so outrageous, so over the top but it still manages to speak about truths like love, friendship and belonging. I might have cried.
***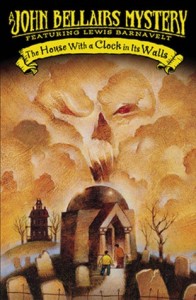 After that, I read John Bellairs' The House With the Clock in its Walls (Puffin, first published in 1973)and it was kind of a great little Horror/Mystery book. It is the first in the Lewis Barnavelt books and introduces us to Lewis as he moves in with his (kind of weird) uncle Jonathan after the death of his parents. Uncle Jonathan turns out to be a wizard, whose BFF is his next door neighbour, the awesome witch Mrs. Zimmerman. Lewis is a lonely boy, with low self esteem, bullied for being the fat kid who doesn't play sports. The story follows two main threads: that of the mystery of Uncle Jonathan's house with the ticking clock (OF DOOM) behind its walls; and that of Lewis' developing friendship with a popular boy name Tarby whose attention and friendship are everything Lewis ever wanted.
The two threads interweave when, to keep Tarby from drifting apart, Lewis starts lying and tampering with powers he doesn't know. Shit hits the fan, things get scary and Lewis realises that Tarby might not be real friend material after all.
The House With the Clock in its Walls shares some similarities with Matilda actually because it is about self-acceptance and finding people who love and admire you for who you are. In the end, Lewis too makes a new friend and has grown up a little bit.
***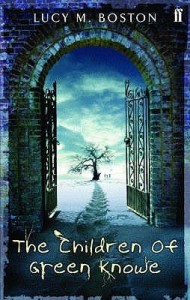 This brings me to the last book in the Marathon, Lucy M. Boston's The Children of Green Knowe (Sandpiper, first published in 1954). This is the first in a beloved British series of novels set in Green Knowe, a haunted manor house in the English countryside. This first book follows the arrival of a very young boy named Toseland (aka Tolly) to Green Knowe to live with his elderly Grandmother Mrs. Oldknow. The house is amazing, the grounds are awesome but above all for Tolly, the greatest thing about Green Knowe is its ghostly residents. Little by little, he learns about the ghosts of its former residents, the three children Toby, Alexander and Linnet. And it's kind of spooky to start with but also really lovely (and sad) as Tolly learns about the children and eventually becomes friends with them.
And although I loved Matilda andThe House With the Clock in its Walls, I adored The Children of Green Knowe. Funny enough, this is the one book out of the three that is basically plot-less and where nothing really happens. Tolly spends his days with his grandmother, listening to her stories and then trying to make contact with the other children and it is all very idyllic, slow-moving and magical. It is all about the atmosphere here. There is also a lovely relationship between Tolly and his grandmother and their shared love for the other children. There is a huge element of sadness here as one comes to realise that history keeps repeating itself and that the house has seen many incarnations of lonely, isolated children.
I can't wait to read the rest of the series. And also, VERY SOON, I shall visit Green Knowe itself – the manor in the book is based on this old historical manor house HALF AN HOUR FROM MY HOUSE, where Lucy Boston used to live.
To sum up: I loved reading all three books and highly recommend them.