Hello everyone and Happy Sunday! To all those in the United States, I hope you're enjoying the long weekend and last few days of summer! Let's get down to business, shall we?
Giveaway Winners: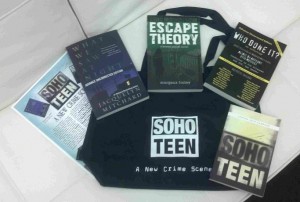 We have the lucky winners all selected for our fabulous Soho Teen Launch Party! The three winners of a Soho Teen Tote Bag are:
Matthew Galloway
Kai Agito
Yiota Yiotini
The one lucky winner of a Soho Teen bag + the first three Soho Teen titles + the Teen Sampler is:
Christina K.
AND the winner of the wig used to impersonate Michelle Gagnon in the Soho Teen trailer is:
Tirzah Price (The Compulsive Reader)
Congratulations to all the winners! You know the drill – send an email to us (contact AT thebooksmugglers DOT com) with your snail mail address, and we'll get your winnings out to you as soon as possible. Thanks again to all who entered, and to Soho Teen for the welcome party!
The Smugglerific Newsletter:

Yes, yes, the newsletter AGAIN. We are gearing up to release our September issue – which includes a Q&A with Stormdancer author Jay Kristoff, as well as a preview of all the upcoming books from Strange Chemistry. So if you haven't signed up yet, we highly recommend you get your name in to join the fun. You can check out all of our past issues online HERE, and sign up using the form below.