Happy Sunday, everyone! If you're in the US, hope you're enjoying the long weekend (with barbecues and beers and fireworks, etc).
Demon Blood Giveaway Winners:
The two lucky winners of Meljean Brook's latest are:
Sarah Z (comment #36)
Alex D (comment #4)
Congratulations! Now, you know the drill. Send us an email (contact AT the book smugglers DOT com) with your snail mail address, and we will get your winnings out to you as soon as possible.
Whitewashing: It. Just. Won't. END.
The blogosphere is abuzz as, once again, publishers are Doing It Wrong. This time, the victim is Cindy Pon's Silver Phoenix – a YA fantasy novel set in medieval China, featuring Chinese protagonists (I reviewed the book earlier this year, and although I wasn't enamored with the story or the writing, the treatment of the cover is a whole different can of worms. Here's the original – beautiful – hardcover:
And here are the new covers:
What is wrong with this picture?
The Powers That Be have deemed Silver Phoenix's lack of sales success to its cover, and have refitted those covers to resemble something a little more…homogeneous.
These new, teen paranormal stylized covers (the half face! the dark lighting with a glowy random photoshopped object!) certainly fit the current look for uninspired YA art:
But that's not really the point either. The thing that really bothers us is the underlying message this cover change represents. The message is that the first cover was too specific (Bullshit Translation: TOO ASIAN), and didn't appeal to a broad enough audience (Bullshit Translation: White people).* In order to rectify that and to boost sales, The Powers That Be have created new covers with more familiar art, with models whose ethnicity cannot be determined. Because there are no tell-tale slanted eyes, broad noses or high cheekbones, these models could be Chinese. They also could be Caucasian.** And this, in Bullshitese, means that a "mainstream audience" will feel more comfortable buying this book.
This sort of assumption-making really, fucking rankles.
Many other bloggers have written incredibly passionate, eloquent posts about the debacle, and we highly recommend you check them out:
Inkstone's "I Guess I Still Have A Post In Me – Phoenix Rising: go all out or just don't go
Ari of Reading In Color, "Guess What This Post Is About?"
Bookshop's "I don't want to be this person. Dear Publishing Industry, stop FORCING me to be this person."
The Rejectionist's "Insert Animated .gif of The Rejectionist Jumping Up And Down And Screaming" (with quite possibly the best cap to illustrate the complete and utter FRUSTRATION this new cover fiasco causes)
__________
*Never mind the fact that poor sales figures might have something to do with buyers (not readers, mind you!) not stocking Silver Phoenix in Borders or in very few Barnes & Nobles – meaning customers have incredibly limited opportunity to browse and buy this book in stores. Nope. The obvious problem MUST be its alienating (ASIAN!) cover. Maybe this is a case of a publisher trying to get around the idiotic bias of one or two retail buyers. Regardless, there is something clearly very, very wrong with this system, and needs to be addressed.
**I cannot write this post without at least addressing the hideousness of the two covers, aesthetically. On the cover for Phoenix Rising, don't the arms look like they belong to someone else? And why the hell would Ai Ling be wearing a sparkly halter dress?! Never mind the whole cut and pasted magic knife (snort) or the model's light brown hair or suspiciously Caucasian features. I'm not even GOING there with the Secret of the Ooze green medallion on the new cover for Silver Phoenix. It looks like a radioactive booger. Or…is that SLIMER? Ectoplasmic residue?
A Teaser…
Guess what?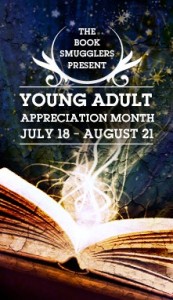 Young Adult Appreciation Month (part deux). It's coming.
This Week on The Book Smugglers: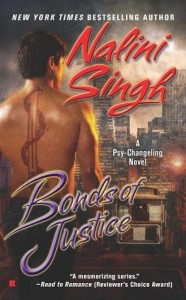 On Monday, Ana reviews Bonds of Justice, the newest psy-changeling novel from Nalini Singh – there will also be an opportunity to win two copies of the book.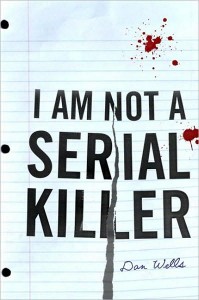 Tuesday, Thea reviews I Am Not A Serial Killer by Dan Wells, the first of a planned Dexter-esque series.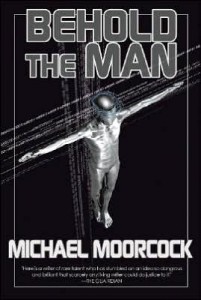 Wednesday, Ana reviews classic science fiction novel Behold the Man by Michael Moorcock…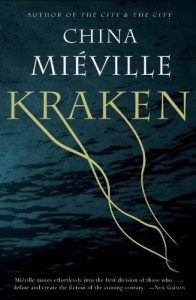 And on Thursday, Thea reviews Kraken by China Mieville (at long last!).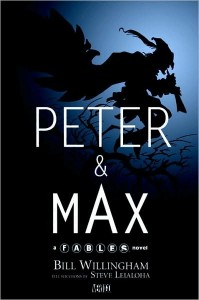 Closing out the week, we give you a joint review of Peter and Max by Bill Willingham – an illustrated standalone novel set in his Fables universe.
That's it for now. Until tomorrow, we remain…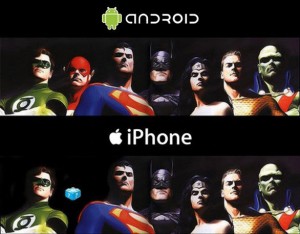 Flash Not Supported (LOLOLOLOLOL)
~ Your Friendly Neighborhood Book Smugglers