For the past few months, we have been including an "On our Radar" section in our weekly stash for books that have caught our eye; books we heard of via other bloggers, directly from publishers, and/or from our regular incursions into the Amazon jungle. This is how the Smugglers' Radar was born, and because there are far too many books that we want than we can possibly buy or review (what else is new?) we thought we could make it into a weekly feature on its own – this way YOU can tell us which books you have on your radar as well!
On Ana's Radar:
I have seen this around this week and I am SO excited about this book like you wouldn't know! I love the cover and I love the blurb: it sounds cool in a totally silly way. Yay! (out May 2010)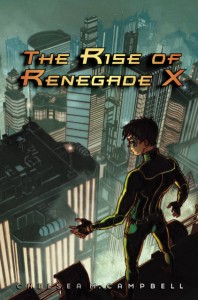 Sixteen-year-old Damien Locke has a plan: major in messing with people at the local supervillain university and become a professional evil genius, just like his supervillain mom. But when he discovers the shameful secret she's been hiding all these years, that the one night stand that spawned him was actually with a superhero, everything gets messed up. His father's too moral for his own good, so when he finds out Damien exists, he actually wants him to come live with him and his goody-goody superhero family. Damien gets shipped off to stay with them in their suburban hellhole, and he only has six weeks to prove he's not a hero in any way, or else he's stuck living with them for the rest of his life, or until he turns eighteen, whichever comes first.

To get out of this mess, Damien has to survive his dad's "flying lessons" that involve throwing him off the tallest building in the city—despite his nearly debilitating fear of heights—thwart the eccentric teen scientist who insists she's his sidekick, and keep his supervillain girlfriend from finding out the truth. But when Damien uncovers a dastardly plot to turn all the superheroes into mindless zombie slaves, a plan hatched by his own mom, he discovers he cares about his new family more than he thought. Now he has to choose: go back to his life of villainy and let his family become zombies, or stand up to his mom and become a real hero.
I recently read Liar by Justine Larbalestier and was so in love with it, I went back to check her other books and foundt this one: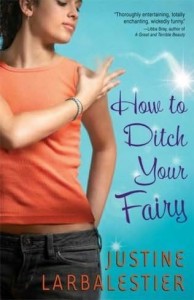 Welcome to New Avalon, where everyone has a personal fairy. Though invisible to the naked eye, a personal fairy, like a specialized good luck charm, is vital to success. And in the case of the students at New Avalon Sports High, it might just determine whether you make the team, pass a class, or find that perfect outfit. But for 14-year-old Charlie, having a Parking Fairy is worse than having nothing at all – especially when the school bully carts her around like his own personal parking pass. Enter: The Plan. At first, teaming up with arch-enemy Fiorenza (who has an All-The-Boys-Like-You Fairy) seems like a great idea. But when Charlie unexpectedly gets her heart's desire, it isn't at all what she thought it would be like, and she'll have resort to extraordinary measures to ditch her fairy. The question is: will Charlie herself survive the fairy ditching experiment? From the author of the acclaimed Magic or Madness trilogy, this is a delightful story of fairies, friendships, and figuring out how to make your own magic.
Yeah, I bought it!
Similarly, after reading the AWESOME Going too Far by Jennifer Echols, I had to go and buy her new book, a romantic YA comedy: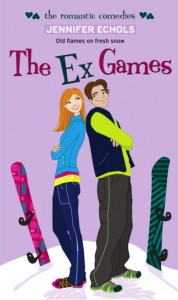 Hayden and Nick used to be a hot item, but their brief affair ended with a highly publicized break-up. Now the two are "just friends," excluding the occasional flirtation.
When Hayden wins the girls' division of a local snowboarding competition, Nick is unimpressed, claiming that Hayden wouldn't have a chance against a guy. Hayden calls Nick's bluff and challenges him to a head-to-head boarding contest. Their mutual friends quickly take sides, the girls on Hayden's and the boys on Nick's, making for an all-out battle of the sexes. This friendly competition is bound to get heated–and if they're not careful, they might end up igniting some old flames.
Eloisa James, writer of the most fabulous Historical Romance series (The Desperate Duchesses one) next book will be a take on the Cinderella story. Entitled A Kiss At Midnight, the story is "a skewed, funny version of Cinderella with a sulky prince and a snappy Cinderella named Kate". Here is a a tidbit about the nasty evil stepmother:
"Talking to her stepmother, to Kate's mind, was like peeing into a pitch-black outhouse. You had no idea what would come back up, but you knew you wouldn't like it."
I can't wait!
On Thea's Radar:
I just found out from Kristen of Fantasy Cafe that a reprint of an old favorite, Carrion Comfort by Dan Simmons is being reprinted next month! With Lord Voldemort on the cover! (Ok, not really the last part, but it looks like the Dark Lord):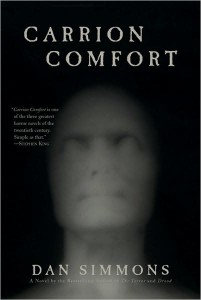 THE PAST… Caught behind the lines of Hitler's Final Solution, Saul Laski is one of the multitudes destined to die in the notorious Chelmno extermination camp. Until he rises to meet his fate and finds himself face to face with an evil far older, and far greater, than the Nazi's themselves…

THE PRESENT… Compelled by the encounter to survive at all costs, so begins a journey that for Saul has spanned decades and crossed continents, plunging into the darkest corners of 20th century history to reveal a secret society of beings who throughout the ages have hidden in our midst and may often exist behind the world's most horrible and violent events. Killing from a distance, and by darkly manipulative proxy, they are people with the psychic ability to 'use' humans: read their minds, subjugatethem to their wills, experience through their senses, feed off their emotions, force them to acts of unspeakable violence. Each year, three of them, Melanie, Willi and Nina, meet to discuss their ongoing campaign of induced bloodshed and slaughter. But this reunion, something will go terribly wrong. Saul's quest is about to reach its elusive object, drawing hunter and hunted alike into a struggle that will plumb the darkest depths of mankind's attraction to violence, and determine the future of the world itself…
And the new cover of Stephen King's upcoming novel, Under the Dome has FINALLY been released! WOOHOO!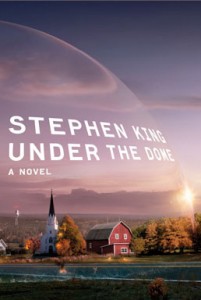 On an entirely normal, beautiful fall day in Chester's Mill, Maine, the town is inexplicably and suddenly sealed off from the rest of the world by an invisible force field. Planes crash into it and fall from the sky in flaming wreckage, a gardener's hand is severed as "the dome" comes down on it, people running errands in the neighboring town are divided from their families, and cars explode on impact. No one can fathom what this barrier is, where it came from, and when — or if — it will go away.

Dale Barbara, Iraq vet and now a short-order cook, finds himself teamed with a few intrepid citizens — town newspaper owner Julia Shumway, a physician's assistant at the hospital, a select-woman, and three brave kids. Against them stands Big Jim Rennie, a politician who will stop at nothing — even murder — to hold the reins of power, and his son, who is keeping a horrible secret in a dark pantry. But their main adversary is the Dome itself. Because time isn't just short. It's running out.
And, check out the awesome wraparound art for the book: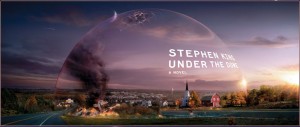 Good god, it's gorgeous! I am salivating. Seriously.
Keeping in the sort of horror/Halloween theme, this looks deliciously good too: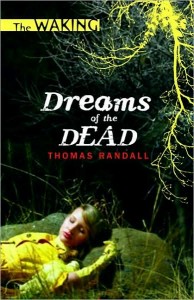 Kara's afraid to go to sleep—until the nightmares come when she's awake . . . .

Sixteen-year-old Kara Foster is an outsider in Japan, but is doing her best to fit at the private school where her father is teaching English for the year. Fortunately she's befriended by Sakura, a fellow outsider struggling to make sense of her sister's unsolved murder some months ago. No one seems to care about the beautiful girl who was so brutally murdered, and the other students go on as if nothing has happened. Unfortunately, the calm doesn't last for long. Kara begins to have nightmares, and soon other students in the school turn up dead, viciously attacked by someone . . . or something. Is Sakura getting back at those she thinks are responsible for her sister's death? Or has her dead sister come back to take revenge for herself?
Aaaaaand a new cover!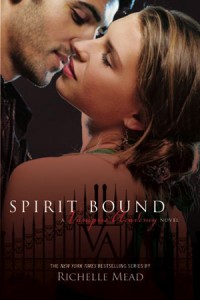 Woohoo!
Recent & Upcoming Books:
In the Blood by Adrian Phoenix
Release Date: August 25, 2009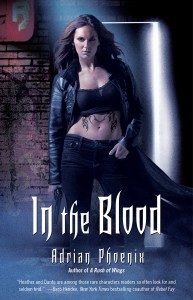 DANTE LIVES.

Vampire. Rock star. Begotten son of the fallen angel Lucien. Dante Baptiste still struggles with nightmares and seizures, searching for the truth about his past. It is a quest as seductive as his kiss, as uncontrollable as his thirst, and as unforgiving as his determination to protect one mortal woman at any cost.

KNOWLEDGE KILLS.

FBI Special Agent Heather Wallace now knows the extent of the Bureau corruption that surrounds her, but worries she is losing the battle. And when Dante and his band Inferno come to Seattle on tour, Heather can't help but be drawn back to the beautiful, dangerous nightkind. But what Heather and Dante don't know is that new enemies lurk in the shadows, closer than they think…and even deadlier than they fear.

DESTINY UNFOLDS.

Shadowy government forces have pledged to eliminate all loose ends from Project Bad Seed — and Heather and Dante are at the top of the list. Elsewhere, the Fallen gather in Gehenna, intent on finding their long-awaited savior, the True Blood nightkind whom Lucien DeNoir would die to protect. And a damaged and desperate adversary, with powers as strange and perilous as Dante's own, plots to use Dante as a pawn in a violent scheme for revenge. But only one of these lethal forces holds the key to Dante's past — a key that could finally unlock the secret of his birth and the truth of his existence…or destroy him completely.
Unclean Spirits (Book 1 of the Black Sun's Daughter) by M.L.N. Hanover
Release Date: July 28, 2009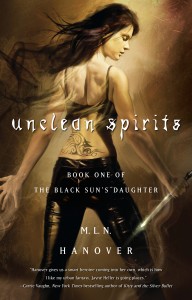 In a world where magic walks and demons ride, you can't always play by the rules.

Jayné Heller thinks of herself as a realist, until she discovers reality isn't quite what she thought it was. When her uncle Eric is murdered, Jayné travels to Denver to settle his estate, only to learn that it's all hers — and vaster than she ever imagined. And along with properties across the world and an inexhaustible fortune, Eric left her a legacy of a different kind: his unfinished business with a cabal of wizards known as the Invisible College.

Led by the ruthless Randolph Coin, the Invisible College harnesses demon spirits for their own ends of power and domination. Jayné finds it difficult to believe magic and demons can even exist, let alone be responsible for the death of her uncle. But Coin sees Eric's heir as a threat to be eliminated by any means — magical or mundane — so Jayné had better start believing in something to save her own life.

Aided in her mission by a group of unlikely companions — Aubrey, Eric's devastatingly attractive assistant; Ex, a former Jesuit with a lethal agenda; Midian, a two-hundred-year-old man who claims to be under a curse from Randolph Coin himself; and Chogyi Jake, a self-styled Buddhist with mystical abilities — Jayné finds that her new reality is not only unexpected, but often unexplainable. And if she hopes to survive, she'll have to learn the new rules fast — or break them completely….
Darker Angels (Book 2 of the Black Sun's Daughter) by M.L.N. Hanover
Release Date: September 29, 2009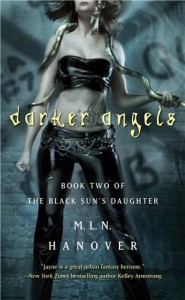 In the battle between good and evil, there's no such thing as a fair fight.

When Jayné Heller's uncle Eric died, she inherited a fortune beyond all her expectations — and a dangerous mission in a world she never knew existed. Reining in demons and supernatural foes is a formidable task, but thankfully Jayné has vast resources and loyal allies to rely on. She'll need both to tackle a bodyswitching serial killer who's taken up residence in New Orleans, a city rich in voodoo lore and dark magic.

Working alongside Karen Black, a highly confident and enigmatic ex-FBI agent, Jayné races to track down the demon's next intended host. But the closer she gets, the more convinced she becomes that nothing in this beautiful, wounded city is exactly as it seems. When shocking secrets come to light, and jealousy and betrayal turn trusted friends into adversaries, Jayné will soon come face-to-face with an enemy that knows her all too well, and won't rest until it has destroyed everything she loves most….
Seduce Me In Shadow (The Doomsday Bretheren Book 2) by Shayla Black
Release Date: September 29, 2009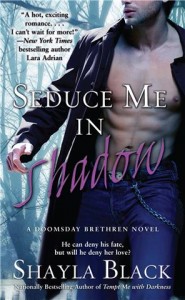 When a villainous wizard escapes from exile, the devastatingly sexy Doomsday Brethren must defend all magickind in the spellbinding second book in bestselling author Shayla Black's seductive new paranormal series.

Ex-marine Caden MacTavish has shunned his magical heritage all his life, but he will do anything to heal his desperately ill brother, a Doomsday Brethren warrior in mourning for his missing mate. Posing as a photographer, Caden must convince firecracker tabloid reporter Sydney Blair to reveal the source of her recent exposé on a supernatural power clash. Unfortunately, keeping his hands off the sizzling redhead proves as hard as getting them onto the potent and mystical Doomsday Diary he discovers at her bedside. A bloody rebellion led by an evil, power-hungry wizard is imminent. If Sydney divulges the book's existence, she will jeopardize magickind's most deeply guarded secrets and become the ruthless wizard's number one target. Caden has never trusted magic's cruel and dangerous powers, but he will protect Sydney with his life and magic — even if it means risking his heart.

Click here to read an Excerpt and know more about the Author!