"On The Smugglers' Radar" is a new feature for books that have caught our eye: books we heard of via other bloggers, directly from publishers, and/or from our regular incursions into the Amazon jungle. Thus, the Smugglers' Radar was born. Because we want far more books than we can possibly buy or review (what else is new?), we thought we would make the Smugglers' Radar into a weekly feature – so YOU can tell us which books you have on your radar as well!
On Ana's Radar:
Malinda Lo's follow up to the AWESOME Ash is coming out next year and she unveiled the cover this week. And GOOD COVER GODS! She has been blessed with the most beautiful covers!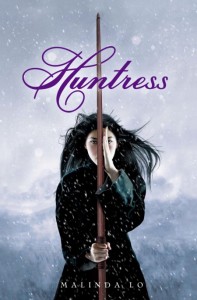 Nature is out of balance in the human world. The sun hasn't shone in years, and crops are failing. Worse yet, strange and hostile creatures have begun to appear. The people's survival hangs in the balance.

To solve the crisis, the oracle stones are cast, and Kaede and Taisin, two seventeen-year-old girls, are picked to go on a dangerous and unheard-of journey to Taninli, the city of the Fairy Queen. Taisin is a sage, thrumming with magic, and Kaede is of the earth, without a speck of the otherworldly. And yet the two girls' destinies are drawn together during the mission. As members of their party succumb to unearthly attacks and fairy tricks, the two come to rely on each other and even begin to fall in love. But the Kingdom needs only one huntress to save it, and what it takes could tear Kaede and Taisin apart forever.

The exciting adventure prequel to Malinda Lo's highly acclaimed novel Ash is overflowing with lush Chinese influences and details inspired by the I Ching, and is filled with action and romance.

I have seen this next one around the blogs. I don't know if the book is good and I am bit wary of reinterpretations of Historical events but look how striking this cover is: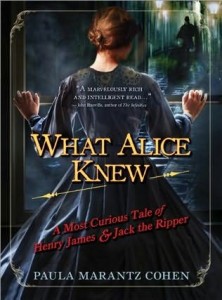 A fun and clever literary reinterpretation, with Henry James hot on the trail of Jack the Ripper

Henry James is suffering through boring drunken dinner parties in London, but when his brother William-renowned for his groundbreaking work in the new science of psychology-is summoned from America by Scotland Yard to help investigate an East End serial killer who calls himself Jack the Ripper, things are suddenly much more interesting.

Their bedridden sister Alice James takes on the role of lead detective, as the three precocious siblings attempt to unravel the true identity of the killer. Searching London high and low, encountering characters both suspicious and ridiculous, they inch closer to a killer neither they, nor readers, would suspect.

I saw this at Good reads (as usual) and liked the look and sound of it: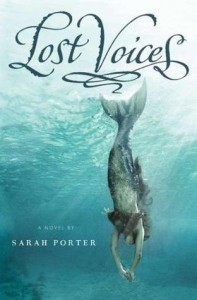 What happens to the girls nobody sees—the ones who are ignored, mistreated, hidden away? The girls nobody hears when they cry for help?

Fourteen-year-old Luce is one of those lost girls. After her father vanishes in a storm at sea, she is stuck in a grim, gray Alaskan fishing village with her alcoholic uncle. When her uncle crosses an unspeakable line, Luce reaches the depths of despair. Abandoned on the cliffs near her home, she expects to die when she tumbles to the icy, churning waves below. Instead, she undergoes an astonishing transformation and becomes a mermaid.

A tribe of mermaids finds Luce and welcomes her in—all of them, like her, lost girls who surrendered their humanity in the darkest moments of their lives. The mermaids are beautiful, free, and ageless, and Luce is thrilled with her new life until she discovers the catch: they feel an uncontrollable desire to drown seafarers, using their enchanted voices to lure ships into the rocks.

Luce's own talent at singing captures the attention of the tribe's queen, the fierce and elegant Catarina, and Luce soon finds herself pressured to join in committing mass murder. Luce's struggle to retain her inner humanity puts her at odds with her friends; even worse, Catarina seems to regard Luce as a potential rival. But the appearance of a devious new mermaid brings a real threat to Catarina's leadership and endangers the very existence of the tribe. Can Luce find the courage to challenge the newcomer, even at the risk of becoming rejected and alone once again?

Lost Voices is a captivating and wildly original tale about finding a voice, the healing power of friendship, and the strength it takes to forgive.

The next one, I saw over at That Cover Girl blog and saved for a radar post. And wouldn't you know, this week, the author emailed to offer a copy for review and I was like: SERENDIPITY! And accepted it. Looking forward to reading it.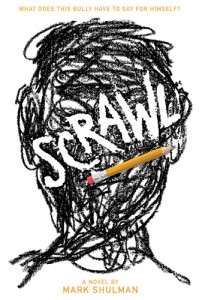 T
od Munn is a bully. He's tough, but times are even tougher. The wimps have stopped coughing up their lunch money. The administration is cracking down. Then to make things worse, Tod and his friends get busted doing something bad. Somethingreally bad.

Lucky Tod must spend his daily detention in a hot, empty room with Mrs. Woodrow, a no-nonsense guidance counselor. He doesn't know why he's there, but she does. Tod's punishment: to scrawl his story in a beat-up notebook. He can be painfully funny and he can be brutally honest. But can Mrs. Woodrow help Tod stop playing the bad guy before he actually turns into one . . . for real?

Read Tod's notebook for yourself.

And finally, I have seen several positive reviews of Five Flavours of Dumb and now I really want it.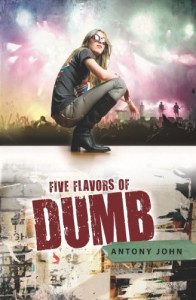 THE CHALLENGE: Piper has one month to get a paying gig for Dumb—the hottest new rock band in school.

THE DEAL: If she does it, she'll become manager of the band and get her share of the profits, which she desperately needs since her parents raided her college fund.

THE CATCH: Managing one egomaniacal pretty boy, one talentless piece of eye candy, one crush, one silent rocker, and one angry girl who is ready to beat her up. And doing it all when she's deaf. With growing self-confidence, an unexpected romance, and a new understanding of her family's decision to buy a cochlear implant for her deaf baby sister, Piper just may discover her own inner rock star.

On Thea's Radar:
Thanks to my darling Ana Banana for pointing out the cover that has been released for Blake Charlton's next novel! No excerpt yet, but there are these two quotations that Charlton is using as epigraphs for the book…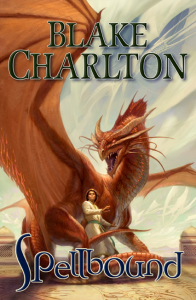 As for the poem, one dragon, however hot, does not make a summer, or a host; and a man might well exchange for one good dragon what he would not sell for a wilderness. And dragons, real dragons, essential both to the machinery and the ideas of a poem or tale, are actually rare.

-J.R.R. Tolkien, Beowulf: The Monsters and the Critics

Once he is wakened, there is something glorious in the way he manifests himself, a Fourth of July effulgence fire-working its path across the night sky; and yet, because of the centuries he has spent dormant in the tumulus, there is a foundedness as well as a lambency about him. He is at once a stratum of the earth and a streamer in the air, no painted dragon but a figure of real oneiric power, one that can easily survive the prejudices which arise at the very mention of the word "dragon".

-Seamus Heaney, Introduction to his translation of Beowulf

Next up is the…well, hideously tacky cover for the third book in Carrie Jones' YA series. I really loved the direction that Captivate went, and cannot wait for this third book (even if the cover is painfully bad! I mean, is she smoking goldschlager?).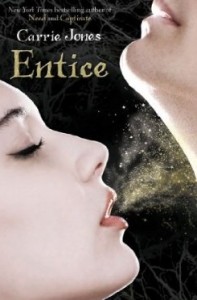 Zara and Nick are soul mates, meant to be together forever. But that's not quite how things have worked out.

For starters, well, Nick is dead. Supposedly, he's been taken to a mythic place for warriors known as Valhalla, so Zara and her friends might be able to get him back. But it's taking time, and meanwhile a group of evil pixies is devastating Bedford, with more teens going missing every day. An all-out war seems imminent, and the good guys need all the warriors they can find. But how to get to Valhalla?

And even if Zara and her friends discover the way, there's that other small problem: Zara's been pixie kissed. When she finds Nick, will he even want to go with her? Especially since she hasn't just turned. She's Astley's queen.

Also check it out, the cover in the next Outcast Season book is up! Not crazy about how Cassiel looks nothing like her description, but whatever! New Rachel Caine! YAY!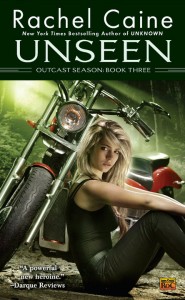 I loved Kenneth Oppel's steampunk adventure trilogy, Airborn (well, I'm still working on books 2&3 which I WILL review at some point, dammit!), so I was thrilled when Ana said we received a copy of this one: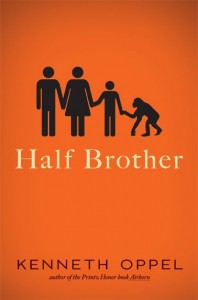 For thirteen years, Ben Tomlin was an only child. But all that changes when his mother brings home Zan — an eight-day-old chimpanzee. Ben's father, a renowned behavioral scientist, has uprooted the family to pursue his latest research project: a high-profile experiment to determine whether chimpanzees can acquire advanced language skills. Ben's parents tell him to treat Zan like a little brother. Ben reluctantly agrees. At least now he's not the only one his father's going to scrutinize.

It isn't long before Ben is Zan's favorite, and Ben starts to see Zan as more than just an experiment. His father disagrees. To him, Zan is only a specimen, no more, no less. And this is going to have consequences. Soon Ben is forced to make a critical choice between what he is told to believe and what he knows to be true — between obeying his father or protecting his brother from an unimaginable fate.

Half Brother isn't just a story about a boy and a chimp. It's about the way families are made, the way humanity is judged, the way easy choices become hard ones, and how you can't always do right by the people and animals you love. In the hands of master storyteller Kenneth Oppel, it's a novel you won't soon forget.

And that's it for us! What books do you have on your radar?