"On The Smugglers' Radar" is a new feature for books that have caught our eye: books we have heard of via other bloggers, directly from publishers, and/or from our regular incursions into the Amazon jungle. Thus, the Smugglers' Radar was born. Because we want far more books than we can possibly buy or review (what else is new?), we thought we would make the Smugglers' Radar into a weekly feature – so YOU can tell us which books you have on your radar as well!
On Ana's Radar:
A few 2013 books are starting to appear on my radar…like for example, The Cadet of Tildor: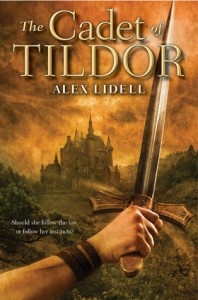 Having already survived six years at the Tildor's top military academy, sixteen-year-old Renee De Winter is determined to graduate, training day and night to compete with her male classmates. When the boys overpower her parries, she works harder. When a bully sabotages her gear, she fights without it. But when an underground crime group captures her mentor for its illegal gladiatorial games, she must choose between her career and her conscience. Determined to penetrate the group's inner circles, Renee will leap from academia to the crime filled streets, pick up a sword, and weigh law against loyalty.

Another '13 book is Mind Games: I am interested even though we only have a tiny bit of info beyond the cover:
In a world where psychics and mind-readers are the ultimate tools in corporate espionage, two teen girls try to save themselves and their future.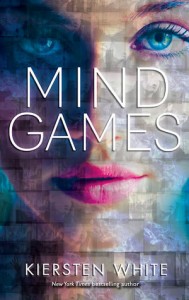 Victoria Schwab's The Archived is already a highly anticipated 2013 read for me ever since I read and LOVED The Near Witch. Plus it sounds so fucking AWESOME: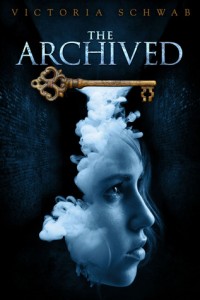 Imagine a place where the dead rest on shelves like books.

Each body has a story to tell, a life seen in pictures that only Librarians can read. The dead are called Histories, and the vast realm in which they rest is the Archive.

Da first brought Mackenzie Bishop here four years ago, when she was twelve years old, frightened but determined to prove herself. Now Da is dead, and Mac has grown into what he once was, a ruthless Keeper, tasked with stopping often-violent Histories from waking up and getting out. Because of her job, she lies to the people she loves, and she knows fear for what it is: a useful tool for staying alive.

Being a Keeper isn't just dangerous—it's a constant reminder of those Mac has lost. Da's death was hard enough, but now her little brother is gone too. Mac starts to wonder about the boundary between living and dying, sleeping and waking. In the Archive, the dead must never be disturbed. And yet, someone is deliberately altering Histories, erasing essential chapters. Unless Mac can piece together what remains, the Archive itself might crumble and fall.

In this haunting, richly imagined novel, Victoria Schwab reveals the thin lines between past and present, love and pain, trust and deceit, unbearable loss and hard-won redemption.

I like Westerns and I sort of like Zombies and as such Portlandtown is on my radar: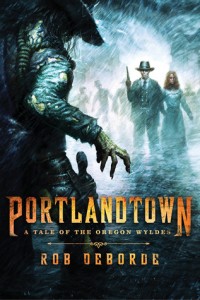 Welcome to Portlandtown, where no secret is safe—not even those buried beneath six feet of Oregon mud.

Joseph Wylde isn't afraid of the past, but he knows some truths are better left unspoken. When his father-in-law's grave digging awakens more than just ghosts, Joseph invites him into their home hoping a booming metropolis and two curious grand twins will be enough to keep the former marshal out of trouble. Unfortunately, the old man's past soon follows, unleashing a terrible storm on a city already knee deep in floodwaters. As the dead mysteriously begin to rise the Wyldes must find the truth before an unspeakable evil can spread across the West and beyond.

Finally, I saw this next one over at Tor.com and went into WANT mode immediately. I mean, the main character is a NIGHTMARE. Literally.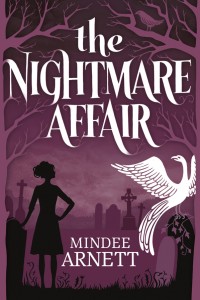 Sixteen-year-old Dusty Everhart breaks into houses late at night, but not because she's a criminal. No, she's a Nightmare.

Literally.

Being the only Nightmare at Arkwell Academy, a boarding school for magickind, and living in the shadow of her mother's infamy, is hard enough. But when Dusty sneaks into Eli Booker's house, things get a whole lot more complicated. He's hot, which means sitting on his chest and invading his dreams couldn't get much more embarrassing. But it does. Eli is dreaming of a murder.

Then Eli's dream comes true.

Now Dusty has to follow the clues—both within Eli's dreams and out of them—to stop the killer before more people turn up dead. And before the killer learns what she's up to and marks her as the next target.

On Thea's Radar:
The Banana brought this book for me when she came for BEA – I have been eyeing it on my TBR because it sounds hilarious and perfect for me.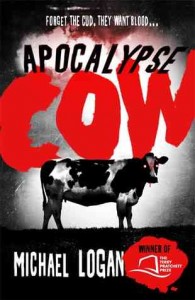 Forget the cud. They want blood.

An outrageous and anarchic comic take on the zombie apocalypse – and joint winner of the first Terry Pratchett 'Anywhere But Here, Anywhen But Now' prize.

It began with a cow that just wouldn't die. It would become an epidemic that transformed Britain's livestock into sneezing, slavering, flesh-craving four-legged zombies.

And if that wasn't bad enough, the fate of the nation seems to rest on the shoulders of three unlikely heroes: an abattoir worker whose love life is non-existent thanks to the stench of death that clings to him, a teenage vegan with eczema and a weird crush on his maths teacher, and an inept journalist who wouldn't recognise a scoop if she tripped over one.

As the nation descends into chaos, can they pool their resources, unlock a cure, and save the world?

Three losers. Overwhelming odds. One outcome . . .

Yup, we're screwed.

Look, the follow-up to Mr. Churchill's Secretary (which I have posted about on the radar before, but wasn't able to get at BEA, though Ana was lucky enough to snag a copy!).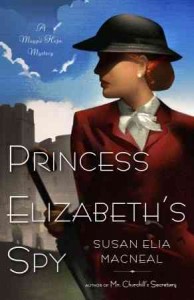 Susan Elia MacNeal introduced the remarkable Maggie Hope in her acclaimed debut, Mr. Churchill's Secretary. Now Maggie returns to protect Britain's beloved royals against an international plot—one that could change the course of history.

As World War II sweeps the continent and England steels itself against German attack, Maggie Hope, former secretary to Prime Minister Winston Churchill, completes her training to become a spy for MI-5. Spirited, strong-willed, and possessing one of the sharpest minds in government for mathematics and code-breaking, she fully expects to be sent abroad to gather intelligence for the British front. Instead, to her great disappointment, she is dispatched to go undercover at Windsor Castle, where she will tutor the young Princess Elizabeth in math. Yet castle life quickly proves more dangerous—and deadly—than Maggie ever expected. The upstairs-downstairs world at Windsor is thrown into disarray by a shocking murder, which draws Maggie into a vast conspiracy that places the entire royal family in peril. And as she races to save England from a most disturbing fate, Maggie realizes that a quick wit is her best defense, and that the smallest clues can unravel the biggest secrets, even within her own family.

Next up, a zombie novel I received in the mail and cannot wait to read (slightly kiddie kitschy cover aside!).
A feast for the brain, this gory and genuinely hilarious take on zombie culture simultaneously skewers, pays tribute to, and elevates the horror genre.

Seventeen-year-old Nero is stuck in the wilderness with a bunch of other juvenile delinquents on an "Inward Trek." As if that weren't bad enough, his counselors have turned into flesh-eating maniacs overnight and are now chowing down on his fellow miscreants. As in any classic monster flick worth its salted popcorn, plentiful carnage sends survivors rabbiting into the woods while the mindless horde of "infects" shambles, moans, and drools behind. Of course, these kids have seen zombie movies. They generate "Zombie Rules" almost as quickly as cheeky remarks, but attitude alone can't keep the biters back. Serving up a cast of irreverent, slightly twisted characters, an unexpected villain, and an ending you won't see coming, here is a savvy tale that that's a delight to read — whether you're a rabid zombie fan or freshly bitten — and an incisive commentary on the evil that lurks within each of us.

And look! Another apocalyptic earth story, but by alien invasion! It's been a while since I've read a good apocalypse-by-alien story.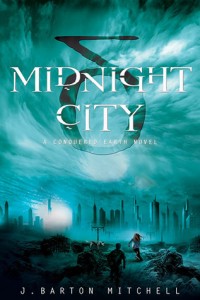 In a post-apocalyptic world controlled by alien invaders, two teens and a young girl with mysterious powers embark on a dangerous journey. What they find will change everything…

Earth has been conquered. An extraterrestrial race known as The Assembly has abducted the adult population, leaving the planet's youth to fend for themselves. In this treacherous landscape, Holt, a bounty hunter, is transporting his prisoner Mira when they discover Zoey, a young girl with powerful abilities who could be the key to stopping The Assembly. As they make their way to the cavernous metropolis of Midnight City, the trio must contend with freedom fighters, mutants, otherworldly artifacts, pirates, feuding alien armies, and perhaps most perilous of all: Holt and Mira's growing attraction to each other.

I saw this title whilst browsing online, and while I am generally leery of works that propose to retell certain classic literary works – *especially* Shelley's Frankenstein – I have read some truly fantastic reimaginings, too (see Kenneth Oppel's amazing His Dark Endeavor). This new version sounds fantastic, too.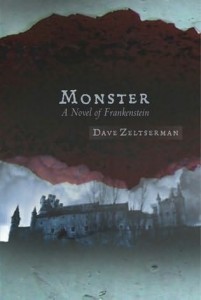 The supernatural, unmissable new novel by the ALA Best Horror award nominee. In nineteenth-century Germany, one young man counts down the days until he can marry his beloved . . . until she is found brutally murdered, and the young man is accused of the crime. Broken on the wheel and left for dead, he awakens on a lab table, transformed into an abomination. Friedrich must go far to take his revenge –only to find his tormentor, Victor Frankenstein, in league with the Marquis de Sade, creating something much more sinister deep in the mountains. Paranormal and gripping in the tradition of the best work of Stephen King and Justin Cronin, Monster is a gruesome parable of control and vengeance, and an ingenious tribute to one of literature's greatest.

Next up, an interesting outbreak type of novel (with a great cover):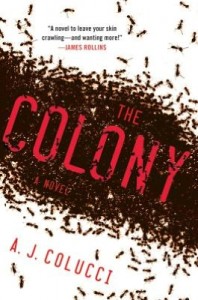 A series of gruesome attacks have been sweeping New York City—three men are found dead, their bodies nearly dissolved from the inside out. The culprit is a supercolony of ants: An army of one trillion soldiers with razor sharp claws and stinging venom.

The desperate mayor turns to the greatest ant expert in the world, Paul O'Keefe, a Pulitzer Prize-winning scientist in an Armani suit. Paul is baffled by the insects and recruits the one person who can help, his ex-wife Kendra Hart.

When the ants launch an all-out attack, Paul and Kendra hit the dangerous, panic-stricken streets of New York, searching for a coveted queen. It's a race to unlock the secrets of this terrible new species, before the President nukes Manhattan.

A thriller with the highest stakes and the most fascinating science, this debut is not to be missed.

And finally, a forthcoming dystopian MG/YA novel (I KNOW, I know) but sounds pretty sweet. And I love the title: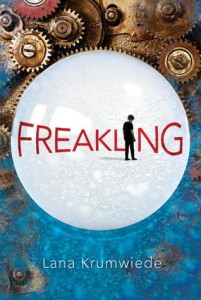 A thrilling, fast-paced dystopian novel about the dangers of unchecked power and the dilemmas facing a boy torn between two ways of life.

In twelve-year-old Taemon's city, everyone has a power called psi — the ability to move and manipulate objects with their minds. When Taemon loses his psi in a traumatic accident, he must hide his lack of power by any means possible. But a humiliating incident at a sports tournament exposes his disability, and Taemon is exiled to the powerless colony. The "dud farm" is not what Taemon expected, though: people are kind and open, and they actually seem to enjoy using their hands to work and play and even comfort their children. Taemon adjusts to his new life quickly, making friends and finding unconditional acceptance. But gradually he discovers that for all its openness, there are mysteries at the colony, too — dangerous secrets that would give unchecked power to psi wielders if discovered. When Taemon unwittingly leaks one of these secrets, will he have the courage to repair the damage — even if it means returning to the city and facing the very people who exiled him?

And that's it from us! What books do you have on YOUR radar?