"On The Smugglers' Radar" is a new feature for books that have caught our eye: books we heard of via other bloggers, directly from publishers, and/or from our regular incursions into the Amazon jungle. This is how the Smugglers' Radar was born, and because there are far too many books that we want than we can possibly buy or review (what else is new?) we thought we could make it into a weekly feature – so YOU can tell us which books you have on your radar as well!
On Thea's Radar:
So…I have been kinda scouring Pyr's catalogue for Fall/Winter 2010, since seeing the awesome booth at BEA. And here's what I'm excited for: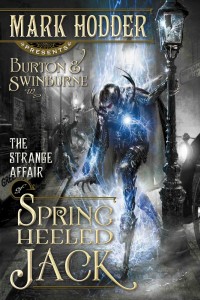 When one man changes history, history changes everyone!

London, 1861.

Sir Richard Francis Burton–Explorer, linguist, scholar and swordsman; his reputation tarnished; his career in tatters; his former partner missing and probably dead.

Algernon Charles Swinburne–Unsuccessful poet and follower of de Sade; for whom pain is pleasure, and brandy is ruin!

They stand at a crossroads in their lives; and are caught in the epicentre of an empire torn by conflicting forces: Engineers transform the landscape with bigger, faster, noisier and dirtier technological wonders; Eugenicists develop specialist animals to provide unpaid labour; Libertines oppose repressive laws and demand a society based on beauty and creativity; while the Rakes push the boundaries of human behaviour to the limits with magic, drugs and anarchy.

The two men are sucked into the perilous depths of this moral and ethical vacuum when Lord Palmerston commissions Burton to investigate assaults on young women committed by a weird apparition known as Spring Heeled Jack, and to find out why werewolves are terrorising London's East End.

Their investigations lead them to one of the defining events of the age; and the terrifying possibility that the world they inhabit shouldn't exist at all!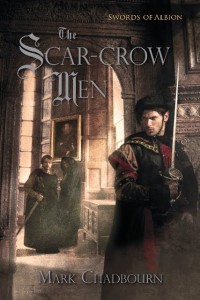 1593: the London of Elizabeth I is in the terrible grip of the Black Death. As thousands die from the plague and the queen hides behind the walls of her palace, English spies are being murdered across the city. The killer's next target: Will Swyfte.

For Swyfte, adventurer, rake, scholar and spy, this is the darkest time he has known. His mentor, the grand old spymaster Sir Francis Walsingham, is dead. The new head of the secret service is more concerned about his own advancement than defending the nation, and a rival faction at the court has established its own network of spies. Plots are everywhere, and no one can be trusted. Meanwhile, England's greatest enemy, the haunted Unseelie Court, prepares to make its move.

A dark, bloody scheme, years in the making, is about to bear fruition. The endgame begins on the night of the first performance of Dr Faustus, the new play by Swyfte's close friend and fellow spy, Christopher Marlowe. A devil is conjured in the middle of the crowded theatre, taking the form of Will Swyfte's long-lost love, Jenny – and it has a horrifying message for him alone.

That night Marlowe is murdered, and Swyfte embarks on a personal and brutal crusade for vengeance. Friendless, with enemies on every side and a devil at his back, the spy may find that even his vaunted skills are no match for the supernatural power arrayed against him.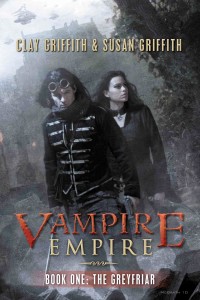 In the year 1870, a horrible plague of vampires swept over the northern regions of the world. Millions of humans were killed outright. Millions more died of disease and famine due to the havoc that followed. Within two years, once great cities were shrouded by the grey empire of the vampire clans. Human refugees fled south to the tropics because vampires could not tolerate the constant heat there. They brought technology and a feverish drive to reestablish their shattered societies of steam and iron amid the mosques of Alexandria, the torrid quietude of Panama, or the green temples of Malaya.

It is now 2020 and a bloody reckoning is coming.

Princess Adele is heir to the Empire of Equatoria, a remnant of the old tropical British Empire. She is quick with her wit as well as with a sword or gun. She is eager for an adventure before she settles into a life of duty and political marriage to man she does not know. But her quest turns black when she becomes the target of a merciless vampire clan. Her only protector is The Greyfriar, a mysterious hero who fights the vampires from deep within their territory. Their dangerous relationship plays out against an approaching war to the death between humankind and the vampire clans.

Vampire Empire: The Greyfriar is the first book in a trilogy of high adventure and alternate history. Combining rousing pulp action with steampunk style, Vampire Empire brings epic political themes to life within a story of heartbreaking romance, sacrifice, and heroism.

And after looking through Hartcourt's catalogue, I desperately want these too:
Book 1: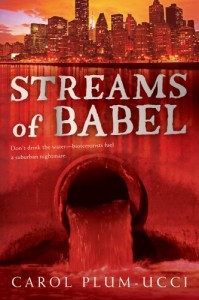 In a New Jersey suburb, two women die of brain aneurysms within twenty-four hours–events that cause the government to suspect that a terrorist cell has unleashed a deadly biochemical agent. With each glass of water they drink, the people of Trinity Falls are poisoning themselves. A world away in Pakistan, a sixteen-year-old computer genius working as a virtual spy for the United States sees an influx of chatter from extremists about a substance they call Red Vinegar that will lead to many deaths in Colony One. Can he warn the victims before it's too late? A Printz Honor Award winner and two-time Edgar Allan Poe Award finalist, Carol Plum-Ucci explores disturbing new terrain in this riveting novel that examines the heroes and victims involved in a terrifying act of bioterrorism.
And Book 2: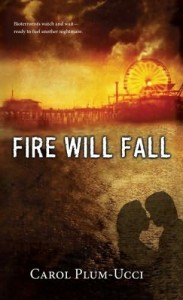 ShadowStrike poisoned the water of Trinity Falls two moths ago. Now the Trinity Four, the teens most affected by the poison, have been isolated in a remote mansion under 24-hour medical care while scientists on four continents rush to discover a cure. Meanwhile, U.S. operatives scour the world for the bioterrorists responsible for this heinous crime, as two teen virtual spies, also infected, hunt for the criminals on the Internet. The danger remains real—for ShadowStrike has every reason to pursue the Trinity Four, and their evil plan will unleash a new designer virus that's even deadlier than the first.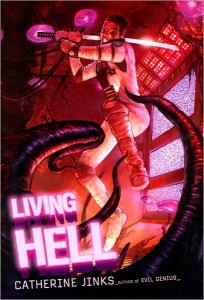 Sixteen-year-old Cheney has been enjoying a perfectly planned life aboard the ark ship Plexus with his friends and family. But when the ship passes through a mysterious energy stream, his peaceful world is changed forever. Suddenly, he's in the middle of an all-out war.

Angry Robot has released their modified catalogue for 2010 (following their new ownership) and I cannot freaking wait for this book. Blurbed by Bill freakin' Willingham. 'Nuff said. Plus, both of the covers available look great.
Zinzi has a talent for finding lost things.

To save herself, she's got to find the hardest thing of all: the truth.

An astonishing second novel from the author of the highly-acclaimed Moxyland.

Also, this book sounds wonderful: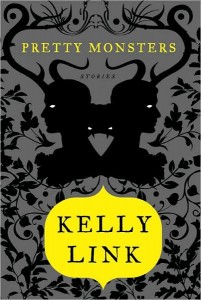 Through the lens of Kelly Link's vivid imagination, nothing is what it seems, and everything deserves a second look. From the multiple award- winning "The Faery Handbag," in which a teenager's grandmother carries an entire village (or is it a man-eating dog?) in her handbag, to the near-future of "The Surfer," whose narrator (a soccer-playing skeptic) waits with a planeload of refugees for the aliens to arrive, these ten stories are funny and full of unexpected insights and skewed perspectives on the world. Kelly Link's fans range from Michael Chabon to Peter Buck of R.E.M. to Holly Black of Spiderwick Chronicles fame. Now teens can have their world rocked too!

And this book is old, but I saw it at The Strand and realized how much I really wanted to read it. Perhaps I will get a chance to, soon.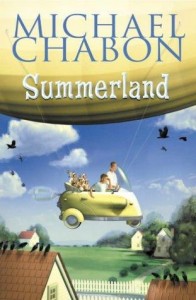 For over a century, the people of Clam Island, Washington, have enjoyed barbecues and baseball games at Summerland, on the Western tip of the island, where it never rains. The small beings – known as ferishers – who ensure this perfect weather, however, are threatened by an ancient enemy, and need a hero – a baseball star, in fact – to vanquish their foe. Summerland is the story of Ethan Feld, the worst ball player in the history of the game, recruited by a hundred-year-old scout called Ringfinger Brown, himself a Negro League Legend. Accompanied by his determined friend, Jennifer T. Rideout, and guided by a friendly werefox, Ethan struggles to defeat giants, bat-winged goblins, and one of the toughest ballclubs in the realms of magic, to save all the Summerlands, and ultimately the world.

On Ana's Radar:
First up, is one book we are REALLY looking forward to because we loved the first in this trilogy, Prospero Lost published last year:
The search of a daughter for her father is but the beginning of this robust fantasy adventure. For five hundred years since the events of William Shakespeare's The Tempest, Miranda has run Prospero, Inc., protecting an unknowing world from disasters both natural and man-made. Now her father has been taken prisoner of dark spirits in a place she could only guess. Piecing together clues about her father's whereabouts and discovering secrets of her shrouded past, she comes to an inescapable conclusion she has dreaded since Prospero was lost.

Prospero has been imprisoned in Hell, kept there by demons who wish to extract a terrible price in exchange for his freedom. As the time of reckoning for Miranda draws near, she realizes that hundreds of years of their family's magic may not be enough to free her once-powerful father from the curse that could destroy them…and the world.

Now, this one is added here purely because it sounds.so.much.fun. Plus, you know, it's Meg Cabot: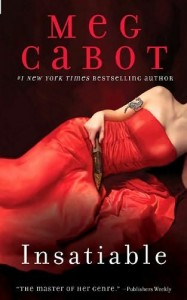 Meena Harper is a dialogue writer for Insatiable, the highest rated soap on television…at least until Lust—Insatiable's main competitor—launches its new vampire romance storyline.

Now Lust is breaking every daytime rating on record, and all Meena hears from her bosses is: Give the female leads of Insatiable hot vampire love interests.

But Meena's tired of the monster misogyny rampant in the entertainment business, and refuses. Too bad this causes her to lose the promotion she's always wanted.

Work is the least of Meena's worries, however: her brother Jon has lost his high paying investment banking job and joined the ranks of the city's numerous unemployed…just like the husband of Meena's best friend Leisha, who happens to be seven months pregnant and is giving Meena — who has a special psychic gift — anxious twinges. Meena's always kept hidden the fact that she knows how everyone she meets is going to die…so what does that mean about Leisha?

And what's Meena supposed to do about her neighbor, "the Contessa," who wants to set Meena up with her cousin Lucien, visiting from Romania for reasons as mysterious as he is?

But when vampire-mania works itself to a fever pitch in Manhattan, fueled by the dueling plotlines on Lust and Insatiable, as well as the city's mounting deaths, Meena is astounded to discover that the creatures she's always despised as the sexist stuff of fantasy might actually be real…

…and that thanks to her "gift", Meena herself could be in danger of turning into one…unless a vigilante band of vampire slayers, one of whom has shown up at her door and is holding her hostage, can put a stop to it.

But does Meena, drawn as she finds herself to Lucien—who might just be the Prince of Darkness himself—really want them to?

The next three are books I picked up during BEA. The first, from Orbit's booth, the second from The Strand (it is a Pied's Piper retelling!) and the third, I literally stumbled upon walking around one of the booths – it was just there.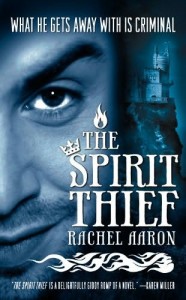 Eli Monpress is talented. He's charming. And he's a thief.

But not just any thief. He's the greatest thief of the age – and he's also a wizard. And with the help of his partners – a swordsman with the most powerful magic sword in the world but no magical ability of his own, and a demonseed who can step through shadows and punch through walls – he's going to put his plan into effect.

The first step is to increase the size of the bounty on his head, so he'll need to steal some big things. But he'll start small for now. He'll just steal something that no one will miss – at least for a while.

Like a king.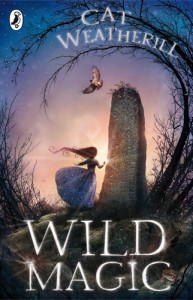 Dark, magical and exciting, Cat Weatherill's new fantasy takes the legend of the Pied Piper and gives it an unexpected twist. Mari and her brother Jakob have followed the enchanted music and are now trapped in a world of wild magic. A world as cruel as it is beautiful. And all the time, they are being stalked by a fearsome beast, who needs one of the children to break a centuries-old curse. But the price of breaking the curse is a terrible one . . . A spellbinding and wild adventure, full of unexpected magic and danger.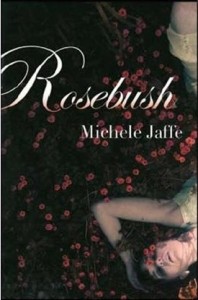 See Jane run. See Jane die.

Instead of celebrating Memorial Day weekend on the Jersey shore, Jane is in the hospital surrounded by teddy bears, trying to piece together what happened last night. One minute she was at a party, wearing fairy wings and cuddling with her boyfriend. The next, she was lying near-dead in a rosebush after a hit and run.

Everyone thinks it was an accident, despite the phone threats Jane swears were real. But the truth is a thorny thing. As Jane's boyfriend, friends, and admirers come to visit, more memories surface–not just from the party, but from deeper in her past…including the night her best friend Bonnie died.

With nearly everyone in her life a suspect now, Jane must unravel the mystery before her killer attacks again. Along the way, she is forced to examine the consequences of her life choices in this compulsively readable thriller.

I really want this next one: it has a wonderful cover doesn't it? And it's like secret books and magical objects and who doesn't like THAT?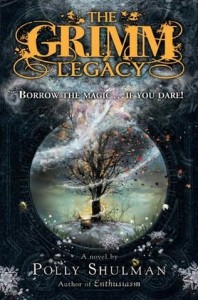 Elizabeth has a new job at an unusual library— a lending library of objects, not books. In a secret room in the basement lies the Grimm Collection. That's where the librarians lock away powerful items straight out of the Brothers Grimm fairy tales: seven-league boots, a table that produces a feast at the blink of an eye, Snow White's stepmother's sinister mirror that talks in riddles.

When the magical objects start to disappear, Elizabeth embarks on a dangerous quest to catch the thief before she can be accused of the crime—or captured by the thief.

Polly Shulman has created a contemporary fantasy with a fascinating setting and premise, starring an ordinary girl whose after-school job is far from ordinary— and leads to a world of excitement, romance and magical intrigue.

Then, also from Orbit, a book that also sounds and looks awesome: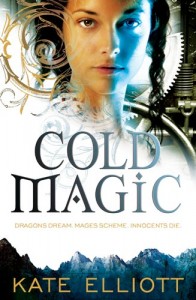 As they approach adulthood, Cat Barahal and her cousin Bee think they understand the society they live in and their place within it. At a select academy they study new airship technologies and the dawning Industrial Revolution, but magical forces still rule. Drawn into a labyrinth of politics involving blood and old feuds, Cat is betrayed by her family and forced to marry a powerful Cold Mage. As she is carried away to live a new life, fresh dangers threaten her every move and secrets form a language she cannot read. At least, not yet.

And that's it for us! What do you have on your radars?