"On The Smugglers' Radar" is a feature for books that have caught our eye: books we have heard of via other bloggers, directly from publishers, and/or from our regular incursions into the Amazon jungle. Thus, the Smugglers' Radar was born. Because we want far more books than we can possibly buy or review (what else is new?), we thought we would make the Smugglers' Radar into a weekly feature – so YOU can tell us which books you have on your radar as well!
On Ana's Radar:
Kate Elliott was tweeting about this never before published Gothic by Evangeline Walton and I think it looks awesome: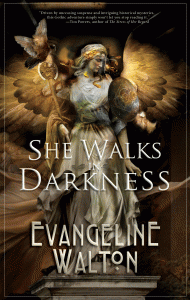 "Old Mattia Rossi's body is gone. It no longer lies at the foot of the cellar stairs. And that can mean only one thing. Someone must have taken it away. Who? Who—except the murderer?"

Beneath the beautiful estates of Tuscany lies another world, twisting labyrinths of catacombs, temples, and tombs filled with lost wonders of the ancient world. Treasures of ancient royal lines lie untouched, watched over by the unblinking eyes of pitiless Etruscan deities.

Caught up in a gothic saga of passion, madness, honor, and revenge, a resourceful young woman must rely on her wits, or be lost to the tender mercies of a brutal goddess.

Orbit revealed the cover for Ken MacLeod's Descent (nothing on what it's about though so far):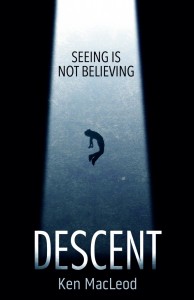 This heist book has been out for a while now but I only just heard about it: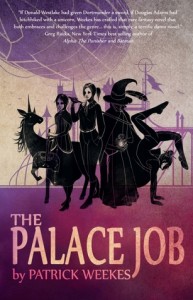 The most powerful man in the republic framed her, threw her in prison, and stole a priceless elven manuscript from her family.

With the help of a crack team that includes an illusionist, a unicorn, a death priestess, a talking warhammer, and a lad with a prophetic birthmark, Loch must find a way into the floating fortress of Heaven's Spire–and get past the magic-hunting golems and infernal sorcerers standing between her and the vault that holds her family's treasure.

It'd be tricky enough without the military coup and unfolding of an ancient evil prophecy–but now the determined and honourable Justicar Pyvic has been assigned to take her in.

But hey, every plan has a few hitches.

Coming in September from TU Books and with a Native American heroine? It sounds so AWESOME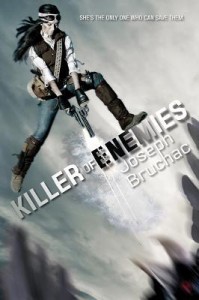 Years ago, seventeen-year-old Apache hunter Lozen and her family lived in a world of haves and have-nots. There were the Ones—people so augmented with technology and genetic enhancements that they were barely human—and there was everyone else who served them.

Then the Cloud came, and everything changed. Tech stopped working. The world plunged back into a new steam age. The Ones' pets—genetically engineered monsters—turned on them and are now loose on the world.

Lozen was not one of the lucky ones pre-C, but fate has given her a unique set of survival skills and magical abilities. She hunts monsters for the Ones who survived the apocalyptic events of the Cloud, which ensures the safety of her kidnapped family. But with every monster she takes down, Lozen's powers grow, and she connects those powers to an ancient legend of her people. It soon becomes clear to Lozen that she is not just a hired gun.

As the legendary Killer of Enemies was in the ancient days of the Apache people, Lozen is meant to be a more than a hunter. Lozen is meant to be a hero.

This coming Esther M Friesner is being compared to Shannon Hale and Malinda Lo and LOOKS like BRAVE. So yeah. Gimme!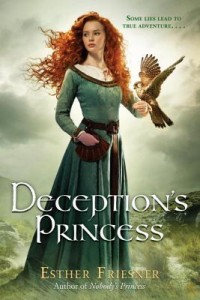 I am too young to be a part of so many lies. . . .

Maeve wishes she were born a boy. Headstrong and fearless, she would be the heir her father, the High King, deserves. Instead she is the youngest of five daughters and will eventually be shipped off into fosterage and then used as a pawn to make her father's kingdom stronger with her marriage. Frustrated, she turns to trickery and bad behavior until no family will foster her and no well-bred son will marry her. But is that what she really wants? How did she find herself wrapped up in so many lies? It's time for Maeve to tell her story . . . the true story.

Esther Friesner's remarkable gift for combining exciting myth and richly researched history beckons readers into the fascinating world of first-century Ireland. Hand Deception's Princess to fans of Tamora Pierce, Shannon Hale, and Malinda Lo.

On Thea's Radar:
More exciting-looking books from the mail are up on my radar, starting with this science fiction novel from Daw: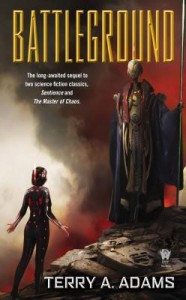 Hanna Bassiano, formerly known as Lady H'ana ril-Koroth of D'neera, was, like all the people of the planet D'neera a telepath. Mutated from true-human stock, the D'neerans had claimed a world of their own to escape persecution, and started a flourishing civilization there. Now, accepted by true-humans, some like Hanna had ventured out into the wider universe, using their talents to the benefit of all. Hanna herself had become humanity's expert in first contact with other sentient races. And though her very first mission had nearly ended in her death and could have resulted in a devastating interstellar war, both Hanna and humanity had survived.

Several additional contacts had seen her firmly established as the person to spearhead this new first-contact mission. She and her handpicked team were now aboard alien contact ship Endeavor Three, following a centuries' cold trail to a distant world that had sent its own expedition to the human colony world New Earth two hundred years ago.

Long before Endeavor reached the planet they came to know as Battleground, Hanna began to explore the starways with her mind, seeking contact with this legendary race. But when at last she managed to touch the minds she sought, Hanna could scarcely believe what she had found—a race that seemed to exist only to fight, to breed, and to die.

How could they survive for all these years? How had they come to be like this? And how would they respond to a peaceful expedition of humans arriving on their world?

This brand-new science fiction novel follows The D'neeran Factor, an omnibus of Sentience and The Master of Chaos, and continues the adventures of Hanna Bassiano, human telepath and first-contact specialist aboard the spaceship Endeavor.

And then these two ghost stories from Susan Black, author of the deliciously creepy The Woman in Black: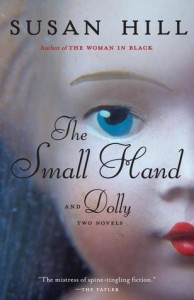 Two chilling ghost stories from the author of The Woman in Black, both set in crumbling English houses that are haunted by the spirits of thwarted children. A VINTAGE TRADE PAPER ORIGINAL.

In The Small Hand, antiquarian bookseller Adam Snow is returning from a client visit when he takes a wrong turn and stumbles across a derelict Edwardian house with a lush, overgrown garden. Approaching the door, he is startled to feel the unmistakable sensation of a small cold hand creeping into his own, almost as though a child had taken hold of it. Plagued by nightmares, he returns with the intention of figuring out its mysteries, only to be troubled by further, increasingly sinister visits. In Dolly, orphan Edward Cayley is sent to spend the summer with his forbidding Aunt Kestrel at Iyot House, her decaying home in the damp, lonely fens. With him is his spoiled, spiteful cousin, Leonora. And when Leonora's birthday wish for a beautiful doll is denied, she unleashes a furious rage which will haunt Edward for years afterward.

This next book has an intriguing, creepy concept – LPs that contain lost souls, traveling to another world by giving up a part of oneself. I like it.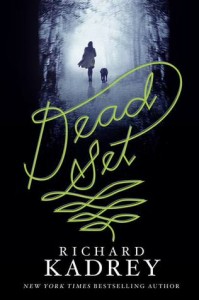 After her father's funeral, Zoe and her mother moved to the Big City to start over. But life's not so easy, the money is tight, and a new school brings trials. Fortunately, she has an escape: her dreams. A world of freedom and solace removed from the loneliness and anxieties of real life, Zoe's dreamscape offers another, more precious, gift: It is the only place where she can spend time with her closest companion — her lost brother Valentine.

Yet something is very wrong. An unfamliar — and univited — presence has entered her private realm to threaten Zoe and Valentine, a disturbing turn of events that is compounded by an impossible discovery. A chance encounter at a used record store where the grooves of the vinyl discs hold not music, but lost souls, has opened up a portal to the world of the restless dead. Now, the shop's strange proprietor is offering Zoe the chance to commune with the father whose passing took a piece of her heart. The price? A lock of hair. Then a tooth. Then…

How far into this eerie world will Zoe go to discover what she truly needs? And once she does, will there be enough left of her to come back?

I'm not usually one for short story collections, but I have highly enjoyed John Ajvide Linquvist's novels so I think I'll give this a try: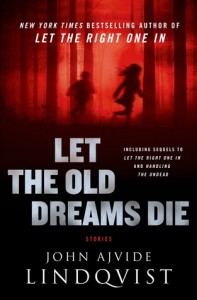 A classic short story collection from the writer called Sweden's Stephen King that continues the breathtaking story begun in the internationally acclaimed classic Let the Right One In

Because of the two superb films made of John Ajvide Lindqvist's vampire masterpiece Let the Right One In, millions of people around the world know the story of Oskar and Eli and of their final escape from Blackeberg at the end of the novel. Now at last, in "Let the Old Dreams Die," the title story in this absolutely stunning collection, we get a glimpse of what happened next to the pair. Fans of Let the Right One In will have to read the story, which is destined to generate much word of mouth both among fans and online.

"Let the Old Dreams Die" is not the only stunner in this collection. In "Final Processing," Lindqvist also reveals the next chapter in the lives of the characters he created in Handling the Undead. "Equinox" is a story of a woman who takes care of her neighbor's house while they are away and readers will never forget what she finds in the house. Every story meets the very high standard of excellence and fright factor that Lindqvist fans have come to expect. Totally transcending genre writing, these are world class stories from possibly the most impressive horror writer writing today.

Then, there's this title, which I came across on NetGalley, unlocking a world behind the mirror, and it sounds awesome (not to mention that gorgeous cover):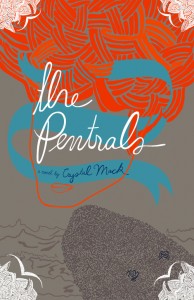 Picture your life without free will.

No choice. No voice. No personal direction.

For 17 years, it's the only path I've known. Always a follower, never in control, I am an afterthought, burying my impulses as I bend to the whims of another.

I dream of someone taking notice—of falling in love and being kissed. But I probably never will.

My name is Antares. I am a Shadow.

Deep in a secluded canyon lies Talline, a metropolis of mirrors filled with forces called Pentrals that outline our very existence. Antares, Pentral Class Two, took an oath to act without influence—to echo without opinion. But in a cruel twist of fate, she must watch as Violet, her person, encounters a tragedy that will change both their lives forever. When Violet starts making careless choices, Antares can no longer remain a silent silhouette. She won't allow lost friendships, broken hearts, or those mysterious menaces looking out from the glass to tear apart Violet's very being. In doing so, Antares unknowingly crosses forbidden boundaries and ends up illuminating a darkness much deeper than her own.

And that's it from us! What books do you have on YOUR radar?