"On The Smugglers' Radar" is a feature for books that have caught our eye: books we have heard of via other bloggers, directly from publishers, and/or from our regular incursions into the Amazon jungle. Thus, the Smugglers' Radar was born. Because we want far more books than we can possibly buy or review (what else is new?), we thought we would make the Smugglers' Radar into a weekly feature – so YOU can tell us which books you have on your radar as well!
On Ana's Radar:
In the latest episode of Fangirl Happy Hour, Renay was very enthusiastic about Zodiac Starforce #1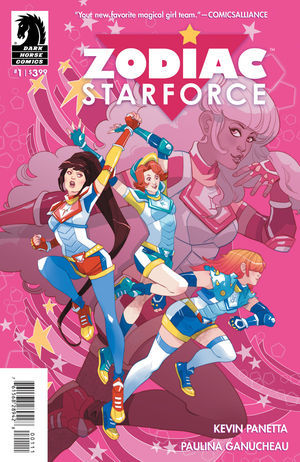 An elite group of teenage girls with magical powers have sworn to protect our planet against dark creatures . . . as long as they can get out of class!

These high-school girls aren't just combating math tests. They're also battling monsters! But when an evil force infects leader Emma, she must work with her team to save herself—and the world—from the evil Diana and her mean-girl minions!

On the Edge of Gone by Corinne Duyvis sounds pretty great: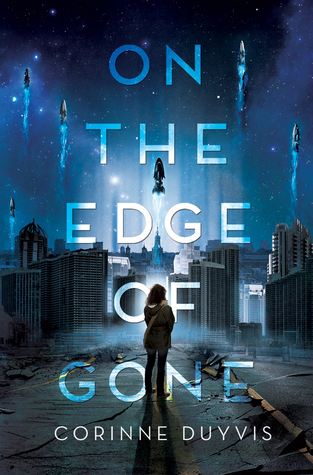 January 29, 2035. That's the day the comet is scheduled to hit—the big one.

Denise and her mother and sister, Iris, have been assigned to a temporary shelter outside their hometown of Amsterdam to wait out the blast, but Iris is nowhere to be found, and at the rate Denise's drug-addicted mother is going, they'll never reach the shelter in time.

A last-minute meeting leads them to something better than a temporary shelter: a generation ship, scheduled to leave Earth behind to colonize new worlds after the comet hits. But everyone on the ship has been chosen because of their usefulness. Denise is autistic and fears that she'll never be allowed to stay. Can she obtain a spot before the ship takes flight? What about her mother and sister?

When the future of the human race is at stake, whose lives matter most?

I had no idea about this but it looks like Scott Westerfeld's has a Post-Apocalyptic Graphic Novel coming from First Second in 2016!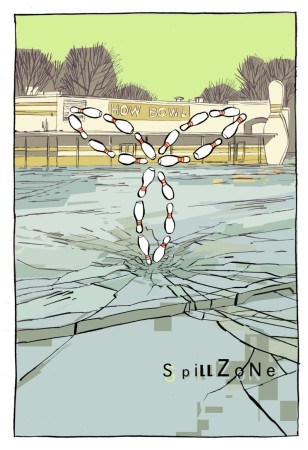 Nobody's ever really explained the Spill. Was it an angelic visitation? A nanotech accident? A porthole opening from another world? Whatever it was, no one's allowed in the Spill Zone these days except government scientists and hazmat teams.

But a few intrepid explorers know how to sneak through the patrols and steer clear of the dangers inside the Zone. Addison Merrick is one such explorer, dedicated to finding out what happened that night, and to unraveling the events that took her parents and left her little sister mute and disconnected from the world.

Tor revealed the cover for Everfair and I fell in love with it. Plus, the story seems to be an incredible thought-provoking "what if":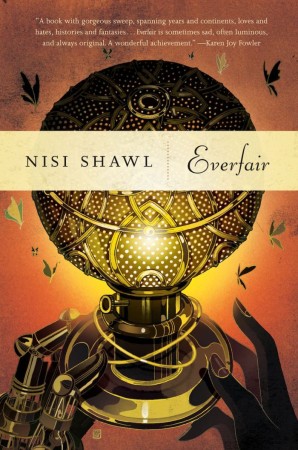 Everfair is a wonderful NeoVictorian alternate history novel that explores the question of what might have come of Belgium's disastrous colonization of the Congo if the native populations had learned about steam technology a bit earlier.

Fabian Socialists from Great Britian join forces with African American missionaries to purchase land from the Belgian Congo's "owner," King Leopold II. This land, named Everfair, is set aside as a safe haven, an imaginary Utopia for native populations of the Congo as well as escaped slaves returning from America and other places where African natives were being mistreated.

Shawl's speculative masterpiece manages to turn one of the worst human rights disasters on record into a marvelous and exciting exploration of the possibilities inherent in a turn of history. Everfair is told from a multiplicity of voices: Africans, Europeans, East Asians, and African Americans in complex relationships with one another, in a compelling range of voices that have historically been silenced. Everfair is not only a beautiful book but an educational and inspiring one that will give the reader new insight into an often ignored period of history.

On Thea's Radar:
First up on my radar is this middle grade book that's being compared to the X-Files. OK, yes please: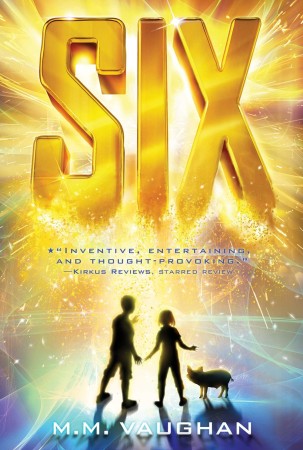 "An X-Files worthy mystery keeps the pages turning," (Kirkus Reviews, starred review) as Parker and his sister do whatever it takes to find their father in this cosmic adventure packed with action from the author of The Ability and Mindscape.

Parker and his family share a secret: they can, with the help of advanced technology, communicate between themselves through their thoughts.

When Parker, his dad, and sister Emma move to New York three years after his mother's death, Parker is having a hard time. He misses London and his friends, his father is distracted with his new job, and Emma is looking out for him instead of the other way around.

And then Parker's dad, on the cusp of a technological breakthrough, is kidnapped. Thanks to a message his dad sent telepathically before the signal cut off, Parker is suddenly on a rescue mission. Now Parker and Emma, along with their friend Michael and Polly the pig, must confront the only link to their father—a dangerous man locked away in an asylum. But all the signs point to one thing: the company his dad works for is up to something big. Huge. A perfectly sinister project that threatens far more than Parker's family. A project called SIX.

Next up, a middle grade superhero novel that looks and sounds like fun: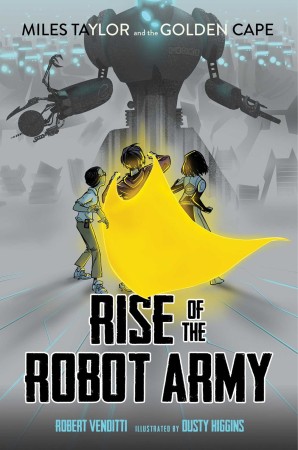 From New York Times bestselling author Rob Venditti comes the second book in the Miles Taylor and the Golden Cape series, about an eighth grader who finds himself unexpectedly thrust into the role of real-life superhero. His latest mission: to defeat an army of robots designed to destroy him!

Master the golden cape.
Been there.
Save the world from an alien invasion.
Done that.
Dominate the eighth grade.
Maybe later.
Battle an army of super-deadly robots designed to destroy you.
Sure didn't see that one coming.

After a summer of fighting crime, Miles Taylor is bummed that nothing has changed for him at Chapman Middle School. Sure, he may be in the eighth grade now and have a secret identity as Gilded, the world's only superhero, but that doesn't protect him from the Jammer's bullying or make him any more deserving of Josie's affection. Miles starts spending more and more time as Gilded, neglecting his schoolwork and his friends. It's not long before his bad attitude lands him and his best friend, Henry, in a military compound, at the mercy of the power-crazed General Breckenridge. When the General steals the golden cape, Miles finds himself back at square one with no superpowers…and no hope of escape. On the verge of losing everything—and everyone—he cares about, Miles must discover the hero within himself before the General puts his evil plans into action.

I haven't even heard of this series, but apparently this is the third and final book in it!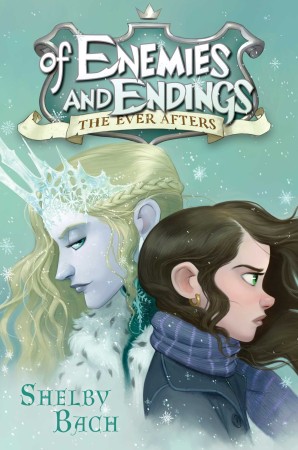 Rory and her friends are determined to stop the Snow Queen once and for all in this thrilling conclusion to the Ever Afters series, which Kirkus Reviews calls a "fast-paced combination of middle school realism and fairy-tale fantasy."
How will this tale end?

The whole fairy-tale world is on high alert. The Snow Queen and her minions are targeting Characters, and Ever After School is the only safe refuge left. Rory Landon knows a final confrontation is inevitable, and she worries about the safety of her family and friends—particularly Chase, who has been acting very strange lately.

Will Rory be able to count on Chase when she needs him most? Is she strong enough to put an end to the Snow Queen's terrible reign once and for all? Only one thing is certain: it's time for Rory to find out if her tale ends in happily-ever-after.

This sounds potentially problematic–but I'm intrigued and want to give it a try.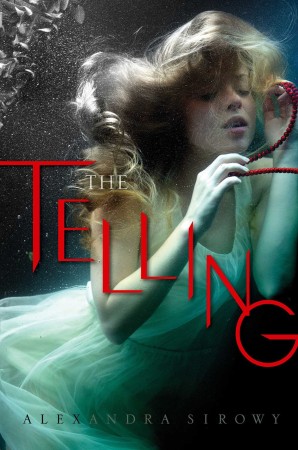 A chilling new novel about a girl who must delve into her past if she wants to live long enough to have a future when a series of murders that are eerily similar to the dark stories her brother used to tell start happening in her hometown.
Ben was Lana's world. He was her big brother, her best friend. And then he was murdered in a grisly carjacking, and her world ended.

Now, six months later, Lana is trying to reinvent herself. She's found her way into the inner circle of popular kids, and the Lana she is now—bold, daring, brash, adventurous—barely resembles the shy, unpopular girl she used to be.

And then a body turns up. At first, everyone thinks it's just a horrible accident. But when more corpses appear, Lana begins to wonder what's going on. Because the details of the murders are strangely similar to the dark fairy tales that Ben used to tell her—stories that only she and Ben knew.

Is Ben seeking vengeance from the grave? Or is a darker phantom from their past coming forward to haunt Lana's present?

This next novel sounds like The Birds meets The Perfect Storm–so of course, I want.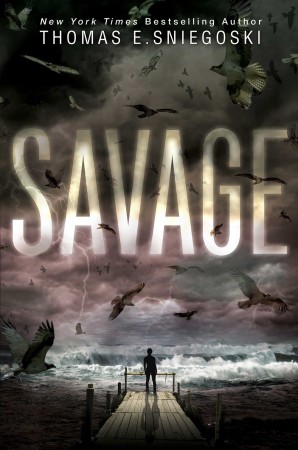 Sidney and her friends must race to find the origin of a storm that has hit their small island home—turning every animal into savage weapons—in this suspenseful thriller from New York Times bestselling author, Thomas E. Sniegoski.

The future is looking bright for Sidney Moore as she as she gets ready to leave the small island of Benediction behind for one of Boston's top veterinary schools. Only a few small bumps in the road to navigate before she can go—her father's recovery from a debilitating stroke, and her own guilt for ending her relationship with her high school sweetheart. But she's always been strong willed, and she's not about to let anything stop her from achieving her goals.

Now a storm is bearing down on Benediction, a hurricane that will bring devastating winds and rain, rising tides…and something else. Something deadly; something that will transform all the things that creep, crawl, and flutter into instruments of terror and death.

The future is looking bright for Sidney Moore…if only she can survive the storm.

Finally, this book is the third in a series that Ana and I BOTH have and really want to get started on reading–right, Ana?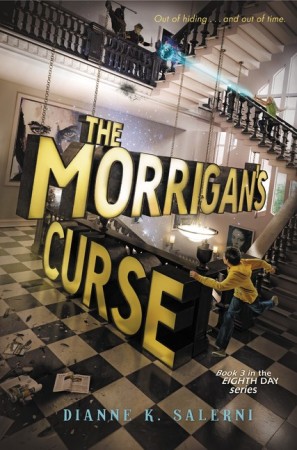 In this third and final book in the series that VOYA recommends "for fans of Percy Jackson and Harry Potter," the war over the Eighth Day continues—and there's more at stake than ever before.

The battle between Kin and Transitioners that's been brewing for centuries has come to a head. The sinister Kin have captured Addie Emrys, Evangeline's sister and the Merlin descendant who will allow them to reverse the Eighth Day Spell and free themselves. Addie, who doesn't realize the full consequences of her cooperation, is helping the Kin because they let her use her magic—something Evangeline never did—and the feeling of power running through her veins is impossible to resist.

Meanwhile, Riley, Evangeline, and Jax craft a plan to rescue Addie from her captors. But the Kin's unstoppable magic, plus the fact that Addie may not go willingly, force Riley to reconsider whether saving Addie is worth sacrificing everyone who lives in the seven-day week. Jax won't accept letting Evangeline's sister be used as a pawn, so he risks it all in a secret mission of his own. With the Morrigan pushing both sides of the war toward annihilation, Addie must decide with whom to stand, while Jax, Riley, and Evangeline confront the possibility of losing Addie to save the world.

Adventure, action, and magic collide to create an unforgettable conclusion to the trilogy that Kirkus called "an inspired series."

And that's it from us! What books do you have on your radar?
Handy pre-order links: