"On The Smugglers' Radar" is a feature for books that have caught our eye: books we have heard of via other bloggers, directly from publishers, and/or from our regular incursions into the Amazon jungle. Thus, the Smugglers' Radar was born. Because we want far more books than we can possibly buy or review (what else is new?), we thought we would make the Smugglers' Radar into a weekly feature – so YOU can tell us which books you have on your radar as well!
On Ana's Radar:
I've been following Nicola Griffith on Twitter and her progress writing her new novel Hild on the life of Hild of Whitby. Here is a bit about the book: "Seventh century Britain is in transition. Small kingdoms are dissolving and merging. Edwin of Northumbria plots to become overking of the Angles using every tool at his disposal: blood, bribery, and belief. Into this world of war and wyrd is born Hild, king's niece: a child with a glittering mind, powerful curiosity, and will of adamant. Edwin is cunning and ruthless, but Hild is matchless. She carves herself a place as his advisor, a young woman at the heart of the violence, subtlety, and mysticism of the early medieval age. But kings don't trust anyone, even nieces. And at this level, the stakes are life and death."
I can't wait to read it.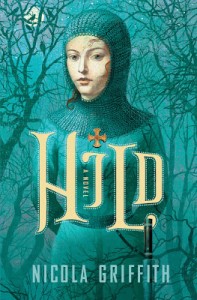 Victoria Schwab (author of The Archived and The Near Witch has her first adult book coming out this year with Tor Book. There is a very cool article at Tor.com talking about the creation of the OMFG AWESOME cover that is well worth a read. Anyways, check it out: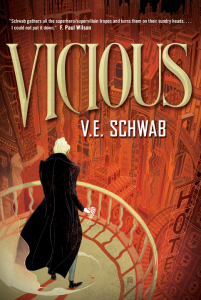 A.S. King also has a new book out this year and I am onboard since I've enjoyed most of her books to date: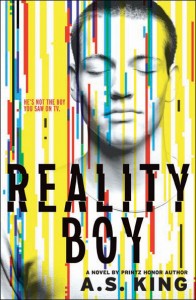 Gerald Faust knows exactly when he started feeling angry: the day his mother invited a reality television crew into his five-year-old life. Twelve years later, he's still haunted by his rage-filled youth—which the entire world got to watch from every imaginable angle—and his anger issues have resulted in violent outbursts, zero friends, and clueless adults dumping him in the special education room at school.

Nothing is ever going to change. No one cares that he's tried to learn to control himself, and the girl he likes has no idea who he really is. Everyone's just waiting for him to snap…and he's starting to feel dangerously close to doing just that.

In this fearless portrayal of a boy on the edge, highly acclaimed Printz Honor author A.S. King explores the desperate reality of a former child "star" who finally breaks free of his anger by creating possibilities he never knew he deserved.

I've enjoyed British novelist Jame Dawson's first novel Hollow Pike and will gladly read his sophomore novel: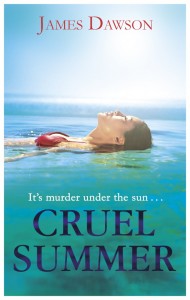 A year after Janey's suicide, her friends reunite at a remote Spanish villa, desperate to put the past behind them. However, an unwelcome guest arrives claiming to have evidence that Jane was murdered. When she is found floating in the pool, it becomes clear one of them is a killer. Only one thing is for certain, surviving this holiday is going to be murder…

A compelling and psychological thriller – with a dash of romance.

A YA book set in the Reconstruction, after the Civil War? Where do I sign up, please?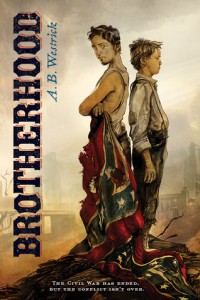 The year is 1867, and Richmond, Virginia, lies in ruins.

By day fourteen-year-old Shadrach apprentices with a tailor and sneaks off for reading lessons from Rachel, a freed slave who runs a school for black children. By night he follows his older brother to the meetings of a brotherhood, newly formed to support Confederate widows and grieving families like his. As the true murderous mission of the brotherhood—now known as the Ku Klux Klan—emerges, Shad is trapped between his pledge to them and what he knows is right. In this unflinching view of the bitter animosity that stemmed from economic and social upheaval in the South during the period of Reconstruction, it's clear that the Civil War has ended, but the conflict isn't over.

A historical Dark Fantasy novel, girl-protagonist, a pretty cover and blurbs by such fab authors as Rae Carson, Jim Hines and M. K. Hobson? WANT.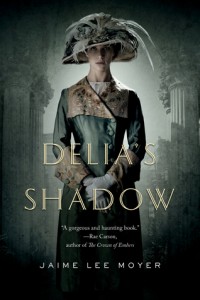 A dark, romantic fantasy set against the backdrop of San Francisco devastated by the Great Quake

It is the dawn of a new century in San Francisco and Delia Martin is a wealthy young woman whose life appears ideal. But a dark secret colors her life, for Delia's most loyal companions are ghosts, as she has been gifted (or some would say cursed) with an ability to peer across to the other side.

Since the great quake rocked her city in 1906, Delia has been haunted by an avalanche of the dead clamoring for her help. Delia flees to the other side of the continent, hoping to gain some peace. After several years in New York, Delia believes she is free…until one determined specter appears and she realizes that she must return to the City by the Bay in order to put this tortured soul to rest.

It will not be easy, as the ghost is only one of the many victims of a serial killer who was never caught. A killer who after thirty years is killing again.

And who is now aware of Delia's existence.

On Thea's Radar:
Ok, first up – because I'm in an old school frame of mind – I was looking through some catalogs and stumbled across THIS. Simon & Schuster is re-releasing Christopher Pike's Chain Letter! WHAAAAAT? I got excited (even though the Chain Letter series isn't my favorite):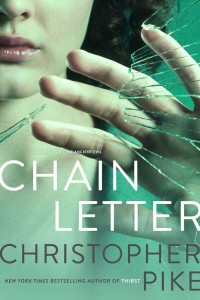 Two favorite thrillers from #1 New York Times bestselling author Christopher Pike are now available in one bone-chilling collection.

When Alison first got the chain letter signed "Your Caretaker," she thought it was a sick joke. But then it became clear that someone, somewhere knows about that awful night when she and six friends committed an unthinkable crime. And now that person is determined to make them pay.

One by the one, the chain letter comes to each of them, demanding dangerous, impossible deeds. No one wants to believe that this nightmare is really happening, but then the accidents start. And the deaths.

Finding the truth behind the stalker's identity seems to be the only option, but even that might not be enough. The Caretaker has a prodigy who is even more frightening than the first, and this time he wants more than retribution. He's out for blood.

Next up, a middle grade fantasy novel about imagination and monsters and a world called Hollow Earth. Yay.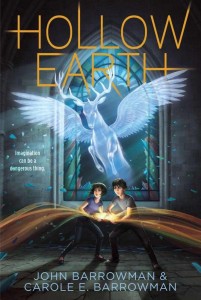 In this fresh and innovative middle grade fantasy, imagination matters most in a world where art can keep monsters trapped—or set them free.

Lots of twins have a special connection, but twelve-year-old Matt and Emily Calder can do way more than finish each other's sentences. Together, they are able to bring art to life and enter paintings at will. Their extraordinary abilities are highly sought after, particularly by a secret group who want to access the terrors called Hollow Earth. All the demons, devils, and evil creatures ever imagined are trapped for eternity in the world of Hollow Earth—trapped unless special powers release them.

The twins flee from London to a remote island off the west coast of Scotland in hopes of escaping their pursuers and gaining the protection of their grandfather, who has powers of his own. But the villains will stop at nothing to find Hollow Earth and harness the powers within. With so much at stake, nowhere is safe—and survival might be a fantasy.

I'm intrigued by the premise of this next science fiction book (and love the title/main character's name, too):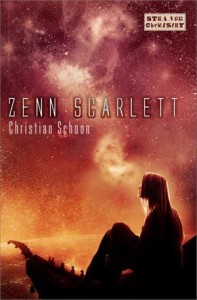 Zenn Scarlett is a bright, determined, occasionally a-little-too-smart-for-her-own-good 17-year-old girl training hard to become an exoveterinarian. That means she's specializing in the treatment of exotic alien life forms, mostly large and generally dangerous. Her novice year of training at the Ciscan Cloister Exovet Clinic on Mars will find her working with alien patients from whalehounds the size of a hay barn to a baby Kiran Sunkiller, a colossal floating creature that will grow up to carry a whole sky-city on its back.

But after a series of inexplicable animal escapes from the school and other near-disasters, the Cloister is in real danger of being shut down by a group of alien-hating officials. If that happens, Zenn knows only too well the grim fate awaiting the creatures she loves.

Now, she must unravel the baffling events plaguing her school, before someone is hurt or killed, before everything she cares about is ripped away from her and her family forever. To solve this mystery – and live to tell about it – Zenn will have to put her new exovet skills to work in ways she never imagined, and in the process learn just how powerful compassion and empathy can be.

Then there's this horror novel, which sounds like it's right up my alley. (It had me at mutant cockroaches.)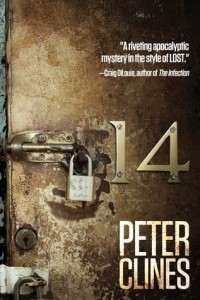 Padlocked doors. Strange light fixtures. Mutant cockroaches.

There are some odd things about Nate's new apartment.

Of course, he has other things on his mind. He hates his job. He has no money in the bank. No girlfriend. No plans for the future. So while his new home isn't perfect, it's livable. The rent is low, the property managers are friendly, and the odd little mysteries don't nag at him too much.

At least, not until he meets Mandy, his neighbor across the hall, and notices something unusual about her apartment. And Xela's apartment. And Tim's. And Veek's.

Because every room in this old Los Angeles brownstone has a mystery or two. Mysteries that stretch back over a hundred years. Some of them are in plain sight. Some are behind locked doors. And all together these mysteries could mean the end of Nate and his friends.

Or the end of everything…

I loved The Adoration of Jenna Fox, but have yet to read The Fox Inheritance (I vow to do this very soon) – book 3 comes out this month! I need to get on that.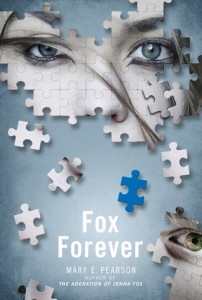 Locke Jenkins has some catching up to do. After spending 260 years as a disembodied mind in a little black box, he has a perfect new body. But before he can move on with his unexpected new life, he'll have to return the Favor he accepted from the shadowy resistance group known as the Network.

Locke must infiltrate the home of a government official by gaining the trust of his daughter, seventeen-year-old Raine, and he soon finds himself pulled deep into the world of the resistance—and into Raine's life.

Mary E. Pearson brings the story she began in The Adoration of Jenna Fox and continued in The Fox Inheritance to a breathtaking conclusion as Locke discovers that being truly human requires much more than flesh and blood.

I'm in a thriller-y/horror type of mood, and this next book looks like it will fit the bill – human experimentation gone wrong on secluded lost island? Ok. I'm in.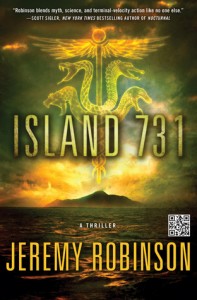 The high adventure of James Rollins meets the gripping suspense of Matthew Reilly in Jeremy Robinson's explosive new thriller

Mark Hawkins, former park ranger and expert tracker, is out of his element, working on board the Magellan, a research vessel studying the Great Pacific Garbage Patch. But his work is interrupted when, surrounded by thirty miles of refuse, the ship and its high tech systems are plagued by a series of strange malfunctions and the crew is battered by a raging storm.

When the storm fades and the sun rises, the beaten crew awakens to find themselves anchored in the protective cove of a tropical island…and no one knows how they got there. Even worse, the ship has been sabotaged, two crewman are dead and a third is missing. Hawkins spots signs of the missing man on shore and leads a small team to bring him back. But they quickly discover evidence of a brutal history left behind by the Island's former occupants: Unit 731, Japan's ruthless World War II human experimentation program. Mass graves and military fortifications dot the island, along with a decades old laboratory housing the remains of hideous experiments.

As crew members start to disappear, Hawkins realizes that they are not alone. In fact, they were brought to this strange and horrible island. The crew is taken one-by-one and while Hawkins fights to save his friends, he learns the horrible truth: Island 731 was never decommissioned and the person taking his crewmates may not be a person at all—not anymore.

In the effort to read more short fiction, there are these two Tor.com originals that sound pretty good – as always, love the art, too.
Terrain, by Genevieve Valentine: is a steampunk western about six diverse people living and working together on a farm outside a small town in Wyoming. The encroaching Union Pacific railroad wants the land, threatening their home and their livelihood, running a unique message service with mechanical "dogs" (actually looking more insectile) that can climb up mountains where the Pony Express cannot.
The Hanging Game, by Hellen Marshall: Sometimes a game, even a sacred game, can have far-reaching consequences. In bear country young Skye learns just how far she is willing to go to play the game properly in order carry on the traditions that came before her and will most likely continue long after she is gone.

And that's it from us! What books do you have on YOUR radar?