"On The Smugglers' Radar" is a new feature for books that have caught our eye: books we have heard of via other bloggers, directly from publishers, and/or from our regular incursions into the Amazon jungle. Thus, the Smugglers' Radar was born. Because we want far more books than we can possibly buy or review (what else is new?), we thought we would make the Smugglers' Radar into a weekly feature – so YOU can tell us which books you have on your radar as well!
On Ana's Radar:
Saw this cover released all over the Internets yesterday and thought it looked cool – and it sounds like it can be fun too: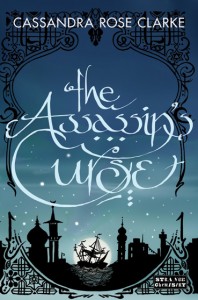 Ananna of the Tanarau abandons ship when her parents try to marry her off to an allying pirate clan. But that only prompts the scorned clan to send an assassin after her. And when Ananna faces him down one night, armed with magic she doesn't really know how to use, she accidentally activates a curse binding them together. To break the curse, Ananna and the assassin must complete three impossible tasks—all while grappling with evil wizards, floating islands, haughty manticores, runaway nobility, strange magic, and the growing romantic tension between them.

I had posted the original – and sorry but I gotta say this: horrendous – cover of Tom Pollock's The City's Son before but the new one is REALLY so much better, I have to post about this book again: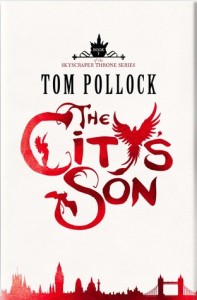 Expelled from school, betrayed by her best friend and virtually ignored by her dad, who's never recovered from the death of her mum, Beth Bradley retreats to the sanctuary of the streets, looking for a new home. What she finds is Filius Viae, the ragged and cocky crown prince of London, who opens her eyes to the place she's never truly seen. But the hidden London is on the brink of destruction. Reach, the King of the Cranes, is a malign god of demolition, and he wants Filius dead. In the absence of the Lady of the Streets, Filius' goddess mother, Beth rouses Filius to raise an alleyway army, to reclaim London's skyscraper throne for the mother he's never known. Beth has almost forgotten her old life – until her best friend and her father come searching for her, and she must choose between the streets and the life she left behind.

Thea brought Transcendence to my attention this week – it sounds good and I love the PoC cover.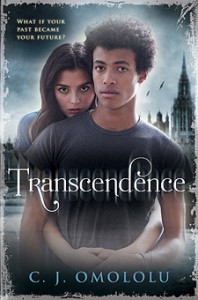 Love isn't the only emotion to survive death . . .

When a visit to the Tower of London triggers an overwhelmingly real vision of a beheading that occurred centuries before, Cole Ryan fears she is losing her mind. A mysterious boy, Griffon Hall, comes to her aid, but the intensity of their immediate connection seems to open the floodgate of memories even wider.

As their feelings grow, Griffon reveals their common bond as members of the Akhet—an elite group of people who can remember past lives and use their collected wisdom for the good of the world. But not all Akhet are altruistic, and a rogue is after Cole to avenge their shared past. Now in extreme danger, Cole must piece together clues from many lifetimes. What she finds could ruin her chance at a future with Griffon, but risking his love may be the only way to save them both.

Full of danger, romance, and intrigue, Transcendence breathes new life into a perpetually fascinating question: What would you do with another life to live?

Although its cover art is not final I thought I should post about The Shadow Society because it kind of sounds really cool: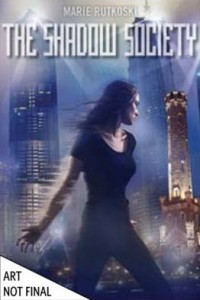 What if everyone thought you were a freak of nature? What if they were right?

Darcy Jones doesn't remember anything before the day she was abandoned as a child outside a Chicago firehouse. So she isn't surprised that she doesn't recognize Conn, the new boy at her high school, even though he seems to know her—or at least know something about her.

What does surprise her is how quickly she comes to trust Conn, and that he makes her feel both desire and desired in a way she hadn't thought possible. But his interest in her is confusing. It doesn't line up with the way he first looked at her.

As if she was his enemy.

When Conn betrays Darcy and she is arrested, she realizes that she can't rely on anything—not Conn, not herself, and not even the laws of nature. Because this world isn't the only one. Darcy belongs in an alternate world where the Great Chicago Fire never happened, and deadly creatures called Shades terrorize the human population.

Darcy needs some answers.

And she hates that the person most able to help her get them is Conn.

Thanks to Aidan for the final cover of Prisoner of Heaven. I am both terrified and super excited about this book. I LOVED Shadow of the Wind (its prequel) but basically hated all of Zafon's other books.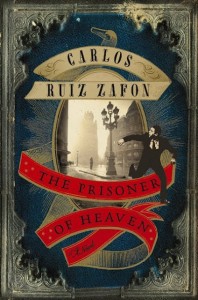 he Prisoner of Heaven returns to the world of The Cemetery of Forgotten Books and the Sempere & Sons bookshop, where Daniel, and his old friend Fermín Romero de Torres, are tending shop. Daniel is now married with a son, and Fermín is soon to follow. Both men lead relatively happy and quiet lives. Enter an enigmatic visitor–a grim old man with a piercing gaze–who inquires about Fermín's whereabouts. When told he is not in, the old man proceeds to buy the most expensive item in the store, a first edition of The Count of Monte Cristo, adds a dedication and leaves it as a present for Fermín. When Daniel reveals the details of this unsettling encounter to his friend, Fermín reads the dedication, turns pale, and at Daniel's insistence, decides to open up about a past that has come back to haunt him…a story that will leave Daniel questioning his very existence.

On Thea's Radar:
Many exciting books today! First up, this book that has an adorable cover, and sounds wonderful, basically like it was written for me: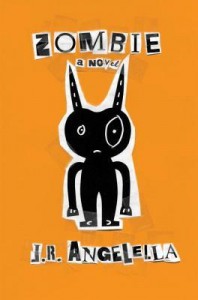 Fourteen-year-old Jeremy Barker is obsessed with zombie movies. He attends an all-boys Catholic High School where roving gangs in plaid make his days a living hell. His mother is an absentee pillhead, his older brother a self-diagnosed sex-addict, and his father an ex-Marine realtor who disappears night after night without explanation. Jeremy navigates it all with a code cobbled together from Night of the Living Dead, 28 Days Later, Planet Terror, Zombieland and Dawn of the Dead:

• Avoid Contact
• Keep Quiet
• Forget the Past
• Lock-and-load
• Fight to Survive

The code is put to the test when he discovers in his father's closet a bizarre homemade video of a man strapped to a bed, being prepped for some sort of surgical procedure. As Jeremy—troubled but ever-optimistic—attempts to trace the origin of the video, this remarkable debut moves from its sharp, precocious beginnings to a climax of almost unthinkable violence, testing him to the core.

Next, here is the follow-up to Julianna Baggot's Pure (which I thoroughly enjoyed):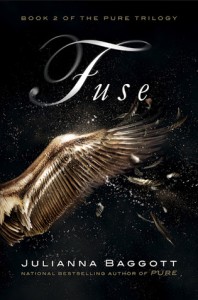 After a young Wretch is abducted by the Dome and "cleansed" of her fusings and imperfections, she is only able to repeat the Dome's latest message: "We want our son returned. This girl is proof that we can save you all. If you ignore our plea, we will kill our hostages one at a time." Willux will go to any lengths to get his son Partridge back, including murder.

Partridge sacrifices himself and returns, in the hope of taking over the Dome from within, only to uncover more of his father's chilling, dark secrets. Outside the Dome, Pressia, Bradwell, and El Capitan are decoding the secrets from the past—tucked away in one of the Black Boxes—to uncover the truth that might set the wretches free of their fusings forever.

Those fighting Willux will be pushed over boundaries, both land and sea, heart and mind, in their quest—further than they ever imagined.

Next up, book 2 in Ilsa Bick's very promising Ashes trilogy! I enjoyed book 1 so am excited for this next one (even though the cover is a bit…weak):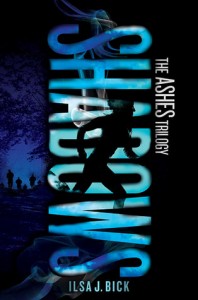 The Apocalypse does not end.
The Changed will grow in numbers.
The Spared may not survived.

Even before the EMPs brought down the world, Alex was on the run from the demons of her past and the monster living in her head. After the world was gone, she thought Rule was a sanctuary for her and those she'd come to love.

But she was wrong.

Now she's in the fight of her life against the adults who would use her, the survivors who don't trust her, and the Changed who would eat her alive.

Welcome to Shadows, the second book in the haunting apocalyptic Ashes Trilogy: where no one is safe and humans may be the worst of the monsters.

I have to admit that I kinda like this ridiculous cover – and the book itself sounds pretty rad, too.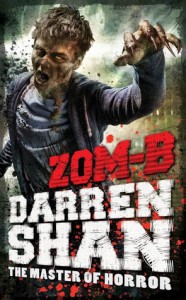 Zom-B is a radical new series about a zombie apocalypse, told in the first person by one of its victims. The series combines classic Shan action with a fiendishly twisting plot and hard-hitting and thought-provoking moral questions dealing with racism, abuse of power and more. This is challenging material, which will captivate existing Shan fans and bring in many new ones. As Darren says, "It's a big, sprawling, vicious tale…a grisly piece of escapism, and a barbed look at the world in which we live. Each book in the series is short, fast-paced and bloody. A high body-count is guaranteed!"

For this next title, I thank my darling Ana for bringing it to my attention!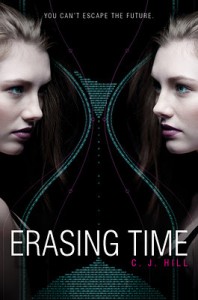 In this high-action and romantic futuristic adventure, there is no escape from the future for two contemporary girls pulled out of their own time.

When twins Sheridan and Taylor wake up 400 years in the future, they find a changed world: domed cities, no animals, and a language that's so different, it barely sounds like English. And the worst news: They can't go back home.

The twenty-fifth-century government transported the girls to their city hoping to find a famous scientist to help perfect a devastating new weapon. The moblike Dakine fights against the government, and somehow Taylor and Sheridan find themselves in the middle. The only way to elude them all is to trust Echo, a guy with secrets of his own. The trio must put their faith in the unknown to make a harrowing escape into the wilds beyond the city.

Full of adrenaline-injected chases and heartbreaking confessions, Erasing Time explores the strength of the bonds between twins, the risks and rewards of trust, and the hard road to finding the courage to fight for what you believe in.

This cover is pretty creepy, right? Not a fan of the purple, but I like the creepy almost-zombie-face. And, oh yeah, book sounds good, too. Lord of the Flies for girls. I like it.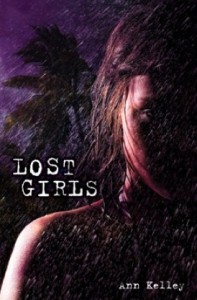 No parents. No rules. No way home.

Fourteen-year-old Bonnie MacDonald couldn't be more excited for a camping trip on an island off the coast of Thailand with her fellow Amelia Earhart Cadets-the daughters of the men and women stationed there during the Vietnam War. But when a strong current deposits the girls on what their boatman calls the "forbidden island," things take a turn for the worse: A powerful storm comes to destroy their campsite, the smallest of the junior cadets is found dead, and their boatman never returns. What once seemed like a vacation in paradise has become a battle against the elements.

Peppered with short, frantic entries from Bonnie's journal, Lost Girls is a page-turning, heart-pounding adventure story about a group of teen girls fighting for their lives.

Next up, a not-so-awesome cover, BUT I do like the premise of the book. And it's MICHAEL GRANT. (Plus, it will be at BEA! YAY!)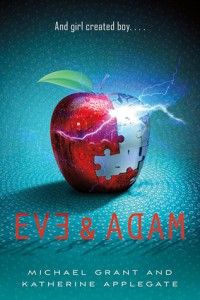 Sixteen-year-old Evening Spiker lives an affluent life in San Francisco with her mother, EmmaRose, a successful geneticist and owner of Spiker Biotech. Sure, Evening misses her father who died mysteriously, but she's never really questioned it. Much like how she's never stopped to think how off it is that she's never been sick. That is, until she's struck by a car and is exposed to extensive injuries. Injuries that seem to be healing faster than physically possible.

While recuperating in Spiker Biotech's lush facilities, she meets Solo Plissken, a very attractive, if off-putting boy her age who spent his life at Spiker Biotech. Like Evening, he's never questioned anything… until now. Solo drops hints to Evening that something isn't right, and Emma-Rose may be behind it. Evening puts this out of her mind and begins her summer internship project: To simulate the creation of the perfect boy. With the help of Solo, Evening uncovers secrets so big they could change the world completely.

The Ana banana also found these next two titles for me which look AWESOME. (I love that this one touts a game called "Creatures & Caverns" or C&C. Heh. Nice.)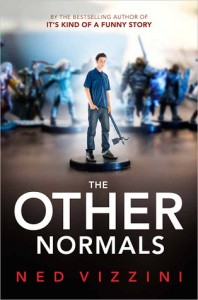 Given the chance, fifteen-year-old Peregrine "Perry" Eckert would dedicate every waking moment to Creatures & Caverns, an epic role-playing game rich with magical creatures, spell casting, and deadly weapons. The world of C&C is where he feels most comfortable in his own skin, so when his parents ship him off to summer camp Perry is sure he's in for the worst summer of his life.

Everything changes, however, when Perry gets to camp and stumbles into the World of the Other Normals. Perry's new otherworldly friends need his help to save their princess and prevent mass violence. As they embark on their quest together, Perry realizes that his nerdy childhood has uniquely prepared him to be a great warrior in this world, and maybe even a hero.

Bestselling author Ned Vizzini delivers a compulsively readable and wildly original story about the winding and often hilarious path to manhood.

And then last but not least, this delightfully creepy sounding book has my name ALL over it.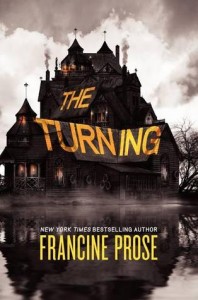 Jack is babysitting for the summer on an isolated island with no Wi-Fi, no cell service, and no one else around but a housekeeper and two very peculiar children. He immediately senses something sinister-and it's not just the creepy black house he's living in. Soon he is feeling terribly isolated and alone, but then he discovers there are others. The problem is, he's the only who can see them. As secrets are revealed and darker truths surface, Jack desperately struggles to maintain a grip on reality. He knows what he sees, and he isn't crazy…Or is he?

Where does reality end and insanity begin? The Turn of the Screw reinvented for modern-day teens, by National Book Award finalist Francine Prose.

And that's it from us! What books do you have on YOUR radar?