"On The Smugglers' Radar" is a new feature for books that have caught our eye: books we heard of via other bloggers, directly from publishers, and/or from our regular incursions into the Amazon jungle. This is how the Smugglers' Radar was born, and because there are far too many books that we want than we can possibly buy or review (what else is new?) we thought we could make it into a weekly feature – so YOU can tell us which books you have on your radar as well!
On Ana's Radar:
Has anyone read Micheal Moorcock's Hawkmoon series? I received the third book in the series – which is being re-issued by Tor with some really cool covers – and was wondering whether I should get the first two? Anyways: on my radar now: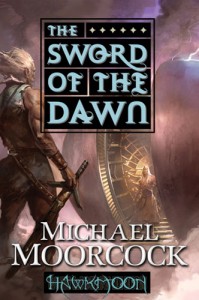 In Michael Moorcock's vast and imaginative multiverse, Law and Chaos wage war in a never-ending struggling over the fundamental rules of existence. Here in this universe, Dorian Hawkmoon traverses a world of antique cities, scientific sorcery, and crystalline machines as he pulled unwillingly into a war that pits him against the ruthless and dominating armies of Granbretan.

In The Sword of the Dawn, Dorian Hawkmoon's quest to destroy the Dark Empire of Granbretan leads him onto the path of a man who possess a rare ring that allows men to travel through time. Hawkmoon uses this ring to travel to a far future New Orleans, where he must battle the Pirate Lords who possess the Great Sword of the Dawn, which can end the Dark Empire once and for all.

Another one that looks great, coming from Tor Teen: House of the Star by Caitlin Brennan: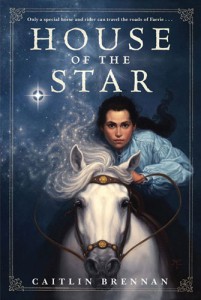 E
len is a princess of the kingdom of Ymbria. Her greatest wish is to become a rider of worldrunners: the magical horses that are the only safe way to travel the roads through the worlds of Faerie. Now Elen has the chance to fulfill her dream at last, but the price is much too high.

To become a worldrider, Elen must journey to the House of the Star on Earth, the Arizona ranch where the worldrunners live and breed. There, she must try to forge a peace with her people's worst enemy—a traitor from the world of Caledon—and end the war that has been tearing their worlds apart for centuries. If Elen doesn't succeed, the Master of the House of the Star will close both Ymbria and Caledon off from the worldroads forever. Can the wisdom of a worldrunner named Blanca help Elen in her quest to save her world?

Caitlin Brennan's first novel for young readers is an enchanting tale of a very special breed of horses, the tribe of horse girls, and faerie magic.

Floating Islands is a new YA novel coming from Rachel Neumeier: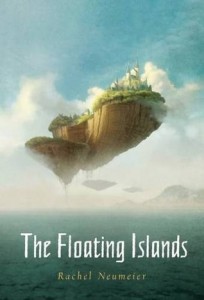 When Trei loses his family in a tragic disaster, he must search out distant relatives in a new land. The Floating Islands are unlike anything Trei has ever seen: stunning, majestic, and graced with kajurai, men who soar the skies with wings.Trei is instantly sky-mad, and desperate to be a kajurai himself. The only one who fully understands his passion is Araene, his newfound cousin. Prickly, sarcastic, and gifted, Araene has a secret of her own . . . a dream a girl cannot attain.Trei and Araene quickly become conspirators as they pursue their individual paths. But neither suspects that their lives will be deeply entwined, and that the fate of the Floating Islands will lie in their hands. . . .Filled with rich language, and told in alternating voices, The Floating Islands is an all-encompassing young adult fantasy read.

Speed of Dark by Elizabeth Moon has been recently HIGHLY recommended to me and I will be reading it as soon as possible: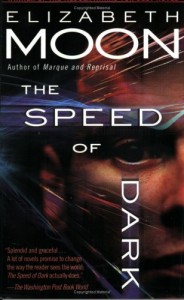 Lou is a high-functioning autistic adult who has made a good life for himself and is, he thinks, content. But a new manager in the pharmaceutical firm for which he works decides to put pressure on the unit that employs autistic persons. Lou is pressured to undergo an experimental treatment that might "cure" the autism he doesn't think needs curing, or risk losing his job–and certainly the accommodations the company has put in place for its autistic employees.

After reading – and loving – E. Lockhart's The Disreputable History of Frankie Landau-Banks, I was looking at her other books and Fly on the Wall looks interesting:
Enter Gretchen Kaufman Yee.
Collector of plastic Chinese food. Art student. Spider-man fanatic.
Gretchen's in search of a big life. A superhero life.

Enter the Art Rats, a group of guys at her NYC art school.
They're loud. Sweet. Annoying. Confusing.

Gretchen can barely look at them, goes mute whenever they're near.
Especially, Titus. Delicious and smart. Absolutely on the radar.

Gretchen wishes she could be a fly on the wall of the boys' locker room, just to see what these guys are like when they think no one's watching. And then… there she is.

A fly.? On the wall of the locker room.

She sees…EVERYTHING.

And nothing is what she thought.

On Thea's Radar:
A lot of September Releases I am excited about: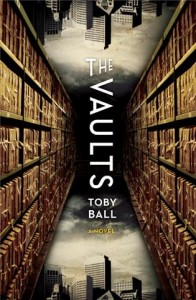 In a dystopian 1930s America, a chilling series of events leads three men down a path to uncover their city's darkest secret.

At the height of the most corrupt administration in the City's history, a mysterious duplicate file is discovered deep within the Vaults—a cavernous hall containing all of the municipal criminal justice records of the last seventy years. From here, the story follows: Arthur Puskis, the Vault's sole, hermit-like archivist with an almost mystical faith in a system to which he has devoted his life; Frank Frings, a high-profile investigative journalist with a self-medicating reefer habit; and Ethan Poole, a socialist private eye with a penchant for blackmail.

All three men will undertake their own investigations into the dark past and uncertain future of the City—calling into question whether their most basic beliefs can be maintained in a climate of overwhelming corruption and conspiracy

I think this cover is cheeeeeeesy, but I keep seeing this book all over the interwebs and as a dystopian fan, I wants it.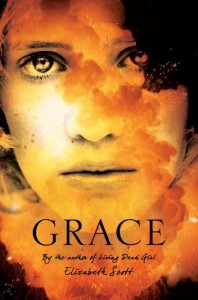 Grace was raised to be an Angel, a herald of death by suicide bomb. But she refuses to die for the cause, and now Grace is on the run, daring to dream of freedom. In search of a border she may never reach, she travels among malevolent soldiers on a decrepit train crawling through the desert. Accompanied by the mysterious Kerr, Grace struggles to be invisible, but the fear of discovery looms large as she recalls the history and events that delivered her uncertain fate.

Told in spare, powerful prose by acclaimed author Elizabeth Scott, this tale of a dystopian near future will haunt readers long after they've reached the final page.

PETER BEAGLE! Return to Soukyan! AIIEEEEE!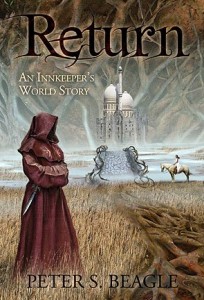 Every adventure has a beginning and every truly great adventure has an ending.

In 1993 Peter S. Beagle, author of the beloved classic, The Last Unicorn, took an old song lyric of his and spun it into the Locus Award-winning fantasy The Innkeeper's Song, an enchanting tale of three powerful women, each with a secret past, a stable boy, and an innkeeper who set in motion a series of events that bring them face to face with the forces of magic and the workings of fate.

Four years later Beagle took us back to their world in the World Fantasy Award nominated story collection, Giant Bones, and in the novella 'Lal and Soukyan' continued the adventures of two of his most-loved characters. In the decade that followed, Beagle touched on their world in powerful stories like 'Quarry,' 'Chandail,' 'Barrens Dance,' and 'What Tune the Enchantress Plays.'

Now, after a hiatus of six years, he comes back to the story of Soukyan (once known as Nyateneri) in Return. Return is a major new fantasy novella in which Soukyan turns to face the evil he has fled for most of his adult life, finally confronting the powerful forces that both made him and that have tried so tirelessly to destroy him. The end of the adventure is nearly here….

You may know that we Smugglers happen to be astrogeeks, so it should come as no surprise that I am incredibly excited for Stephen Hawking's first major book in over a decade.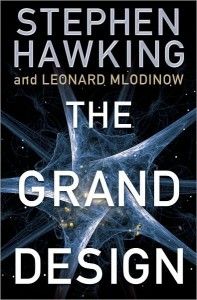 When and how did the universe begin? Why are we here? Why is there something rather than nothing? What is the nature of reality? Why are the laws of nature so finely tuned as to allow for the existence of beings like ourselves? And, finally, is the apparent "grand design" of our universe evidence of a benevolent creator who set things in motion—or does science offer another explanation?

The most fundamental questions about the origins of the universe and of life itself, once the province of philosophy, now occupy the territory where scientists, philosophers, and theologians meet—if only to disagree. In their new book, Stephen Hawking and Leonard Mlodinow present the most recent scientific thinking about the mysteries of the universe, in nontechnical language marked by both brilliance and simplicity.

In The Grand Design they explain that according to quantum theory, the cosmos does not have just a single existence or history, but rather that every possible history of the universe exists simultaneously. When applied to the universe as a whole, this idea calls into question the very notion of cause and effect. But the "top-down" approach to cosmology that Hawking and Mlodinow describe would say that the fact that the past takes no definite form means that we create history by observing it, rather than that history creates us. The authors further explain that we ourselves are the product of quantum fluctuations in the very early universe, and show how quantum theory predicts the "multiverse"—the idea that ours is just one of many universes that appeared spontaneously out of nothing, each with different laws of nature.

Along the way Hawking and Mlodinow question the conventional concept of reality, posing a "model-dependent" theory of reality as the best we can hope to find. And they conclude with a riveting assessment of M-theory, an explanation of the laws governing us and our universe that is currently the only viable candidate for a complete "theory of everything." If confirmed, they write, it will be the unified theory that Einstein was looking for, and the ultimate triumph of human reason.

A succinct, startling, and lavishly illustrated guide to discoveries that are altering our understanding and threatening some of our most cherished belief systems, The Grand Design is a book that will inform—and provoke—like no other.

I liked The Strain, and even though I had my reservations with the first book, I'll definitely be around to read this second entry from Guillermo del Toro and Chuck Hogan.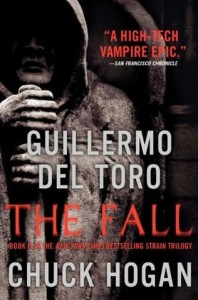 The vampiric virus unleashed in The Strain has taken over New York City. It is spreading across the country and soon, the world. Amid the chaos, Eph Goodweather—head of the Center for Disease Control's team—leads a small band out to stop these bloodthirsty monsters. But it may be too late.

Ignited by the Master's horrific plan, a war erupts between Old and New World vampires, each vying for total control. Caught between these warring forces, humans—powerless and vulnerable—are no longer the consumers, but the consumed.

Though Eph understands the vampiric plague better than anyone, even he cannot protect those he loves from the invading evil. His ex-wife, Kelly, has been turned by the Master, and now she stalks the city, in the darkness, looking for her chance to reclaim Zack, Eph's young son.

With the future of the world in the balance, Eph and his courageous team, guided by the brilliant former professor and Holocaust survivor Abraham Setrakian and exterminator Vasiliy Fet, must combat a terror whose ultimate plan is more terrible than anyone first imagined—a fate worse than annihilation.

And the new Patricia McKillip has me giddy, too. (On a side note, I love the artist that does these covers – this one, the recent The Bell at Sealey Head and Juliet Marillier's YA titles too)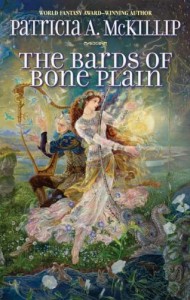 Scholar Phelan Cle is researching Bone Plain – which has been studied for the last 500 years, though no one has been able to locate it as a real place. Archaeologist Jonah Cle, Phelan's father, is also hunting through time, piecing history together from forgotten trinkets.

His most eager disciple is Princess Beatrice, the king's youngest daughter. When they unearth a disk marked with ancient runes, Beatrice pursues the secrets of a lost language that she suddenly notices all around her, hidden in plain sight.

And that's it from us! What books do you have on your radar?