"On The Smugglers' Radar" is a feature for books that have caught our eye: books we have heard of via other bloggers, directly from publishers, and/or from our regular incursions into the Amazon jungle. Thus, the Smugglers' Radar was born. Because we want far more books than we can possibly buy or review (what else is new?), we thought we would make the Smugglers' Radar into a weekly feature – so YOU can tell us which books you have on your radar as well!
On Ana's Radar:
I am VERY excited about this week's radar books because…. ALL THE AWESOME THINGS.
First up is the new entry to Laini Taylor's series with the third book in the Daughter of Smoke and Bone Trilogy (?): Dreams of Gods & Monsters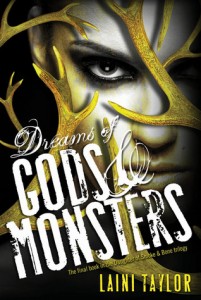 By way of a staggering deception, Karou has taken control of the chimaera rebellion and is intent on steering its course away from dead-end vengeance. The future rests on her, if there can even be a future for the chimaera in war-ravaged Eretz.

Common enemy, common cause.

When Jael's brutal seraph army trespasses into the human world, the unthinkable becomes essential, and Karou and Akiva must ally their enemy armies against the threat. It is a twisted version of their long-ago dream, and they begin to hope that it might forge a way forward for their people.

And, perhaps, for themselves. Toward a new way of living, and maybe even love.

But there are bigger threats than Jael in the offing. A vicious queen is hunting Akiva, and, in the skies of Eretz … something is happening. Massive stains are spreading like bruises from horizon to horizon; the great winged stormhunters are gathering as if summoned, ceaselessly circling, and a deep sense of wrong pervades the world.

What power can bruise the sky?

From the streets of Rome to the caves of the Kirin and beyond, humans, chimaera and seraphim will fight, strive, love, and die in an epic theater that transcends good and evil, right and wrong, friend and enemy.

At the very barriers of space and time, what do gods and monsters dream of? And does anything else matter?

I quite enjoyed Libba Bray's The Diviners and want to read book 2: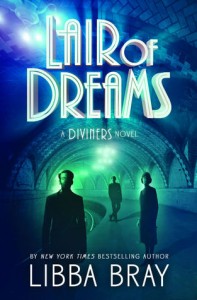 After a supernatural showdown with a serial killer, Evie O'Neill has outed herself as a Diviner. Now that the world knows of her ability to "read" objects, and therefore, read the past, she has become a media darling, earning the title, "America's Sweetheart Seer."

But not everyone is so accepting of the Diviners' abilities…

Meanwhile, mysterious deaths have been turning up in the city, victims of an unknown sleeping sickness. Can the Diviners descend into the dreamworld and catch a killer?

Another sequel to another book (When We Wake) I greatly enjoyed and it's from Abdi's viewpoint too! SQUEE. And I REALLY love this cover: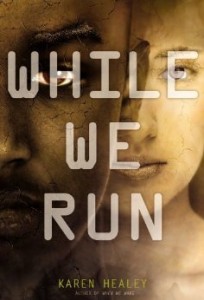 It's 2127, and the future is at stake . . .

Abdi Taalib thought he was moving to Australia for a music scholarship. But after meeting the beautiful and brazen Tegan Oglietti, his world was turned upside down. Tegan's no ordinary girl – she died in 2027, only to be frozen and brought back to life in Abdi's time, 100 years later.

Now, all they want is for things to return to normal (or as normal as they can be), but the government has other ideas. Especially since the two just spilled the secrets behind Australia's cryonics project to the world. On the run, Abdi and Tegan have no idea who they can trust – and, when they uncover startling new details about the program, they realize that thousands of lives may be in their hands.

Karen Healey offers a suspenseful, page-turning companion to When We Wake that will keep readers on the edge of their seats and make them call into question their own ideas about morality — and mortality, too.

Orbit released a whole bunch of covers last week and I am sooooo intrigued by the sound of this one book in particular: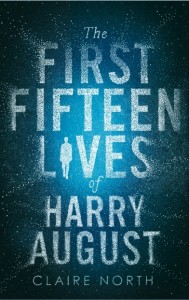 Harry August is on his deathbed. Again.

Every time Harry dies, he is reborn in exactly the same time and place, a child with all the knowledge of a life he has already lived a dozen times before.

No matter what he does or the decisions he makes, when death comes, Harry always returns to where he began, and nothing ever changes. He only knows that there are others like him, living with but apart from the rest of us.

As Harry nears the end of his eleventh life, a little girl appears at his bedside. 'I nearly missed you, Doctor August,' she says. 'I need to send a message. It has come down from child to adult, child to adult, passed back through generations from a thousand years forward in time. The message is that the world is ending, and we cannot prevent it. So now it's up to you.'

This is the story of what Harry August does next – and what he did before – and how he tries to save a past he cannot change and a future he cannot allow.

And looooooook at this beautiful cover and this intriguing story *please let it be good*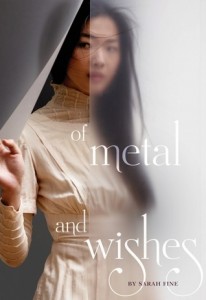 There are whispers of a ghost in the slaughterhouse where sixteen-year-old Wen assists her father in his medical clinic—a ghost who grants wishes to those who need them most. When one of the Noor, men hired as cheap factory labor, humiliates Wen, she makes an impulsive wish of her own, and the Ghost grants it. Brutally.

Guilt-ridden, Wen befriends the Noor, including their outspoken leader, a young man named Melik. At the same time, she is lured by the mystery of the Ghost and learns he has been watching her … for a very long time.

As deadly accidents fuel tensions within the factory, Wen must confront her growing feelings for Melik, who is enraged at the sadistic factory bosses and the prejudice faced by his people at the hand of Wen's, and her need to appease the Ghost, who is determined to protect her against any threat—real or imagined. She must decide whom she can trust, because as her heart is torn, the factory is exploding around her … and she might go down with it.

On Thea's Radar:
SO MANY GOODIES! The new Libba Bray looks amazing. I, too, am excited for Orbit's new line of Spring books, including this horror/thriller novel about a little girl who saves the world: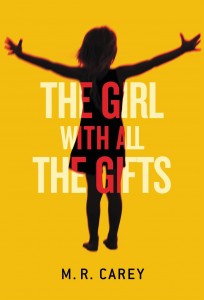 The Girl With All the Gifts is a terrifying, heartbreaking, genre-defying thriller about hope and humanity and a little girl who tries to save the world.

Melanie is a very special girl. Dr Caldwell calls her "our little genius."

Every morning, Melanie waits in her cell to be collected for class. When they come for her, Sergeant keeps his gun pointing at her while two of his people strap her into the wheelchair. She thinks they don't like her. She jokes that she won't bite, but they don't laugh.

Melanie loves school. She loves learning about spelling and sums and the world outside the classroom and the children's cells. She tells her favorite teacher all the things she'll do when she grows up. Melanie doesn't know why this makes Miss Justineau look sad.

THE GIRL WITH ALL THE GIFTS is a sensational thriller, perfect for fans of Stephen King, Justin Cronin and Neil Gaiman.

This next book also sounds promising (London, magic, etc):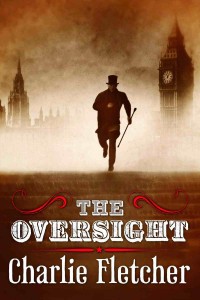 A wildly original and hugely entertaining new fantasy series for a generation that has grown up with Harry Potter and Neil Gaiman.

"The end always happens faster than you think."

Once there were hundreds of members of the Oversight, the brave souls who guard the borders between the mundane and the magic. Now there are only five.

When a vagabond brings a screaming girl to the Oversight's London headquarters, she could answer their hopes for new recruit, or she could be the instrument of their downfall.

Did I mention how much I love Orbit's publication schedule, in which each book in a series is released in rapid-fire succession? I haven't read books 1 or 2 in this series yet (they aren't out yet!) but I'm very, very excited for all of them, including this third and concluding volume: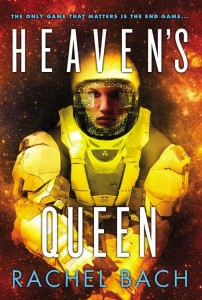 Science fiction at its most exciting, Heaven's Queen is the fantastic conclusion to the action-packed Paradox series.

From the moment she took a job on Captain Caldswell's doomed ship, Devi Morris' life has been one disaster after another: government conspiracies, two alien races out for her blood, an incurable virus that's eating her alive.

Now, with the captain missing and everyone — even her own government — determined to hunt her down, things are going from bad to impossible. The sensible plan would be to hide and wait for things to blow over, but Devi's never been one to shy from a fight, and she's getting mighty sick of running.

It's time to put this crisis on her terms and do what she knows is right. But with all human life hanging on her actions, the price of taking a stand might be more than she can pay.

Telepathic aliens invade Earth. OK, I'm in: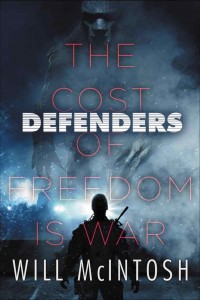 Fast-paced and thought-provoking, a dazzling novel of alien invasion from one of the brightest new talents in SF.

When Earth is invaded by telepathic aliens, humanity responds by creating the defenders. They are the perfect warriors–seventeen feet tall, knowing and loving nothing but war, their minds closed to the aliens. The question is, what do you do with millions of genetically-engineered warriors once the war is won?

A novel of power, alliances, violence, redemption, sacrifice, and yearning for connection, DEFENDERS presents a revolutionary story of invasion, occupation, and resistance.

I LOVE THIS COVER. And I'm in a very sci-fi kind of mood (thanks, Voyager 1!):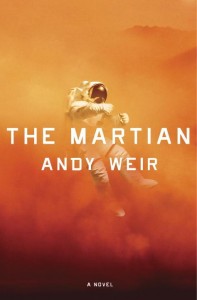 Apollo 13 meets Castaway in this grippingly detailed, brilliantly ingenious man-vs-nature survival thriller-set on the surface of Mars.

Six days ago, astronaut Mark Watney became one of the first men to walk on the surface of Mars. Now, he's sure he'll be the first man to die there.

It started with the dust storm that holed his suit and nearly killed him-and that forced his crew to leave him behind, sure he was already dead. Now he's stranded millions of miles from the nearest human being, with no way to even signal Earth that he's alive-and even if he could get word out, his food would be gone years before a rescue mission could arrive. Chances are, though, he won't have time to starve to death. The damaged machinery, unforgiving environment, or plain-old "human error" are much more likely to get him first.

But Mark isn't ready to give up yet. Drawing on his ingenuity, his engineering skills-and a relentless, dogged refusal to quit-he steadfastly confronts one seemingly insurmountable obstacle after the next. But will his resourcefulness be enough to overcome the impossible odds against him?

And that's it from us! What books do you have on YOUR radar?