"On The Smugglers' Radar" is a feature for books that have caught our eye: books we have heard of via other bloggers, directly from publishers, and/or from our regular incursions into the Amazon jungle. Thus, the Smugglers' Radar was born. Because we want far more books than we can possibly buy or review (what else is new?), we thought we would make the Smugglers' Radar into a weekly feature – so YOU can tell us which books you have on your radar as well!
On Ana's Radar:
So I wasn't a super fan of The Martian Sands but I do want to read this next Lavie Tidhar book: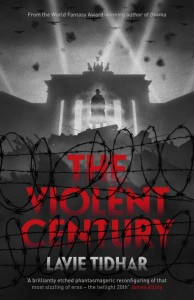 They'd never meant to be heroes.

For seventy years they'd guarded the British Empire. Oblivion and Fogg, inseparable at first, bound together by a shared fate. Until a night in Berlin, in the aftermath of the Second World War, and a secret that tore them apart.

But there must always be an account… and the past has a habit of catching up to the present.

Recalled to the Retirement Bureau from which no one can retire, Fogg and Oblivion must face up to a past of terrible war and unacknowledged heroism, a life of dusty corridors and secret rooms; of furtive meetings and blood-stained fields, to answer one last, impossible question:

What makes a hero?

I was talking about how much I loved The Blonde of the Joke by Bennett Madison on Twitter and then learned that that book was born from a short story in this anthology that ALSO includes stories from Elizabeth Wein and Martin Wilson!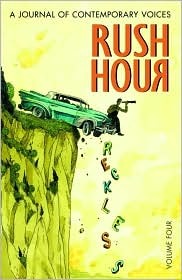 Bold, innovative, and eclectic—that's Rush Hour, the place for thoughtprovoking work from today's most distinguished voices, both established and new.

In Rush Hour: Reckless, you'll find captivating poetry by Michael L. Printz Honor winner Helen Frost and popular screenwriter Kirsten Smith; stories by Coretta Scott King Honor winner Sharon Flake and Lambda Literary Award winner David Levithan; and artwork by two-time Caldecott Honor winner Mo Willems. There is also a fascinating interview with Yann Martel, author of the international bestselling novel The Life of Pi, as well as original stories by rising stars like Martin Wilson and Greg Galloway.

Another anthology that I think looks awesome: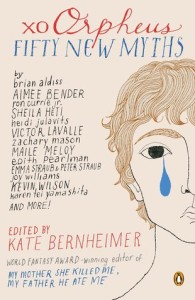 Fifty leading writers retell myths from around the world in this dazzling follow-up to the bestselling My Mother She Killed Me, My Father He Ate Me.

Icarus flies once more. Aztec jaguar gods again stalk the earth. An American soldier designs a new kind of Trojan horse—his cremains in a bullet. Here, in beguiling guise, are your favorite mythological figures alongside characters from Indian, Punjabi, Inuit, and other traditions.

Aimee Bender retells the myth of the Titans.

Madeline Miller retells the myth of Galatea.

Kevin Wilson retells the myth of Phaeton, from Ovid's Metamorphoses.

Emma Straub and Peter Straub retell the myth of Persephone.

Heidi Julavits retells the myth of Orpheus and Euridice.

Ron Currie, Jr. retells the myth of Dedalus.

Maile Meloy retells the myth of Demeter.

Zachary Mason retells the myth of Narcissus.

Joy Williams retells the myth of Argos, Odysseus' dog.

If ?xo" signals a goodbye, then xo Orpheus is a goodbye to an old way of mythmaking. Featuring talkative goats, a cat lady, a bird woman, a beer-drinking ogre, a squid who falls in love with the sun, and a girl who gives birth to cubs, here are extravagantly imagined, bracingly contemporary stories, heralding a new beginning for one of the world's oldest literary traditions.

I loved Paul Cornell's London Falling and I can't wait to read the sequel:
Desperate to find a case to justify the team's existence, with budget cuts and a police strike on the horizon, Quill thinks he's struck gold when a cabinet minister is murdered by an assailant who wasn't seen getting in or out of his limo. A second murder, that of the Commissioner of the Metropolitan Police, presents a crime scene with a message… identical to that left by the original Jack the Ripper.

The new Ripper seems to have changed the MO of the old completely: he's only killing rich white men. The inquiry into just what this supernatural menace is takes Quill and his team into the corridors of power at Whitehall, to meetings with MI5, or 'the funny people' as the Met call them, and into the London occult underworld. They go undercover to a pub with a regular evening that caters to that clientele, and to an auction of objects of power at the Tate Modern.

Meanwhile, the Ripper keeps on killing and finally the pattern of those killings gives Quill's team clues towards who's really doing this…

"A sweeping tale of Victorian science fiction, space exploration, and planetary romance."
Say no more, shut up and take my money.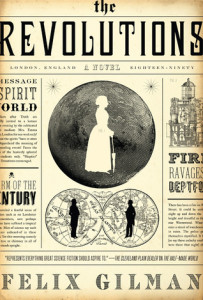 In 1893 a storm sweeps through London, while Arthur Shaw—a young astronomer with a side career writing fiction—is at work in British Museum Reading Room. The storm wreaks unprecedented damage throughout London. Its aftermath of the storm Arthur's prime literary market closes, owing him money, and all his debts come due at once. His fiance Jo takes a job as a stenographer for some of the fashionable spiritualist and occult societies of fin de siècle London society. Meanwhile, Arthur deciphers an encoded newspaper ad seeking able young men. It seems to be a clerking job doing accounting work, but the mysterious head man Mr. Gacewell offers Arthur a starting position at a salary many times what any clerk could expect. The work is long and peculiar, and the men spend all day performing unnerving calculations that make them hallucinate or even go mad…but the salary is compelling.

Things are beginning to look up when the wages of dabbling in the esoteric suddenly come due: a war breaks out between competing magical societies, and Arthur interrupts Jo in the middle of an elaborate occult exploration. This rash move turns out to be dire, as Jo's consciousness is stranded at the outer limits of the occultists' psychic day trip. Which, Arthur is chagrinned…
On Thea's Radar:
I had a pretty amazing run of books in the mail this week. Starting with this beautiful illustrated book, detailing alternate historical scenarios (based on this excellent blog):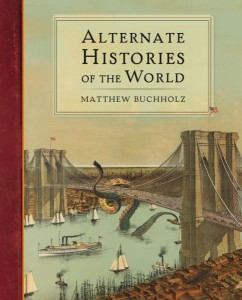 This remarkable collection of maps, photographs, engravings and paintings from the early ages to modern day provides a stunning new look at the world as defined by our struggles and alliances with the monsters and supernatural creatures that have defined our existence. Learn how a mechanical man helped write America's Declaration of Independence. Track the course of the Living Dead virus from Africa to Europe and on to the New World. View artifacts from our uneasy alliance with the Martian race, or simply delight in the vibrant colors and illustrations from a bygone age. More than 100 full-color images and insightful essays make this book an essential addition to the libraries of dedicated historians as well as casual fans of monsters and mayhem.
For example: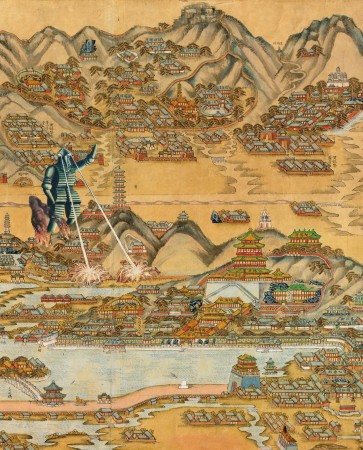 A view of Beijing, 1870, with the great Mysterion laying waste to Western holdings. (via alternatehistoriesbook.com)

Next up, this awesome illustrated version of Mary Shelley's Frankenstein (no changes to Shelley's original text – just amazing, Burton-esque illustrations added in):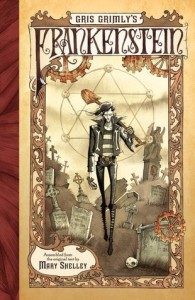 Gris Grimly, the New York Times bestselling artist and creator of the beloved Edgar Allan Poe's Tales of Mystery and Madness, has long considered Mary Shelley's classic tale of terror to be one of his greatest inspirations. He is now paying homage to it with a lavishly illustrated full-length adaptation, the first of its kind in this or any format. The tale of the hubris of Victor Frankenstein, the innocence of his monstrous creation, and the darkest desires of the human heart have never been more vividly represented on the page. Using an abridged version of the original text, Gris has created an experience that is part graphic novel, part prose novel, and all Gris Grimly: a bold sewing-together of elements both classic and contemporary. Beautifully terrifying and terrifyingly beautiful, this is Frankenstein as you've never seen it before.

Then, there's the second book in Jacqueline Carey's Agent of Hel series (I need to read book 1, of course):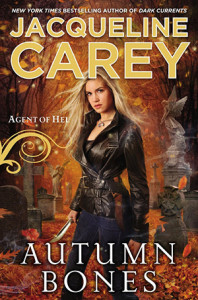 New York Times bestselling author Jacqueline Carey returns to the curious Midwest tourist community where normal and paranormal worlds co-exist—however tenuously—under the watchful eye of a female hellspawn?

Fathered by an incubus, raised by a mortal mother, and liaison to the Pemkowet Police Department, Daisy Johanssen pulled the community together after a summer tragedy befell the resort town she calls home. Things are back to normal—as normal as it gets for a town famous for its supernatural tourism, and presided over by the reclusive Norse goddess Hel.

Not only has Daisy now gained respect as Hel's enforcer, she's dating Sinclair Palmer, a nice, seemingly normal human guy. Not too shabby for the daughter of a demon. Unfortunately, Sinclair has a secret. And it's a big one.

He's descended from Obeah sorcerers and they want him back. If he doesn't return to Jamaica to take up his rightful role in the family, they'll unleash spirit magic that could have dire consequences for the town. It's Daisy's job to stop it, and she's going to need a lot of help. But time is running out, the dead are growing restless, and one mistake could cost Daisy everything.

And LOOK: new Mercy Thompson cover! The inconsistency of the tattoos doesn't bother me as much as her the way she's being made to look more delicate/"pretty" with these newer covers… but I love the books, so I'm excited.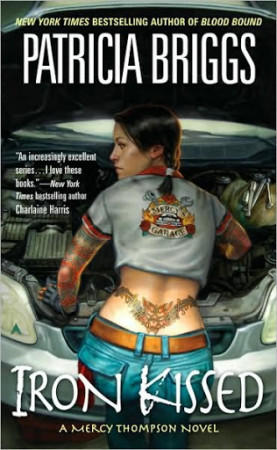 Iron Kissed (Book 3) – in my opinion, the truest Mercy cover

Ana received these books recently and is bringing them over when she comes to visit next month! WHEE!
Everyone accepted that people were different physically. But inside? Inside, they were different too. You just had to know how to tell, what to look for. Evil has been eradicated. The City has been established. And citizens may only enter after having the 'evil' part of their brain removed. They are labelled on the System according to how 'good' they are. If they show signs of the evil emerging, they are labelled a K …But no one knows quite what that means. Only that they disappear, never to be seen again …

And that's it from us! What books do you have on YOUR radar?