"On The Smugglers' Radar" is a new feature for books that have caught our eye: books we heard of via other bloggers, directly from publishers, and/or from our regular incursions into the Amazon jungle. This is how the Smugglers' Radar was born, and because there are far too many books that we want than we can possibly buy or review (what else is new?) we thought we could make it into a weekly feature – so YOU can tell us which books you have on your radar as well!
On Thea's Radar:
Angie of Angieville reviewed this book this week, and I think my head exploded. I desperately need a copy of this book. Someone want to give me an ARC? Pretty please?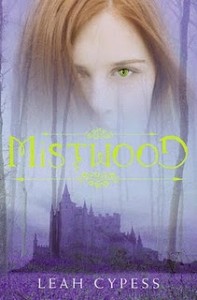 Everyone tells Isabel that she is the Shifter – the ancient shape-shifting creature who has protected the kings of Samorna for centuries. They need her to be the Shifter. Prince Rokan risked everything when he rode into the Mistwood to summon her to his side; Ven, the magician's apprentice, has devoted his life to studying her legend; and even Princess Clarisse, who fears and hates her, depends on Isabel's powers to further her own plans.

But Isabel doesn't feel like the Shifter. She feels like a lonely human girl, beset by flashes of memory that do more to confuse than to help her. If she is the Shifter, why can't she change her shape? Why doesn't she remember what made her flee the castle so many years ago? As she is drawn deeper into a web of magic and assassination, Isabel will have no choice but to look for answers. But her search will lead her to the one question the Shifter hasn't faced in a thousand years: where does she come from, and what does she really want?

This next one again comes via Angie. Pretty. AND apparently it's a re-release, with an updated cover. I'm intrigued…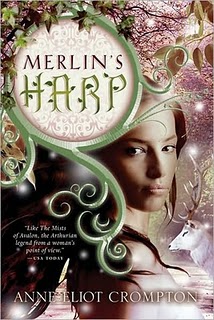 Among the towering trees of magical Avalon, where humans dare not tread, lives Niviene, daughter of the Lady of the Lake and apprentice to Merlin the mage. Her people, the Fey, are folk of the wood and avoid the violence and avarice of man. But the strife of King Arthur's realm threatens even Avalon's peace, and Merlin needs his apprentice to thwart the chaos devouring Camelot. And so Niviene must use her special talents to help save a kingdom and discover the treachery of men and the beauty of love. A mystical love story, now back in print, sure to become a modern teen classic.

I have been meaning to read The Sweetness at the Bottom of the Pie for ages now, and with this second book in the series coming out, I might just have to get on it. I love these titles, and the premises behind both books sound fantastic. Has anyone else read these books? Yay/nay?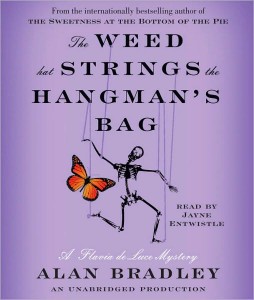 From Dagger Award–winning and internationally bestselling author Alan Bradley comes this utterly beguiling mystery starring one of fiction's most remarkable sleuths: Flavia de Luce, a dangerously brilliant eleven-year-old with a passion for chemistry and a genius for solving murders. This time, Flavia finds herself untangling two deaths—separated by time but linked by the unlikeliest of threads.

Flavia thinks that her days of crime-solving in the bucolic English hamlet of Bishop's Lacy are over—and then Rupert Porson has an unfortunate rendezvous with electricity. The beloved puppeteer has had his own strings sizzled, but who'd do such a thing and why? For Flavia, the questions are intriguing enough to make her put aside her chemistry experiments and schemes of vengeance against her insufferable big sisters. Astride Gladys, her trusty bicycle, Flavia sets out from the de Luces' crumbling family mansion in search of Bishop's Lacey's deadliest secrets.

Does the madwoman who lives in Gibbet Wood know more than she's letting on? What of the vicar's odd ministrations to the catatonic woman in the dovecote? Then there's a German pilot obsessed with the Brontë sisters, a reproachful spinster aunt, and even a box of poisoned chocolates. Most troubling of all is Porson's assistant, the charming but erratic Nialla. All clues point toward a suspicious death years earlier and a case the local constables can't solve—without Flavia's help. But in getting so close to who's secretly pulling the strings of this dance of death, has our precocious heroine finally gotten in way over her head?

Saw this cover on Bookshelves of Doom and thought, WOW. No synopsis yet, but isn't this cover preeeeetty?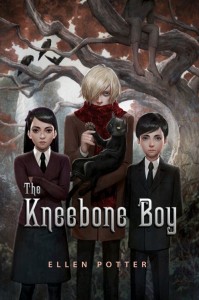 This looks slightly ridiculous, but in a good camp kind of way. On a sidenote, compare the UK (left) and US (right) covers. Quite a difference there.
What good is a toy that will wind down? What if you could put a heart in one? A real heart. One that beat and beat and didn't stop. What couldn't you do if you could make a toy like that? From the moment Mathias becomes the owner of a mysterious piece of paper, he is in terrible danger. Entangled in devious plots and pursued by the sinister Doctor Leiter and his devilish toys, Mathias finds himself on a quest to uncover a deadly secret.

And lookie, a brand new stand alone novel forthcoming from Diana Wynne Jones!
"As a boy, he had spent fascinated hours looking at the garden through each differently coloured pane. Depending, you got a rose pink sunset garden, hushed and windless; a stormy orange garden, where it was suddenly autumn; a tropical green garden, where there seemed likely to be parrots and monkeys any second. And so on. As an adult now, Andrew valued that glass even more. Magic apart, it was old old old. The glass had all sorts of internal wrinkles and trapped bubbles, and the long-dead maker had somehow managed to make the colours both intense and misty at once."

When the magician Jocelyn Brandon Hope died he bequeathed Melstone House to his grandson Andrew. He also left his 'field of care': an area of strangeness surrounding the land around the house, whose boundary Andrew must walk in order to preserve its power.

Andrew had always loved the house, but he finds owning it a lot more complicated, aside from all the magic. There is Mrs Stock, the tyrannical housekeeper who won't let him move the furniture and punishes him with her terrible cooking. Just as bad is the obsessive gardener who will only grow giant inedible vegetables. To add to his troubles, twelve year old orphan Aidan Cain suddenly arrives on the doorstep begging protection from magical stalkers, and Andrew's sinister rich neighbour, Mr Brown, begins to encroach on the 'field of care'. The one compensation is the gardener's beautiful niece, Stashe. Things become stranger and stranger until all is made clear with the help of the enchanted glass itself.

On Ana's Radar:
I have been trying. I swear I have. To resume reading Historical romance but I just spent about two hours on Amazon and none of the ones I seen so far have seem interesting. They look and sound the same to me unless the author is an old favorite like Julia Quinn, Loretta Chase, Lisa Kleypas, Meredith Duran…so I came back from my search with more Fantasy and YA goodies!
First up, this was released last week in the US and it sounds interesting: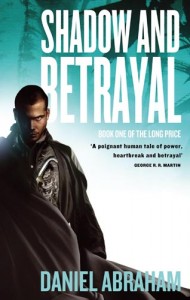 In a remote mountain academy, the politically expendable younger sons of the Great Houses study for an extraordinary task. Most will fail, some will die, but the reward for the dedicated few is great: mastery of the andat, and the rank of Poet. Thanks to these men – part sorcerers, part scholars – the great city-states of the Khaiem enjoy wealth and power beyond measure, and the greatest of them all is Saraykeht: glittering jewel of the Summer Cities. There are those in the world, however, who envy such wealth. There are great riches to be had in the Summer and Winter Cities, and only the threat of the andat unleashed holds the enemies of the Khaiem in check. Conflict is brewing in the world. Alliances will be broken and friends betrayed. The lowly will be raised up, the mighty will fall and innocents will be slaughtered. And two men, bound to each other by an act of kindness and an act of brutality, may be all that stands between the civilised world and war. War and something worse …

From Vertigo, this Graphic novel by Mike Carey seems really interesting as well…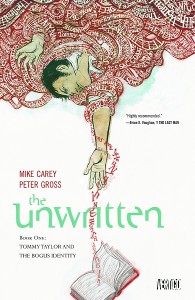 Tom Taylor's life was screwed from go. His father created the Tommy Taylor fantasy series, boy-wizard novels with popularity on par with Harry Potter. The problem is Dad modeled the fictional epic so closely to Tom's real life that fans are constantly comparing him to his counterpart, turning him into the lamest variety of Z-level celebrity. In the final novel, it's even implied that the fictional Tommy will crossover into the real world, giving delusional fans more excuses to harass Tom.

When an enormous scandal reveals that Tom might really be a boy-wizard made flesh, Tom comes into contact with a very mysterious, very deadly group that's secretly kept tabs on him all his life. Now, to protect his own life and discover the truth behind his origins, Tom will travel the world, eventually finding himself at locations all featured on a very special map — one kept by the deadly group that charts places throughout world history where fictions have impacted and tangibly shaped reality, those stories ranging from famous literary works to folktales to pop culture. And in the process of figuring out what it all means, Tom will find himself having to figure out a huge conspiracy mystery that spans the entirety of the history of fiction.

We received this in the post this week and I can not possibly convey how this cover is gorgeous! We are both looking forward to reading this one now.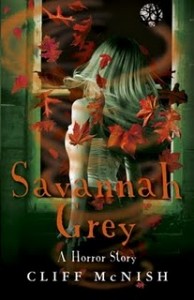 It's a difficult time for fifteen-year-old Savannah Grey – she's settled into her latest foster placement, but her body is acting strangely. Then other strange things begin to happen: nature, it seems, is exerting an overpowering force on the world. Birds behave erratically; gusts of wind blow leaves so fiercely they seem to lure people away. And Savannah discovers she has supernatural powers. Meanwhile, she feels drawn to the new boy Reece whose life is even stranger than hers. Quickly Savannah and Reece realise that nature has a purpose for them both. For they are on course to meet the vile and evil Ocrassa, who wants to destroy the world by corrupting nature. And it wants Savannah Grey to help realise its savage intent.

And it seems that my reading tastes are definitely taking a turn to the Dark Side (damn you, Thea) . Because this seems delicious: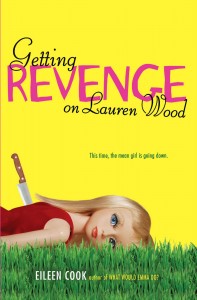 In the final weeks of eighth grade, Lauren Wood made a choice. She betrayed her best friend, Helen, in a manner so publicly humiliating that Helen had to move to a new town just to save face. Ditching Helen was worth it, though, because Lauren started high school as one of the It Girls–and now, at the start of her senior year, she's the cheerleading captain, the quarterback's girlfriend, and the undisputed queen bee. Lauren has everything she's ever wanted, and she has forgotten all about her ex-best friend.

But Helen could never forget Lauren. After three years of obsessing, she's moving back to her old town. She has a new name and a new look, but she hasn't dropped her old grudges. She has a detailed plan to bring down her former BFF by taking away everything that's ever been important to Lauren—starting with her boyfriend.

Watch out, Lauren Wood. Things are about to get bitchy.

The second book in the Theatre Illuminata series by Lisa Mantchev is to be called Perchance to Dream. Since I loved the first book, Eyes Like Stars so much, I am dying to read this. The ARC cover is circulating around the Internet along with a blurb: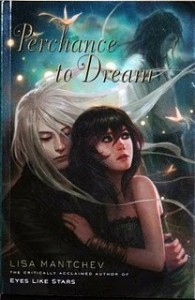 Act Two, Scene One

Growing up in the enchanted Thèâtre Illuminata, Beatrice Shakespeare Smith learned everything about every play ever written. She knew the Players and their parts, but she didn't know that she, too, had magic. Now, she is the Mistress of Revels, the Teller of Tales, and determined to follow her stars. She is ready for the outside world.

Enter BERTIE AND COMPANY

But the outside world soon proves more topsy-turvy than any stage production. Bertie can make things happen by writing them, but outside the protective walls of the Thèâtre, nothing goes as planned. And her magic cannot help her make a decision between—

Nate: Her suave and swashbuckling pirate, now in mortal peril.

Ariel: A brooding, yet seductive, air spirit whose true motives remain unclear.

When Nate is kidnapped and taken prisoner by the Sea Goddess, only Bertie can free him. She and her fairy sidekicks embark on a journey aboard the Thèâtre's caravan, using Bertie's word magic to guide them. Along the way, they collect a sneak-thief, who has in his possession something most valuable, and meet The Mysterious Stranger, Bertie's father—and the creator of the scrimshaw medallion. Bertie's dreams are haunted by Nate, whose love for Bertie is keeping him alive, but in the daytime, it's Ariel who is tantalizingly close, and the one she is falling for. Who does Bertie love the most? And will her magic be powerful enough to save her once she enters the Sea Goddess's lair?
What about you? Any goodies you would like to share?