"On The Smugglers' Radar" is a new feature for books that have caught our eye: books we heard of via other bloggers, directly from publishers, and/or from our regular incursions into the Amazon jungle. This is how the Smugglers' Radar was born, and because there are far too many books that we want than we can possibly buy or review (what else is new?) we thought we could make it into a weekly feature – so YOU can tell us which books you have on your radar as well!
On Ana's Radar:
I have so many books on my radar, it's not even funny. Do you know what would be awesome? If we had one of these: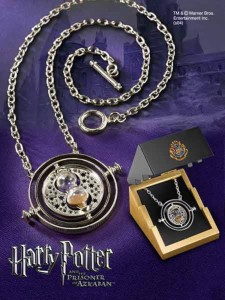 Can you imagine? We could read one book, then use the Time-Turner to go back in time to read another one, then use it again and read yet another one and and *stares dreamly at the horizon*
Ahem. But I digress.
First up on my radar is UF Dark Oracle with a heroine who is skilled at Tarot divination. SO there: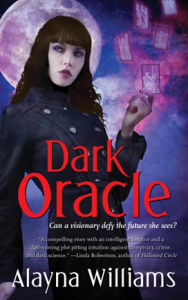 TARA SHERIDAN HAS A GIFT . . . AND IT ALMOST KILLED HER.

As a criminal profiler, Tara used science and her intuitive skill at Tarot card divination to track down the dangerous and depraved, including the serial killer who left her scarred from head to toe. Since that savage attack, Tara has been a recluse. But now an ancient secret society known as Delphi's Daughters has asked for her help in locating missing scientist Lowell Magnusson. And Tara, armed with her Tarot deck, her .38, and a stack of misgivings, agrees to try.

Tara immediately senses there is far more at stake than one man's life. At his government lab in the New Mexico desert, Magnusson had developed groundbreaking technology with terrifying potential. Working alongside the brusque but charismatic agent Harry Li, Tara discovers that Magnusson's daughter, Cassie, has knowledge that makes her a target too. The more Tara sees into the future, the more there is to fear. She knows she has to protect Cassie. But there may be no way to protect herself—from the enemies circling around her, or from the long-buried powers stirring to life within. . . .

I am desperately trying to find me more Historical romances to read, and this one looks good: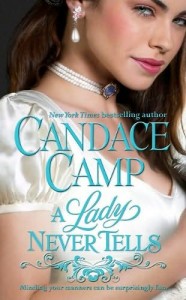 When Mary Bascombe's stepfather tries to sell her and her sisters to the highest bidder after their mother's death, she resolves to take drastic action. Although their British mother was estranged from her family, Mary decides the four will flee to London and take their place in society as granddaughters of the Earl of Stewkesbury.

Dashing Sir Royce Winslow doubts the honesty of the young women's claim—despite their charms, they seem to be hiding something. His attraction to feisty Mary, however, is no ruse, so when the sisters are shipped off to Willowmere, the earl's country estate, to acquire some polish, Royce is quick to join them. When an unknown villain attempts a kidnapping, Royce and Mary are thrown together as they confront the danger . . . and Royce learns that while high society may sing the praises of proper behavior, it is a most improper American who is winning his heart.

This one I saw over at Karen Mahoney's last week – she read part of the book and it seems to be awesome and now I want!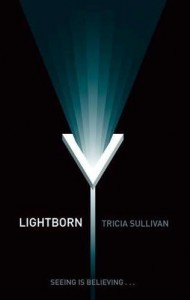 Lightborn, better known as 'shine', is a mind-altering technology that has revolutionised the modern world. It is the ultimate in education, self-improvement and entertainment – beamed directly into the brain of anyone who can meet the asking price. But in the city of Los Sombres, renegade shine has attacked the adult population, resulting in social chaos and widespread insanity in everyone past the age of puberty. The only solution has been to turn off the Field and isolate the city. Trapped within the quarantine perimeter, fourteen-year-old Xavier just wants to find the drug that can keep his own physical maturity at bay until the army shuts down the shine. That's how he meets Roksana, mysteriously impervious to shine and devoted to helping the stricken. As the military invades street by street, Xavier and Roksana discover that there could be hope for Los Sombres – but only if Xavier will allow a lightborn cure to enter his mind. What he doesn't know is that the shine in question has a mind of its own …

After reading my first Holly Black book (White Cat), I sort of went on a binge and bought some of her backlist but I also really want this one: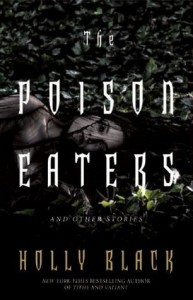 In her debut collection, New York Times best-selling author Holly Black returns to the world of Tithe in two darkly exquisite new tales. Then Black takes readers on a tour of a faerie market and introduces a girl poisonous to the touch and another who challenges the devil to a competitive eating match. These stories have been published in anthologies such as 21 Proms, The Faery Reel, and The Restless Dead, and have been reprinted in many "Best of" anthologies. The Poison Eaters is Holly Black's much-anticipated first collection of stories, and her ability to stare into the void—and to find humanity and humor there—will speak to young adult and adult readers alike.

And I honestly can't remember where I saw this one, but I LOVE this cover: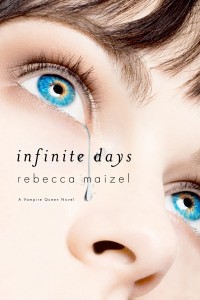 Lenah Beaudonte is, in many ways, your average teen: the new girl at Wickham Boarding School, she struggles to fit in enough to survive and stand out enough to catch the eye of the golden-boy lacrosse captain. But Lenah also just happens to be a recovering five-hundred-year-old vampire queen. After centuries of terrorizing Europe, Lenah is able to realize the dream all vampires have — to be human again. After performing a dangerous ritual to restore her humanity, Lenah entered a century-long hibernation, leaving behind the wicked coven she ruled over and the eternal love who has helped grant her deep-seated wish.

Until, that is, Lenah draws her first natural breath in centuries at Wickham and rediscovers a human life that bears little resemblance to the one she had known. As if suddenly becoming a teenager weren't stressful enough, each passing hour brings Lenah closer to the moment when her abandoned coven will open the crypt where she should be sleeping and find her gone. As her borrowed days slip by, Lenah resolves to live her newfound life as fully as she can. But, to do so, she must answer ominous questions: Can an ex-vampire survive in an alien time and place? What can Lenah do to protect her new friends from the bloodthirsty menace about to descend upon them? And how is she ever going to pass her biology midterm?

and speaking of striking covers….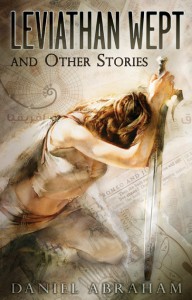 What if you had a holocaust and nobody came?

Imagine a father who has sent his child's soul voyaging and seen it go astray. Or a backyard tale from the 1001 American Nights. Macbeth re-imagined as a screwball comedy. Three extraordinary economic tasks performed by a small expert in currency exchange that risk first career and then life and then soul.

From the disturbing beauty of 'Flat Diane' (Nebula-nominee, International Horror Guild award-winner) to the idiosyncratic vision of 'The Cambist and Lord Iron' (Hugo- and World Fantasy-nominee), Daniel Abraham has been writing some of the most enjoyable and widely admired short fiction in the genre for over a decade.

Ranging from high fantasy to hard science fiction, screwball comedy to gut-punching tragedy, Daniel Abraham's stories never fail to be intelligent, compassionate, thoughtful, and humane. Leviathan Wept and Other Stories is the first collection of his short works, including selections from both the well-known and the rare.

On Thea's Radar:
I've so longed to try this series, but as it's out of print (at least here in the US), it's hard to get my hands on it. The reason I bring it up, is that a prequel to the series has been written and just released! Hopefully this means the later books will be reissued as well?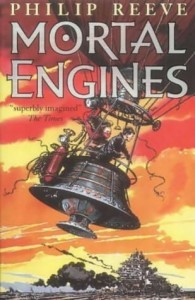 The great Traction City lumbers after a small town, eager to strip its prey of all assets and move on. Resources on the Great Hunting Ground that once was Europe are so limited that mobile cities must consume one another to survive, a practice known as Municipal Darwinism.

Tom, an apprentice in the Guild of Historians, saves his hero, Head Historian Thaddeus Valentine, from a murder attempt by the mysterious Hester Shaw — only to find himself thrown from the city and stranded with Hester in the Out Country. As they struggle to follow the tracks of the city, the sinister plans of London's leaders begin to unfold …





And here's the new release/prequel: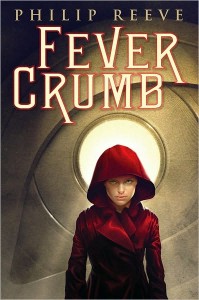 Fever Crumb is a girl who has been adopted and raised by Dr. Crumb, a member of the order of Engineers, where she serves as apprentice. In a time and place where women are not seen as reasonable creatures, Fever is an anomaly, the only female to serve in the order. Soon though, she must say goodbye to Dr. Crumb-nearly the only person she's ever known-to assist archeologist Kit Solent on a top-secret project. As her work begins, Fever is plagued by memories that are not her own and Kit seems to have a particular interest in finding out what they are. Fever has also been singled out by city-dwellers who declare her part Scriven. The Scriveners, not human, ruled the city some years ago but were hunted down and killed in a victorious uprising by the people. If there are any remaining Scriven, they are to be eliminated. All Fever knows is what she's been told: that she is an orphan. Is Fever a Scriven? Whose memories does she hold? Is the mystery of Fever, adopted daughter of Dr. Crumb, the key to the secret that lies at the heart of London?

Just got this in the mail, and I cannot WAIT to get started on it… (quantum mechanics plus Norse mythology??? Um, SIGN ME UP!)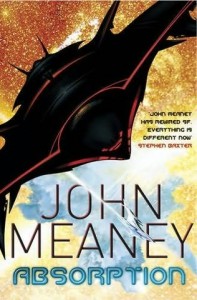 600 years from now on the world of Fulgor Roger Blackstone, son of two Pilots (long-time alien spies, masquerading as ordinary humans) aches to see the mythical Pilot's city of Labyrinth, in the fractal ur-continuum of mu-space. In 8th century Norseland, a young carl called Wulf kills a man, watched by a mysterious warrior who bears the mark of Loki the Trickster God. In 1920s Zurich, Gavriela Silberstein enters the long, baroque central hallway of the Eidgenossische Technische Hochschule where Einstein so recently studied.

And on a nameless world, not knowing his human heritage, a silver-skinned youth tries to snatch back an Idea – but it floats away on gentle magnetic currents. There are others across the ages, all with three things in common: they glimpse shards of darkness moving at the edge of their vision; they hear echoes of a dark, disturbing musical chord; and they will dream of joining a group called the Ragnarok Council.

ABSORPTION is the first novel of RAGNAROK, a new space opera trilogy of high-tech space warfare, unitary intelligences made up of millions of minds, the bizarre physics of dark energy, quantum mechanics and a mindblowing rationale for Norse mythology.

I stumbled across this book on Amazon (thanks to the awesome cover) and I really, really want to read it. I haven't read anything by William Sleator *ducks thrown objects* but I plan on remedying that soon.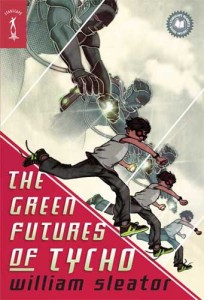 When eleven-year-old Tycho discovers that the mysterious egg-shaped object he dug up in his garden is a time travel device, he can't resist using his newfound power. Soon he is jumping back and forth in time, mostly to play tricks on his bossy older brothers and sister. But every time he uses the device, he notices that things are different when he gets back—and the futures he visits are getting darker and scarier. Then Tycho comes face-to-face with the most terrible thing of all: his grown-up self. Can Tycho prevent the terrible future he sees from coming true?

And then I saw THIS Sleator book, which sounds awesome too (and love the cheesy '80s cover):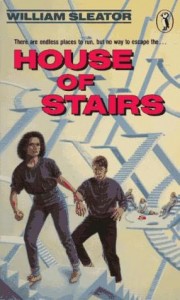 One by one, five sixteen-year-old orphans are brought to a strange building. It is not a prison, not a hospital; it has no walls, no ceiling, no floor. Nothing but endless flights of stairs leading nowhere —except back to a strange red machine. The five must learn to love the machine and let it rule their lives. But will they let it kill their souls? This chilling, suspenseful indictment of mind control is a classic of science fiction and will haunt readers long after the last page is turned.

Ok last one, I PROMISE – I cannot believe I haven't read any of these books before. They sound similar to Christopher Pike, only with more of an Science Fiction bend (as opposed to Pike's supernatural horror bend), beloved author of my childhood.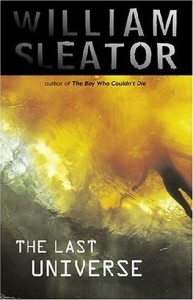 William Sleator, of such classics as House of Stairs, Strange Attractors, Interstellar Pig, and Singularity, explores the strange, fascinating quantum world in this gothic sci-fi thriller. From their isolated house, fourteen-year-old Susan and her wheelchair-bound brother, Gary, venture daily into the tangled, sprawling garden planted by their late uncle and tended by a mysterious gardener. Overgrown with impossibly large plants and exotic flowers, the garden holds at its heart a hedge maze that hides a quantum secret, outside the laws of the macro world. And Susan and Gary may not return from the labyrinth unchanged.

And that's it from us! What books do you have on your radar?