"On The Smugglers' Radar" is a new feature for books that have caught our eye: books we have heard of via other bloggers, directly from publishers, and/or from our regular incursions into the Amazon jungle. Thus, the Smugglers' Radar was born. Because we want far more books than we can possibly buy or review (what else is new?), we thought we would make the Smugglers' Radar into a weekly feature – so YOU can tell us which books you have on your radar as well!
On Ana's Radar:
Oh look!! Days of Blood and Starlight, sequel to the excellent Daughter of Smoke and Bone by Laini Taylor has a cover! OH PLEASE CAN I HAVE IT PAPA SMURF?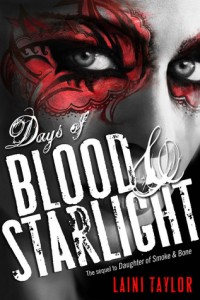 In this stunning sequel to the highly acclaimed "Daughter of Smoke and Bone," Karou must come to terms with who and what she is, and how far she'll go to avenge her people. Filled with heartbreak and beauty, mysteries and secrets, new characters and old favorites, Days of Blood and Starlight brings the richness, color and intensity of the first book to a brand new canvas.

Daughter of Smoke and Bone was declared a "must read" by Entertainment Weekly, was named a Best Book of the Year by Amazon.com, and The New York Times called it "a breath-catching romantic fantasy.

What's that? A comic novel by a Newbery medalist set in Elizabethan England? (this cover though…NO).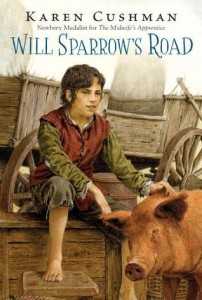 In his thirteenth year, Will Sparrow, liar and thief, becomes a runaway. On the road, he encounters a series of con artists—a pickpocket, a tooth puller, a pig trainer, a conjurer—and learns that others are more adept than he at lying and thieving. Then he reluctantly joins a traveling troupe of "oddities," including a dwarf and a cat-faced girl, holding himself apart from the "monsters" and resolving to be on guard against further deceptions. At last Will is forced to understand that appearances are misleading and that he has been his own worst deceiver. The rowdy world of market fairs in Elizabethan England is the colorful backdrop for Newbery medalist Cushman's new comic masterpiece.

I read and LOVED The Boneshaker by Kate Milford (review to come next week!) and I can't wait to read the prequel, The Broken Lands: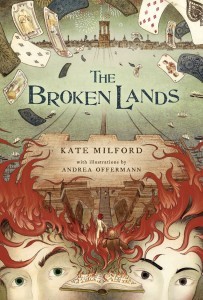 A crossroads can be a place of great power. So begins this deliciously spine-tingling prequel to Kate Milford's The Boneshaker, set in the colorful world of nineteenth-century Coney Island and New York City. Few crossroads compare to the one being formed by the Brooklyn Bridge and the East River, and as the bridge's construction progresses, forces of unimaginable evil seek to bend that power to their advantage. Only two orphans with unusual skills stand in their way. Can the teenagers Sam, a card sharp, and Jin, a fireworks expert, stop them before it's too late? Here is a richly textured, slow-burning thriller about friendship, courage, and the age-old fight between good and evil.

Nothing much about this next one (out in 2013) except its cover and this small tagline: A teen girl finds herself a would-be assassin, hunting down her former best friend, the princess of the realm, via the aid of an enchanted piglet.
On that note: are female assassins the next BIG THING in YA? Do I detect a trend?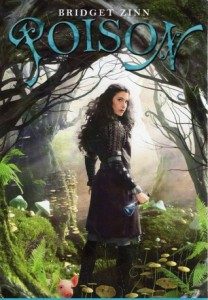 On Thea's Radar:
Ooh, the new Laini Taylor! Pretty. Now, for my radar, the very first book I HAVE to mention is fellow blogger (and all around awesome person) Lenore Appelhans's reveal of the cover for her highly anticipated debut, Level 2!!!! We highly recommend you check out the video for the covershoot, too. We couldn't be more proud or excited for Lenore! YAY!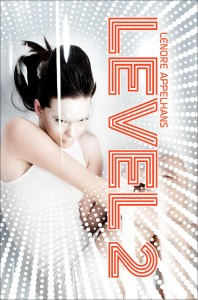 Since her untimely death the day before her eighteenth birthday, Felicia Ward has been trapped in Level 2, a stark white afterlife located between our world and the next. Along with her fellow prisoners, Felicia passes the endless hours downloading memories and mourning what she's lost—family, friends, and the boy she loved, Neil.

Then a girl in a neighboring chamber disappears, and nobody but Felicia seems to recall she existed in the first place. Something is obviously very wrong. When Julian—a dangerously charming guy Felicia knew in life—comes to offer Felicia a way out, she learns the truth: a rebellion is brewing to overthrow the Morati, the guardians of Level 2.

Felicia is reluctant to trust Julian, but then he promises what she wants the most—to be with Neil again—if only she'll join the rebels. Suspended between Heaven and Earth, Felicia finds herself in the center of an age-old struggle between good and evil. As memories from her life come back to haunt her, and as the Morati hunt her down, Felicia will discover it's not just her own redemption at stake… but the salvation of all mankind.
LEVEL 2 is the first book in The Memory Chronicles and will be released by Simon & Schuster BFYR on January 15, 2013.
And also, check out the full jacket (more info over at Stacked):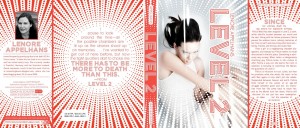 I really am not a fan of these kissy covers (sorry, they make me want to giggle), but the synopsis of this next book sounds pretty good!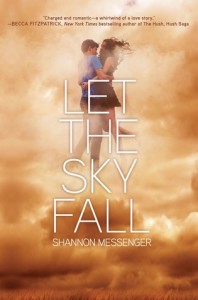 Seventeen-year-old Vane Weston is the only survivor of the category five tornado that killed his parents. Every night since the storm, a beautiful, dark-haired girl has swept through his dreams. She's the only clue to his past, and he clings to the hope that she's real.

Audra is real, but she's also a sylph. An air elemental. She walks on the wind, can translate its alluring songs, and can even twist it into a weapon. She's also a guardian–Vane's guardian–and has sworn an oath to protect him at all costs. Even if it means sacrificing her own life.

When a hasty mistake reveals their location to the enemy who murdered both of their families, Audra must help Vane remember who he is. He has a power to claim–the secret language of the West Wind, which only he can understand. But unlocking his heritage will also unlock a memory Audra wishes could be erased. And as the storm bears down on them she starts to realize the greatest danger might not be the warriors coming to destroy them, but the forbidden romance that's grown between them.

Set amongst the desert airstreams of Coachella Valley in California, and alive with wonderful wind-swept prose, LET THE SKY FALL is about two teenagers broken by their pasts, divided by their futures, and bound by love.

Next up, a book without a cover, but a really great sounding premise (plus, I'm on a scifi kick right now):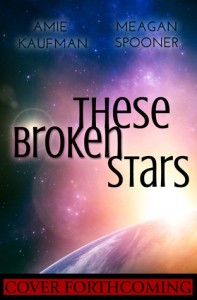 Lilac LaRoux and Tarver Merendsen never should have met. She's the socialite daughter of the richest man in the galaxy, and he's a decorated soldier fighting back rebellions on newly terraformed planets. But when the vast luxury spaceliner they're both traveling on crashes, they find themselves thrown together as the two sole survivors on an alien planet.

As they survive harsh conditions and dwindling supplies—not to mention each other—the two begin to uncover a mystery surrounding the abandoned planet that neither of them could have guessed.

The first in a trilogy, THESE BROKEN STARS sets into motion a series of timeless, standalone love stories that span galaxies—and are linked by their shared worlds and one mysterious enemy.

I am disgustingly behind on my Brent Weeks reading – I've had The Black Prism on my TBR for a shameful amount of time – and now book 2 is coming out. I *will* catch up. *vows*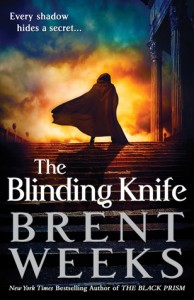 Gavin Guile is dying.

He'd thought he had five years left—now he has less than one. With fifty thousand refugees, a bastard son, and an ex-fiancée who may have learned his darkest secret, Gavin has problems on every side. All magic in the world is running wild and threatens to destroy the Seven Satrapies.

Worst of all, the old gods are being reborn, and their army of color wights is unstoppable. The only salvation may be the brother whose freedom and life Gavin stole sixteen years ago.

The great folks over at ChiZine were good enough to send a copy of this new book – I've been meaning to try David Nickle's work, so am very excited to give this a read!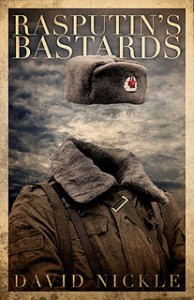 It is the 1990s.

The Cold War is long finished.

In a remote Labrador fishing village, an old woman known only as Babushka foresees her ending through the harbour ice, in the giant eye of a dying kraken – and vows to have none of it.

Beaten insensible and cast adrift in a life raft, ex- KGB agent Alexei Kilodovich is dragged to the deck of a ship full of criminals, and with them he will embark on a journey that will change everything he knows about himself.

And from a suite in an unseen hotel in the heart of Manhattan, an old warrior named Kolyokov sets out with an open heart, to gather together the youngest members of his immense, and immensely talented, family.

They are more beautiful, and more terrible, than any who came before them.

They are Rasputin's bastards.

And they will remake the world.

And finally, the new novel from Daniel H. Wilson – whose Robopocalypse I enjoyed!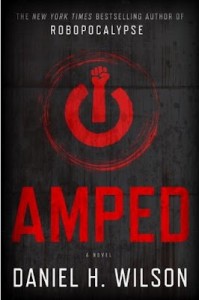 Technology makes them superhuman. But mere mortals want them kept in their place. The New York Times bestselling author of Robopocalypse creates a stunning, near-future world where technology and humanity clash in surprising ways. The result? The perfect summer blockbuster.

As he did in Robopocalypse, Daniel Wilson masterfully envisions a frightening near-future world. In Amped, people are implanted with a device that makes them capable of superhuman feats. The powerful technology has profound consequences for society, and soon a set of laws is passed that restricts the abilities—and rights—of "amplified" humans. On the day that the Supreme Court passes the first of these laws, twenty-nine-year-old Owen Gray joins the ranks of a new persecuted underclass known as "amps." Owen is forced to go on the run, desperate to reach an outpost in Oklahoma where, it is rumored, a group of the most enhanced amps may be about to change the world—or destroy it.

Once again, Daniel H. Wilson's background as a scientist serves him well in this technologically savvy thriller that delivers first-rate entertainment, as Wilson takes the "what if" question in entirely unexpected directions. Fans of Robopocalypse are sure to be delighted, and legions of new fans will want to get "amped" this summer.

And that's it from us! What books do you have on YOUR radar?