"On The Smugglers' Radar" is a feature for books that have caught our eye: books we have heard of via other bloggers, directly from publishers, and/or from our regular incursions into the Amazon jungle. Thus, the Smugglers' Radar was born. Because we want far more books than we can possibly buy or review (what else is new?), we thought we would make the Smugglers' Radar into a weekly feature – so YOU can tell us which books you have on your radar as well!
On Ana's Radar:
After reading – and loving – September Girls (NOT a sexist book) SO FREAKING MUCH, I went and bought his other YA book, The Blonde of the Joke.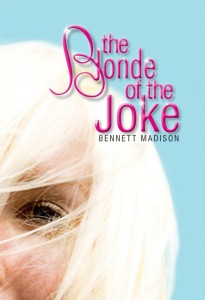 "There are three and only three rules for shoplifting," Francie instructed me.

From the very first day Val meets the outrageously blond Francie, she realizes that Francie has the gutsy courage and determination Val has always envied. But Francie sees something in Val too–something that Val's never noticed. "You've got that sneaky thing about you," she says. "I bet you have a dark past."

And just like that, the blonde and the brunette become partners in crime.

Thanks to Francie, Val is suddenly taking risks, taking charge, and taking what she deserves. But as the stakes get higher, Francie and Val find themselves more and more tangled in a thrilling web of love, lies, and shoplifting. Soon it becomes clear that the darkest secrets have yet to be discovered. . . .

Saw this one on Goodreads and it sounds like it could be a fairytale retelling? In any case, it sounds interesting and I love the cover: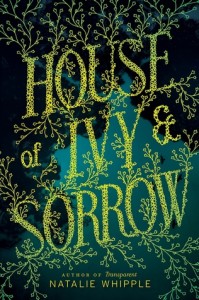 Josephine Hemlock has spent the last 10 years hiding from the Curse that killed her mother. But when a mysterious man arrives at her ivy-covered, magic-fortified home, it's clear her mother's killer has finally come to destroy the rest of the Hemlock bloodline. Before Jo can even think about fighting back, she must figure out who she's fighting in the first place. The more truth Jo uncovers, the deeper she falls into witchcraft darker than she ever imagined. Trapped and running out of time, she begins to wonder if the very Curse that killed her mother is the only way to save everyone she loves.

So I got a surprise package in the post last week and it had a copy of the new Christopher Priest book and it SOUNDS AWESOOOOOME: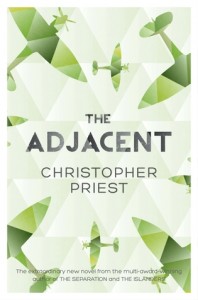 Tibor Tarent, a freelance photographer, is recalled to Britain from Anatolia where his wife Melanie has been killed by insurgent militia. IRGB is a nation living in the aftermath of a bizarre and terrifying terrorist atrocity – hundreds of thousands were wiped out when a vast triangle of west London was instantly annihilated. The authorities think the terrorist attack and the death of Tarent's wife are somehow connected.

A century earlier, a stage magician is sent to the Western Front on a secret mission to render British reconnaissance aircraft invisible to the enemy. On his journey to the trenches he meets the visionary who believes that this will be the war to end all wars.

In 1943, a woman pilot from Poland tells a young RAF technician of her escape from the Nazis, and her desperate need to return home.

In the present day, a theoretical physicist stands in his English garden and creates the first adjacency.

THE ADJACENT is a novel where nothing is quite as it seems. Where fiction and history intersect, where every version of reality is suspect, where truth and falsehood lie closely adjacent to one another.

It shows why Christopher Priest is one of our greatest writers.

I feel like I have been waiting for Sarah McCarry's book – a retelling of Orpheus – since FOREVER and now it's almost here!!!!!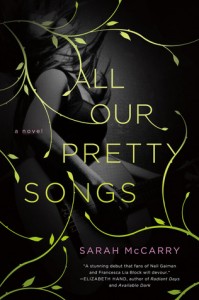 The first book in an exciting YA trilogy, this is the story of two best friends on the verge of a terrifying divide when they begin to encounter a cast of strange and mythical characters.

Set against the lush, magical backdrop of the Pacific Northwest, two inseparable best friends who have grown up like sisters—the charismatic, mercurial, and beautiful Aurora and the devoted, soulful, watchful narrator—find their bond challenged for the first time ever when a mysterious and gifted musician named Jack comes between them. Suddenly, each girl must decide what matters most: friendship, or love. What both girls don't know is that the stakes are even higher than either of them could have imagined. They're not the only ones who have noticed Jack's gift; his music has awakened an ancient evil—and a world both above and below which may not be mythical at all. The real and the mystical; the romantic and the heartbreaking all begin to swirl together, carrying the two on journey that is both enthralling and terrifying.

And it's up to the narrator to protect the people she loves—if she can.

I was told Charm and Strange is really good and that I would like it. Sometimes that's all it takes to convince me.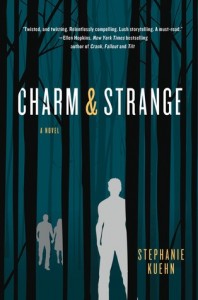 No one really knows who Andrew Winston Winters is. Least of all himself. He is part Win, a lonely teenager exiled to a remote boarding school in the wake of a family tragedy. The guy who shuts the whole world out, no matter the cost, because his darkest fear is of himself …of the wolfish predator within. But he's also part Drew, the angry boy with violent impulses that control him. The boy who, one fateful summer, was part of something so terrible it came close to destroying him. A deftly woven, elegant, unnerving psychological thriller about a boy at war with himself. Charm and Strange is a masterful exploration of one of the greatest taboos.

On Thea's Radar:
First up, the third book in Jennifer Nielsen's False Prince trilogy! WHEE!!!! No synopsis yet, but here's the cover: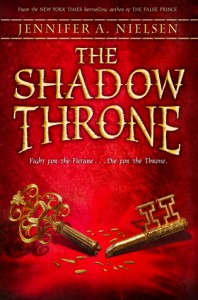 Speaking of concluding trilogies, the third book in Rae Carson's Fire and Thorns trilogy is out soon – which means I need to get reading the second book very soon. That said, the covers for this series in the US really bother me. The main character is self-described as overweight and dark skinned. The vague pretty person in the godstones reflected on these covers looks like the original model – that is, someone white skinned, and certainly not overweight. Sigh.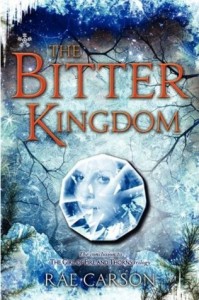 "Rae Carson has proved she's a master and has shaken up the YA genre."-USAToday.com

The epic and deeply satisfying conclusion to Rae Carson's Fire and Thorns trilogy. The seventeen-year-old sorcerer-queen will travel into the unknown realm of the enemy to win back her true love, save her country, and uncover the final secrets of her destiny.

"Carson joins the ranks of writers like Kristin Cashore, Megan Whalen Turner, and Tamora Pierce as one of YA's best writers of high fantasy."-Locus magazine

Elisa is a fugitive in her own country. Her enemies have stolen the man she loves in order to lure her to the gate of darkness. As she and her daring companions take one last quest into unknown enemy territory to save Hector, Elisa will face hardships she's never imagined. And she will discover secrets about herself and her world that could change the course of history. She must rise up as champion-a champion to those who have hated her most. Riveting, surprising, and achingly romantic, Rae Carson has spun a bold and powerful conclusion to her extraordinary trilogy.

Next up is the first in a new series by Lauren DeStefano – I have yet to read the Chemical Garden books, but this new series sounds much more appealing.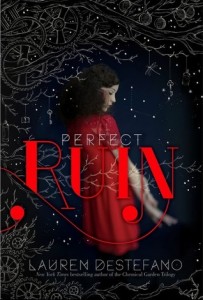 On Internment, the floating island in the clouds where 16-year-old Morgan Stockhour lives, getting too close to the edge can lead to madness. Even though Morgan's older brother, Lex, was a Jumper, Morgan vows never to end up like him. She tries her best not to mind that her life is orderly and boring, and if she ever wonders about the ground, and why it is forbidden, she takes solace in best friend Pen and her betrothed, Basil.

Then a murder, the first in a generation, rocks the city. With whispers swirling and fear on the wind, Morgan can no longer stop herself from investigating, especially when she meets Judas. He is the boy being blamed for the murder — betrothed to the victim — but Morgan is convinced of his innocence. Secrets lay at the heart of Internment, but nothing can prepare Morgan for what she will find — or who she will lose.

On a superficial note: I freaking LOVE this cover. On a more serious note, I've been meaning to try Mindee Arnett for a while now, and this looks like the perfect place to start.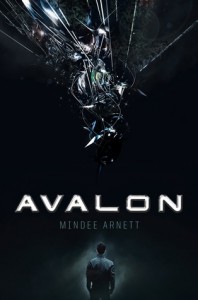 Jeth Seagrave is the leader of the Malleus Shades, the galaxy's most accomplished and elusive band of teenage mercenaries. Working for feared crime boss Hammer Defoe, Jeth and his crew have made their name stealing unsecured metadrives – the complex piece of technology that makes faster-than-light-speed travel possible. The ITA–the far-reaching organization that produces and polices metatechnology–has been on Jeth's tail for years, and is looking for any chance to take down Hammer's black market metatech trade.

But Jeth doesn't care about any of this. All he wants to do is earn enough money to purchase his parents' ship, Avalon, from Hammer. His parents, former ITA scientists, were executed for treason years back, and Jeth, his sister Lizzie, and their uncle Milton fell into debt to Hammer. Finally, Jeth has found himself just one job away from freedom. This job, however, is going to give Jeth much, much more than he bargained for – and when he finds himself in possession of information that both Hammer and the ITA will kill for, he is going to have to ask himself how far he'll go to get the freedom he's dreamed of for so long.

I read and thoroughly enjoyed Meagan Spooner's YA SF/Dystopian novel Skylark and am very excited for book 2: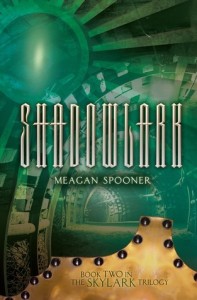 Ever since she escaped the city within the Wall, Lark Ainsley's wanted one thing: to find her brother Basil. She's always believed he would be the one to put an end to the constant fear and flight. And now, hidden underground in the chaotically magical city of Lethe, Lark feels closer to him than ever.

But Lethe is a city cowering in fear of its founder, the mysterious Prometheus, and of his private police force. To get the truth about what happened to Basil, Lark has no choice but to face Prometheus.

Facing her fears has become second nature to Lark. Facing the truth is another matter.

Lark never asked to be anyone's savior. She certainly never wanted to be anyone's weapon. She might not have a choice.

Next up, a book positioned as The Terminator meets Cloverfield. DONE. I'm a sucker for sentient technology – not sure where Cloverfield comes in unless there is a meteor-riding alien dinosaur (the premise sounds more like Terminator meets Maximum Overdrive, IMO). But, ya know, I'll take what I can get.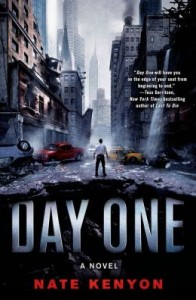 Cloverfield meets The Terminator in this story of one man's escape from New York City as technology becomes sentient

Scandal-plagued hacker journalist John Hawke is hot on the trail of the explosive story that might save his career. James Weller, the former CEO of giant technology company Eclipse, has founded a new start-up, and he's agreed to let Hawke do a profile on him. Hawke knows something very big is in the works at Eclipse—and he wants to use the profile as a foot in the door to find out more.

After he arrives in Weller's office in New York City, a seemingly normal day quickly turns into a nightmare as anything with an Internet connection begins to malfunction. Hawke receives a call from his frantic wife just before the phones go dead. Soon he and a small band of survivors are struggling for their very lives as they find themselves thrust into the middle of a war zone—with no obvious enemy in sight.

The bridges and tunnels have been destroyed. New York City is under attack from a deadly and brilliant enemy that can be anywhere and can occupy anything with a computer chip. Somehow Hawke must find a way back to his pregnant wife and young son. Their lives depend upon it . . . and so does the rest of the human race.

And finally, the most creative, BIZARRO, wonderful premise that I have read in a while. Zombies jettisoned into low earth orbit – still causing problems. Awesome.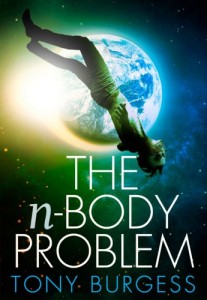 In the end, the zombie apocalypse was nothing more than a waste disposal problem. Burn them in giant ovens? Bad optics. Bury them in landfill sites? The first attempt created acres of twitching, roiling mud. The acceptable answer is to jettison the millions of immortal automatons into orbit.

Soon earth's near space is a mesh of bodies interfering with the sunlight and having an effect on our minds that we never saw coming. Aggressive hypochondria, rampant depressive disorders, irresistible suicidal thought—resulting in teenage suicide cults, who want nothing more than to orbit the earth as living dead. Life on earth has slowly become not worth living. And death is no longer an escape.

And that's it from us! What books do you have on YOUR radar?