"On The Smugglers' Radar" is a feature for books that have caught our eye: books we have heard of via other bloggers, directly from publishers, and/or from our regular incursions into the Amazon jungle. Thus, the Smugglers' Radar was born. Because we want far more books than we can possibly buy or review (what else is new?), we thought we would make the Smugglers' Radar into a weekly feature – so YOU can tell us which books you have on your radar as well!
On Ana's Radar:
First up, a new novel by Jennifer A. Nielsen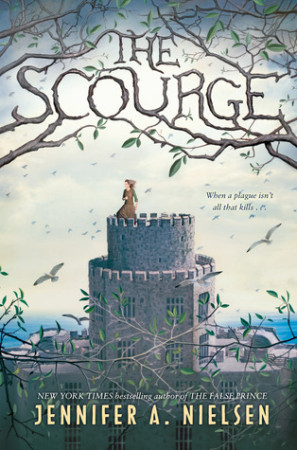 As a lethal plague sweeps through the land, Ani Mells is shocked when she is unexpectedly captured by the governor's wardens and forced to submit to a test for the deadly Scourge. She is even more surprised when the test results come back positive, and she is sent to Attic Island, a former prison turned refuge — and quarantine colony — for the ill. The Scourge's victims, Ani now among them, can only expect to live out short, painful lives there. However, Ani quickly discovers that she doesn't know the whole truth about the Scourge or the Colony. She's been caught in a devious plot, and, with the help of her best friend, Weevil, Ani means to uncover just what is actually going on.

But will she and Weevil survive long enough to do so?

A new novel by Beth Cato, an author I keep meaning to read…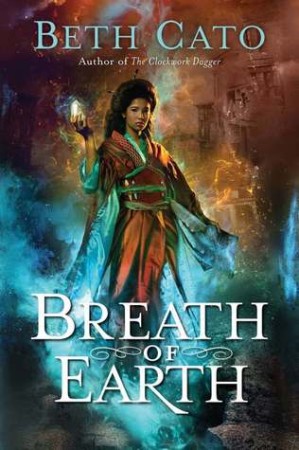 After the Earth's power is suddenly left unprotected, a young geomancer must rely on her unique magical powers to survive in in this fresh fantasy standalone from the author of acclaimed The Clockwork Dagger.

In an alternate 1906, the United States and Japan have forged a powerful confederation—the Unified Pacific—in an attempt to dominate the world. Their first target is a vulnerable China. In San Francisco, headstrong Ingrid Carmichael is assisting a group of powerful geomancer Wardens who have no idea of the depth of her power—or that she is the only woman to possess such skills.

When assassins kill the Wardens, Ingrid and her mentor are protected by her incredible magic. But the pair is far from safe. Without its full force of guardian geomancers, the city is on the brink of a cataclysmic earthquake that will expose Earth's powers to masterminds determined to control the energy for their own dark ends. The danger escalates when Chinese refugees, preparing to fight the encroaching American and Japanese, fracture the uneasy alliance between the Pacific allies, transforming the city into a veritable powder keg. And the slightest tremor will set it off. . . .

Forced on the run, Ingrid makes some shocking discoveries about herself. Her powerful magic has grown even more fearsome . . . and she may be the fulcrum on which the balance of world power rests.

I saw this SFR on Netgalley and requested a copy – it's been a while since I read any Scifi Romance and the Linnea Sinclair blurb kinda sold me on this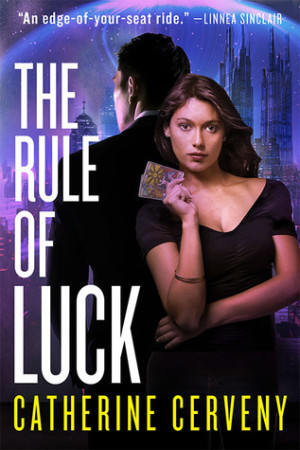 The Rule of Luck is a whirlwind thriller romance in a futuristic setting that will tug at your heartstrings while sending you on high-speed chases alongside a genetically-enhanced (and incredibly handsome…) criminal mastermind.

As a famed tarot card reader, all is well in luck and love for Felicia Sevigny, until Russian crime leader Alexei Petriv walks into her shop and demands a reading.

Petriv's future looks dark and full of danger, which wouldn't be Felicia's problem, except that it's also aligned with hers. Felicia discovers she is the key pawn in Petriv's plot to overthrow the all-knowing government, and she must decide if she will trust with him with her heart, body and soul, before the future of the entire human race collapses around her.

I saw Zen Cho talking about a new story she made available online and I snagged it as soon as it went live. LOOK AT THIS COVER.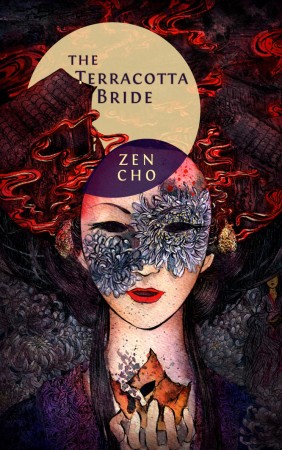 In the tenth court of hell, spirits wealthy enough to bribe the bureaucrats of the underworld can avoid both the torments of hell and the irreversible change of reincarnation.

It's a comfortable undeath … even for Siew Tsin. She didn't choose to be married to the richest man in hell, but she's reconciled. Until her husband brings home a new bride.

Yonghua is an artificial woman crafted from terracotta. What she is may change hell for good. Who she is will transform Siew Tsin. And as they grow closer, the mystery of Yonghua's creation will draw Siew Tsin into a conspiracy where the stakes are eternal life – or a very final death.

Finally, I am just going to leave this sad, terrifying image here: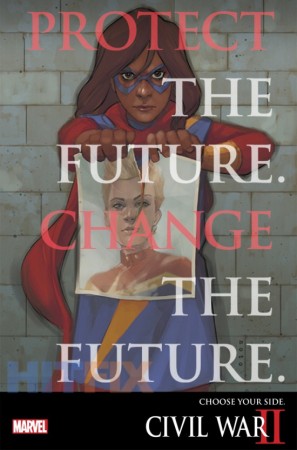 On Thea's Radar:
First up on my radar is this middle grade novel that sounds absolutely FANTASTIC (like one of my favorite books from a few years ago, The Different Girl):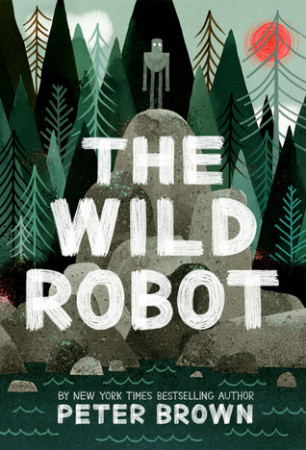 When robot Roz opens her eyes for the first time, she discovers that she is alone on a remote, wild island. Why is she there? Where did she come from? And, most important, how will she survive in her harsh surroundings? Roz's only hope is to learn from the island's hostile animal inhabitants. When she tries to care for an orphaned gosling, the other animals finally decide to help, and the island starts to feel like home. Until one day, the robot's mysterious past comes back to haunt her….

Next up, the new book from Guy Gavriel Kay, which I just received in the mail: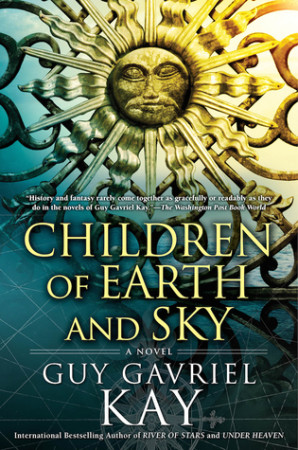 The bestselling author of the groundbreaking novels Under Heaven and River of Stars, Guy Gavriel Kay is back with a new novel, Children of Earth and Sky, set in a world inspired by the conflicts and dramas of Renaissance Europe. Against this tumultuous backdrop the lives of men and women unfold on the borderlands—where empires and faiths collide.

From the small coastal town of Senjan, notorious for its pirates, a young woman sets out to find vengeance for her lost family. That same spring, from the wealthy city-state of Seressa, famous for its canals and lagoon, come two very different people: a young artist traveling to the dangerous east to paint the grand khalif at his request—and possibly to do more—and a fiercely intelligent, angry woman, posing as a doctor's wife, but sent by Seressa as a spy.

The trading ship that carries them is commanded by the accomplished younger son of a merchant family, ambivalent about the life he's been born to live. And farther east a boy trains to become a soldier in the elite infantry of the khalif—to win glory in the war everyone knows is coming.

As these lives entwine, their fates—and those of many others—will hang in the balance, when the khalif sends out his massive army to take the great fortress that is the gateway to the western world…

Next up, the second book in a middle grade series I very much want to read (it's been on my radar for a while):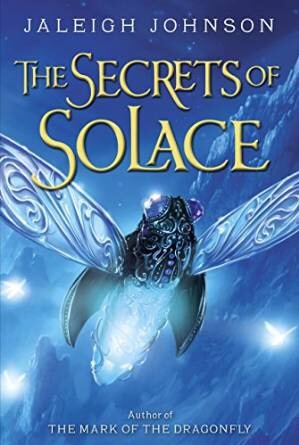 From Jaleigh Johnson, the acclaimed author of The Mark of the Dragonfly, comes another thrilling adventure in the magical world of Solace.

Lina Winterbock lives in the mountain strongholds of Solace. She's an apprentice to the archivists, the wise men and women whose lives are dedicated to cataloging, studying, and preserving the objects that mysteriously fall from the sky in the scrap towns.

Lina should be spending her days with books, but the Iron War has changed everything. The strongholds are now a refuge, and the people Lina once counted on no longer have time for her, so she spends her days exploring the hidden tunnels and passages of her home. The strongholds are vast and old, with twisting paths, forgotten rooms, and collapsed chambers, some of them containing objects that have been lost and forgotten even by the archivists.

And in one of the forgotten chambers, Lina discovers a secret.

Hidden deep in a cavern is a half-buried airship like nothing she has ever seen before. She's determined to dig it out and restore it. But Lina needs help, and she doesn't know anyone she can trust with her secret.

Then she meets Ozben, a mysterious boy who has a secret of his own—a secret that's so dangerous it could change the course of the Iron War and the world of Solace forever.

Next up, a classic horror setup that sounds just up my alley.
Modern-day teenagers meet a palace of terrors locked up since the French Revolution in this haunting, genre-bending thriller from Stefan Bachmann, the internationally bestselling author of The Peculiar and The Whatnot. A Drop of Night will thrill fans of Neal Shusterman and Jessica Khoury.

Seventeen-year-old Anouk has finally caught the break she's been looking for?she's been selected out of hundreds of other candidates to fly to France and help with the excavation of a vast, underground palace buried a hundred feet below the suburbs of Paris. Built in the 1780's to hide an aristocratic family and a mad duke during the French Revolution, the palace has lain hidden and forgotten ever since. Anouk, along with several other gifted teenagers, will be the first to set foot in it in over two centuries.

Or so she thought.

But nothing is as it seems, and the teens?bitter, iron-hearted Anouk, gentle Will, bubbly Lilly, and crazy Jules?soon find themselves trapped in a game far more sinister, and dangerous, than they could possibly have imagined.

And finally, Helen Oyeyemi's collection of short stories looks really interesting: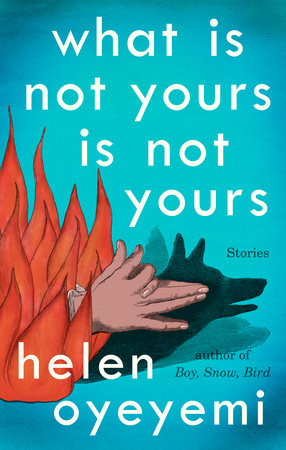 From the award-winning author of Boy, Snow, Bird and Mr. Fox comes an enchanting collection of intertwined stories.

Playful, ambitious, and exquisitely imagined, What Is Not Yours Is Not Yours is cleverly built around the idea of keys, literal and metaphorical. The key to a house, the key to a heart, the key to a secret—Oyeyemi's keys not only unlock elements of her characters' lives, they promise further labyrinths on the other side. In "Books and Roses" one special key opens a library, a garden, and clues to at least two lovers' fates. In "Is Your Blood as Red as This?" an unlikely key opens the heart of a student at a puppeteering school. "'Sorry' Doesn't Sweeten Her Tea" involves a "house of locks," where doors can be closed only with a key—with surprising, unobservable developments. And in "If a Book Is Locked There's Probably a Good Reason for That Don't You Think," a key keeps a mystical diary locked (for good reason).

Oyeyemi's tales span multiple times and landscapes as they tease boundaries between coexisting realities. Is a key a gate, a gift, or an invitation? What Is Not Yours Is Not Yours captivates as it explores the many possible answers.

And that's it from us! What books do you have on your radar?