"On The Smugglers' Radar" is a new feature for books that have caught our eye: books we heard of via other bloggers, directly from publishers, and/or from our regular incursions into the Amazon jungle. Thus, the Smugglers' Radar was born. Because we want far more books than we can possibly buy or review (what else is new?), we thought we would make the Smugglers' Radar into a weekly feature – so YOU can tell us which books you have on your radar as well!
On Thea's Radar:
Oh, Goodreads. The source of so much cover lust.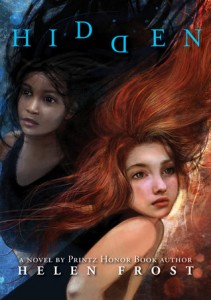 When Wren Abbott and Darra Monson are eight years old, Darra's father steals a minivan. He doesn't know that Wren is hiding in the back. The hours and days that follow change the lives of both girls. Darra is left with a question that only Wren can answer. Wren has questions, too.

Years later, in a chance encounter at camp, the girls face each other for the first time. They can finally learn the truth—that is, if they're willing to reveal to each other the stories that they've hidden for so long. Told from alternating viewpoints, this novel-in-poems reveals the complexities of memory and the strength of a friendship that can overcome pain.

I recently got a copy on NetGalley for this next title, and it sounds EXCELLENT.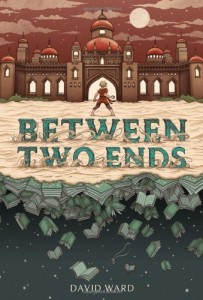 When Yeats and his parents visit his grandmother's creepy old house, Yeats reunites a pair of pirate bookends and uncovers the amazing truth: Years ago, Yeats's father traveled into The Arabian Nights with a friend, and the friend, Shari, is still stuck in the tales. Assisted by the not-always-trustworthy pirates, Yeats must navigate the unfamiliar world of the story of Shaharazad–dodging guards and tigers and the dangerous things that lurk in the margins of the stories–in order to save Shari and bring peace to his family.

David Ward has created a fantasy rich with atmosphere and full of heart-stopping drama.

Cheesy looking cover, sounds kinda reminiscent of Ender's Game and any number of SF-game mashups…but I'm easy, and I like this kind of thing.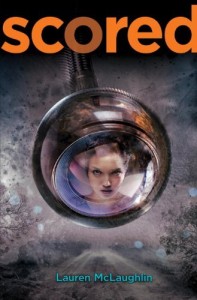 et in the future when teenagers are monitored via camera and their recorded actions and confessions plugged into a computer program that determines their ability to succeed. All kids given a "score" that determines their future potential. This score has the ability to get kids into colleges, grant scholarships, or destroy all hope for the above. Scored's reluctant heroine is Imani, a girl whose high score is brought down when her best friend's score plummets. Where do you draw the line between doing what feels morally right and what can mean your future? Friendship, romance, loyalty, family, human connection and human value: all are questioned in this fresh and compelling dystopian novel set in the scarily forseeable future.

And another dystopian…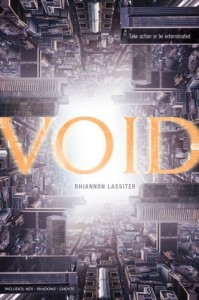 The CPS, a secret government agency, is on a mission to seek and destroy the Hex – human mutants with supercomputer minds. They are young. They look like normal teens. They must never be allowed to grow up.

But the CPS hasn't discovered Raven. Soon they will feel her power and know her rage.

Raven and her brother, Wraith, must use Raven's Hex powers and Wraith's street skills to save first their long-lost sister, and then the entire Hex community. But before they start, Raven must overcome her mantra: work alone and think only of herself. Even then the challenges don't stop as they must crack the top-secret and high-tech security of the CPS, ally with a political-terrorist group, and then ultimately take down the evil European Federation.

And even the best laid plans can go awry.

And there's this horror-type title…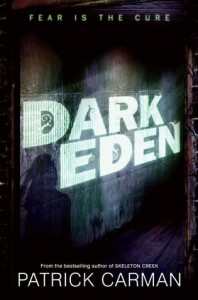 Fifteen-year-old Will Besting is sent by his doctor to Fort Eden, an institution meant to help patients suffering from crippling phobias. Once there, Will and six other teenagers take turns in mysterious fear chambers and confront their worst nightmares—with the help of the group facilitator, Rainsford, an enigmatic guide. When the patients emerge from the chamber, they feel emboldened by the previous night's experiences. But each person soon discovers strange, unexplained aches and pains. . . . What is really happening to the seven teens trapped in this dark Eden?

Patrick Carman's Dark Eden is a provocative exploration of fear, betrayal, memory, and— ultimately—immortality.

I love the look of this cover (although did anyone else kind of crack up when they read the last line of the synopsis? All I can think of is Cersei and Game of Thrones. Heh.)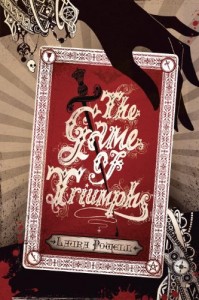 At an exclusive Soho party one rainy night, Cat stumbles into an ancient and dangerous game of fortune. A mysterious quartet of game masters deal out challenges—moves that unfold in the Arcanum, a dream-scape version of our world. Success can earn players fame, fortune, inspiration. Failure can be deadly.

At first Cat is skeptical, but undeniably curious. And when a journey into the Arcanum reveals a shocking glimpse of her family's past, Cat begins to understand what drives people to play. Sometimes it's greed or longing—other times desperation. She must know more.

Right now, the game masters hold all the cards. But Cat finds others like herself on the fringes of the game. And together an unlikely group of chancers hope to change the rules in their favor.

In the Game of Triumphs, the risks are high, but the rewards may just be worth dying for. . . .

This Aruthurian spin sounds pretty cool: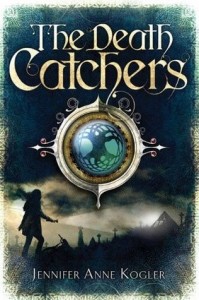 On her fourteenth Halloween, Lizzy Mortimer sees her first death-specter.

Confused at first, Lizzy soon learns from her grandmother Bizzy that as Death Catchers, they must prevent fate from taking its course when an unjust death is planned-a mission that has been passed down from their ancestor, Morgan le Fay. Only, Lizzy doesn't expect one of her first cases to land her in the middle of a feud older than time between Morgan le Fay and her sister Vivienne le Mort. Vivienne hopes to hasten the end of the world by preventing Lizzy from saving King Arthur's last descendant-humanity's greatest hope for survival. It's up to Lizzy, as Morgan's earthly advocate, to outwit fate before it's too late.

With its unique spin on Arthurian legend, this fresh, smartly written story will stand out in the paranormal genre.

Finally, the dear Ana Banana alerted me to the new Monstrumologist cover. I. Cannot. WAIT.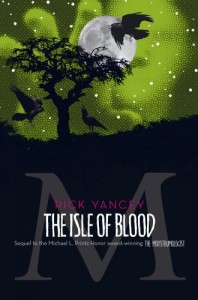 When Dr. Warthrop goes hunting the "Holy Grail of Montrumology" with his eager new assistant, Arkwright, he leaves Will Henry in New York. Finally, Will can enjoy something that always seemed out of reach: a normal life with a real family. But part of Will can't let go of Dr. Warthrop, and when Arkwright returns claiming that the doctor is dead, Will is devastated–and not convinced.

Determined to discover the truth, Will travels to London, knowing that if he succeeds, he will be plunging into depths of horror worse than anything he has experienced so far. His journey will take him to Socotra, the Isle of Blood, where human beings are used to make nests and blood rains from the sky–and will put Will Henry's loyalty to the ultimate test.

On Ana's Radar:
So last week, we were talking about how much we want to read Fury by Elizabeth Miles and how we both missed getting a copy at BEA and then BOOM, there comes a surprise copy in the post from the UK publisher! And I think I like the UK cover even moars!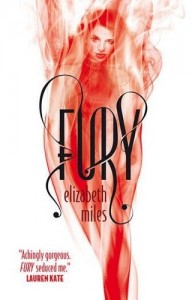 One of my favourite romance novels last year was In For a Penny by Rose Lerner and I have been waiting for her next book with anxiety. A Lily Among Thorns comes out in September: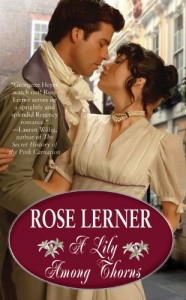 HER SAVIOR

It was him. Serena couldn't breathe. She'd been looking for him for years—the man who'd lifted her out of the dregs of London's underworld. She remembered that he'd looked like an angel. But either she'd embellished or he'd grown up. Because he didn't look like an angel now. He looked like a man, solid and broad, and taller than she'd thought. And now he needed her help.

HIS SIREN

Solomon recognized her as soon as they were alone in the dark. He'd not forgotten that night five years ago either. But Serena had changed. She was stronger, fiercely independent and, though it hardly seemed possible, even more beautiful. She was also neck-deep in trouble. Yet he'd help cook a feast for the Prince Regent, take on a ring of spies, love her well into the night—anything to convince her that this time he was here to stay.

Thea and I were visiting Barnes and Noble when I was in NY and she saw this book and thought it sounded like an Ana-Book. I agreed and bought a copy: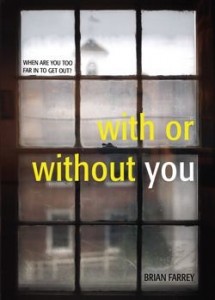 Eighteen year-old Evan and his best friend, Davis, get beaten up for being loners. For being gay. For just being themselves. But as rough as things often seem, at least Evan can take comfort in his sweet, sexy boyfriend Erik–whom he's kept secret from everyone for almost a year.

Then Evan and Davis are recruited to join the Chasers, a fringe crowd that promises them protection and status. Davis is swept up in the excitement, but Evan is caught between his loyalty to Davis and his love for Erik. Evan's lied to keep his two worlds separate. Now his lies are about to implode…and destroy the very relationships he's been trying to protect.

Wintertown is another BEA book we got because it looked awesome: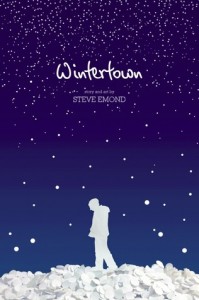 Winter Town follows two childhood best friends who learn that growing up means growing apart. This is written from both points of views.

Evan: Every winter, Evan looks forward to a visit from Lucy, a childhood pal who moved away after her parent's divorce. But when Lucy arrives this year, she's changed. The "girl next door" has chopped dyed black hair, a nose stud, and a scowl. But even though Lucy's changed, Evan and Lucy connect again. And this time, Evan falls in love.

Lucy: Lucy has secrets. She doesn't tell Evan about her mother's new abusive boyfriend, her own violent boyfriend, and the fights that got her kicked out of her house. She feels guilty and starts to resent Evan's picture perfect (boring) life. She knows Evan won't change, and Lucy knows she must break his heart and move on.

Evan: The next winter, after transferring to an art college against his father's wishes, Evan sees Lucy again. And this time, they know the timing is right.

This unique story features gorgeous black-and-white illustrations throughout (comic strips, spot art, chapter heads, etc.).

The next ones I found on Goodreads and as far as I can tell, they are Australian/NZ titles? And they look awesome and I want them here.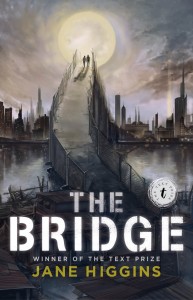 The City is divided. The bridges gated. In Southside, the hostiles live in squalor and desperation, waiting for a chance to overrun the residents of Cityside.

Nik is still in high school but destined for a great career with the Internal Security and Intelligence Services, the brains behind the war. But when ISIS comes recruiting, everyone is shocked when he isn't chosen. There must be an explanation, but no one will talk about it. Then the school is bombed and the hostiles take the bridges. Buildings are burning, kids are dead, and the hostiles have kidnapped Sol. Now ISIS is hunting for Nik.

But Nik is on the run, with Sol's sister Fyffe and ISIS hot on their trail. They cross the bridge in search of Sol, and Nik finds answers to questions he'd never dared to ask.

The Bridge is a gritty adventure set in a future world where fear of outsiders pervades everything. A heart-stopping novel about friendship, identity and courage from an exciting new voice in young-adult fiction.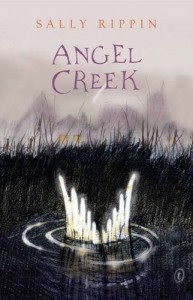 In her new falling-down home, in her new street, in her new suburb, Jelly waits for high school to begin. She can only feel happy up in the branches of the old apricot tree and by the creek at the back of the house. One night, Jelly and her cousins spot something in the creek's dark waters. At first they think it's a bird, but it isn't…it's a baby angel with a broken wing. And they decide to keep it.

But soon things start to go wrong, and Jelly discovers that you can't just take something from where it belongs and expect that it won't be missed.

Sally Rippin's Angel Creek is a book about growing up: being brave and selfish and tough and scared. It's a book about an angel. But not the sweet variety. It's a book about the things that change and the things that always stay the same.

And that's it from us! What books do you have on YOUR radar?