"On The Smugglers' Radar" is a new feature for books that have caught our eye: books we heard of via other bloggers, directly from publishers, and/or from our regular incursions into the Amazon jungle. Thus, the Smugglers' Radar was born. Because we want far more books than we can possibly buy or review (what else is new?), we thought we would make the Smugglers' Radar into a weekly feature – so YOU can tell us which books you have on your radar as well!
On Ana's Radar:
I am in a bit of a mood to try more of historical fiction and Deadly by Julie Chibbaro seems interesting….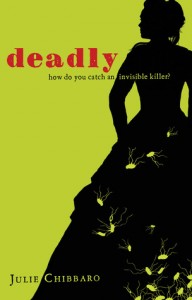 A mysterious outbreak of typhoid fever is sweeping turn-of-the-century New York. Every week more people fall ill, and despite thorough investigation, there's no cause in sight. It's not until the city's most unlikely scientist — sixteen-year-old Prudence Galewski — takes a job as an assistant in a laboratory that the evidence begins to fall into place. It seems one person has worked in every home the fever has ravaged: Mary Mallon, an Irish immigrant dubbed "Typhoid Mary" by the press.

And this one I saw reviewed over at Chasing Ray and I now I really want to read it too. They Called Themselves the K.K.K.: The Birth of an American Terrorist Group
by Susan Bartoletti: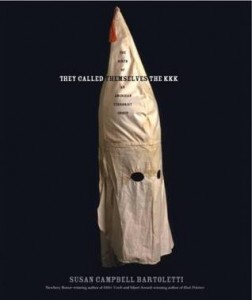 "Boys, let us get up a club." With those words, six restless young men raided the linens at a friend's mansion, pulled pillowcases over their heads, hopped on horses and cavorted through the streets of Pulaski, Tennessee. Soon, the six friends had named their club the Ku Klux Klan and all too quickly, their club would grow into the self-proclaimed Invisible Empire with secret dens spread across the South.

This is the story of how a secret, terrorist group took root in America's democracy. Filled with chilling and vivid personal accounts unearthed from oral histories, congressional documents, and diaries, it is a book to read and remember.

And, lookie! New upcoming book by one of my favourite Contemporary Romance writers: A Lot Like Love by Julie James: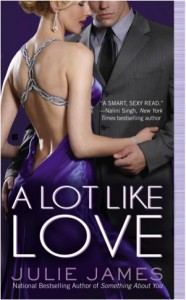 The FBI wants her cooperation.

As the daughter of a billionaire and the owner of the city's top wine store, Jordan Rhodes is invited to the most exclusive parties in Chicago. But there's only one party the FBI wants to crash: the charity fundraiser of a famous restaurateur, who also happens to launder money for the mob. In exchange for her brother's release from prison, Jordan is going to be there—with a date supplied by the Bureau.

Agent McCall just wants her.

As the top undercover agent in Chicago, Nick McCall has one rule: never get personal. This "date" with Jordan Rhodes is merely an assignment—one they're both determined to pull off even if they can't be together for five minutes before the sarcasm and sparks begin to fly. But when Nick's investigation is compromised, he and Jordan have no choice but to pretend they're a couple, and what starts out as a simple assignment begins to feel a lot like something more. . .

I bought Stop Me If You've Heard This One Before by David Yoo this week. This one is a not a new or upcoming book – Thea is the one who found it for me and it sounds a lot like an Ana Book that I had to get it: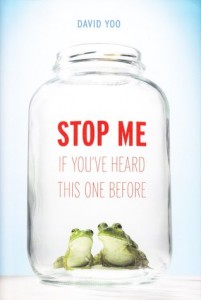 Albert Kim embraces his role as a loser until he finds himself falling for the newly liberated (from a three year relationship with Ryan "The House" Stackhouse, lacrosse demi-god) Mia Stone.

As if it's not bad enough that no one at schol kows Albert and Mia are dating, her friends HATE him. Then Ryan is diagnosed with cancer.

How can one Korean-American, former intentional loser in his first relationship cope?!

And I really want this one as well: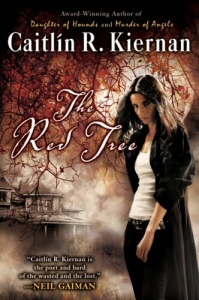 Sarah Crowe left Atlanta, and the remnants of a tumultuous relationship, to live alone in an old house in rural Rhode Island. Within its walls she discovers an unfinished manuscript written by the house's former tenant—a parapsychologist obsessed with the ancient oak growing on a desolate corner of the property. And as the gnarled tree takes root in her imagination, Sarah risks her health and her sanity to unearth a revelation planted centuries ago…

And finally, after reading Fantasy Book Critic's review of Aurorarama, I want this book like, WHOA and NOW: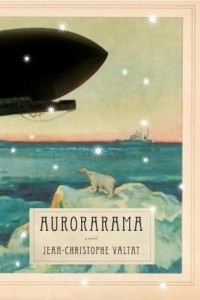 A startling, seductive literary novel that entwines suspense, science fiction, adventure, romance and history into an intoxicating new genre.

1908: New Venice–"the pearl of the Arctic"–a place of ice palaces and pneumatic tubes, of beautifully ornate carriage-sleds and elegant victorian garb, of long nights and vistas of ice.

But as the city prepares for spring, it feels more like qaartsiluni, "the time when something is about to explode in the dark." Local "poletics" are wracked by tensions with the Eskimos circling the city, with suffragette riots led by an underground music star, with drug round-ups by the secret police force known as the Gentlemen of the Night. An ominous black airship hovers over the city, and the Gentlemen are hunting for the author of a radical pamphlet calling for revolt.

Their lead suspect is Brentford Orsini, one of the city's most prominent figures. But as the Gentlemen of the Night tighten the net around him, Orsini receives a mysterious message from a long-lost love that compels him to act.

What transpires is a literary adventure novel unlike anything you've ever read before. Brilliant in its conception, masterful in its prose, thrilling in its plot twists, and laced with humor, suspense, and intelligence, it marks the beginning of a great new series of books set in New Venice-and the launch of an astonishing new writer.

On Thea's Radar:
Dammit, Ana! You stole one of my books! *shakes fist* I saw our own Dude Harry review this title, and I wants it: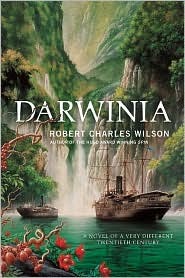 In 1912, history was changed by the Miracle, when the old world of Europe was replaced by Darwinia, a strange land of nightmarish jungle and antediluvian monsters. To some, the Miracle was an act of divine retribution; to others, it is an opportunity to carve out a new empire.

Leaving an America now ruled by religious fundamentalists, young Guilford Law travels to Darwinia on a mission of discovery that will take him further than he can possibly imagine…to a shattering revelation about mankind's destiny in the universe.

Aussie blogger and author Rhiannon Hart posted about this one in her mailbox, and the greed in me kicks in: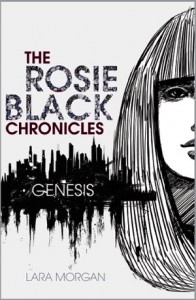 Five hundred years into the future, the world is a different place. The Melt has sunk most of the coastal cities and Newperth is divided into the haves, the "Centrals"; the have-nots, the "Bankers"; and the fringe dwellers, the "Ferals".

Rosie Black is a Banker. When Rosie finds an unusual box, she has no idea of the grave consequences of her discovery. A mysterious organisation wants it – and will kill to get it.

Forced to rely on two strangers, Rosie is on the run. But who can she trust? Pip, the too attractive Feral, or the secretive man he calls boss?

From Earth to Mars, Rosie must learn the secrets of the box – before it's too late.


AND it comes with a cool book trailer, too:

When I first saw this cover image, I immediately dismissed it because it looks identical to Jonathan Maberry's Rot & Ruin (and I haven't read any Maberry that I've actually liked). BUT, then I took a second look and realized that, hey, this book is from John Ajvide Lindqvist – aka the guy that wrote the terrifying, beautiful vampire tale, Let The Right One In. Needless to say, I want this book.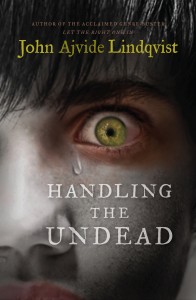 Something very peculiar is happening in Stockholm. There's a heatwave on and people cannot turn their lights out or switch their appliances off. Then the terrible news breaks. In the city morgue, the dead are waking up… What do they want? What everybody wants: to come home. 'Handling the Undead' is a story about our greatest fear and about a love that defies death.

And, now that I live a very dangerous 10-15 minutes away from The Strand, I have recently picked up this title. (In addition to many, many more) (Someone seriously needs to RESTRAIN ME)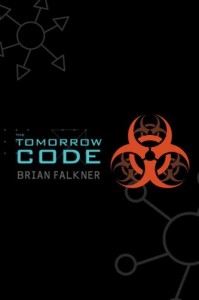 THE END OF THE WORLD started quietly enough for Tane Williams and Rebecca Richards. . . .

Tane and Rebecca aren't sure what to make of it—a sequence of 1s and 0s, the message looks like nothing more than a random collection of alternating digits. Working to decode it, however, Tane and Rebecca discover that the message contains lottery numbers . . . lottery numbers that win the next random draw! Suddenly Tane and Rebecca are rich, but who sent the numbers? And why? More messages follow, and slowly it becomes clear—the messages are being sent back in time from Tane and Rebecca's future. Something there has gone horribly wrong, and it's up to them to prevent it from happening. As they follow the messages' cryptic instructions, Tane and Rebecca begin to suspect the worst—that the very survival of the human race may be at stake.

And that's it from us! What books do you have on your radar?