"On The Smugglers' Radar" is a new feature for books that have caught our eye: books we heard of via other bloggers, directly from publishers, and/or from our regular incursions into the Amazon jungle. Thus, the Smugglers' Radar was born. Because we want far more books than we can possibly buy or review (what else is new?), we thought we would make the Smugglers' Radar into a weekly feature – so YOU can tell us which books you have on your radar as well!
On Ana's radar
I saw the cover for Possessions this week and I think it is great: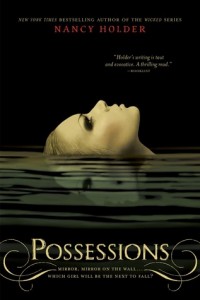 Lindsay is hoping for a fresh start, to get out of San Diego, where everyone remembers when she had her breakdown, and get away to boarding school, even if it is a boarding school as creepy as Marlwood Academy. But Lindsay is happier, and even manages to make a great new friend, Julie. Then, the school's most popular girl, Mandy starts acting super creepy. Rumors abound, but it's becoming more and more clear to Lindsay that something else is at work…something darker and more dangerous than just a houseful of mean girls.

And even though I am not really a horror fan and the cover for the sequel – The Evil Within is even creepier, I still want it!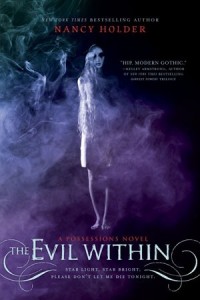 In this sequel to New York Times bestselling author Nancy Holder's Possessions, Lindsay finds out that she, too, is possessed, and must return to creepy Marlwood Academy in order to rid herself of the spirit. Lindsay's afraid of what the spirit is telling her to do—kill Mandy! But the secrets of Marlwood go much deeper than Lindsay thought. Sometimes the girls who seem like enemies are actually on your side. And the voices you trust the most—the voices that come from within—are the ones that want you dead.

I came across this post by Neesha Meminger, author of Shine, Coconut Moon about being political and that cemented it. I had her book on my radar for a while but after reading the article I went and bought it.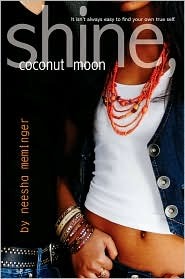 Seventeen-year-old Samar — a.k.a. Sam — has never known much about her Indian heritage. Her mom has deliberately kept Sam away from her old-fashioned family. It's never bothered Sam, who is busy with school, friends, and a really cute but demanding boyfriend.

But things change after 9/11. A guy in a turban shows up at Sam's house, and he turns out to be her uncle. He wants to reconcile the family and teach Sam about her Sikh heritage. Sam isn't sure what to do, until a girl at school calls her a coconut — brown on the outside, white on the inside. That decides it: Why shouldn't Sam get to know her family? What is her mom so afraid of? Then some boys attack her uncle, shouting, "Go back home, Osama!" and Sam realizes she could be in danger — and also discovers how dangerous ignorance can be. Sam will need all her smarts and savvy to try to bridge two worlds and make them both her own.

Last year, I totally missed on getting The Women of Nell Gwynne's by Kage Baker which is now sold out. Thankfully Subterranean Press decided to make it available to readers in a trade paperback edition, expanded to include the bonus Nell Gwynne novelette, "The Bohemain Astrobleme". I won't miss it this time: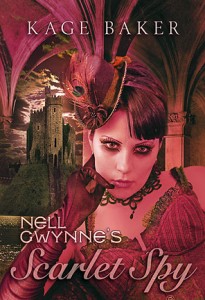 The original Kage Baker novella The Women of Nell Gwynne's now sells for over $80 on the collector's market. We've decided to make it available to readers in a trade paperback edition, expanded to include the bonus Nell Gwynne novelette, "The Bohemain Astrobleme".

Lady Beatrice was the proper British daughter of a proper British soldier, until tragedy struck and sent her home to walk the streets of early-Victorian London. But Lady Beatrice is no ordinary whore, and is soon recruited to join an underground establishment known as Nell Gwynne's. Nell Gwynne's is far more than simply the finest and most exclusive brothel in Whitehall; it is in fact the sister organization to the Gentlemen's Speculative Society, that 19th-century predecessor to a certain Company…and when a member of the Society goes missing on a peculiar assignment, it's up to Lady Beatrice and her sister harlots to investigate.

And finally, another book by Cherie Priest I hadn't heard of but came across this week. I love the cover too: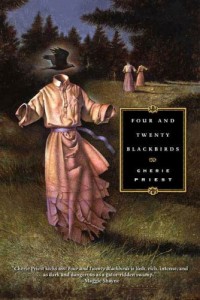 The classic Southern gothic gets an edgy modern makeover in Priest's debut novel about a young woman's investigation into the truth of her origins. What Eden Moore digs up in the roots of her diseased family tree takes her across the South, from the ruins of the Pine Breeze sanitarium in Tennessee to a corpse-filled swamp in Florida, and back in time to the Civil War, when the taint in her family bloodline sets in motion events building only now to a supernatural crescendo. Priest adds little new to the gothic canon, but makes neo-goth chick Eden spunky enough to deal with a variety of clich? menaces?a scheming family matriarch, a brooding Poe-esque mansion and a genealogy greatly confused with inbreeding?that would have sent the genre's traditional wilting violets into hysterics. Eden is a heroine for the aging Buffy crowd, and her adventures will play best to postadolescent horror fans.

On Thea's radar
Ohmigod, Ana is posting HORROR novel covers, people! My work here….it is DONE. There have been a few rereleases scheduled with new covers that look fantastic – case in point, the new covers for K.W. Jeter's steampunk classics from Angry Robot: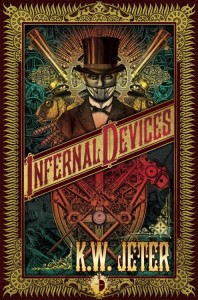 It all began when the Brown Leather Man, a mysterious being with a secret older than humankind, asked proper Victorian London gentleman George Dower to repair a weird device. How coud George have know that this was but one of the many infernal devices his genius father had build, and that he himself would soon be pursued by former clients of his father? For George had always been the unsuspecting key to his father's incredible plans, a key that others would like to possess – from the automaton who wore George's own face to the mad Lord Bendray, bent on using George to destroy the entire Earth. A romp through Victorian England by an author said to have "the brain-burned intensity of his mentor, Philip K. Dick.
And also: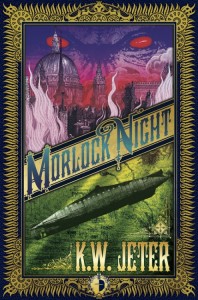 What happened when the time machine returned? Morlock Night is a memorably different excursion in science fiction – a gripping classic adventure in past, present and future – with some startling surprising!

Then, there's the rerelease of Masques by Patricia Briggs – behold the old and new covers:
When the peaceful kingdom of Reth is overrun by Geofrrey ae'Magi, the evil master of illusion, Aralorn, weaponsmistress of the shapechanging race, and her companion, Wolf, attempt to overthrow him.
I don't know. I've always been partial to the old school covers, and this new look for Masques kind of freaks me out. That said, I'm glad this book is getting reprinted – more readers for the lovely Patty Briggs is an awesome thing. (Also, a sample chapter is up on the author's website!)

Then, there's this title I just saw reviewed on My Favourite Books, and now I wants it: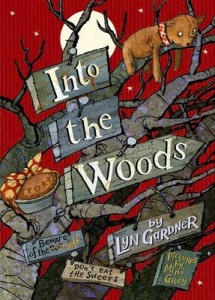 Taking inspiration from numerous fairytales and weaving them into a wholly original story, INTO THE WOODS is a whirlwind of a novel, full of imaginative happenings, dastardly deeds and thrilling adventure.

Our guides are sisters three: Storm, Aurora and Anything Eden. Accidentally orphaned and left to fend for themselves in a decaying mansion on the edge of the wilds, they come to the very much unwanted attention of the sinister Dr DeWilde: a scar-faced gentleman with a pied waistcoat and an unhealthy interest in rats. He's after a tiny little musical pipe that Storm has inherited, and he'll stop at nothing to get it.

Fleeing into the woods, our courageous and eccentric sisters evade kidnap (almost), resist the temptation of sweet-filled orphanages (nearly!), and begin a treacherous journey across raging rivers, over mountains of ice, through deathly silent ghost towns and beyond the lairs of child-eating ogresses. With ravenously hungry wolves snapping at their heels every step of the way!

Featuring wonderful illustrations by award-winning illustrator Mini Grey, INTO THE WOODS is a classic tale with a very modern twist and will delight readers of every generation.

Saw this omnibus whilst perusing Orbit's upcoming schedule (and who doesn't love an omnibus? So convenient!):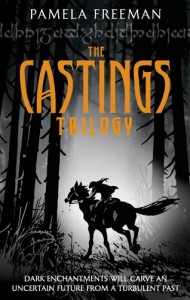 Bramble is impetuous with a talent for trouble, and she finds it when an accident brands her a criminal. But she expects no mercy with her Traveller blood – so when the village gods tell her to flee, she hits the road. In ghost-ridden Turvite, Ash leaves the road for an apprenticeship, the only one available for a Traveller such as himself. Then his employer trains him to kill on demand and his future looks bleak.

But the gods have deeper plans for both Ash and Bramble. Their shared heritage grants them hidden strengths, which are needed to combat a new evil. Saker also remembers Travellers once owned this land. But he intends to take it back in vengeance, using enchantment and the blood of innocents.

This omnibus edition contains: BLOOD TIES, DEEP WATER and FULL CIRCLE.

And also this: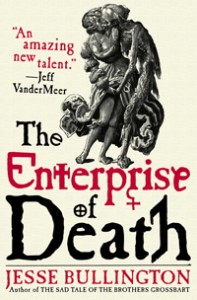 As the witch-pyres of the Spanish Inquisition blanket Renaissance Europe in a moral haze, a young African slave finds herself the unwilling apprentice of an ancient necromancer. Unfortunately, quitting his company proves even more hazardous than remaining his pupil when she is afflicted with a terrible curse. Yet salvation may lie in a mysterious tome her tutor has hidden somewhere on the war-torn continent. She sets out on a seemingly impossible journey to find the book, never suspecting her fate is tied to three strangers: the artist Niklaus Manuel Deutsch, the alchemist Dr. Paracelsus, and a gun-slinging Dutch mercenary. As Manuel paints her macabre story on canvas, plank, and church wall, the apprentice becomes increasingly aware of the great dangers that surround her. She realizes she must revisit the fell necromancy of her childhood – or death will be the least of her concerns.

And that's it from us! What books do you have on your radar?