"On The Smugglers' Radar" is a feature for books that have caught our eye: books we have heard of via other bloggers, directly from publishers, and/or from our regular incursions into the Amazon jungle. Thus, the Smugglers' Radar was born. Because we want far more books than we can possibly buy or review (what else is new?), we thought we would make the Smugglers' Radar into a weekly feature – so YOU can tell us which books you have on your radar as well!
On Ana's Radar:
This week we received an email from Harper Collins about Sharon Creech's books (all for $1.99 on Amazon till Sep 02) and I fell in love and well, bought them all. These two books below are the ones I will probably read first: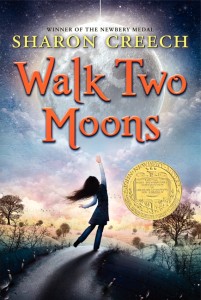 "How about a story? Spin us a yarn."
Instantly, Phoebe Winterbottom came to mind. "I could tell you an extensively strange story," I warned.
"Oh, good!" Gram said. "Delicious!"
And that is how I happened to tell them about Phoebe, her disappearing mother, and the lunatic.

As Sal entertains her grandparents with Phoebe's outrageous story, her own story begins to unfold — the story of a thirteen-year-old girl whose only wish is to be reunited with her missing mother.

In her own award-winning style, Sharon Creech intricately weaves together two tales, one funny, one bittersweet, to create a heartwarming, compelling, and utterly moving story of love, loss, and the complexity of human emotion.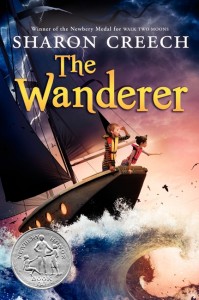 The sea, the sea, the sea. It rolled and rolled and called to me. Come in, it said, come in.

Sophie hears the sea calling, promising adventure as she sets sail for England with her three uncles and two cousins. Sophie's cousin Cody isn't sure he has the strength to prove himself to the crew and to his father. Through Sophie's and Cody's travel logs, we hear stories of the past and the daily challenges of surviving at sea as The Wanderer sails toward its destination — and its passengers search for their places in the world.

An upcoming Angry Robot title (a story about love, loss and ROBOTS) that sounds (and looks) awesome (AND I bet Thea agrees with me!).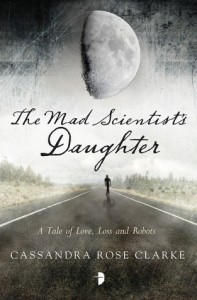 There's never been anyone – or anything – quite like Finn.

He looks, and acts human, though he has no desire to be. He was programmed to assist his owners, and performs his duties to perfection. A billion-dollar construct, his primary task is to tutor Cat.

When the government grants rights to the ever-increasing robot population, however, Finn struggles to find his place in the world.

HOLY CRAP. I was browsing Macmillan's winter catalogue and came across this title which has an AMAZING cover and it promises to be….Buffy meets Deadwood!!!!! SQUEE.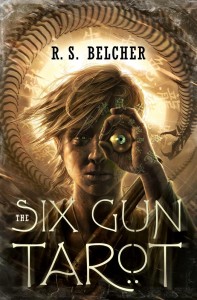 Nevada, 1869: Beyond the pitiless 40-Mile Desert lies Golgotha, a cattle town that hides more than its share of unnatural secrets. The sheriff bears the mark of the noose around his neck; some say he is a dead man whose time has not yet come. His half-human deputy is kin to coyotes. The mayor guards a hoard of mythical treasures. A banker's wife belongs to a secret order of assassins. And a shady saloon owner, whose fingers are in everyone's business, may know more about the town's true origins than he's letting on.

A haven for the blessed and the damned, Golgotha has known many strange events, but nothing like the primordial darkness stirring in the abandoned silver mine overlooking the town. Bleeding midnight, an ancient evil is spilling into the world, and unless the sheriff and his posse can saddle up in time, Golgotha will have seen its last dawn…and so will all of Creation.

I was also browsing Scholastic's 2013 catalogue (what? So, so I had a quiet week at work!) and saw Shadow Breakers which sounds interesting…and I love the cover!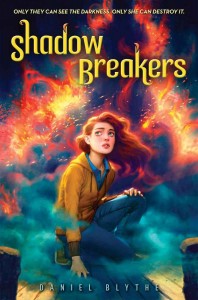 Can she escape the shadows and face the truth before the darkness destroys her? By DOCTOR WHO screenwriter Daniel Blythe.

"If the enemy is a fire, the evil is its shadow, flickering upon the wall."

"That's very poetic, Miss Bellini. I just wish I knew what it meant."

Miranda's new home is a dull seaside town at the edge of the world, the sort of forgotten place where nothing ever happens. Until something does. Something strange and sinister. With her schoolteacher and her classmates, who might be more clued in than they let on, Miranda sets out to uncover the mystery. Her bravery borders on recklessness. She thinks she's chasing shadows, tortured spirits from the past, but could true darkness lie within? Before it destroys her, Miranda's got to figure out how, with a mixture of science and magic, to harness the evil!

An electrifying paranormal thriller that will have readers guessing till the end.

This simple and yet striking cover put Tides right on my radar – it also helps that this seems to be a story about siblings as well as selkies.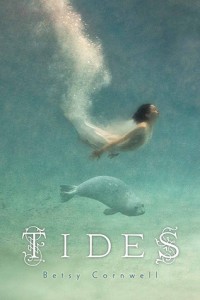 When high-school senior Noah Gallagher and his adopted teenage sister, Lo, go to live with their grandmother in her island cottage for the summer, they don't expect much in the way of adventure. Noah has landed a marine biology internship, and Lo wants to draw and paint, perhaps even to vanquish her struggles with bulimia. But then things take a dramatic turn for them both when Noah mistakenly tries to save a mysterious girl from drowning. This dreamlike, suspenseful story—deftly told from multiple points of view—dives deeply into selkie folklore while examining the fluid nature of love and family.

On Thea's Radar:
Yowza, I want almost every book on Ana's list (and that hardly ever happens!). Speaking of awesome robot novels, there's this forthcoming Angry Robot title (fitting!) about mankind's upgrade process. (Which sounds very much like Human.4, but maybe a little more fleshed out? I hope so.)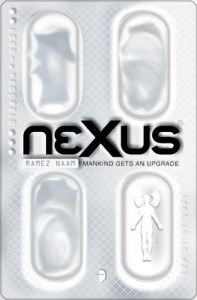 Mankind gets an upgrade

In the near future, the experimental nano-drug Nexus can link human together, mind to mind. There are some who want to improve it. There are some who want to eradicate it. And there are others who just want to exploit it.

When a young scientist is caught improving Nexus, he's thrust over his head into a world of danger and international espionage – for there is far more at stake than anyone realizes.

The premise of this next novel – about a girl found in the wreckage of an airplane crash – sounds pretty fantastic (I am choosing to ignore silly marketing copy about a "strangely alluring" young man/love interest for the time being).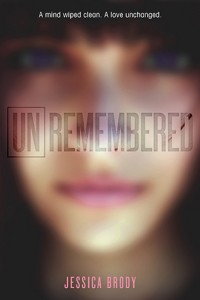 The only thing worse than forgetting her past… is remembering it.

When Freedom Airlines flight 121 went down over the Pacific Ocean, no one ever expected to find survivors. Which is why the sixteen-year-old girl discovered floating among the wreckage—alive—is making headlines across the globe.

Even more strange is that her body is miraculously unharmed and she has no memories of boarding the plane. She has no memories of her life before the crash. She has no memories period. No one knows how she survived. No one knows why she wasn't on the passenger manifest. And no one can explain why her DNA and fingerprints can't be found in a single database in the world.

Crippled by a world she doesn't know, plagued by abilities she doesn't understand, and haunted by a looming threat she can't remember, Seraphina struggles to piece together her forgotten past and discover who she really is. But with every clue only comes more questions. And she's running out of time to answer them.

Her only hope is a strangely alluring boy who claims to know her from before the crash. Who claims they were in love. But can she really trust him? And will he be able to protect her from the people who have been making her forget?

From popular young adult author, Jessica Brody comes a mesmerizing and suspenseful new series, set in a world where science knows no boundaries, memories are manipulated, and true love can never be forgotten.

This title (middle grade, I think?) sounds like it could be hilarious and fantastic: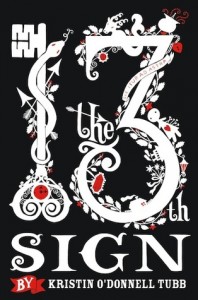 What if there was a 13th zodiac sign?

You're no longer Sagittarius, but Ophiuchus, the healer, the 13th sign.

Your personality has changed. So has your mom's and your best friend's.

What about the rest of the world?

What if you were the one who accidentally unlocked the 13th sign, causing this world-altering change—and infuriating the other 12 signs?

Jalen did it, and now she must use every ounce of her strength and cunning to send the signs back where they belong. Lives, including her own, depend on it.

This next book has a loaded premise – which could go one of two ways. I'm intrigued though, and will be on the lookout for Burning Blue: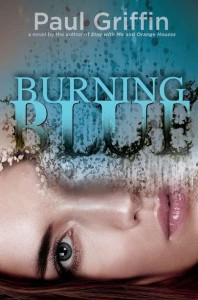 How far would you go for love, beauty, and jealousy?

When Nicole Castro, the most beautiful girl in her wealthy New Jersey high school, is splashed with acid on the left side of her perfect face, the whole world takes notice. But quiet loner Jay Nazarro does more than that–he decides to find out who did it. Jay understands how it feels to be treated like a freak, and he also has a secret: He's a brilliant hacker. But the deeper he digs, the more danger he's in–and the more he falls for Nicole. Too bad everyone is turning into a suspect, including Nicole herself.

Award-winning author Paul Griffin has written a high-stakes, soulful mystery about the meaning–and dangers–of love and beauty.

Another Catherine Fisher novel, previously published abroad, making its way to the USA! HUZZAH!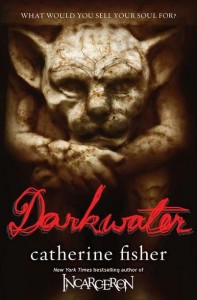 What would you sell your soul for?

Sixteen-year-old Sarah Trevelyan would give anything to regain the power and wealth her family has lost, so she makes a bargain with Azrael, Lord of Darkwater Hall. He gives her one hundred years and the means to accomplish her objective–in exchange for her soul. Fast-forward a hundred years to Tom, a fifteen-year-old boy who dreams of attending Darkwater Hall School but doesn't believe he has the talent. Until he meets a professor named Azrael, who offers him a bargain. Will Sarah be able to stop Tom from making the same mistake she did a century ago?

This is smart fantasy mixed with elements of horror from master storyteller Catherine Fisher. She says, "Darkwater Hall is an image of the power and knowledge we all desire. But what will we pay for them, and are they worth the price?"

I'm basically going to be drawn to anything featuring extraterrestrial-human bloodline blending. Hence, this next title (despite the cheesiness of THE RULES – I'm hoping this is marketing copy fail, not book fail):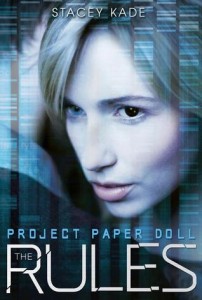 1. Never trust anyone.

2. Remember they are always searching.

3. Don't get involved.

4. Keep your head down.

5. Don't fall in love.

Five simple rules. Ariane Tucker has followed them since the night she escaped from the genetics lab where she was created, the result of combining human and extraterrestrial DNA. Ariane's survival—and that of her adoptive father—depends on her ability to blend in among the full-blooded humans, to hide in plain sight from those who seek to recover their lost (and expensive) "project."

But when a cruel prank at school goes awry, it puts her in the path of Zane Bradshaw, the police chief's son and someone who sees too much. Someone who really sees her. After years of trying to be invisible, Ariane finds the attention frightening—and utterly intoxicating. Suddenly, nothing is simple anymore, especially not the rules…

This next title isn't usually the type of book I'm drawn to, but I like the cover and the title, and the premise – a girl able to read peoples' thoughts, but then discovers a terrible secret from someone close to her – is an old standby, and a keeper.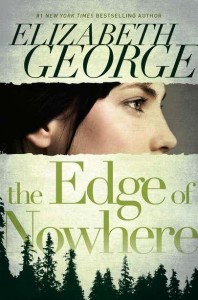 The first young adult book by a #1 New York Times bestselling author

Whidbey Island may be only a ferry ride from Seattle, but it's a world apart. When Becca King arrives there, she doesn't suspect the island will become her home for the next four years. Put at risk by her ability to hear "whispers"–the thoughts of others–Becca is on the run from her stepfather, whose criminal activities she has discovered. Stranded and alone, Becca is soon befriended by Derric, a Ugandon orphan adopted by a local family; Seth, a kindhearted musician and high school dropout; Debbie, a recovering alcoholic who takes her in; and Diana, with whom Becca shares a mysterious psychic connection.

This compelling coming-of-age story, the first of an ongoing sequence of books set on Whidbey Island, has elements of mystery, the paranormal, and romance. Elizabeth George, bestselling author of the Inspector Lynley crime novels, brings her elegant style, intricate plotting, incisive characterization, and top-notch storytelling to her first book for teens.

And that's it from us! What books do you have on YOUR radar?