"On The Smugglers' Radar" is a feature for books that have caught our eye: books we have heard of via other bloggers, directly from publishers, and/or from our regular incursions into the Amazon jungle. Thus, the Smugglers' Radar was born. Because we want far more books than we can possibly buy or review (what else is new?), we thought we would make the Smugglers' Radar into a weekly feature – so YOU can tell us which books you have on your radar as well!
On Ana's Radar:
I am so totally in love with this cover I don't even CARE what the book is about (I lie, I do care. It is about the end of the world.)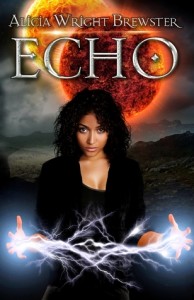 The countdown clock reads ten days until the end of the world. The citizens are organized. Everyone's been notified and assigned a duty. The problem is . . . no one knows for sure how it will end.

Energy-hungry Mages are the most likely culprit. They travel toward a single location from every corner of the continent. Fueled by the two suns, each Mage holds the power of an element: air, earth, fire, metal, water, or ether. They harness their powers to draw energy from the most readily available resource: humans.

Ashara has been assigned to the Ethereal task force, made up of human ether manipulators and directed by Loken, a young man with whom she has a complicated past. Loken and Ashara bond over a common goal: to stop the Mages from occupying their home and gaining more energy than they can contain. But soon, they begin to suspect that the future of the world may depend on Ashara's death.

Jonathan Strahan is editing another anthology with some kick-ass authors: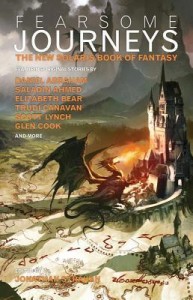 A brand new series brignig you Fantasy stories from some of the biggest and most exciting names in the genre! The authors appearing in the launch volume include Trudi Canavan, Elizabeth Bear, Daniel Abraham, Kate Elliott, Saladin Ahmed, Glen Cook, Scott Lynch, Ellen Klages, Ellen Kushner & Ysabeau Wilce, Jeffrey Ford, Robert Redick and KJ Parker.An amazing array of the most popular and exciting names in Fantasy are set to appear in the first in a brand new series of Fantasy anthologies featuring original fiction, from the master editor Jonathan Strahan. The authors appearing in the launch volume include Trudi Canavan, Elizabeth Bear, Daniel Abraham, Kate Elliott, Saladin Ahmed, Glen Cook, Scott Lynch, Ellen Klages, Ellen Kushner & Ysabeau Wilce, Jeffrey Ford, Robert Redick and KJ Parker.

I got this book in the post recently and since I love fairytale retellings, I will definitely give it a go: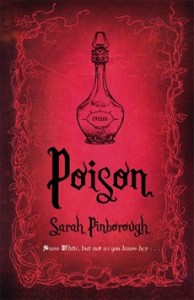 A beautiful, sexy, contemporary retelling of the classic Snow White fairy tale, illustrated by Les Edwards.

POISON is a beautifully illustrated retelling of the Snow White story which takes all the elements of the classic fairytale that we love (the handsome prince, the jealous queen, the beautiful girl and, of course, the poisoning) and puts a modern spin on the characters, their motives and their desires. It's fun, contemporary, sexy, and perfect for fans of ONCE UPON A TIME, GRIMM, SNOW WHITE AND THE HUNTSMAN and more.

Another one that came in the post and it looks great too. Love both US and UK covers:
In the debut novel DREAMS AND SHADOWS, screenwriter and noted film critic C. Robert Cargill takes us beyond the veil, through the lives of Ewan and Colby, young men whose spirits have been enmeshed with the otherworld from a young age. This brilliantly crafted narrative – part Neil Gaiman, part Guillermo Del Torro, part William Burroughs – follows the boys from their star-crossed adolescences to their haunted adulthoods. Cargill's tour-de-force takes us inside the Limestone Kingdom, a parallel universe where whisky-swilling genies and foul-mouthed wizards argue over the state of the metaphysical realm. Having left the spirit world and returned to the human world, Ewan and Colby discover that the creatures from this previous life have not forgotten them, and that fate can never be sidestepped. With sensitivity and hopeful examination, Cargill illuminates a supernatural culture that all too eerily resembles our own. Set in a richly imagined and constructed world, complete with its own richly detailed history and mythology, DREAMS AND SHADOWS is a deeply engaging story about two extraordinary boys becoming men.

I keep meaning to read Francesca Lia Block but for some reason never get around to it. Now this coming book has caught my attention: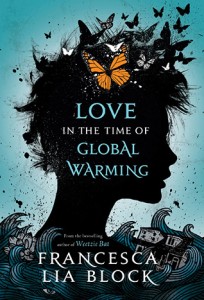 Seventeen-year-old Penelope (Pen) has lost everything—her home, her parents, and her ten-year-old brother. Like a female Odysseus in search of home, she navigates a dark world full of strange creatures, gathers companions and loses them, finds love and loses it, and faces her mortal enemy.

In her signature style, Francesca Lia Block has created a world that is beautiful in its destruction and as frightening as it is lovely. At the helm is Pen, a strong heroine who holds hope and love in her hands and refuses to be defeated.

On Thea's Radar:
Ok! First up on my radar is this wonderful middle grade title that has a kickass cover (I love the sly looks on the girl and that cat's faces), and is being positioned as perfect for fans of Coraline and The Twilight Zone?! Umm, yes please.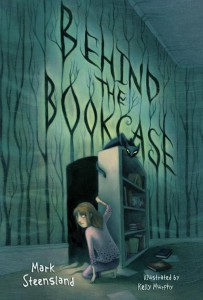 A girl stumbles into a fantastic world in this tale perfect for fans of Coraline, Alice in Wonderland, and The Twilight Zone.

Spending the summer at her grandmother's house is the last thing Sarah wants to do-especially now that Grandma Winnie has died-but she has no choice. Her parents have to fix the place up before they can sell it, and Sarah and her brother, Billy, have to help. But the tedious work turns into a thrilling mystery when Sarah discovers an unfinished letter her grandmother wrote: Strange things are happening behind the bookcase….

Sarah's mother dismisses the letter as one of Grandma Winnie's crazy stories, but Sarah does some investigating and makes a remarkable discovery: behind the bookcase is a doorway into Scotopia, the land where shadows come from. With a talking cat named Balthazat as her guide, Sarah begins an unforgettable adventure into a world filled with countless dangers. Who can she trust? And can she face her fears, not only in Scotopia, but also back at Grandma Winnie's house, where more secrets and strange goings-on await her?

This next MG title kind of reminds me up Up, but starring two sisters (which is awesome!). And I love the cover and the title, too.
Mad's dad is the Bird Guy. He'll go anywhere to study birds. So when he's offered a bird-tracking job in Central America, his bags are packed and he's jungle bound.

But going bird tracking in the jungle and disappearing completely are very different things, and when the Very Strange and Incredibly Creepy Letter arrives, Mad can't shake the terrible feeling that her father is in trouble.

Roo, Mad's younger sister, is convinced that the letter is a coded message. And their mom is worried, because the letter doesn't sound like Dad at all. But Mad is sure it's a sign of something sinister.

The only way to get to the bottom of it is to go to Lava Bird Volcano and find their dad themselves. Though they never could have imagined what they're about to discover.

From new talent Helen Phillips, Here Where the Sunbeams Are Green is the story of what can happen when two sisters make some unusual friends, trust in each other, and bravely face a jungle of trouble all to bring their family back together.

Book 2 in the Winterling series is coming out very soon, which reminds me I *really* need to read Winterling. Soon. Very, very soon.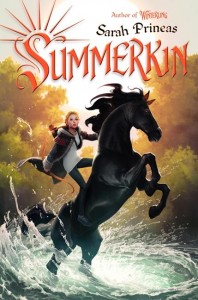 In book two of Sarah Prineas's acclaimed new series that began with Winterling, Fer, a young warrior and healer, must prove she's fit to rule over a land where the scars of dark magic still sting and trust is fragile.

After defeating the wicked Mor and freeing her kin from deadly oaths made to this false ruler, Fer is now the rightful Lady of the Summerlands. Yet her people don't know what to make of their new lady's ways, and neither do the High Ones, the rulers of the magical realm.

To prove herself worthy of the Summerlands crown, Fer is summoned to compete in an epic contest where her strengths and skills will be tested and her loyalties challenged. If Fer fails, she will lose her land, and the Way will be closed to her forever.

Sarah Prineas, beloved author of the Magic Thief books, once again dazzles the page with her signature lush prose, weaving an unforgettable fantasy adventure.

And now for a complete change of pace, there's this horror novel that pits zombies against a drug addict. Hmm. I'm wary, but intrigued.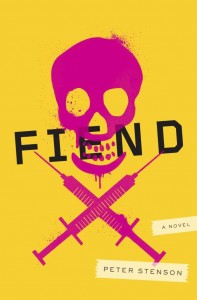 Breaking Bad meets The Walking Dead in this heartbreaking, darkly funny debut that pits a meth junkie against the zombie apocalypse.

When Chase sees the little girl in umbrella-print socks disemboweling the Rottweiler, he's not too concerned. As someone who's been smoking meth every day for as long as he can remember, he's no stranger to such horrifying drug-fueled hallucinations. But as he and his fellow junkies soon discover, the little girl is no illusion. The end of the world really has arrived. And with Chase's life already destroyed beyond all hope of redemption, Armageddon might actually be an opportunity-a last chance to hit restart, win back the love of his life, and become the person he once dreamed of being.

Propelled by a blistering first-person voice and featuring a powerfully compelling antihero, Fiend is at once a brilliant portrait of addiction, a pitch-black comedy, and the darkest, most twisted love story you've ever read-not to mention one hell of a zombie novel.

And then, I received this book in the mail and it sounds SO ridiculous, I have to give it a shot. Dinosaurs! On the MOON! YES!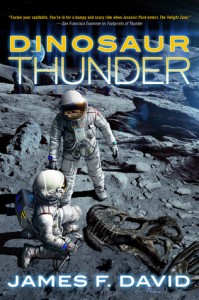 Eighteen years ago, the prehistoric past collided with the present as time itself underwent a tremendous disruption, transporting huge swaths of the Cretaceous period into the twentieth century. Neighborhoods, towns, and cities were replaced by dense primeval jungles and modern humanity suddenly found itself sharing the world with fierce dinosaurs. In the end, desperate measures were taken to halt the disruptions and the crisis appeared to be over.

Until now.

New dinosaurs begin to appear, rampaging through cities. A secret mission to the Moon discovers a living Tyrannosaurus Rex trapped in an alternate timeline. As time begins to unravel once more, Nick Paulson, director of the Office of Security Science, finds a time passage to the Cretaceous period where humans, ripped from the comforts of the twenty-first century, are barely surviving in the past. Led by a cultlike religious leader, these survivors are at war with another sentient species descended from dinosaurs.

As the asteroid that ends the reign of dinosaurs rushes toward Earth, Nick and his allies must survive a war between species and save the future as we know it.

Dinosaur Thunder is a terrifying, futuristic thriller in the tradition of Michael Crichton and Douglas Preston.

Next up, another beautifully packaged title from Quirk books, about graverobbing, mythological beasts, and sweet illustrations.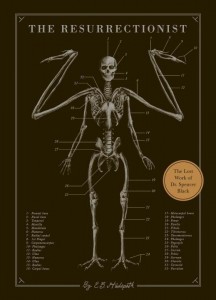 Philadelphia. The late 1870s. A city of cobblestone sidewalks and horse-drawn carriages. Home to the famous anatomist and surgeon Dr. Spencer Black. The son of a "resurrectionist" (aka grave robber), Dr. Black studied at Philadelphia's esteemed Academy of Medicine, where he develops an unconventional hypothesis: What if the world's most celebrated mythological beasts -mermaids, minotaurs, and satyrs – were in fact the evolutionary ancestors of humankind?

The Resurrectionist offers two extraordinary books in one. The first is a fictional biography of Dr. Spencer Black, from his humble beginnings to the mysterious disappearance at the end of his life. The second book is Black's magnum opus: The Codex Extinct Animalia, a Gray's Anatomy for mythological beasts-dragons, centaurs, Pegasus, Cerberus-all rendered in meticulously detailed black-and-white anatomical illustrations. You need only look at these images to realize they are the work of a madman. The Resurrectionist tells his story.

And finally, I reviewed book 1 in this Urban Fantasy series (set against the backdrop of a zombie apocalypse) a while back and enjoyed it. Book 2 is coming out soon, so I'm excited to give it a go!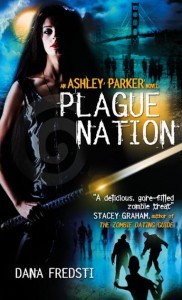 Having stopped the wave of the undead that swarmed their facility, Ashley Parker and the other wild cards (those immune to the zombie virus) are assaulted by an unknown enemy and forced to travel to a secret laboratory in San Francisco.

En route some are killed, while others are kidnapped by their shadowy foe, who seems to use the zombies as a weapon. But the worst is yet to come, as the plague begins to manifest in key locations nationwide. And the truth begins to emerge about the paramilitary society, the Dolofónoi tou Zontanoús Nekroús (DZN).

And that's it from us! What books do you have on your radar?