"On The Smugglers' Radar" is a new feature for books that have caught our eye: books we have heard of via other bloggers, directly from publishers, and/or from our regular incursions into the Amazon jungle. Thus, the Smugglers' Radar was born. Because we want far more books than we can possibly buy or review (what else is new?), we thought we would make the Smugglers' Radar into a weekly feature – so YOU can tell us which books you have on your radar as well!
On Ana's Radar:
Saw the cover for The Mad Scientist's Guide to World Domination over at GavReads and was immediately won over by cover, blurb and the AMAZEBALLS lineup: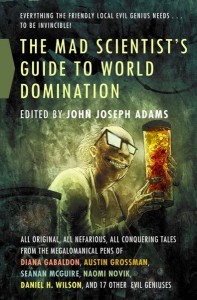 From Victor Frankenstein to Lex Luthor, from Dr. Moreau to Dr. Doom, readers have long been fascinated by megalomaniacal plans for world domination and the madmen who come up with them. Typically, we see these villains through the eyes of superheroes (or other good guys) as they attempt to put an end to their evil ways. This anthology, however, will explore the world of mad scientists and evil geniuses–from their own point of view.

Evil geniuses are always so keen on telling captured heroes all their fiendish plans. Isn't it about time someone gave them a platform such as this one to reach the masses with their messages of hope death and prosperitydestruction?

Featuring stories by: Carrie Vaughn, Alan Dean Foster, Daniel H. Wilson, L. E. Modesitt, Jr., L. A. Banks, Austin Grossman, Marjorie M. Liu, Ben Winters, David Farland, Mary Robinette Kowal, Harry Turtledove, Seanan McGuire, David D. Levine, Genevieve Valentine, Naomi Novik, Jeffrey Ford, Grady Hendrix, Theodora Goss, Jeremiah Tolbert, and David Brin, plus a new 40,000 word novella from Diana Gabaldon! Also featuring an introduction by legendary X-Menscribe Chris Claremont.

Speaking of villains, I came across this next one at Netgalley and it sounds like it can be fun!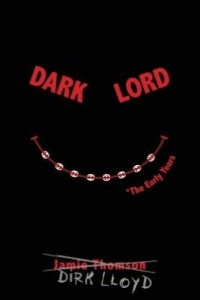 The Dark Lord is confounded when he awakens in the middle of a small town on a planet he's never seen before. What is this strange place, why do they keep calling him Dirk Lloyd, and why is he powerless against these earthlings who insist on finding his parents? Could it be that Dirk Lloyd is really a human incarnation of the Dark Lord who, after a cataclysmic final battle with his arch nemesis, was hurled into the Pit of Uttermost Despair, aka Earth? Or is he just a lost and confused boy? The Dark Lord must regain his rightful place in the universe before his powers of domination and destruction are lost forever, and he's shocked to find help comes from a most unlikely source . . . a human friend. Readers will delight in this wickedly humorous tale as the Dark Lord—the Incarnation of Evil, The World Burner—finds that even he might have a good side.

So… I am well and truly into Historical Fiction with female protagonists right now so when I saw this at NetGalley, I requested it faster than you can say WANT:
Historical fiction at its best, this novel by bestselling author Marissa Moss tells the story of Sarah Emma Edmonds, who masqueraded as a man named Frank Thompson during the Civil War. Among her many adventures, she was a nurse on the battlefield and a spy for the Union Army, and was captured by (and escaped from) the Confederates. The novel is narrated by Sarah, offering readers an in-depth look not only at the Civil War but also at her journey to self-discovery as she grapples with living a lie and falling in love with one of her fellow soldiers.

Using historical materials to build the foundation of the story, Moss has crafted a captivating novel for the YA audience. The book includes a Civil War timeline, archival photos, a glossary of names, and a detailed note on sources.

Another historical title, this time with a boy protagonist during WWII, which also sounds AMAZEBALLS: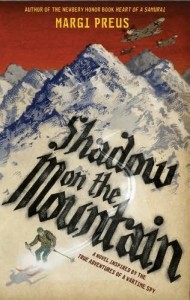 Shadow on the Mountain recounts the adventures of a 14-year-old Norwegian boy named Espen during World War II. After Nazi Germany invades and occupies Norway, Espen and his friends are swept up in the Norwegian resistance movement. Espen gets his start by delivering illegal newspapers, then graduates to the role of courier and finally becomes a spy, dodging the Gestapo along the way. During five years under the Nazi regime, he gains-and loses-friends, falls in love, and makes one small mistake that threatens to catch up with him as he sets out to escape on skis over the mountains to Sweden.

Preus incorporates archival photographs, maps, and other images to tell this story based on the real-life adventures of Norwegian Erling Storrusten, whom Preus interviewed in Norway.

There was a huuuuge line at the signing for The Great Unexpected and I was lucky enough to find a copy!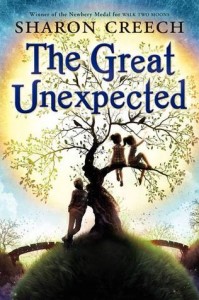 Humorous and heartfelt, this is a story of pairs— of Sybil and Nula (sisters who grew up together in Rook's Orchard, Ireland) and Naomi and Lizzie (both orphans in present day Blackbird Tree, USA)
and unraveling mysteries about family and identity. Naomi and Lizzie's tragedies turn into a life filled with hope, as old misunderstandings and sorrows between Sybil and Nula give way to
forgiveness and love. It is about unexpected gifts—the kindness of neighbors giving away their dogs to protect a little girl, of strangers fostering children, and of young people helping old and old helping young.

On Thea's Radar:
I saw this upcoming book from Tor and immediately got the Greedies.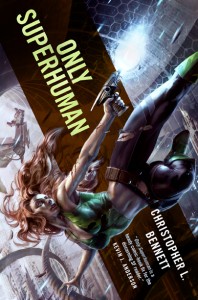 2107 AD: A generation ago, Earth and the cislunar colonies banned genetic and cybernetic modifications. But out in the Asteroid Belt, anything goes. Dozens of flourishing space habitats are spawning exotic new societies and strange new varieties of humans. It's a volatile situation that threatens the peace and stability of the entire solar system.

Emerald Blair is a Troubleshooter. Inspired by the classic superhero comics of the twentieth century, she's joined with other mods to try to police the unruly Asteroid Belt. But her loyalties are tested when she finds herself torn between rival factions of superhumans with very different agendas. Emerald wants to put her special abilities to good use, but what do you do when you can't tell the heroes from the villains?

Only Superhuman is a rollicking hard-SF adventure set in a complex and fascinating future.

I was in the bookstore the other day and stumbled upon this beauty! It's the second prose book from Phil and Kaja Foglio, the award-winning duo behind the truly awesome webcomic Girl Genius. I've read and loved the comics, as well as the first Girl Genius prose novel (roughly encompassing the first 10 volumes of the comic) – so I am REALLY excited to read this second arc!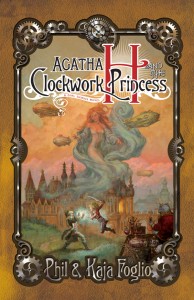 Intrigue! Subterfuge! Circus Folk!

In a time when the Industrial Revolution has escalated into all-out warfare, mad science rules the world… with mixed success.

With the help of Krosp, Emperor of All Cats, Agatha has escaped from the massive airship known as Castle Wulfenbach. After crashing their escape dirigible, Agatha and Krosp fall in with Master Payne's Circus of Adventure, a traveling troupe of performers dedicated to staging Heterodyne shows—dramatizations of the exploits of Bill and Barry Heterodyne and their allies—who are unaware of Agatha's connection to the Heterodyne line.

Pursued by the ruthless Baron Klaus Wulfenbach, his handsome son Gil, and their minions (not to mention Othar Tryggvassen, Gentleman Adventurer), Agatha hides in plain sight among the circus folk, servicing their clanks and proving herself adept in performing the role of Lucrezia Mongfish, nemesis to—and later wife of—Barry Heterodyne. She also begins training under Zeetha, swordmistress and princess of the lost city of Skifander. Together, Agatha, Krosp, and the performers travel across the treacherous wasteland of war-torn Europa, towards Mechanicsburg, and the ancestral home of the Heterodynes—Castle Heterodyne.

But with many perils standing in her way—including Wulfenbach's crack troops, mysterious Geisterdamen, savage Jägermonsters, and the fabled Storm King—it's going to take more than a spark of Mad Science for Agatha to get through…

From Phil and Kaja Foglio, creators of the multiple WCCA and Hugo Award-winning webcomic Girl Genius, comes Agatha H and the Clockwork Princess, a gaslamp fantasy filled to bursting with Adventure! Romance! And Mad Science!

And another book from Night Shade – this cover creeps me out. In a very, very good way.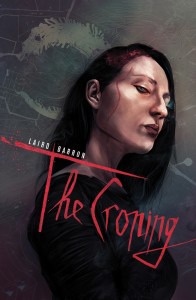 Strange things exist on the periphery of our existence, haunting us from the darkness looming beyond our firelight. Black magic, weird cults and worse things loom in the shadows. The Children of Old Leech have been with us from time immemorial. And they love us…

Donald Miller, geologist and academic, has walked along the edge of a chasm for most of his nearly eighty years, leading a charmed life between endearing absent-mindedness and sanity-shattering realization. Now, all things must converge. Donald will discover the dark secrets along the edges, unearthing savage truths about his wife Michelle, their adult twins, and all he knows and trusts. For Donald is about to stumble on the secret…

…of The Croning.

From Laird Barron, Shirley Jackson Award-winning author of The Imago Sequence and Occultation, comes The Croning, a debut novel of cosmic horror.

This next title is the new book from Jessica Day George – very excited for this one, too.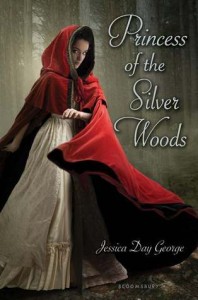 When Petunia, the youngest of King Gregor's twelve dancing daughters, is invited to visit an elderly friend in the neighboring country of Westfalin, she welcomes the change of scenery. But in order to reach Westfalin, Petunia must pass through a forest where strange two-legged wolves are rumored to exist. Wolves intent on redistributing the wealth of the noble citizens who have entered their territory. But the bandit-wolves prove more rakishly handsome than truly dangerous, and it's not until Petunia reaches her destination that she realizes the kindly grandmother she has been summoned to visit is really an enemy bent on restoring an age-old curse. The stories of Red Riding Hood and Robin Hood get a twist as Petunia and her many sisters take on bandits, grannies, and the new King Under Stone to end their family curse once and for all.

This next title has a not-finalized cover, but it sounds pretty good!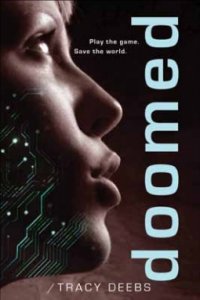 Beat the game. Save the world.

Pandora's just your average teen—glued to her cell phone and laptop, surfing Facebook and e-mailing with her friends—until the day her long-lost father sends her a link to a mysterious site featuring twelve photos of her as a child. Unable to contain her curiosity, Pandora enters the site, where she is prompted to play her favorite virtual-reality game, Zero Day. This unleashes a global computer virus that plunges the whole world into panic: suddenly, there is no Internet. No cell phones. No utilities, traffic lights, hospitals, law enforcement. Pandora teams up with handsome stepbrothers Eli and Theo to enter the virtual world of Zero Day. Simultaneously, she continues to follow the photographs from her childhood in an attempt to beat the game and track down her father—her one key to saving the world as we know it.

Part The Matrix, part retelling of the Pandora myth, Doomed has something for gaming fans, dystopian fans, and romance fans alike.

This next title sounds deliciously creepy (and another creepy, atmospheric cover):
Sometimes, the only thing worse than forgetting is remembering.

Sixteen-year-old Henry Franks almost didn't survive the accident that claimed his mother's life and, suffering from post-traumatic amnesia, he relies upon his father to tell him who he is.

If he can trust his father.

HENRY FRANKS details one man's obsessive desire to save his son and one boy's need to find himself.

While a serial killer stalks the small southern town he lives in, Henry unearths the bitter truth behind his mother's death—and the terrifying secrets of his own dark past.

And that's it from us! What books do you have on YOUR radar?