"On The Smugglers' Radar" is a feature for books that have caught our eye: books we have heard of via other bloggers, directly from pubmorelishers, and/or from our regular incursions into the Amazon jungle. Thus, the Smugglers' Radar was born. Because we want far more books than we can possibly buy or review (what else is new?), we thought we would make the Smugglers' Radar into a weekly feature – so YOU can tell us which books you have on your radar as well!
On Ana's Radar:
It's no secret I am a HUGE Marcus Sedgwick fangirl and he will be releasing his first novel for adults next year. SQUEE: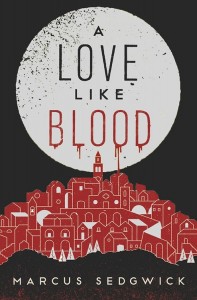 The first novel for adults by hugely acclaimed YA writer Marcus Sedgwick, A LOVE LIKE BLOOD is a gripping tale of love, revenge and obsession.

I've chased him for over twenty years, and across countless miles, and though often I was running, there have been many times when I could do nothing but sit and wait. Now I am only desperate for it to be finished.

In 1944, just days after the liberation of Paris, Charles Jackson sees something horrific: a man, apparently drinking the blood of a murdered woman. Terrified, he does nothing, telling himself afterwards that worse things happen in wars.

Seven years later he returns to the city – and sees the same man dining in the company of a fascinating young woman. When they leave the restaurant, Charles decides to follow…

A LOVE LIKE BLOOD is a dark, compelling thriller about how a man's life can change in a moment; about where the desire for truth – and for revenge – can lead; about love and fear and hatred. And it is also about the question of blood.

I came across this creepy-looking title over at Edelweiss: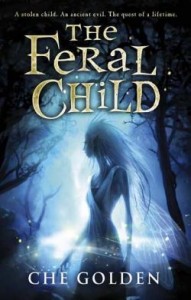 "Gripping, mystical and adventurous, young readers will be as hooked as Maddy was the minute she set foot inside that creepy as hell old castle," Irish World said of The Feral Child.

Maddy, an orphan, is sick of her Irish town, and sick of her cousin Danny, one of the nastiest people you could meet. Mad as hell one evening, she crawls inside the grounds of the castle, the one place she has always been forbidden to go. Once inside, she is chased by a strange feral boy, who she suspects is one of the faerie: cruel, fantastical people who live among humans and exchange local children for their own.

When the boy returns to steal her neighbor Stephen into his world, Maddy and her cousins set off on a terrifying journey into a magical wilderness, determined to bring him back home. To do so, they must face an evil as old as the earth itself.

Che Golden has created a gripping adventure that interweaves Maddy's modern Irish experience with the vivid fantasy of the region's ancient folklore. Readers will enjoy the frank and bold heroine of Maddy, and will be dazzled by The Feral Child's evocative rendering of Irish folklore and richly imagined alternate worlds.

A lovely title I have seen on NetGalley: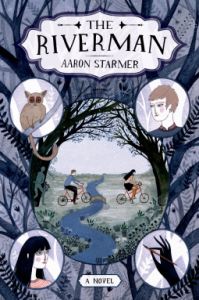 Alistair Cleary is the kid who everyone trusts. Fiona Loomis is not the typical girl next door. Alistair hasn't really thought of her since they were little kids until she shows up at his doorstep with a proposition: she wants him to write her biography. What begins as an odd vanity project gradually turns into a frightening glimpse into the mind of a potentially troubled girl. Fiona says that in her basement, there's a portal that leads to a magical world where a creature called the Riverman is stealing the souls of children. And Fiona's soul could be next. If Fiona really believes what she's saying, Alistair fears she may be crazy. But if it's true, her life could be at risk. It's up to Alistair to separate fact from fiction, fantasy from reality.

Here is a promising YA Fantasy coming next year from Headline: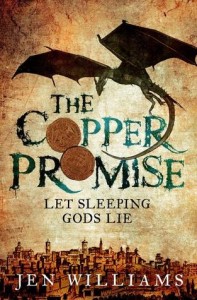 There are some far-fetched rumours about the caverns beneath the Citadel…

Some say the mages left their most dangerous secrets hidden there; others, that great riches are hidden there; even that gods have been imprisoned in its darkest depths.

For Lord Frith, the caverns hold the key to his vengeance. Against all the odds, he has survived torture and lived to see his home and his family taken from him … and now someone is going to pay. For Wydrin of Crosshaven and her faithful companion, Sir Sebastian Caverson, a quest to the Citadel looks like just another job. There's the promise of gold and adventure. Who knows, they might even have a decent tale or two once they're done.

But sometimes there is truth in rumour.

Soon this reckless trio will be the last line of defence against a hungry, restless terror that wants to tear the world apart. And they're not even getting paid.

After reading – and loving – Boxers/Saints by Gene Luen Yang, I saw that he has a new Graphic Novel coming out next year and I don't even know what it is about but I so want it: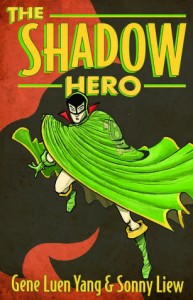 On Thea's Radar:
Did anyone else realize that there was a new Sharon Shinn novel!? I just received this in the mail and was giddy: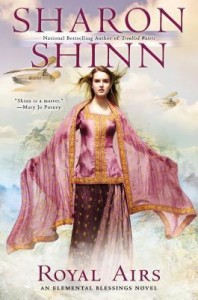 "Master storyteller Sharon Shinn created the thrilling and enchanting world of Welce in her acclaimed novel "Troubled Waters." Return with her to that elemental universe in this tale of secrecy, romance, and a battle for power…"

Josetta is a princess of one of the Five Families. But she is far from the throne, so she is free to spend her days working in the poorest sections of the city.

Rafe Adova, an outcast since he was born, lives the life of a career gambler in those slums. He has no ambition other than cheating at the card tables—until the night he decides to help a girl named Corene, who looks like she's stumbled into the wrong bar. She, too, is a princess—sister to Josetta, who finds her with Rafe. He fascinates her.

Josetta has never encountered anyone like him—someone seemingly devoid of elemental blessings. He is drawn to her, though he thinks they are unlikely to ever meet again—but their connection grows strong when she nurses him back to health after he is assaulted by foreign mercenaries.

And when they learn the reason he's being hunted, they know that the truth about his history could endanger not only their love but also their very lives…

The premise for this book sounds really fun (although alarm bells are immediately going off in my head because it sounds like a Love Triangle of Doom is already being set up in the marketing copy):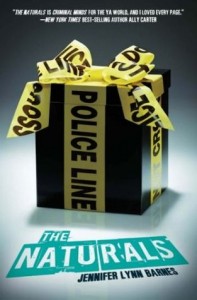 Seventeen-year-old Cassie is a natural at reading people. Piecing together the tiniest details, she can tell you who you are and what you want. But it's not a skill that she's ever taken seriously. That is, until the FBI come knocking: they've begun a classified program that uses exceptional teenagers to crack infamous cold cases, and they need Cassie.

What Cassie doesn't realize is that there's more at risk than a few unsolved homicides— especially when she's sent to live with a group of teens whose gifts are as unusual as her own.

Sarcastic, privileged Michael has a knack for reading emotions, which he uses to get inside Cassie's head—and under her skin. Brooding Dean shares Cassie's gift for profiling, but keeps her at arm's length.

Soon, it becomes clear that no one in the Naturals program is what they seem. And when a new killer strikes, danger looms closer than Cassie could ever have imagined. Caught in a lethal game of cat and mouse with a killer, the Naturals are going to have to use all of their gifts just to survive.

I stumbled across this book on Goodreads – an illustrated retelling of The Tinderbox fairytale: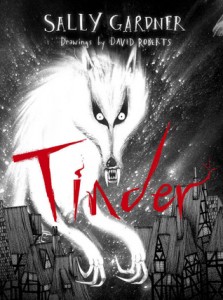 A young soldier, a captive princess, witches, wolves and Death walk hand in hand in COSTA AWARD winner Sally Gardner's exquisitely written new novel inspired by the Hans Christian Anderson fairy tale, THE TINDERBOX, illustrated by David Roberts.

Otto Hundebiss is tired of war, but when he defies Death he walks a dangerous path. A half beast half man gives him shoes and dice which will lead him deep into a web of dark magic and mystery. He meets the beautiful Safire – pure of heart and spirit, the scheming Mistress Jabber and the terrifying Lady of the Nail. He learns the powers of the tinderbox and the wolves whose master he becomes. But will all the riches in the world bring him the thing he most desires?

Fairy tales are often the cruellest stories of all; in this exquisite novel Sally Gardner writes about great love and great loss.

I've really enjoyed the books I've read from Nancy Kress, so I'm excited to see she has a new one out this month (even if that cover is… not the best).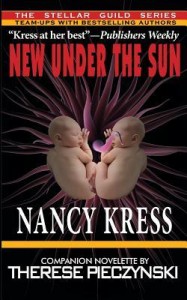 A brand new book by master story teller Nancy Kress "Kress at her best"—Publishers Weekly on New Under the Sun

Set in the near future, Nancy Kress' story gives us a world increasingly hostile to new ideas as religious fundamentalism dictates social agenda and where the primary use of science is to bolster these very same uncompromising attitudes. This is a world we can imagine very easily since the author takes us down the sliding slope very gently. Years pass, and attitudes change a little bit here…and a little bit there till the cumulative impact of these cultural changes becomes a thought-controlling nightmare. Annabel Lee is a child of this society, but unique. She has been infected by a long-dormant alien parasite. But this "infection" may be the only hope for the world, if she can survive long enough. Therese Pieczynski's companion piece predates the world Nancy Kress gives us and takes us to back to 1980s Nicaragua, where a strange demon lurks.

Ana and I read the first book in this superhero series from Kelly Meding a while back, and have had book 2 on our ever-growing list of joint reviews for a very long time. This new book reminds me we have to catch up!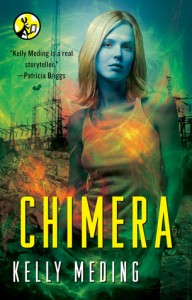 A mysterious and dangerous conspiracy deepens, threatening the superpowered Rangers and pushing Flex to join forces with one of her team's mortal enemies: a Bane called Chimera.

Growing up with blue skin never made Rene "Flex" Duvall feel like at outcast. She learned early on to put people at ease with her wit and exuberant personality. So she's certainly not going to let her façade crack when she and her teammates suddenly face a new breed of genetically manipulated and brainwashed Metas: the well-trained teenage criminals known as the Recombinants.

When a desperate battle leaves one of their friends wounded, Renee and Ethan follow a clue to Manhattan Island, where the Banes have been imprisoned. There they find a Bane named Chimera, who refuses to cooperate despite possessing information that could help them stop the Recombinants. Chimera's emotional scars are as devastating as Renee's physical scars, and soon the two find common ground in shared pain. Against her better judgment, Renee forms an alliance with this Bane. They both can gain much from working together, so the only question is who has more to lose by cooperating . . . .

And that's it from us! What books do YOU have on your radar?