"On The Smugglers' Radar" is a feature for books that have caught our eye: books we have heard of via other bloggers, directly from publishers, and/or from our regular incursions into the Amazon jungle. Thus, the Smugglers' Radar was born. Because we want far more books than we can possibly buy or review (what else is new?), we thought we would make the Smugglers' Radar into a weekly feature – so YOU can tell us which books you have on your radar as well!
We're FINALLY back with a radar post after a nice long Smugglivus break. This weekend, we give your our 2013 top picks.
On Ana's Radar:
Oh Radar posts, I missed thee. You can now picture me doing "gimme gimme" hands for the titles below.
First up, Meg Rosoff's new book Picture Me Gone has only but a cover so far and these words from the author's blog: "it's a heartrending future classic, soon to be a major motion picture, not to mention a thoughtful, insanely sophisticated exploration of the relationship between adults and children. It contains a gigantic easter egg, lots of French toast and a weed whacker."
I need this.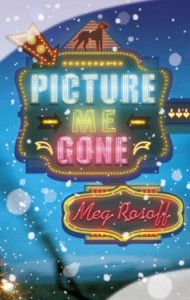 Nalo Hopkinson has a new book coming out this year and after seeing the awesome cover and the blurb, I am in tenterhooks: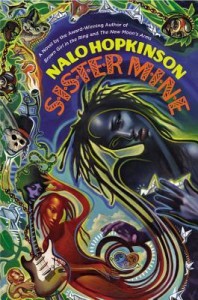 As the only one in the family without magic, Makeda has decided to move out on her own and make a life for herself among the claypicken humans. But when her father goes missing, Makeda will have to find her own power–and reconcile with her twin sister, Abby-if she's to have a hope of saving him . . .

We'd had to be cut free of our mother's womb. She'd never have been able to push the two-headed sport that was me and Abby out the usual way. Abby and I were fused, you see. Conjoined twins. Abby's head, torso and left arm protruded from my chest. But here's the real kicker; Abby had the magic, I didn't. Far as the Family was concerned, Abby was one of them, though cursed, as I was, with the tragic flaw of mortality. SISTER MINE Now adults, Makeda and Abby still share their childhood home. The surgery to separate the two girls gave Abby a permanent limp, but left Makeda with what feels like an even worse deformity: no mojo. The daughters of a celestial demigod and a human woman, Makeda and Abby were raised by their magical father, the god of growing things–an unusual childhood that made them extremely close. Ever since Abby's magical talent began to develop, though, in the form of an unearthly singing voice, the sisters have become increasingly distant. Today, Makeda has decided it's high time to move out and make her own life among the other nonmagical, claypicken humans–after all, she's one of them. In Cheerful Rest, a run-down warehouse, Makeda finds exactly what she's been looking for: a place to get some space from Abby and begin building her own independent life. There's even a resident band, led by the charismatic (and attractive) building superintendent. But when her father goes missing, Makeda will have to find her own talent–and reconcile with Abby–if she's to have a hope of saving him . . .

Another one I can't wait for is The Archived which is out this month! I absolutely adored the author's first book, The Near Witch and have high hopes for this one too.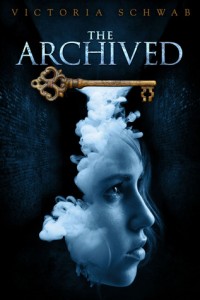 Imagine a place where the dead rest on shelves like books.

Each body has a story to tell, a life seen in pictures that only Librarians can read. The dead are called Histories, and the vast realm in which they rest is the Archive.

Da first brought Mackenzie Bishop here four years ago, when she was twelve years old, frightened but determined to prove herself. Now Da is dead, and Mac has grown into what he once was, a ruthless Keeper, tasked with stopping often-violent Histories from waking up and getting out. Because of her job, she lies to the people she loves, and she knows fear for what it is: a useful tool for staying alive.

Being a Keeper isn't just dangerous-it's a constant reminder of those Mac has lost. Da's death was hard enough, but now her little brother is gone too. Mac starts to wonder about the boundary between living and dying, sleeping and waking. In the Archive, the dead must never be disturbed. And yet, someone is deliberately altering Histories, erasing essential chapters. Unless Mac can piece together what remains, the Archive itself might crumble and fall.

In this haunting, richly imagined novel, Victoria Schwab reveals the thin lines between past and present, love and pain, trust and deceit, unbearable loss and hard-won redemption.

Then, we have one without a cover but I have been dying for this book for a while now. I follow Mark Charah Newton's Blog and Twitter Feed and he has always impressed me as a thoughtful engaged author and I can't wait for this new book:
The first in a fantastic new fantasy series by Mark Charan Newton.

I am Lucan Jupus Drakenfeld, second son of Calludian, Officer of the Sun Chamber and peace keeper. Although sometimes it seems I am the only person who wishes to keep it . . .

The monarchies of the Royal Vispasian Union have been bound together for two hundred years with treaties and laws maintained and enforced by the powerful Sun Chamber. As a result, a long harmony has existed, nations have flourished, and civil wars are a thing of the past. But corruption, deprivation and murder will always find a way to thrive . . .

Upon receiving news of his father's death and recalled to his home city of Tryum, Drakenfeld is soon embroiled in a mystifying case. King Licintius' sister, Lacanta, has been found brutally murdered during a night of festivities – her beaten and bloody body discovered in a locked temple. Despite hundreds of revellers, no one saw anything. With rumours of dark spirits and political assassination, Drakenfeld soon has his work cut out for him trying to separate superstition from certainty.

With his assistant, Leana, he embarks on the biggest and most complex investigation of his career, revisiting the ancient streets of his past, tracking down leads, interviewing suspects and making new enemies in his search for the truth.

His determination to find the killer soon makes him a target, as the underworld of Tryum focuses on this new threat to their power . . .

Another book from a favourite author: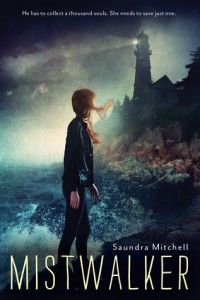 When Willa Dixon's brother dies on the family lobster boat, her father forbids Willa from stepping foot on the deck again. With her family suffering, she'll do anything to help out—even visiting the Grey Man.

Everyone in her small Maine town knows of this legendary spirit who haunts the lighthouse, controlling the fog and the fate of any vessel within his reach. But what Willa finds in the lighthouse isn't a spirit at all, but a young man trapped inside until he collects one thousand souls.

Desperate to escape his cursed existence, Grey tries to seduce Willa to take his place. With her life on land in shambles, will she sacrifice herself?

On Thea's Radar:
I'll try not to duplicate too much – but here are some titles I am really, really excited for in 2013. First up, the sequel to RJ Anderson's surprising and utterly fantastic SF novel Ultraviolet!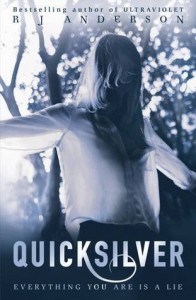 Back in her hometown, Tori Beaugrand had everything a teenaged girl could want—popularity, money, beauty. But she also had a secret. A secret that could change her life in an instant, or destroy it.
Now she's left everything from her old life behind, including her real name and Alison, the one friend who truly understood her. She can't escape who and what she is. But if she wants to have anything like a normal life, she has to blend in and hide her unusual… talents.

Plans change when the enigmatic Sebastian Faraday reappears and gives Tori some bad news: she hasn't escaped her past. In fact, she's attracted new interest in the form of an obsessed ex-cop turned investigator for a genetics lab.

She has one last shot at getting her enemies off her trail and winning the security and independence she's always longed for. But saving herself will take every ounce of Tori's incredible electronics and engineering skills—and even then, she may need to sacrifice more than she could possibly imagine if she wants to be free.

The new and final Monstrumologist book from Rick Yancey is out this year!!!! I am both thrilled and sad – I don't want the adventures of Will Henry and Pellinore Warthrop to end. No synopsis yet, but a cover has made its way over to goodreads: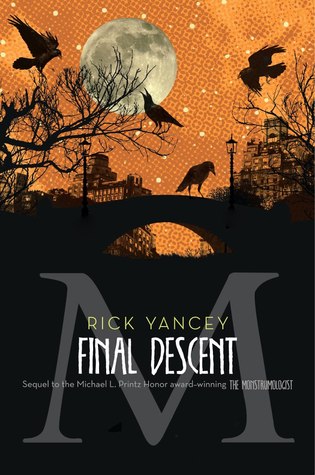 I confess that I am not a fan of this cover, but it is the second book in Juliet Marillier's ongoing Shadowfell YA series – naturally, I'm already itching to get my hands on a copy!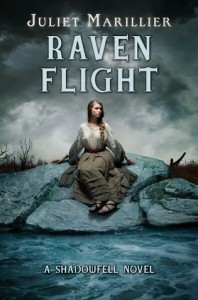 Neryn has finally found the rebel group at Shadowfell, and now her task is to seek out the elusive Guardians, vital to her training as a Caller. These four powerful beings have been increasingly at odds with human kind, and Neryn must prove her worth to them. She desperately needs their help to use her gift without compromising herself or the cause of overthrowing the evil King Keldec.

Neryn must journey with the tough and steadfast Tali, who looks on Neryn's love for the double agent Flint as a needless vulnerability. And perhaps it is. What Flint learns from the king will change the battlefield entirely-but in whose favor, no one knows.

This next middle grade title is a new fable from Charles de Lint and illustrated by Charles Vess – in other words, it's pretty much perfect. I will be reading and reviewing this one VERY soon.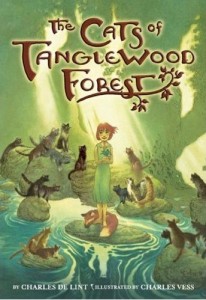 The magic is all around you, if only you open your eyes….

Lillian Kindred spends her days exploring the Tanglewood Forest, a magical, rolling wilderness that she imagines to be full of fairies. The trouble is, Lillian has never seen a wisp of magic in her hills–until the day the cats of the forest save her life by transforming her into a kitten. Now Lillian must set out on a perilous adventure that will lead her through untamed lands of fabled creatures–from Old Mother Possum to the fearsome Bear People–to find a way to make things right.

In this whimsical, original folktale written and illustrated throughout in vibrant full color by two celebrated masters of modern fantasy, a young girl's journey becomes an enchanting coming-of-age story about magic, friendship, and the courage to shape one's own destiny.

Finally, because I don't want to keep posting about the same books, I stumbled across this title that will be published in the US later this year. Originally published in New Zealand, this is not only an award winning dystopian SF novel but also an examination of slavery, religion, and the power of fear (according to the reviews I've been stalking). I cannot wait to read it.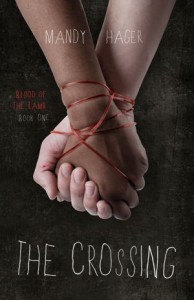 The Crossing is the first book in a stunning new trilogy that follows the fate of Maryam and her unlikely companions – Joseph, Ruth and Lazarus. This is fast, suspenseful drama underpinned by a powerful and moving story about love and loss.

The people of Onewere, a small island in the Pacific, know that they are special – chosen to survive the deadly event that consumed the Earth.

Now, from the rotting cruise ship Star of the Sea, the elite control the population – manipulating old texts to set themselves up as living 'gods'. But what the people of Onewere don't know is this: the leaders will stop at nothing to meet their own blood-thirsty needs.

When Maryam crosses from child to woman, she must leave everything she has ever known and make a crossing of another kind. But life inside the ship is not as she had dreamed, and she is faced with the unthinkable: obey the leaders and very likely die, or turn her back on every belief she once held dear.

On BOTH of our Radars:
Because clearly there is some overlap, here are our shared top 5 picks for 2013, starting with Martha Wells' forthcoming YA book from Strange Chemistry! We LOVE Martha's adult fantasy, so are very excited for Emilie.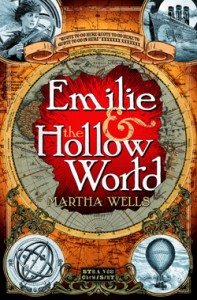 While running away from home for reasons that are eminently defensible, Emilie's plans to stow away on the steamship Merry Bell and reach her cousin in the big city go awry, landing her on the wrong ship and at the beginning of a fantastic adventure. Taken under the protection of Lady Marlende, Emilie learns that the crew hopes to use the aether currents and an experimental engine, and with the assistance of Lord Engal, journey to the interior of the planet in search of Marlende's missing father. With the ship damaged on arrival, they attempt to traverse the strange lands on their quest. But when evidence points to sabotage and they encounter the treacherous Lord Ivers, along with the strange races of the sea-lands, Emilie has to make some challenging decisions and take daring action if they are ever to reach the surface world again.

Then, there's the new YA novel – illustrated! – from another fantasy favorite author, Brandon Sanderson. Bonus: an excerpt is now up, with pictures. Yay!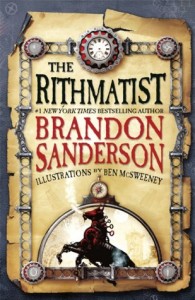 The Rithmatist is an epic fantasy set in an alternate version of our world—a world in which life in the American Isles is threatened by the attacks of mysterious creatures known as Wild Chalklings. Chalklings are two-dimensional drawings that can be infused with life by Rithmatists and it is the job of the Rithmatists to keep the Wild Chalkings at bay.

The Rithmatist is about a 14-year-old kid named Joel who wants desperately to be a Rithmatist. But he wasn't Chosen, so he doesn't have the ability to bring chalklings or Rithmatic lines to life. All he can do is watch as The Rithmatist students at Armedius Academy learn the mystical art that he would give anything to practice. Then Rithmatist students start disappearing, kidnapped from their rooms at night, leaving only trails of blood. Joel's professor asks him to help investigate—putting Joel and his friend Melody on the trail of a discovery that could change Rithmatics—and their world—forever….

Patrick Ness has two new books coming out this year: one, an adult book called The Crane Wife (cover and description below) and the other, an YA called More Than This about which we know next to nothing. As fans of Mr Ness, we simply can't wait for both of these books.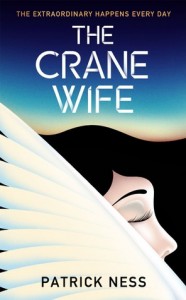 The extraordinary happens every day…

One night, George Duncan – decent man, a good man – is woken by a noise in his garden. Impossibly, a great white crane has tumbled to earth, shot through its wing by an arrow. Unexpectedly moved, George helps the bird, and from the moment he watches it fly off, his life is transformed.

The next day, a kind but enigmatic woman walks into George's shop. Suddenly a new world opens up for George, and one night she starts to tell him the most extraordinary story.

Wise, romantic, magical and funny, The Crane Wife is a hymn to the creative imagination and a celebration of the disruptive and redemptive power of love.

And, of course, one of our favoritest authors of ALL TIME is coming out with a new book this year. We absolutely cannot wait.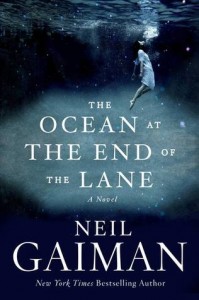 THE OCEAN AT THE END OF THE LANE is a fable that reshapes modern fantasy: moving, terrifying and elegiac – as pure as a dream, as delicate as a butterfly's wing, as dangerous as a knife in the dark, from storytelling genius Neil Gaiman.

It began for our narrator forty years ago when the family lodger stole their car and committed suicide in it, stirring up ancient powers best left undisturbed. Dark creatures from beyond the world are on the loose, and it will take everything our narrator has just to stay alive: there is primal horror here, and menace unleashed – within his family and from the forces that have gathered to destroy it.

His only defense is three women, on a farm at the end of the lane. The youngest of them claims that her duckpond is an ocean. The oldest can remember the Big Bang.

Given the strength of her debut Redemption in Indigo, we simply can NOT wait for Karen Lord's sophomore effort: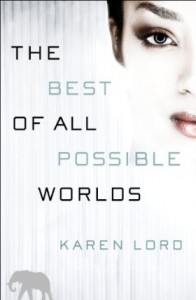 A proud and reserved alien society finds its homeland destroyed in an unprovoked act of aggression, and the survivors have no choice but to reach out to the indigenous humanoids of their adopted world, to whom they are distantly related. They wish to preserve their cherished way of life but come to discover that in order to preserve their culture, they may have to change it forever.

Now a man and a woman from these two clashing societies must work together to save this vanishing race—and end up uncovering ancient mysteries with far-reaching ramifications. As their mission hangs in the balance, this unlikely team—one cool and cerebral, the other fiery and impulsive—just may find in each other their own destinies . . . and a force that transcends all.

And that's it from us! What books do you have on YOUR radar?