"On The Smugglers' Radar" is a feature for books that have caught our eye: books we have heard of via other bloggers, directly from publishers, and/or from our regular incursions into the Amazon jungle. Thus, the Smugglers' Radar was born. Because we want far more books than we can possibly buy or review (what else is new?), we thought we would make the Smugglers' Radar into a weekly feature – so YOU can tell us which books you have on your radar as well!
On Ana's Radar:
I love retellings of Greek Mythology and I came across this one about Orpheus, set in the early nineteenth century's Bulgaria:
It is the early nineteenth century, and the Bulgarian village of Gela, the legendary home of Orpheus, is suffering under the heavy taxation and arbitrary justice of Ottoman rule. When his bride-to-be is abducted the night before his wedding, Ivan Gelski takes to the hills and turns to banditry to seek revenge. But a chance encounter with a travelling guitarist, and the bloodshed that follows, set him on a musical journey through fame, martyrdom and legend. In this remarkable reinvention of the tale of Orpheus, Will Buckingham plunges us into the music and folklore of Bulgaria, in a parable about storytelling, sainthood and myth-making.

I got a copy of The Silver Thread in the post this week and it looks REALLY interesting. I will be reading it soon: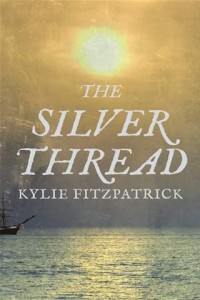 'The day was dove grey, and silk. A melancholic cloth that whispered and rustled. Who could say what it foretold.' Dublin, 1840: Rhia Mahoney watches in despair as her father's linen warehouse goes up in flames. Her family is ruined. Her imagined future, full of pattern and colour, plum brocades and beetle-green taffeta, crumbles to ashes. Seeking work as a governess in dismal London, Rhia's life is changed beyond all imagination when her uncle, a shipping merchant, commits suicide. Rhia cannot – will not – believe he would take his own life, but before she can investigate, she is accused of a crime she didn't commit, and forced to board a prison ship bound for New South Wales. The voyage is one of dry biscuits and endless sea, made bearable by the women's daily chore: to sew scraps of cloth into an elaborate quilt. What Rhia does not realise is that with every stich, she binds herself closer to a journey of discovery that will not end in Australia …Weaving death, love and adventure into a vivid tale of the world at the height of Empire, The Silver Thread is plotted like a murder mystery, but narrated with the skill and style of a literary storyteller.

I read a positive review of The Night Sky in My Head somewhere last week and immediately added it to my wish list: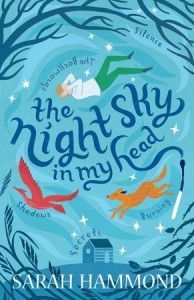 Step backwards. Witness the murder. Find the truth

Mikey Baxter isn't like other fourteen year old boys. Not since the accident.

The world sees him as damaged. But Mikey has a remarkable gift: the ability to go backwards in time and witness things that hide in the shadows.

Now he must uncover the terrifying truth behind his dad's disappearance. Before the past starts to repeat itself

The Secret Hen House Theatre sounds good too. I came across this on a free book magazine I picked up last week (I think it was We Love This Book) and it sounds brilliant!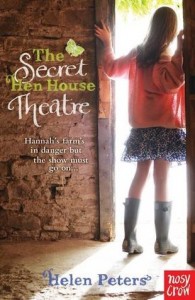 Since the death of her mother, Hannah's family life has been chaotic.

Ignored by their dad, who's absorbed as much by his grief as by the challenges of running their hopelessly dilapidated farm, Hannah and her brothers and sisters are left to fend for themselves. While the younger kids run riot round the farm, Hannah decides she wants to do something special, something that connects her to her theatre-loving mum. She's going to write and put on a play in the overgrown hen house she's found in a remote corner of the farm. Then the farm is threatened with demolition, and Hannah – with her best friend – have to find a way to save it. Perhaps one of the props they're using in the play is valuable after all…

And holy moses but The Book of Lies sounds GREAT. It seems to be an epistolary novel (yay) about the Nazi occupation of Guernsey and also a contemporary story of friendship and MURDER. I bought this and will try to read it soon as well: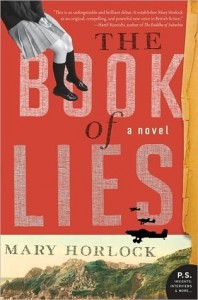 Life on the tiny island of Guernsey has just become a whole lot harder for fifteen-year-old Cat Rozier. She's gone from model pupil to murderer, but she swears it's not her fault. Apparently it's all the fault of history.

A new arrival at Cat's high school in 1984, the beautiful and instantly popular Nicolette inexplicably takes Cat under her wing. The two become inseparable–going to parties together, checking out boys, and drinking whatever liquor they can shoplift. But a perceived betrayal sends them spinning apart, and Nic responds with cruel, over-the-top retribution.

Cat's recently deceased father, Emile, dedicated his adult life to uncovering the truth about the Nazi occupation of Guernsey–from Churchill's abandonment of the island to the stories of those who resisted–in hopes of repairing the reputation of his older brother, Charlie. Through Emile's letters and Charlie's words–recorded on tapes before his own death– a "confession" takes shape, revealing the secrets deeply woven into the fabric of the island . . . and into the Rozier family story.

On Thea's Radar:
First up on my radar, a new-to-me author (thanks, Ana) who has a horror novel and an apocalyptic novel that sound right up my alley. First, the forthcoming (to the US) horror novel: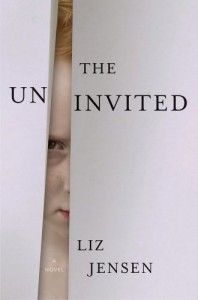 A seven-year-old girl puts a nail gun to her grandmother's neck and fires. An isolated incident, say the experts. The experts are wrong. Across the world, children are killing their families. Is violence contagious?

As chilling murders by children grip the country, anthropologist Hesketh Lock has his own mystery to solve: a bizarre scandal in the Taiwan timber industry. Hesketh has never been good at relationships: Asperger's Syndrome has seen to that. But he does have a talent for spotting behavioral patterns and an outsider's fascination with group dynamics. Nothing obvious connects Hesketh's Asian case with the atrocities back home. Or with the increasingly odd behavior of his beloved stepson, Freddy. But when Hesketh's Taiwan contact dies shockingly and more acts of sabotage and child violence sweep the globe, he is forced to acknowledge possibilities that defy the rational principles on which he has staked his life, his career, and, most devastatingly of all, his role as a father. Part psychological thriller, part dystopian nightmare, The Uninvited is a powerful and viscerally unsettling portrait of apocalypse in embryo.

And then, here's the apocalyptic novel: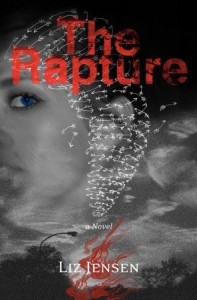 An electrifying story of science, faith, love, and self-destruction in a world on the brink.

It is a June unlike any other before, with temperatures soaring to asphyxiating heights. All across the world, freak weather patterns—and the life-shattering catastrophes they entail—have become the norm. The twenty-first century has entered a new phase.

But Gabrielle Fox's main concern is a personal one: to rebuild her life after a devastating car accident that has left her disconnected from the world, a prisoner of her own guilt and grief. Determined to make a fresh start, and shake off memories of her wrecked past, she leaves London for a temporary posting as an art therapist at Oxsmith Adolescent Secure Psychiatric Hospital, home to one hundred of the most dangerous children in the country. Among them: the teenage killer Bethany Krall.

Despite two years of therapy, Bethany is in no way rehabilitated and remains militantly nonchalant about the bloody, brutal death she inflicted on her mother. Raised in evangelistic hellfire, the teenager is violent, caustic, unruly, and cruelly intuitive. She is also insistent that her electroshock treatments enable her to foresee natural disasters—a claim which Gabrielle interprets as a symptom of doomsday delusion.

But as Gabrielle delves further into Bethany's psyche, she begins to note alarming parallels between her patient's paranoid disaster fantasies and actual incidents of geological and meteorological upheaval—coincidences her professionalism tells her to ignore but that her heart cannot. When a brilliant physicist enters the equation, the disruptive tension mounts—and the stakes multiply. Is the self-proclaimed Nostradamus of the psych ward the ultimate manipulator or a harbinger of global disaster on a scale never seen before? Where does science end and faith begin? And what can love mean in "interesting times"?

With gothic intensity, Liz Jensen conjures the increasingly unnerving relationship between the traumatized therapist and her fascinating, deeply calculating patient. As Bethany's warnings continue to prove accurate beyond fluke and she begins to offer scientifically precise hints of a final, world-altering cataclysm, Gabrielle is confronted with a series of devastating choices in a world in which belief has become as precious – and as murderous—as life itself.

Since I'm in a Halloween kind of mood, here's a fantastic sounding horror novel I just received in the mail. Love that Village of the Damned look, and the fittingly creepy nursery rhyme line title.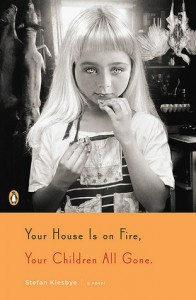 Shirley Jackson meets The Twilight Zone in this riveting novel of supernatural horror

A village on the Devil's Moor: a place untouched by time and shrouded in superstition. There is the grand manor house whose occupants despise the villagers, the small pub whose regulars talk of revenants, the old mill no one dares to mention. This is where four young friends come of age—in an atmosphere thick with fear and suspicion. Their innocent games soon bring them face-to-face with the village's darkest secrets in this eerily dispassionate, astonishingly assured novel, evocative of Stephen King's classics short story "Children of the Corn" and infused with the spirit of the Brothers Grimm.

Last horror novel, promise. From the author that created Ring, a new apocalyptic horror story: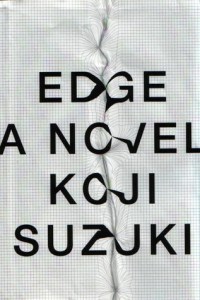 Edge begins with a massive and catastrophic shifting of the San Andreas fault. The fears of California someday tumbling into the sea–that have become the stuff of parody–become real. But even the terror resulting from this catastrophe pales in comparison to the understanding behind its happening, a cataclysm extending beyond mankind's understanding of horror as it had previously been known. The world is falling apart because things are out of joint at the quantum level, about which of course there's never been any guarantee that everything has to remain stable.

Koji Suzuki returns to the genre he's most famous for after many years of "not wanting to write any more horror." As expected from Suzuki, the chills are of a more cerebral, psychological sort, arguably more unsettling and scary than the slice-and-dice gore fests that horror has become known in the U.S. Never content to simply do "Suzuki"–as it were–but rather push the envelope on what horror is in general and for which readers have come to know him, Edge City borders on being cutting-edge science fiction. The author himself terms this novel, which he has worked on for some years, a work of "quantum horror."

This book is positioned as a cross between two of my favorite obsessions: Lost and Mark Danielewski's House of Leaves. Sold.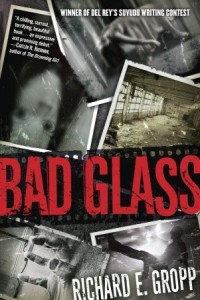 One of the most hauntingly original dark fantasy debuts in years—perfect for fans of Lost and Mark Danielewski's cult classic, House of Leaves.

Something has happened in Spokane. The military has evacuated the city and locked it down. Even so, disturbing rumors and images seep out, finding their way onto the Internet, spreading curiosity, skepticism, and panic. For what they show is—or should be—impossible: strange creatures that cannot exist, sudden disappearances that violate the laws of physics, human bodies fused with inanimate objects, trapped yet still half alive. . . .

Dean Walker, an aspiring photographer, sneaks into the quarantined city in search of fame. What he finds will change him in unimaginable ways. Hooking up with a group of outcasts led by a beautiful young woman named Taylor, Dean embarks on a journey into the heart of a mystery whose philosophical implications are as terrifying as its physical manifestations. Even as he falls in love with Taylor—a woman as damaged and seductive as the city itself—his already tenuous hold on reality starts to come loose. Or perhaps it is Spokane's grip on the world that is coming undone.

Now, caught up in a web of interlacing secrets and betrayals, Dean, Taylor, and their friends must make their way through this ever-shifting maze of a city, a city that is actively hunting them down, herding them toward a shocking destiny.

And that's it from us! What books do you have on YOUR radar?