"On The Smugglers' Radar" is a feature for books that have caught our eye: books we have heard of via other bloggers, directly from publishers, and/or from our regular incursions into the Amazon jungle. Thus, the Smugglers' Radar was born. Because we want far more books than we can possibly buy or review (what else is new?), we thought we would make the Smugglers' Radar into a weekly feature – so YOU can tell us which books you have on your radar as well!
On Ana's Radar:
A new book by Cat Winters, an author whose work I enjoy: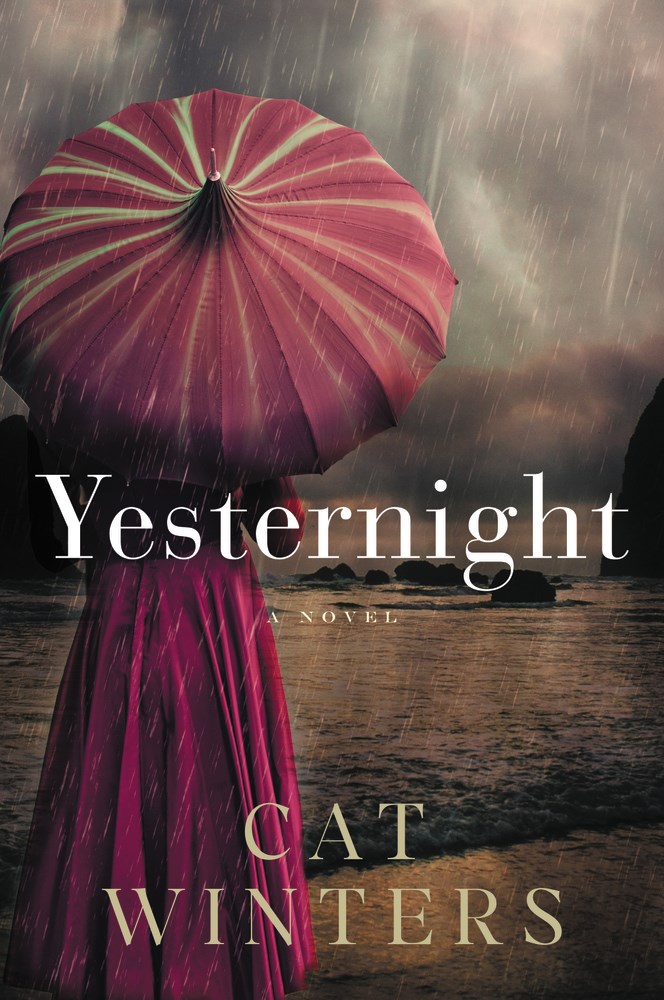 From the author of The Uninvited comes a haunting historical novel with a compelling mystery at its core. A young child psychologist steps off a train, her destination a foggy seaside town. There, she begins a journey causing her to question everything she believes about life, death, memories, and reincarnation.

In 1925, Alice Lind steps off a train in the rain-soaked coastal hamlet of Gordon Bay, Oregon. There, she expects to do nothing more difficult than administer IQ tests to a group of rural schoolchildren. A trained psychologist, Alice believes mysteries of the mind can be unlocked scientifically, but now her views are about to be challenged by one curious child.

Seven-year-old Janie O'Daire is a mathematical genius, which is surprising. But what is disturbing are the stories she tells: that her name was once Violet, she grew up in Kansas decades earlier, and she drowned at age nineteen. Alice delves into these stories, at first believing they're no more than the product of the girl's vast imagination. But, slowly, Alice comes to the realization that Janie might indeed be telling a strange truth.

Alice knows the investigation may endanger her already shaky professional reputation, and as a woman in a field dominated by men she has no room for mistakes. But she is unprepared for the ways it will illuminate terrifying mysteries within her own past, and in the process, irrevocably change her life.

Renay convinced me I ought to give Vagrant a go (Thea already posted about it a few weeks ago):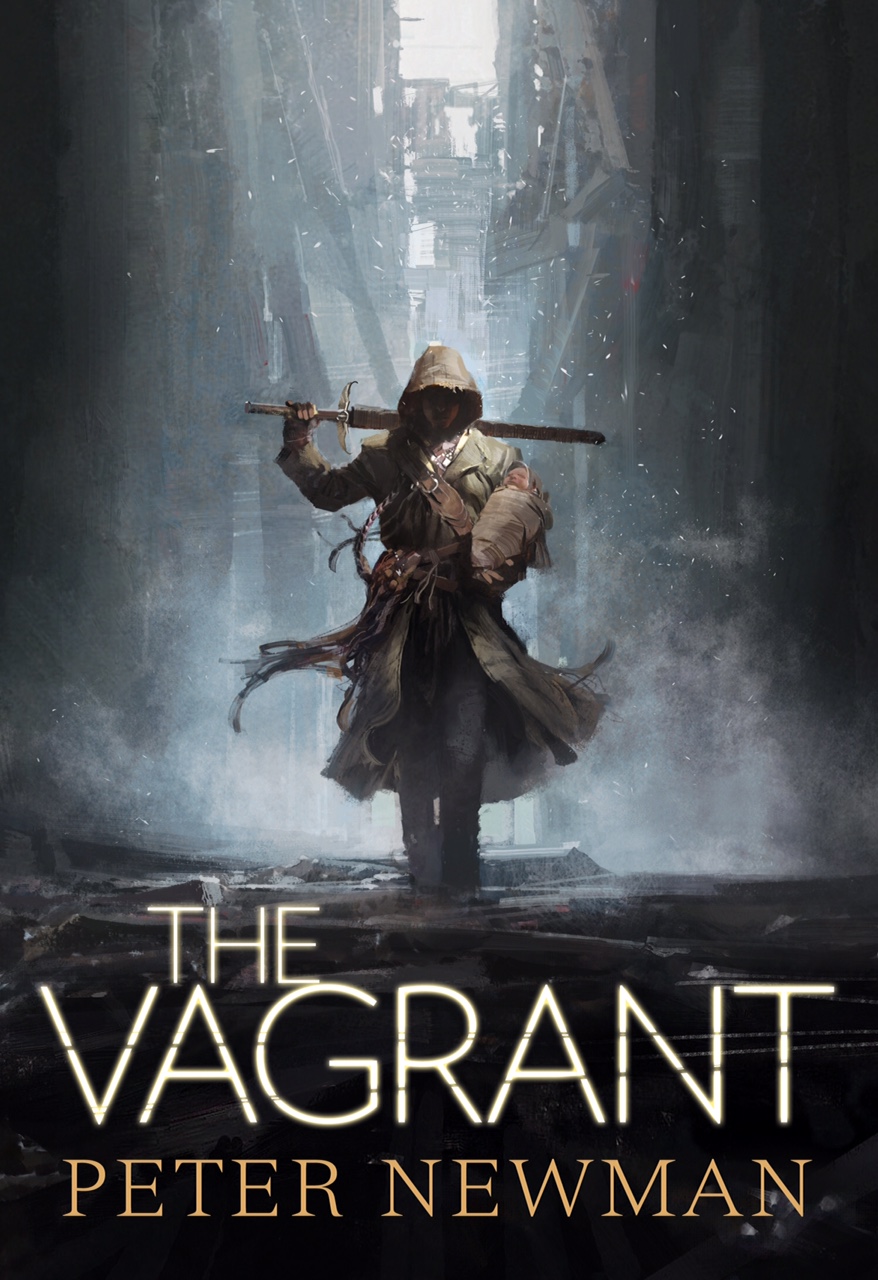 The Vagrant is his name. He has no other. Friendless and alone he walks across a desolate, war-torn landscape, carrying nothing but a kit-bag, a legendary sword and a baby. His purpose is to reach the Shining City, last bastion of the human race, and deliver the sword, the only weapon that may make a difference in the ongoing war. But the Shining City is far away and the world is a very dangerous place.

There is something about this book that sounds very old school SciFi? Or is it just me? It could be adorably fun or out of touch…I am curious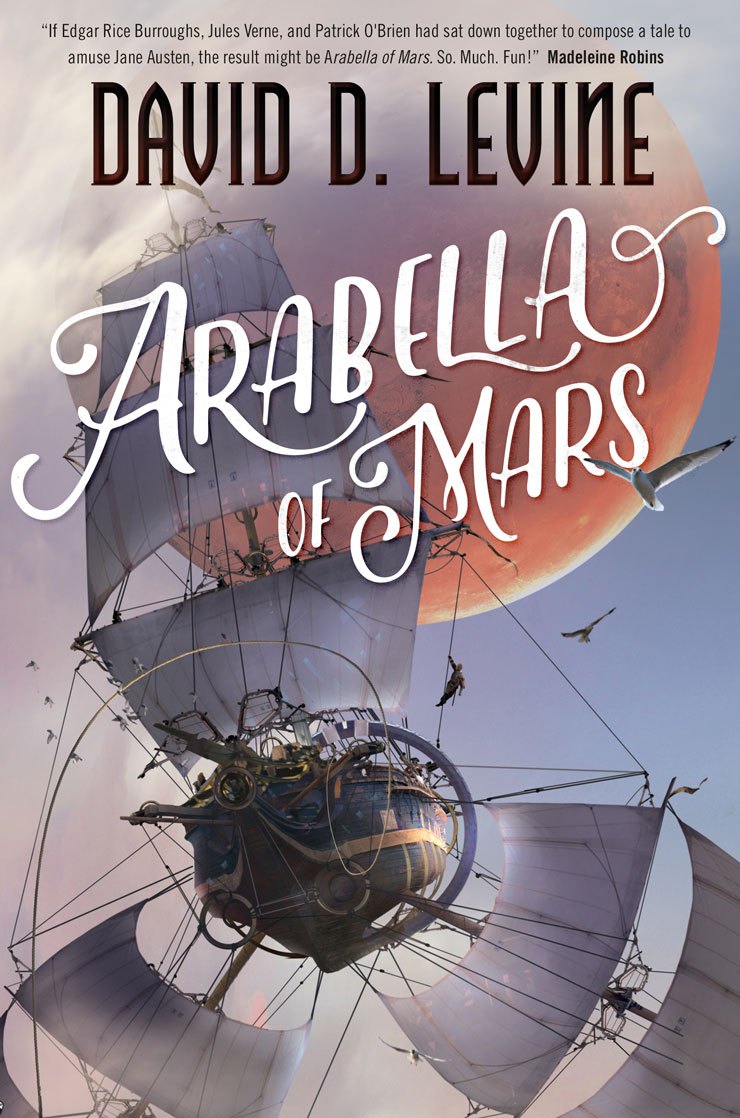 Ever since Newton witnessed a bubble rising from his bathtub, mankind has sought the stars. When William III of England commissioned Capt. William Kidd to command the first expedition to Mars in the late 1600s, they proved that space travel was both possible and profitable.

Now, one century later, a plantation in the flourishing British colony on Mars is home to Arabella Ashby. A tomboy who shares her father's deft hand with complex automatons. Being raised on the Martian frontier by her Martian nanny, Arabella is more a wild child than a proper young lady. Something her mother plans to remedy with a move to an exotic world Arabella has never seen: London, England.

Arabella soon finds herself trying to navigate an alien world until a dramatic change in her family's circumstances forces her to defy all conventions in order to return to Mars in order to save both her brother and the plantation. To do this, Arabella must pass as a boy on the Diana, a ship serving the Mars Trading Company with a mysterious Indian captain who is intrigued by her knack with automatons. Arabella must weather the naval war between Britain and France, learning how to sail, and a mutinous crew if she hopes to save her brother from certain death.

I kinda love witchy books and this one sounds good: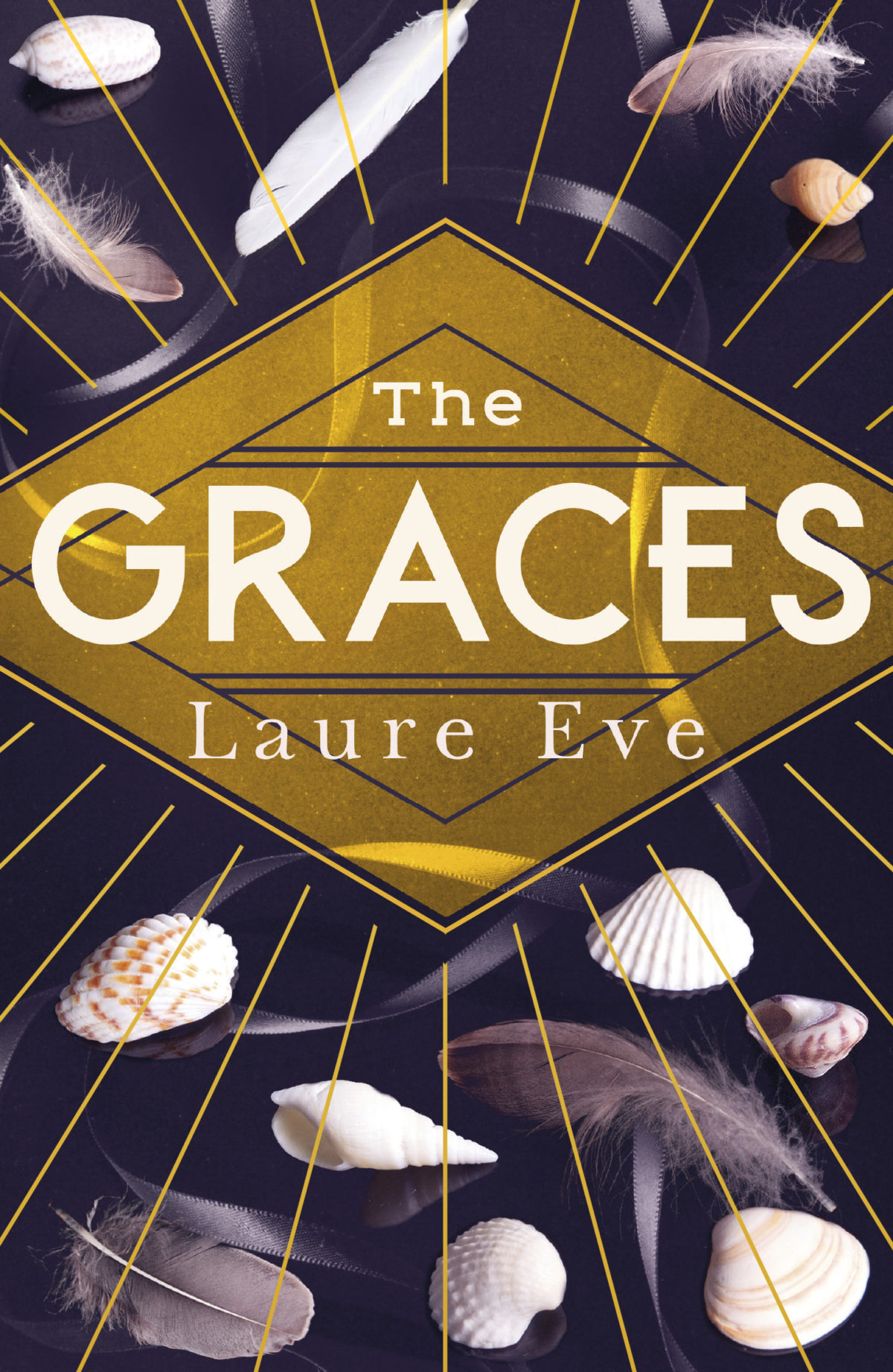 Everyone said the Graces were witches.

They moved through the corridors like sleek fish, ripples in their wake. Stares followed their backs and their hair.

They had friends, but they were just distractions. They were waiting for someone different.

All I had to do was show them that person was me.

Like everyone else in her town, River is obsessed with the Graces, attracted by their glamour and apparent ability to weave magic. But are they really what they seem? And are they more dangerous than they let on?

This beautifully-written thriller will grip you from its very first page.

I've been hearing about this Goblin King-Labyrinth retelling for a while now and I just. Need. This. Book. Okay?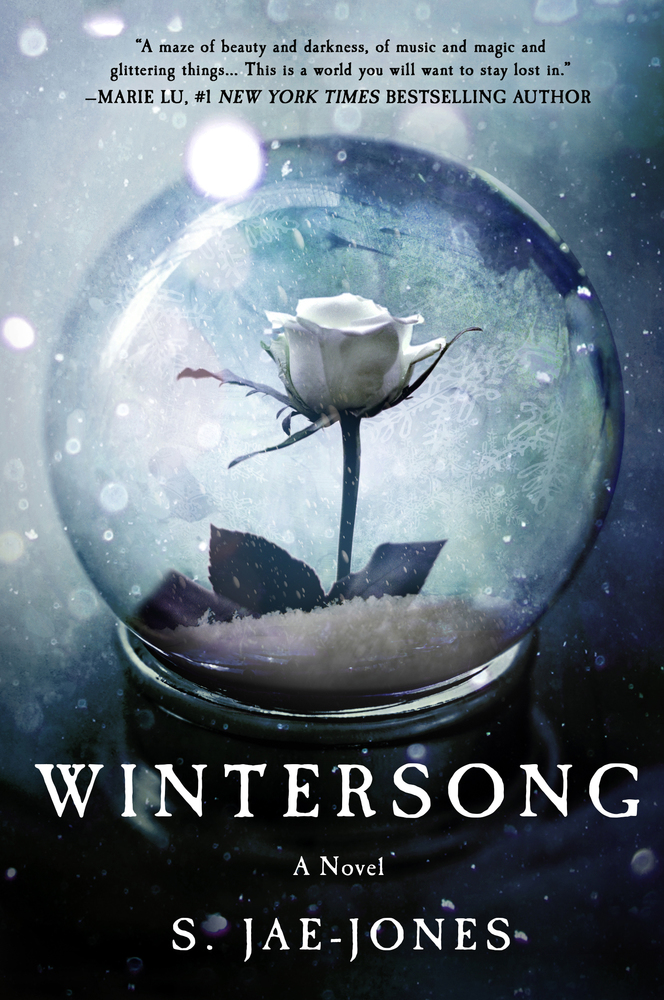 Beware the goblin men and the wares they sell.

All her life, nineteen-year-old Liesl has heard tales of the beautiful, mysterious Goblin King. He is the Lord of Mischief, the Ruler Underground, and the muse around which her music is composed. Yet, as Liesl helps shoulder the burden of running her family's inn, her dreams of composition and childish fancies about the Goblin King must be set aside in favor of more practical concerns.

But when her sister Käthe is taken by the goblins, Liesl journeys to their realm to rescue her sister and return her to the world above. The Goblin King agrees to let Käthe go—for a price. The life of a maiden must be given to the land, in accordance with the old laws. A life for a life, he says. Without sacrifice, nothing good can grow. Without death, there can be no rebirth. In exchange for her sister's freedom, Liesl offers her hand in marriage to the Goblin King. He accepts.

Down in the Underground, Liesl discovers that the Goblin King still inspires her—musically, physically, emotionally. Yet even as her talent blossoms, Liesl's life is slowly fading away, the price she paid for becoming the Goblin King's bride. As the two of them grow closer, they must learn just what it is they are each willing to sacrifice: her life, her music, or the end of the world.

On Thea's Radar:
First up on my radar, a mystery/thriller: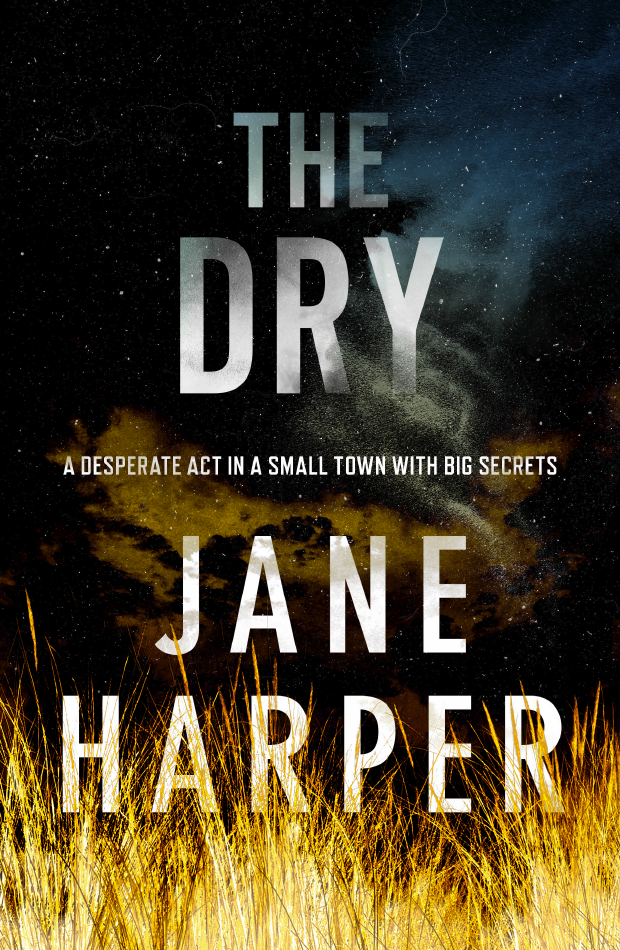 Luke Hadler turns a gun on his wife and child, then himself. The farming community of Kiewarra is facing life and death choices daily. If one of their own broke under the strain, well…

When Federal Police investigator Aaron Falk returns to Kiewarra for the funerals, he is loath to confront the people who rejected him twenty years earlier. But when his investigative skills are called on, the facts of the Hadler case start to make him doubt this murder-suicide charge.

And as Falk probes deeper into the killings, old wounds start bleeding into fresh ones. For Falk and his childhood friend Luke shared a secret… A secret Falk thought long-buried… A secret which Luke's death starts to bring to the surface…

This book–2 in 1–sounds pretty interesting.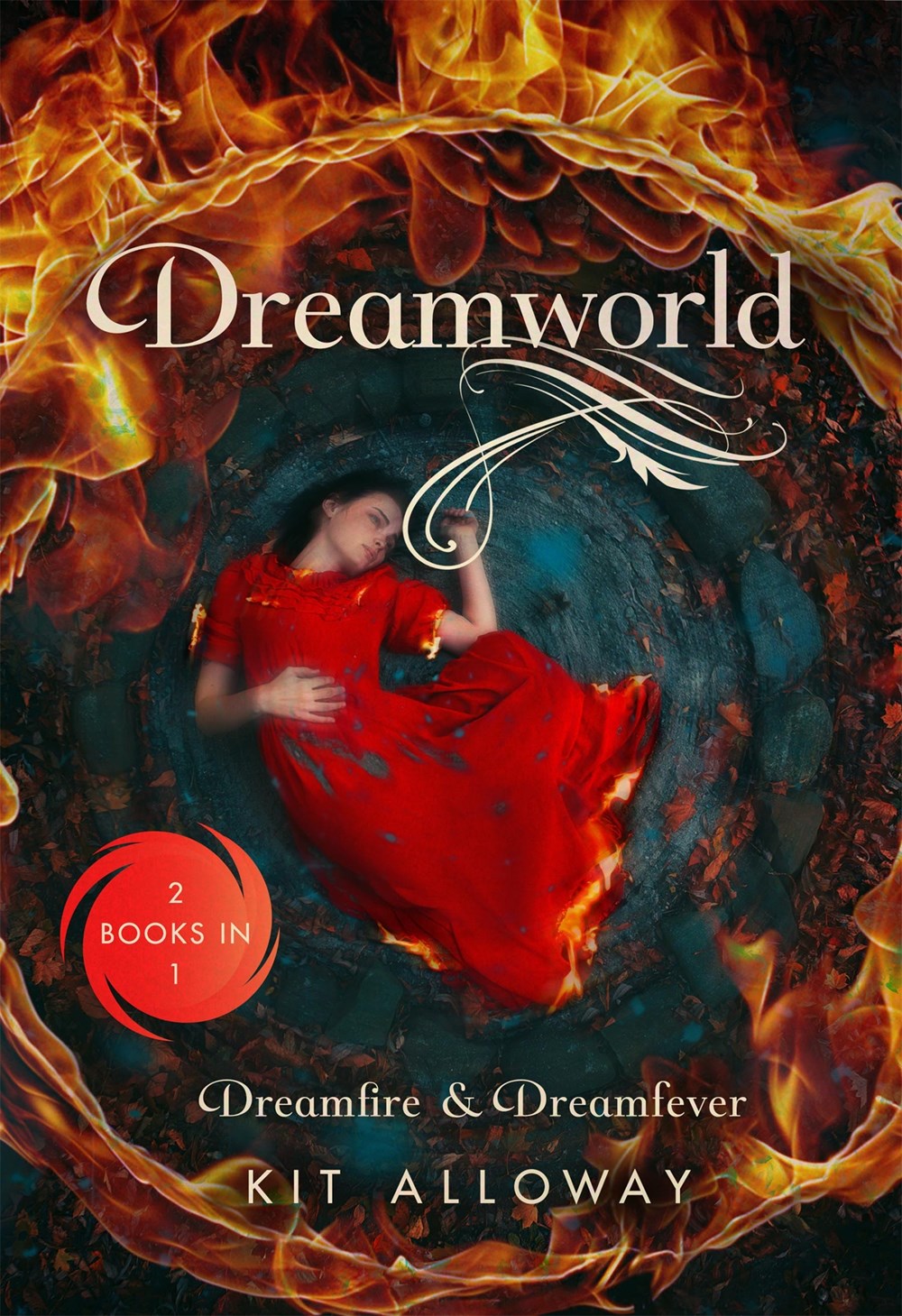 Kit Alloway's Dreamfire and Dreamfever are now available in paperback for
the first time, together in one stunning package. Discover the exciting and
turbulent world of the Dreamwalker in this convenient bind-up.

Unlike most 17-year-olds, Joshlyn Weaver has a sacred duty. She's the
celebrated daughter of the dreamwalkers, a secret society whose members
enter the Dream universe we all share and battle nightmares. If they fail, the
emotional turmoil in the Dream could boil over and release nightmares into
the World.

Despite Josh's reputation as a dream walking prodigy, she's haunted by her
mistakes. A lapse in judgment and the death of someone she loved have
shaken her confidence. Now she's been assigned an apprentice, a boy whose
steady gaze sees right through her, and she's almost as afraid of getting close
to him as she is of getting him killed.

But when strangers with impossible powers begin appearing in the Dream, it
isn't just Will that Josh has to protect–it's the whole World.

A debut fantasy novel that I cannot wait to devour: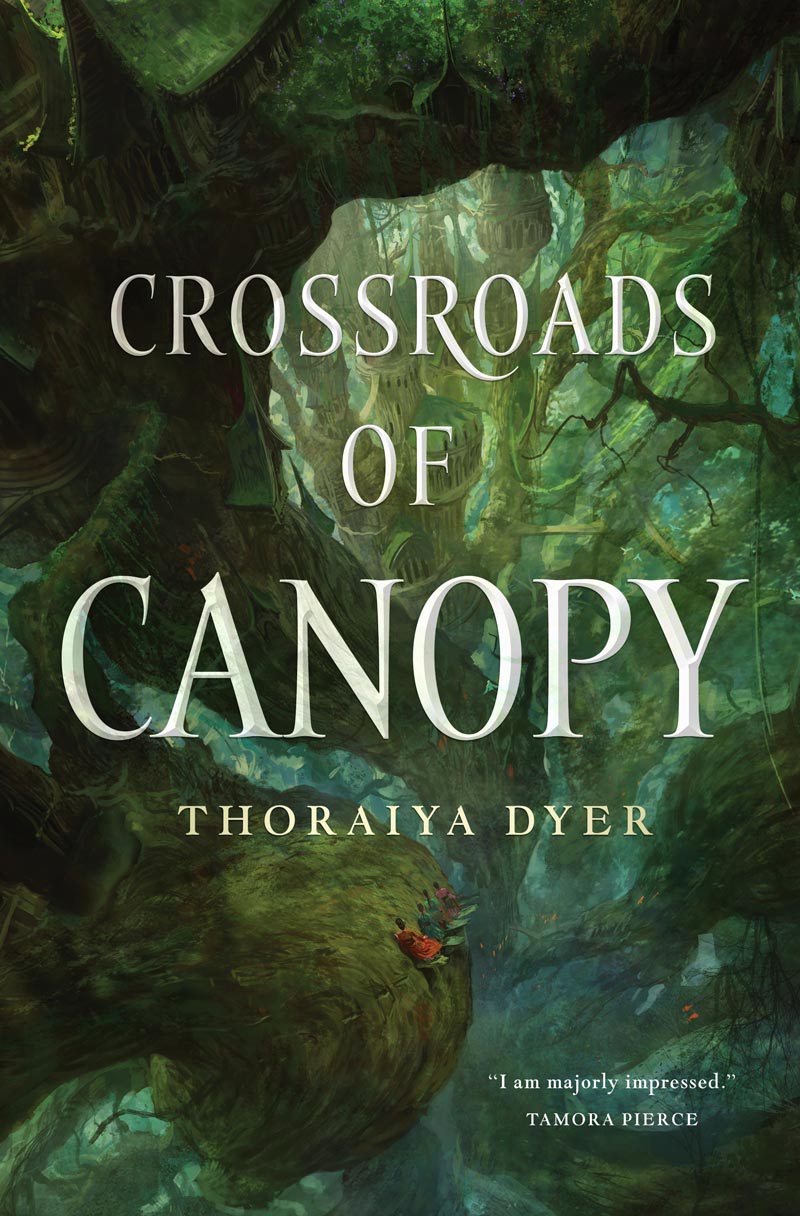 The highly-anticipated fantasy debut from Aurealis and Ditmar Award-winning author Thoraiya Dyer, set in a giant mythical rainforest controlled by living gods

At the highest level of a giant forest, thirteen kingdoms fit seamlessly together to form the great city of Canopy. Thirteen goddesses and gods rule this realm and are continuously reincarnated into human bodies. Canopy's position in the sun, however, is not without its dark side. The nation's opulence comes from the labor of slaves, and below its fruitful boughs are two other realms: Understorey and Floor, whose deprived citizens yearn for Canopy's splendor.

Unar, a determined but destitute young woman, escapes her parents' plot to sell her into slavery by being selected to serve in the Garden under the goddess Audblayin, ruler of growth and fertility. As a Gardener, she wishes to become Audblayin's next Bodyguard while also growing sympathetic towards Canopy's slaves.

When Audblayin dies, Unar sees her opportunity for glory – at the risk of descending into the unknown dangers of Understorey to look for a newborn god. In its depths, she discovers new forms of magic, lost family connections, and murmurs of a revolution that could cost Unar her chance…or grant it by destroying the home she loves.

"I am majorly impressed with Thoraiya Dyer's Crossroads of Canopy. A unique, gorgeous, and dangerous world, a stubborn female hero, and a writer to watch!"—Tamora Pierce

This next book: WANT IT SO BADLY.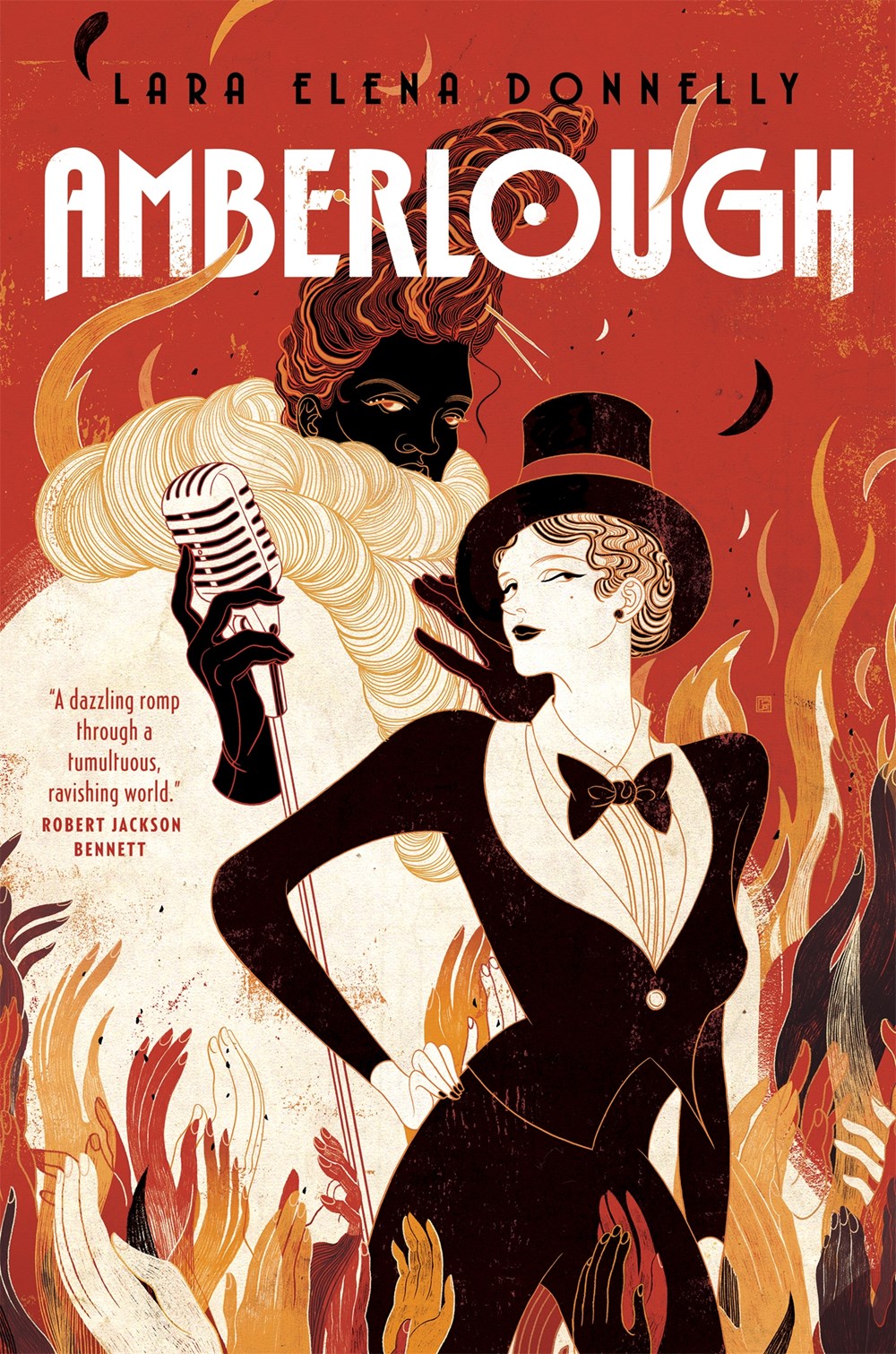 Le Carré meets Cabaret in this debut spy thriller as a gay double-agent schemes to protect his smuggler lover during the rise of a fascist government coup

Welcome to Amberlough City, the illustrious but corrupt cosmopolitan beacon of Gedda. The radical One State Party — nicknamed the Ospies — is gaining popular support to unite Gedda's four municipal governments under an ironclad, socially-conservative vision.

Not everyone agrees with the Ospies' philosophy, including master spy Cyril DePaul and his lover Aristide Makricosta, smuggler and emcee at the popular Bumble Bee Cabaret. When Cyril's cover is blown on a mission, however, he must become a turncoat in exchange for his life. Returning to Amberlough under the Ospies' watchful eye, Cyril enters a complex game of deception. One of his concerns is safeguarding Aristide, who refuses to let anyone – the crooked city police or the homophobic Ospies – dictate his life.

Enter streetwise Cordelia Lehane, top dancer at the Bee and Aristide's runner, who could be the key to Cyril's plans—if she can be trusted. As the twinkling lights of nightclub marquees yield to the rising flames of a fascist revolution, these three will struggle to survive using whatever means — and people — necessary. Including each other.

"Sparkling with slang, full of riotous characters, and dripping with intrigue, Amberlough is a dazzling romp through a tumultuous, ravishing world." —Robert Jackson Bennett, winner of the Shirley Jackson Award and the Edgar Award

Last but certainly not least: NEW JACQUELINE CAREY. RETELLING OF THE TEMPEST. THAT COVER. AAAAAAAAAAAAAA.
Jacqueline Carey returns to Tor with a fantastical retelling of Shakespeare's The Tempest

A lovely girl grows up in isolation where her father, a powerful magus, has spirited them to in order to keep them safe.

We all know the tale of Prospero's quest for revenge, but what of Miranda? Or Caliban, the so-called savage Prospero chained to his will?

In this incredible retelling of the fantastical tale, Jacqueline Carey shows readers the other side of the coin—the dutiful and tenderhearted Miranda, who loves her father but is terribly lonely. And Caliban, the strange and feral boy Prospero has bewitched to serve him. The two find solace and companionship in each other as Prospero weaves his magic and dreams of revenge.

Always under Prospero's jealous eye, Miranda and Caliban battle the dark, unknowable forces that bind them to the island even as the pangs of adolescence create a new awareness of each other and their doomed relationship.

Miranda and Caliban is bestselling fantasy author Jacqueline Carey's gorgeous retelling of The Tempest. With hypnotic prose and a wild imagination, Carey explores the themes of twisted love and unchecked power that lie at the heart of Shakespeare's masterpiece, while serving up a fresh take on the play's iconic characters. It is a dazzling novel.

And that's it from us! What books do you have on YOUR radar?