"On The Smugglers' Radar" is a new feature for books that have caught our eye: books we heard of via other bloggers, directly from publishers, and/or from our regular incursions into the Amazon jungle. This is how the Smugglers' Radar was born, and because there are far too many books that we want than we can possibly buy or review (what else is new?) we thought we could make it into a weekly feature – so YOU can tell us which books you have on your radar as well!
On Ana's Radar:
I will start with the next Juliet Marillier novel because 1) it is the next Sevenwaters novel and 2) OMG WE HAVE A COVER QUOTE! (THEA'S NOTE: OMG THAT'S MEEEEEEEEEE!!!!!!!!!!!) Lookie! How cool is that?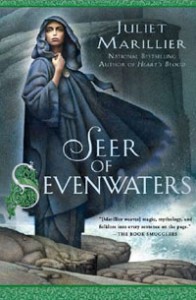 The young seer Sibeal is visiting an island of elite warriors, prior to making her final pledge as a druid. It's there she finds Felix, a survivor of a Viking shipwreck, who's lost his memory. The scholarly Felix and Sibeal form a natural bond. He could even be her soul mate, but Sibeal's vocation is her true calling, and her heart must answer.

As Felix fully regains his memory, Sibeal has a runic divination showing her that Felix must go on a perilous mission—and that she will join him. The rough waters and the sea creatures they will face are no match for Sibeal's own inner turmoil. She must choose between the two things that tug at her soul—her spirituality and a chance at love…

This is also in Penguin's Fall catalogue and it looks SO good: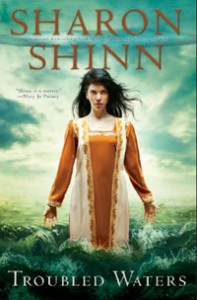 Zoe Ardelay receives astonishing and unwelcome news: she has been chosen to become the king's fifth wife. Forced to go to the royal city, she manages to slip away and hide on the shores of the mighty river. It's there that Zoe realizes she is a coru prime ruled by the elemental sign of water. She must return to the palace, not as an unwilling bride for the king, but a woman with power in her own right. But as Zoe unlocks more of the mysteries of her blood—and the secrets of the royal family—she must decide how to use her great power to rise above the deceptions and intrigue of the royal court.

The sequel to Mind Games which we reviewed last week and another book I can't wait to read! Not including the blurb because it might be spoilery for book 1.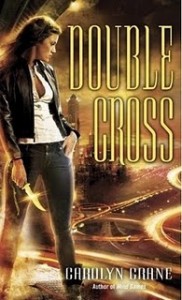 I've been dying to read this book and now with the cover, it just looks made of awesome doesn't it?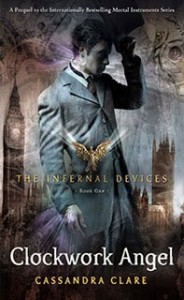 When sixteen-year-old Tessa Gray crosses the ocean to find her brother, her destination is England, the time is the reign of Queen Victoria, and something terrifying is waiting for her in London's Downworld, where vampires, warlocks and other supernatural folk stalk the gaslit streets. Only the Shadowhunters, warriors dedicated to ridding the world of demons, keep order amidst the chaos.

Kidnapped by the mysterious Dark Sisters, members of a secret organization called The Pandemonium Club, Tessa soon learns that she herself is a Downworlder with a rare ability: the power to transform, at will, into another person. What's more, the Magister, the shadowy figure who runs the Club, will stop at nothing to claim Tessa's power for his own.

Friendless and hunted, Tessa takes refuge with the Shadowhunters of the London Institute, who swear to find her brother if she will use her power to help them. She soon finds herself fascinated by—and torn between—two best friends: James, whose fragile beauty hides a deadly secret, and blue-eyed Will, whose caustic wit and volatile moods keep everyone in his life at arm's length . . . everyone, that is, but Tessa. As their search draws them deep into the heart of an arcane plot that threatens to destroy the Shadowhunters, Tessa realizes that she may need to choose between saving her brother and helping her new friends save the world. . . . and that love may be the most dangerous magic of all.

Dear Partner told me about this one after he heard an interview with the author in the radio and he said, it sounds like something you will enjoy: it is Steampunk-Super-Hero-YA. I WANT!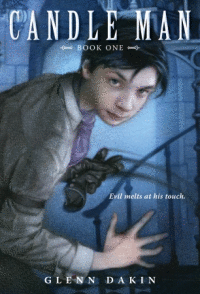 Murder, mystery, and adventure aren't your typical birthday presents . . .

But for Theo, anything that breaks up his ordinary routine is the perfect gift.
A mysterious "illness" and Theo's guardians force him into a life indoors, where gloves must be worn and daily medical treatments are the norm. When Theo discovers a suspicious package on his birthday, one person from the past will unlock the secret behind Theo's "illness" and change his life forever.

Molded into an exhilarating steampunk adventure that gives birth to the next great fantasy hero, Theo Wickland, Candle Man: The Society of Unrelenting Vigilance is the first book in a trilogy by debut author Glenn Dakin.

How cool does this one sound?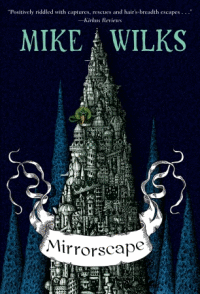 Mirrorscape is a thrilling and inventive adventure for all fantasy fans, children and adults alike. The book is the first in a trilogy and will be succeeded by Mirrorstorm and Mirrorshade.

In this his debut novel, the artist and illustrator Mike Wilks brings his extraordinary visual imagination from the canvas to the page!

Fulfilling the dream of a lifetime, Melkin Womper is apprenticed to a master painter, Ambrosius Blenk. Son of a village weaver, Mel is over-awed by the master's richly coloured and vividly detailed paintings. He is particularly amazed by the colours, because there are no colours back home. To have colour in your life, you have to buy the Pleasure, and the sinister scarlet-robed Fifth Mystery owns the rights to such Pleasures.

Soon, Mel and his new friends Ludo and Wren find themselves caught in a power struggle between the Mystery and the master. One that involves stepping through paintings into a world where the bizarre is commonplace and all logic is irrelevant. A world where angels, pyramid mazes, imaginary monsters, talking houses and – most importantly – the simple paintbrush all combine to form a hugely original and deeply compelling fantasy.

If Bosch, Escher or Dadd had written a children's book, this would be it!

I saw this on Amazon and I like the cover: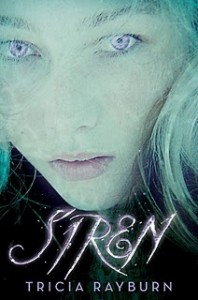 Seventeen-year-old Vanessa Sands is afraid of everything—the dark, heights, the ocean—but her fearless older sister, Justine, has always been there to coach her through every challenge. That is, until Justine goes cliff-diving one night near the family's vacation house in Maine, and her lifeless body washes up on shore the next day.

Though her parents hope that they'll be able to find closure back in Boston, Vanessa can't help feeling that her sister's death wasn't an accident. After discovering that Justine was keeping a lot of secrets, Vanessa returns to Winter Harbor, hoping that Justine's boyfriend might know more. But Caleb has been missing since Justine's death.

Soon, it's not just Vanessa who's afraid. All of Winter Harbor is abuzz with anxiety when another body washes ashore, and panic sets in when the small town becomes host to a strong of fatal, water-related accidents in which all the victims are found, horrifically, grinning from ear to ear.

Vanessa turns to Caleb's brother, Simon, for help, and begins to find herself drawn to him. As the pair tries to understand the sudden rash of creepy drownings, Vanessa uncovers a secret that threatens her new romance—and will change her life forever.

On Thea's Radar:
EEEEEEEE! Elizabeth Bunce, incredibly talented author that wrote A Curse Dark As Gold (one of my top 10 reads of 2008) finally has her sophomore novel pending! Heard about this beauty via Angie over at Angieville: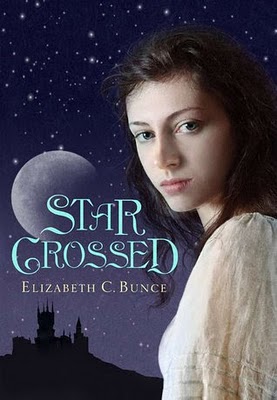 Digger thrives as a spy and sneak-thief among the feuding religious factions of Gerse, dodging the Greenmen who have banned all magic. But when a routine job goes horribly wrong and her partner and lover Tegen is killed, she has to get out of the city, fast, and hides herself in a merry group of nobles to do so. Accepted as a lady's maid to shy young Merista Nemair, Digger finds new peace and friendship at the Nemair stronghold–as well as plenty of jewels for the taking. But after the devious Lord Daul catches her in the act of thievery, he blackmails her into becoming his personal spy in the castle, and Digger soon realizes that her noble hosts aren't as apolitical as she thought… that indeed, she may be at the heart of a magical rebellion.

I've been seeing reviews pop up for this book everywhere – from Fantasy Book Critic to Blood of the Muse, and beyond. I want it.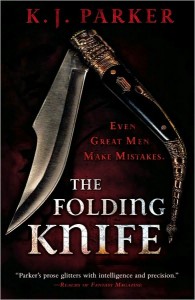 Basso the Magnificent. Basso the Great. Basso the Wise. The First Citizen of the Vesani Republic is an extraordinary man.

He is ruthless, cunning, and above all, lucky. He brings wealth, power and prestige to his people. But with power comes unwanted attention, and Basso must defend his nation and himself from threats foreign and domestic. In a lifetime of crucial decisions, he's only ever made one mistake.

One mistake, though, can be enough.

This month, Marvel's "Girl Comics" – comics about women, by women – hit shelves. Hell. Fucking. YES. The folks over at Comics Alliance have a preview of the first 10 pages of the first issue, so I highly recommend you go and check it out. (Thanks to Alert Nerd for the heads up!)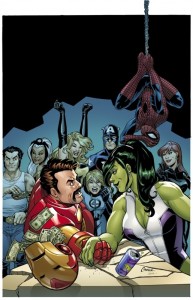 With the most controversial question in the Marvel Universe finally answered right on the cover, Marvel is proud to bring you a celebration of amazing women in comics with the first of a three issue anthology entirely created by the most talented and exciting women working in comics today, including Ann Nocenti (DAREDEVIL), Amanda Conner (Power Girl), Laura Martin (SECRET INVASION), G. Willow Wilson (Air), Devin Grayson (Nightwing), Stephanie Buscema (WEB OF SPIDER-MAN), and more! With stories featuring your favorite Marvel characters, from the Punisher to Mary Jane, don't miss what will be the one of the most talked about series of the year! (Please note: She-Hulk would totally win).

One of Tor's new releases: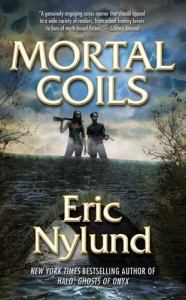 Nothing exciting ever happened to fifteen-year-old orphans Eliot and Fiona, who are trapped in the strict, oppressive household of their grandmother. A chance visit, however, reveals that the twins are the offspring of a goddess and Lucifer, Prince of Darkness.

To settle the epic custody battle between these two families, the fallen angels create three diabolical temptations and the gods fashion three heroic trials to test Eliot and Fiona. The twins need to quickly learn how to use their budding supernatural abilities . . . for family allegiances are ever-shifting in the ancient, secret world they have entered, and only by sticking together will they be able to survive!

The cover for the second book in James Dashner's Maze Runner books is up! Aiiiieeeee!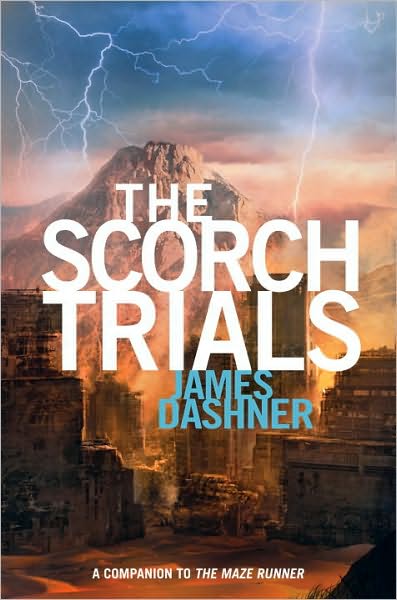 Just got this in my mailbox, and I cannot wait to dig in: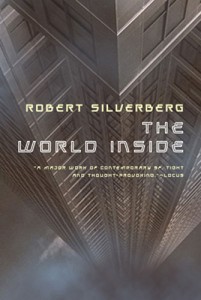 Welcome to Urban Monad 116. Reaching nearly two miles into the sky, the one thousand stories of this building are home to over eight hundred thousand people living in peace and harmony. In the year 2381 with a world population of over seventy-five billion souls, the massive Urbmon system is humanity's salvation.

Life in Urbmon 116 is highly regulated, life is cherished, and the culture of procreation is seen as the highest pinnacle of god's plan. Conflict is abhorred, and any who disturb the peace face harsh punishment—even being sent "down the chute" to be recycled as fertilizer.

Jason Quevedo, a historian, searches records of the twentieth century hoping to find the root of his discontent with the perfection of Urbmon life.

Siegmund Kluver, a young and ambitious administrator, strives to reach the top levels of the Urbmon's government and discovers the civilization's dark truths.

Michael Statler, a computer engineer, harbors a forbidden desire. He dreams of leaving the building—of walking in the open air and visiting the far-off sea. This is a dream he must keep secret. If anyone were to find out, he'd face the worst punishment imaginable.

The World Inside is a fascinating exploration of society and what makes us human, told by a master of speculative fiction.

Aaaaaaaand the US cover is out for my number ONE read of 2009 – Stephen Baxter's epic, haunting, moving Ark (second book in a duology, following Flood). I love both the US and UK covers for this beauty.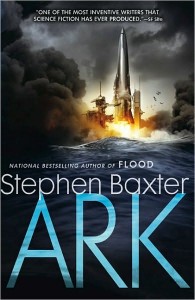 With the discovery of another life-sustaining planet light years away, there is hope for a chosen few to leave the soon-to-be submerged Earth. Holle Groundwater is one of the candidates, having been trained for this purpose since childhood, when the ships Ark One and Ark Three were being built. But as Holle prepares to endure life aboard the Ark, she comes to realize that her attempt at escape may be more dangerous than trying to stay afloat on a drowning planet…


And that's it from us, folks! What books do YOU have on your radars?