"On The Smugglers' Radar" is a feature for books that have caught our eye: books we have heard of via other bloggers, directly from publishers, and/or from our regular incursions into the Amazon jungle. Thus, the Smugglers' Radar was born. Because we want far more books than we can possibly buy or review (what else is new?), we thought we would make the Smugglers' Radar into a weekly feature – so YOU can tell us which books you have on your radar as well!
June is LGBT Pride Month and we have a special edition of our radar to highlight upcoming LGBTQIA books!
On Our Radar: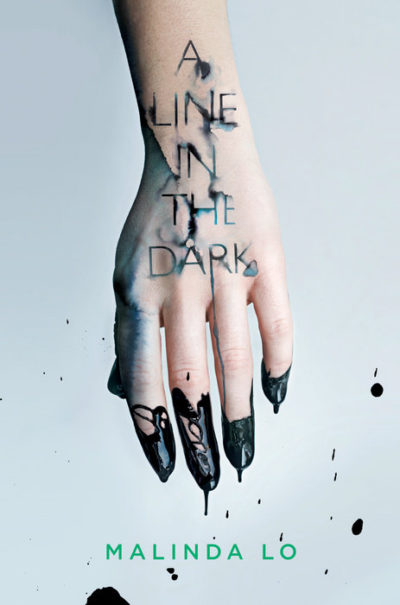 The line between best friend and something more is a line always crossed in the dark.

Jess Wong is Angie Redmond's best friend. And that's the most important thing, even if Angie can't see how Jess truly feels. Being the girl no one quite notices is OK with Jess anyway. While nobody notices her, she's free to watch everyone else. But when Angie begins to fall for Margot Adams, a girl from the nearby boarding school, Jess can see it coming a mile away. Suddenly her powers of observation are more curse than gift.

As Angie drags Jess further into Margot's circle, Jess discovers more than her friend's growing crush. Secrets and cruelty lie just beneath the carefree surface of this world of wealth and privilege, and when they come out, Jess knows Angie won't be able to handle the consequences.

When the inevitable darkness finally descends, Angie will need her best friend.

"It doesn't even matter that she probably doesn't understand how much she means to me. It's purer this way. She can take whatever she wants from me, whenever she wants it, because I'm her best friend."

A Line in the Dark is a story of love, loyalty, and murder.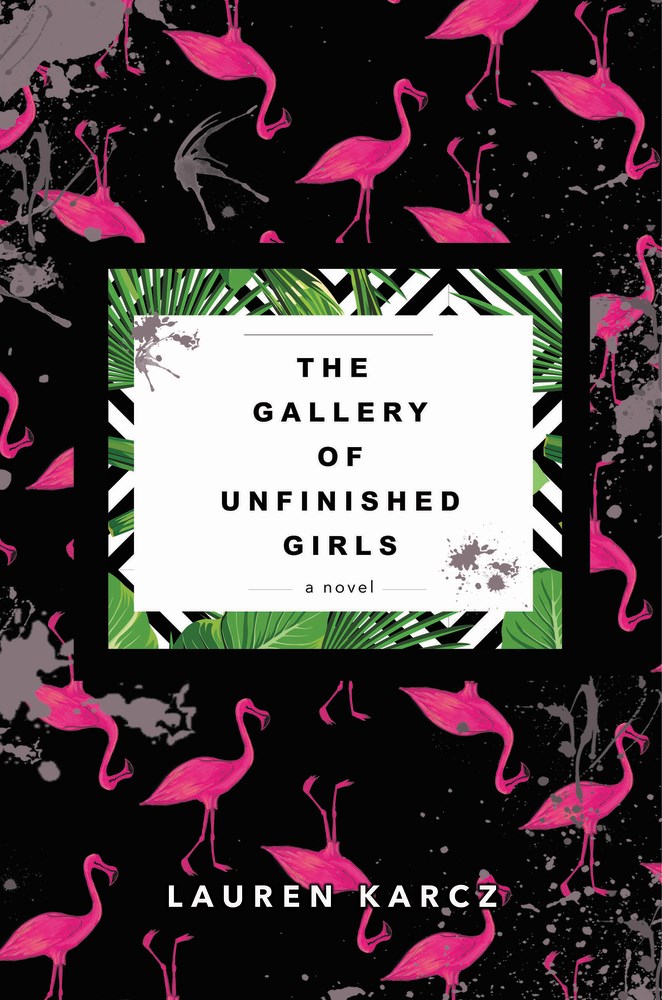 Mercedes Moreno is an artist. At least, she thinks she could be, even though she hasn't been able to paint anything worthwhile since her award-winning piece Food Poisoning #1 last year.

Her lack of inspiration might be because her abuela is lying comatose in faraway Puerto Rico after suffering a stroke. Or the fact that Mercedes is in love with her best friend, Victoria, but is too afraid to admit her true feelings.

Despite Mercedes's creative block, art starts to show up in unexpected ways. A piano appears on her front lawn one morning, and a mysterious new neighbor invites Mercedes to paint with her at the Red Mangrove Estate.

At the Estate, Mercedes can create in ways she never has before. She can share her deepest secrets and feel safe. But Mercedes can't take anything out of the Estate, including her new-found clarity. As her life continues to crumble around her, the Estate offers more solace than she could hope for. But Mercedes can't live both lives forever, and ultimately she must choose between this perfect world of art and truth and a much messier reality.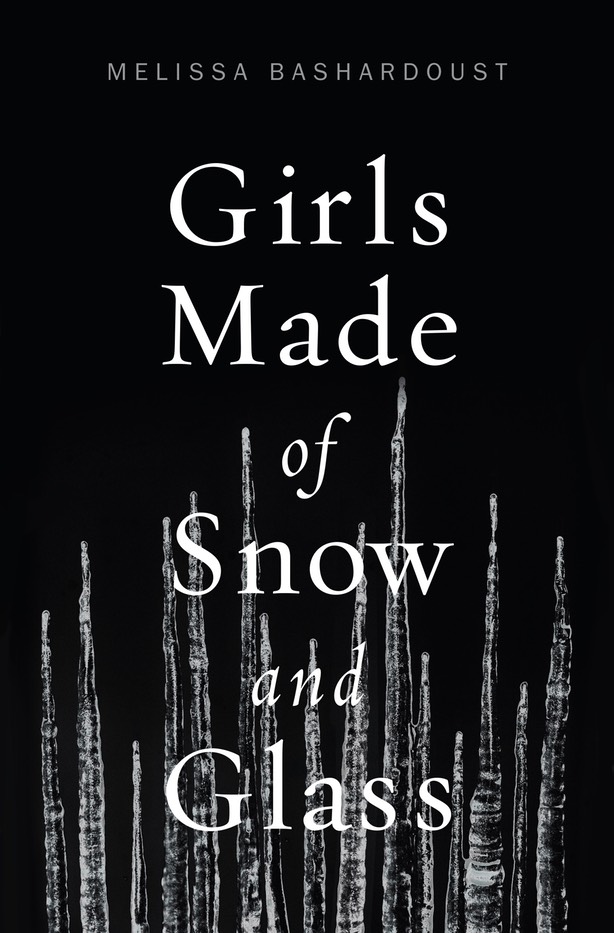 Frozen meets The Bloody Chamber in this feminist fantasy reimagining of the Snow White fairytale

At sixteen, Mina's mother is dead, her magician father is vicious, and her silent heart has never beat with love for anyone—has never beat at all, in fact, but she'd always thought that fact normal. She never guessed that her father cut out her heart and replaced it with one of glass. When she moves to Whitespring Castle and sees its king for the first time, Mina forms a plan: win the king's heart with her beauty, become queen, and finally know love. The only catch is that she'll have to become a stepmother.

Fifteen-year-old Lynet looks just like her late mother, and one day she discovers why: a magician created her out of snow in the dead queen's image, at her father's order. But despite being the dead queen made flesh, Lynet would rather be like her fierce and regal stepmother, Mina. She gets her wish when her father makes Lynet queen of the southern territories, displacing Mina. Now Mina is starting to look at Lynet with something like hatred, and Lynet must decide what to do—and who to be—to win back the only mother she's ever known…or else defeat her once and for all.

Entwining the stories of both Lynet and Mina in the past and present, Girls Made of Snow and Glass traces the relationship of two young women doomed to be rivals from the start. Only one can win all, while the other must lose everything—unless both can find a way to reshape themselves and their story.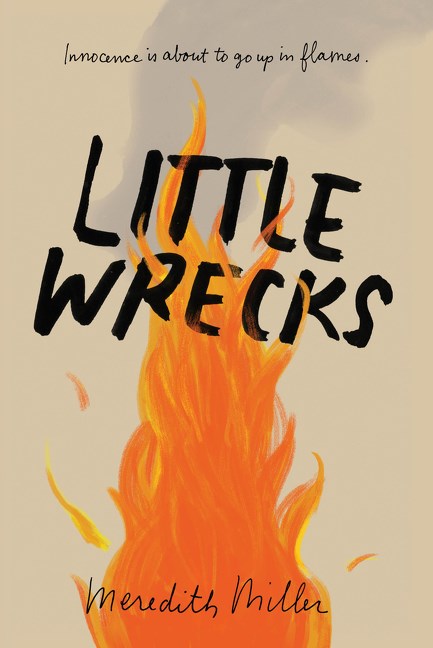 In this haunting and explosive debut, Meredith Miller explores the truth behind three girls on the cusp of adulthood, and all the shocking realizations that come under the guise of growing up. Perfect for fans of I'll Give You the Sun and Girl in Pieces.

Ruth, Magda, and Isabel are different from everyone else. They can see beneath the seemingly perfect, cookie-cutter exterior of their small town of Highbone, Long Island. They know that below the surface, each house is filled with secrets, indifference, and violence.

These girls refuse to become willing participants of these fake lives. Instead, they are determined to fight every condescending comment, every unwelcome touch, and every lie they've been told.

When the opportunity to commit the perfect crime appears, the girls finally start to see their way out of Highbone. But for the first time, Ruth, Magda, and Isabel are keeping secrets from each other. As they drift apart, the weight of reality starts to set in. These girls can't save each other. They might not even be able to save themselves.

"Darkly atmospheric and brutally honest, Little Wrecks depicts girls becoming women in a society that devalues both."—Mindy McGinnis, author of Female of the Species.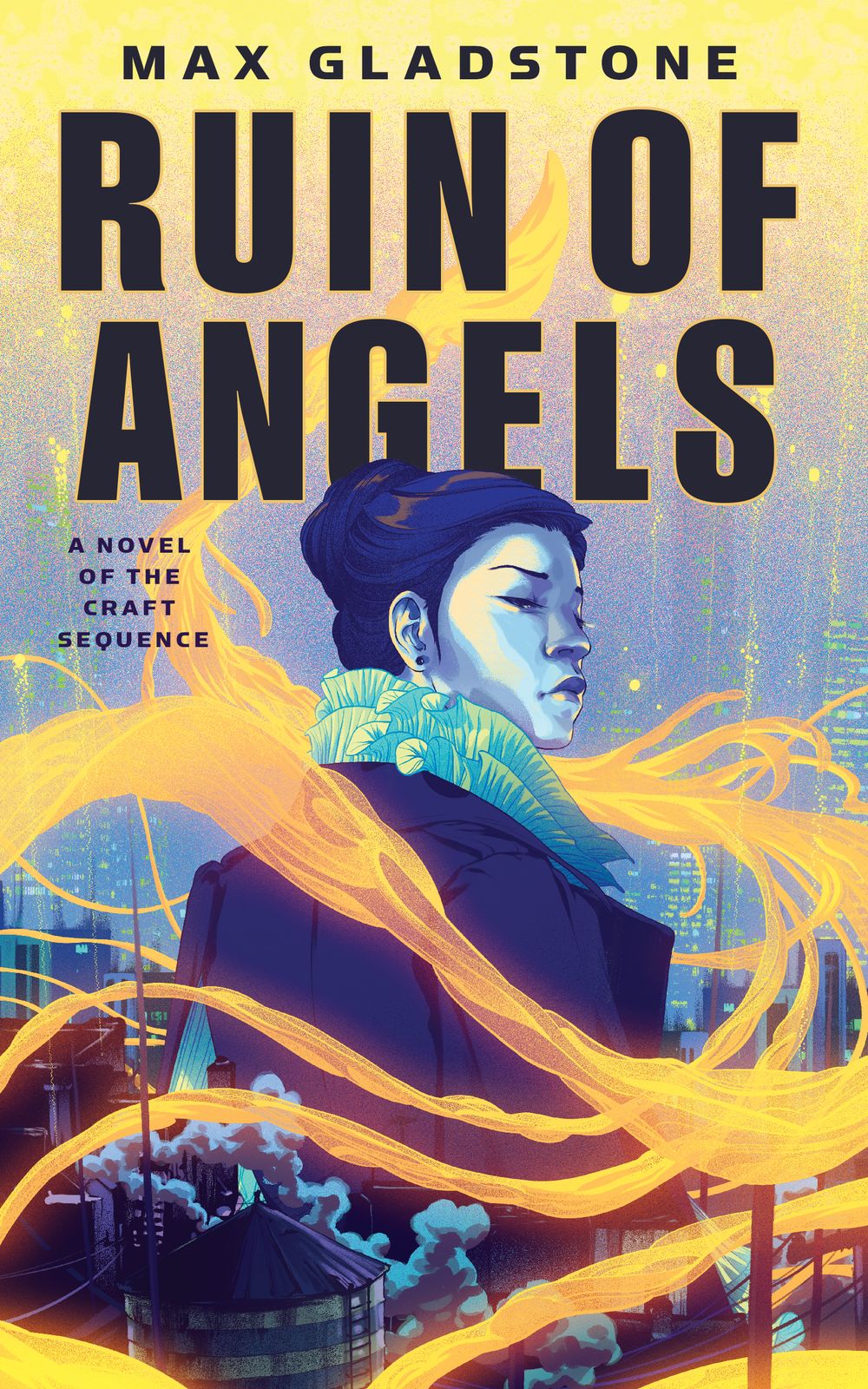 Max Gladstone returns with The Ruin of Angels, the sixth novel in the Craft Sequence, which The Washington Post calls "the best kind of urban fantasy" and NPR calls "sharp, original, and passionate"

The God Wars destroyed the city of Alikand. Now, a century and a half and a great many construction contracts later, Agdel Lex rises in its place. Dead deities litter the surrounding desert, streets shift when people aren't looking, a squidlike tower dominates the skyline, and the foreign Iskari Rectification Authority keeps strict order in this once-independent city?while treasure seekers, criminals, combat librarians, nightmare artists, angels, demons, dispossessed knights, grad students, and other fools gather in its ever-changing alleys, hungry for the next big score.

Priestess/investment banker Kai Pohala (last seen in Full Fathom Five) hits town to corner Agdel Lex's burgeoning nightmare startup scene, and to visit her estranged sister Ley. But Kai finds Ley desperate at the center of a shadowy, and rapidly unravelling, business deal. When Ley ends up on the run, wanted for a crime she most definitely committed, Kai races to track her sister down before the Authority finds her first. But Ley has her own plans, involving her ex-girlfriend, a daring heist into the god-haunted desert, and, perhaps, freedom for an occupied city. Because Alikand might not be completely dead?and some people want to finish the job.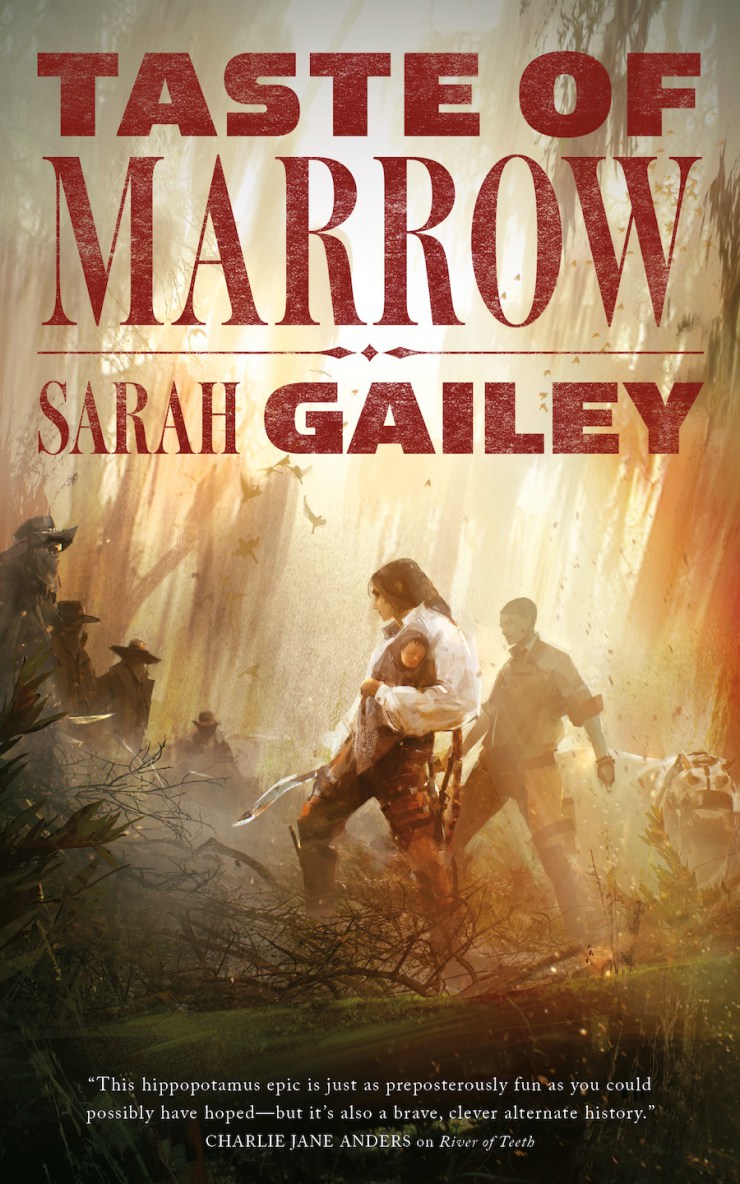 A few months ago, Winslow Houndstooth put together the damnedest crew of outlaws, assassins, cons, and saboteurs on either side of the Harriet for a history-changing caper. Together they conspired to blow the damn that choked the Mississippi and funnel the hordes of feral hippos contained within downriver, to finally give America back its greatest waterway.

Songs are sung of their exploits, many with a haunting refrain: "And not a soul escaped alive."

In the aftermath of the Harriet catastrophe, that crew has scattered to the winds. Some hunt the missing lovers they refuse to believe have died. Others band together to protect a precious infant and a peaceful future. All of them struggle with who they've become after a long life of theft, murder, deception, and general disinterest in the strictures of the law.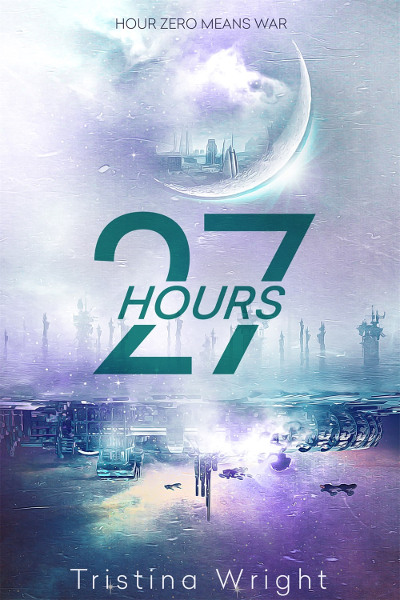 Rumor Mora fears two things: hellhounds too strong for him to kill, and failure. Jude Welton has two dreams: for humans to stop killing monsters, and for his strange abilities to vanish.

But in no reality should a boy raised to love monsters fall for a boy raised to kill them.

Nyx Llorca keeps two secrets: the moon speaks to her, and she's in love with Dahlia, her best friend. Braeden Tennant wants two things: to get out from his mother's shadow, and to unlearn Epsilon's darkest secret.

They'll both have to commit treason to find the truth.

During one twenty-seven-hour night, if they can't stop the war between the colonies and the monsters from becoming a war of extinction, the things they wish for will never come true, and the things they fear will be all that's left.

27 Hours is a sweeping, thrilling story featuring a stellar cast of queer teenagers battling to save their homes and possibly every human on Sahara as the clock ticks down to zero.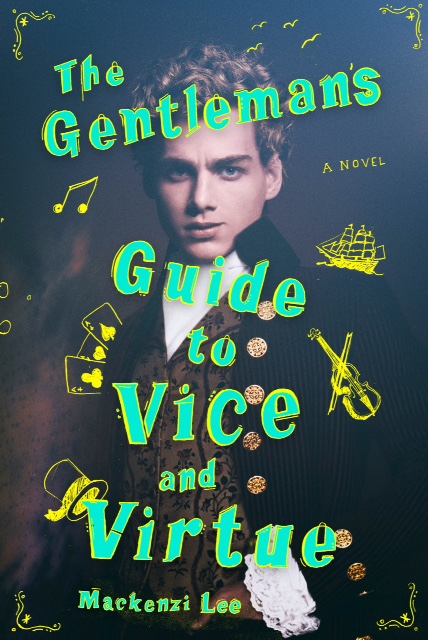 An unforgettable tale of two friends on their Grand Tour of 18th-century Europe who stumble upon a magical artifact that leads them from Paris to Venice in a dangerous manhunt, fighting pirates, highwaymen, and their feelings for each other along the way.

Henry "Monty" Montague was born and bred to be a gentleman, but he was never one to be tamed. The finest boarding schools in England and the constant disapproval of his father haven't been able to curb any of his roguish passions—not for gambling halls, late nights spent with a bottle of spirits, or waking up in the arms of women or men.

But as Monty embarks on his grand tour of Europe, his quest for a life filled with pleasure and vice is in danger of coming to an end. Not only does his father expect him to take over the family's estate upon his return, but Monty is also nursing an impossible crush on his best friend and traveling companion, Percy.

Still it isn't in Monty's nature to give up. Even with his younger sister, Felicity, in tow, he vows to make this yearlong escapade one last hedonistic hurrah and flirt with Percy from Paris to Rome. But when one of Monty's reckless decisions turns their trip abroad into a harrowing manhunt that spans across Europe, it calls into question everything he knows, including his relationship with the boy he adores.

Witty, romantic, and intriguing at every turn, The Gentleman's Guide to Vice and Virtue is a sumptuous romp that explores the undeniably fine lines between friendship and love.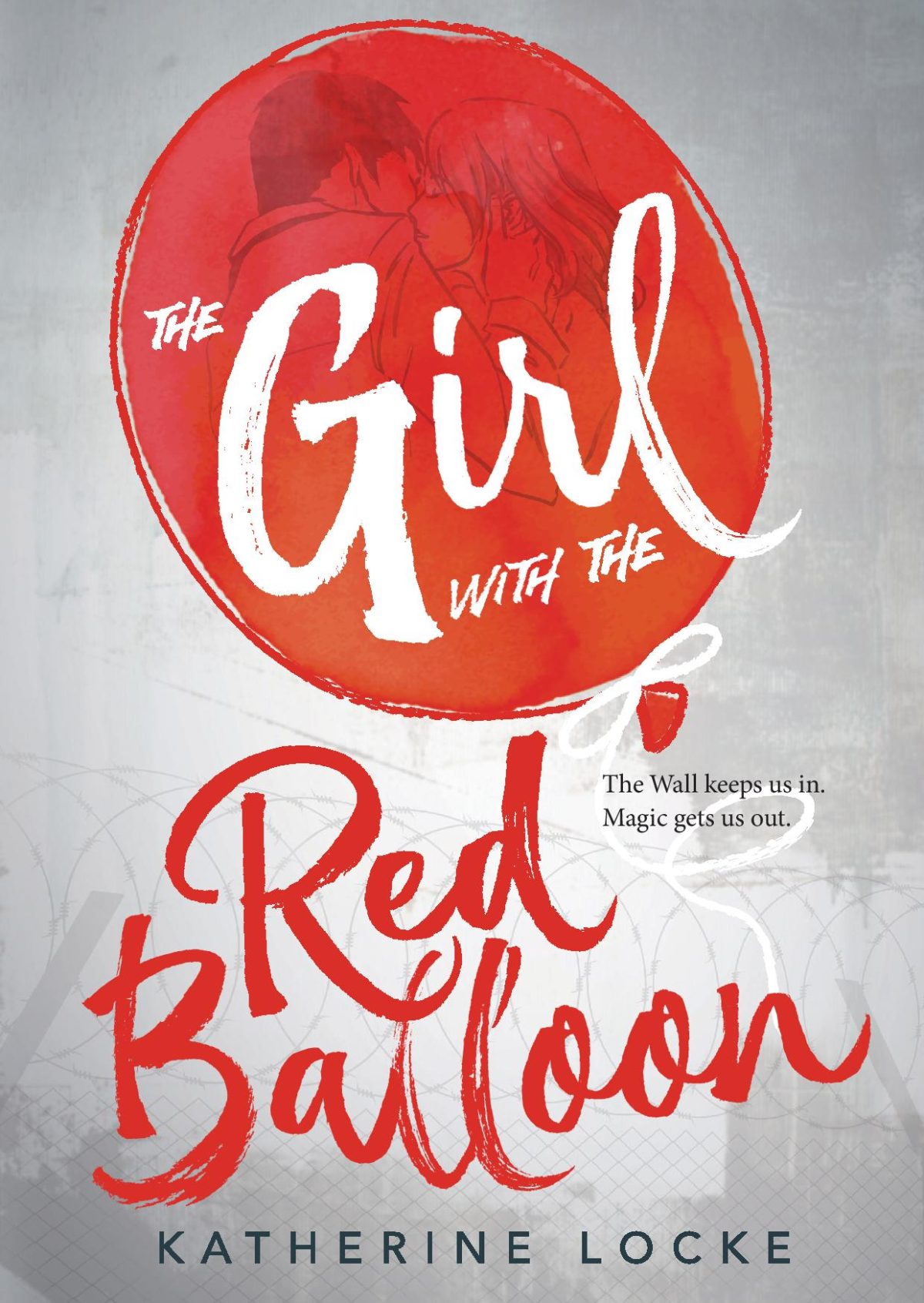 When sixteen-year-old Ellie Baum accidentally time-travels via red balloon to 1988 East Berlin, she's caught up in a conspiracy of history and magic. She meets members of an underground guild in East Berlin who use balloons and magic to help people escape over the Wall—but even to the balloon makers, Ellie's time travel is a mystery. When it becomes clear that someone is using dark magic to change history, Ellie must risk everything—including her only way home—to stop the process.

How about you? Which LGBTQIA titles are you looking forward to?