For the past few months, we have been including an "On our Radar" section in our weekly stash for books that have caught our eye; books we heard of via other bloggers, directly from publishers, and/or from our regular incursions into the Amazon jungle. This is how the Smugglers' Radar was born, and because there are far too many books that we want than we can possibly buy or review (what else is new?) we thought we could make it into a weekly feature on its own – this way YOU can tell us which books you have on your radar as well!
On Ana's Radar:
Coming out in January 2010, this book has been getting all the raves from authors that I LOVE such as Julia Quinn, Sherry Thomas and Joanna Bourne. AND it just got a starred review from Publishers Weekly. I can't wait!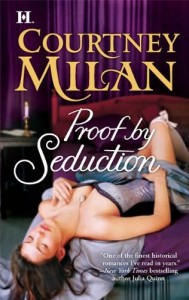 Jenny Keeble has never let her humble upbringing stop her. She's made her way in the world as a fortune teller, one who convinces her clients her predictions are correct by telling them what they most want to hear. Business is good . . . until she meets her match in the form of Gareth Carhart, the Marquess of Blakely, a scientist and sworn bachelor.

Broodingly handsome, Gareth is appalled to discover his cousin has fallen under the spell of "Madame Esmerelda," and he vows to prove her a fraud. But his unexpected attraction to the fiery enchantress defies logic. Jenny disrupts every facet of Gareth's calculated plan— until he can't decide whether to ruin her or claim her for his own. Now, as they engage in a passionate battle of wills, two lonely souls must choose between everything they know . . . and the boundless possibilities of love.
I saw this at Lurv a La Mode's upcoming YA list and it sounds and looks awesome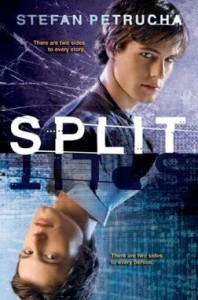 Wade Jackson has always felt split, his love for playing and writing music competing with his ambition to do well in school. But when his mother dies, this need for order competes with his desire to leave it all behind. What follows is a split in his consciousness that takes him to two very different worlds.
Told in alternating chapters that together form one cohesive story, Split follows both Wades as they pursue what they think is the correct path. One Wade continues working hard in school, pulling all-nighters to write a computer code he believes will save the world. The other Wade pursues the dream of being a dive-bar singer, pulling all-nighters to party, gamble, and live on the edge. But when these two worlds begin to collide, each Wade will need to find a balance between control and abandon, order and chaos, life missed and life lost, in order to save himself.
This one is an anthology and I LOVE the premise: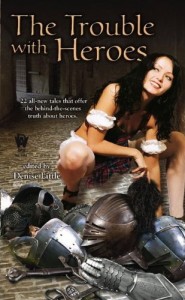 These 22 all-new tales pay tribute to the true heroes—the people who enable and put up with heroes. From what it's like to be Hercules' wife (complete with an appearance by Hercules in drag) to the trials of H.P. Lovecraft's housekeeper, from the perils of being King Kong's girlfriend to the downside of dating a shapeshifter, this anthology turns heroism on its head, revealing the behind-the-scenes drama, as opposed to glorious rescues. From the Pied Piper's power trip to David acting like a giant you-know-what after slaying Goliath, these stories show heroes in all their ignominy and shine a light on the unsung faithful standing in their shadows.
Saw this one at the publisher's site: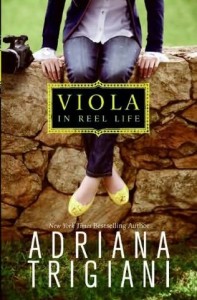 I'm marooned.

Abandoned.

Left to rot in boarding school . . .

Viola doesn't want to go to boarding school, but somehow she ends up at an all-girls school in South Bend, Indiana, far, far away from her home in Brooklyn, New York. Now Viola is stuck for a whole year in the sherbet-colored sweater capital of the world.

Ick.

There's no way Viola's going to survive the year – especially since she has to replace her best friend Andrew with three new roommates who, disturbingly, actually seem to like it there. She resorts to viewing the world (and hiding) behind the lens of her video camera.

Boarding school, though, and her roommates and even the Midwest are nothing like she thought they would be, and soon Viola realizes she may be in for the most incredible year of her life.

But first she has to put the camera down and let the world in.
AND, Julia Quinn's next book has a title (but not a blurb or a cover) for her next book coming early summer 2010.
Ten Things I Love About You
I am so, so, sooooooooo there!
On Thea's Radar:
Hey, another apocalyptic YA novel! I'm not predictable…right?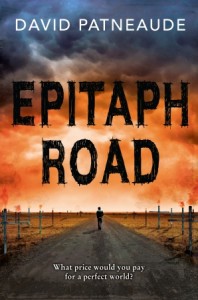 2097 is a transformed world. Thirty years earlier, a mysterious plague wiped out 97 percent of the male population, devastating every world system from governments to sports teams, and causing both universal and unimaginable grief. In the face of such massive despair, women were forced to take over control of the planet–and in doing so they eliminated all of Earth's most pressing issues. Poverty, crime, warfare, hunger . . . all gone.

But there's a price to pay for this new "utopia," which fourteen-year-old Kellen is all too familiar with. Every day, he deals with life as part of a tiny minority that is purposefully kept subservient and small in numbers. His career choices and relationship options are severely limited and controlled. He also lives under the threat of scattered recurrences of the plague, which seem to pop up wherever small pockets of men begin to regroup and grow in numbers.

And then one day, his mother's boss, an iconic political figure, shows up at his home. Kellen overhears something he shouldn't–another outbreak seems to be headed for Afterlight, the rural community where his father and a small group of men live separately from the female-dominated society. Along with a few other suspicious events, like the mysterious disappearances of Kellen's progressive teacher and his Aunt Paige, Kellen is starting to wonder whether the plague recurrences are even accidental. No matter what the truth is, Kellen cares only about one thing–he has to save his father.
Thanks to Alert Nerd buddy Sarah Kuhn for alerting (hoho!) me to this title: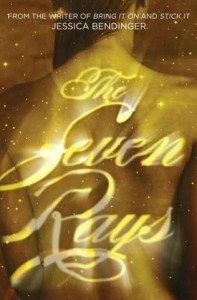 Beth Michaels isn't sure when it all began, but she's pretty sure that the pink dots came first. Pink dots everywhere in her vision, clouding the people who stood before her. And then, little movie screens started to play, telling her more than she ever wanted know about their lives. Now, she can't even eat a hamburger without seeing how the poor cow met his maker. As she approaches her eighteenth birthday, her visions just keep getting worse. And when a little gold envelope shows up proclaiming the words YOU ARE MORE THAN YOU THINK YOU ARE, she starts to do the super-freak. What does all of this mean? It means she's in for a long senior year.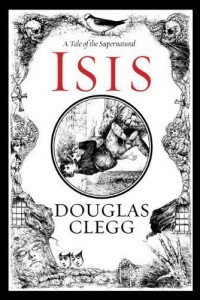 If you lost someone you loved, what would you pay to bring them back from the dead?

Old Marsh, the gardener at Belerion Hall, warned the Villiers girl about the old ruins along the sea-cliffs. "Never go in, miss. Never say a prayer at its door. If you are angry, do not seek revenge by the Laughing Maiden stone or at the threshold of the Tombs. There be those who listen for oaths and vows….What may be said in innocence becomes flesh and blood in such places."

She was born Iris Catherine Villiers. She became Isis.

From childhood until her sixteenth year, Iris Villiers wandered the stone-hedged gardens and the steep cliffs along the coast of Cornwall near her ancestral home. Surrounded by the stern judgments of her grandfather-the Gray Minister-and the taunts of her cruel governess, Iris finds solace in her beloved older brother who has always protected her.

But when a tragic accident occurs from the ledge of an open window, Iris discovers that she possesses the ability to speak to the dead…

Be careful what you wish for…it just may find you.
Also, the first chapter of Maria V. Snyder's upcoming YA novel, Inside Out is now up online! Check it out: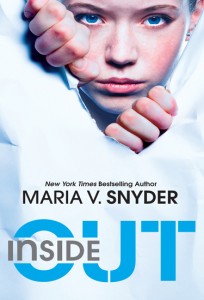 I'm Trella. I'm a scrub. A nobody. One of thousands who work the lower levels, keeping Inside clean for the Uppers. I've got one friend, do my job and try to avoid the Pop Cops. So what if I occasionally use the pipes to sneak around the Upper levels? Not like it's all that dangerous – the only neck I risk is my own. Until I accidently start a rebellion and become the go-to girl to lead a revolution. I should have just said no…
And finally, a new cover from Lisa Shearin, for the latest novel in her ongoing Raine Benares fantasy series: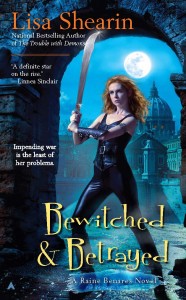 What about you? Any books you are really looking forward to reading? Do share!