"On The Smugglers' Radar" is a feature for books that have caught our eye: books we have heard of via other bloggers, directly from publishers, and/or from our regular incursions into the Amazon jungle. Thus, the Smugglers' Radar was born. Because we want far more books than we can possibly buy or review (what else is new?), we thought we would make the Smugglers' Radar into a weekly feature – so YOU can tell us which books you have on your radar as well!
On Ana's Radar:
I've been really naughty – even though I have a TBR MOUNTAIN, I bought loads of books last weekend when visiting some awesome independent book stores. Like for example, this self-published book that sounds EXCELLENT (and which the bookseller basically hand-sold it to me after singing its praises), about a 13-year-old billionaire genius who invents a time machine…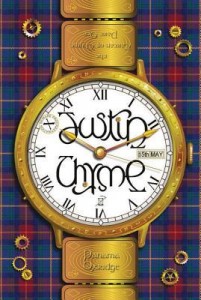 Justin Thyme is a self-made billionaire living in a castle overlooking Loch Ness. The day he turns thirteen, he receives an anonymous gift: a fabulous watch with a puzzling message hidden on it. When he tells his father of his plans to build a time machine, the Laird of Thyme reveals tantalising fragments of past espionage and warns his son of a ruthless enemy keeping him under constant surveillance. At first, Justin fails to take Sir Willoughby seriously, but when a stranger arrives claiming to be his long-lost grandfather, Justin is wary – especially after his beloved Nanny insists the old man is an impostor. Justin's TV celebrity mother departs on a Congo expedition with her eccentric film crew and Eliza, a computer-literate gorilla. Whilst returning, Lady Henny is abducted, and clues prove that the kidnapper has inside information; someone in Thyme Castle must be a spy – or possibly Sir Willoughby's old enemy in disguise. Everyone is under suspicion: Justin's nervy tutor; their snooping housekeeper; the theatrical gardener; an ex-royal butler; and Mrs Kof, their freakishly strong cook. Suddenly, the race against time is on. Can Justin convert his vintage motorbike into a time machine, rescue his mum and discover the identity of their resident spy in less than a week…or will the dreaded Thyme Curse claim another life?

Or…this Margaret Mahy novel that I hadn't seen before coming across it last weekend: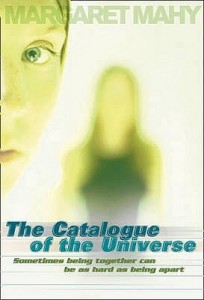 Angela and Tycho seem an unlikely pair — she is beautiful and confident, he is awkward and quietly intellectual. They have long shared a passion for deciphering the universe outside their own personal struggles. Like the great philosophers they study, to Angela and Tycho it seems the universe can be ordered; their own lives cannot.As their family struggles swirl around them, they are suddenly desperate to discover where they fit in. Their answer comes in a way they never imagined — a way so unexpected, and so wonderful, that the world on every level seems to fall into place.

I also bought the following two books after they came highly recommended to me on Twitter (by Tom Pollock and @catnipbooks ) after I asked about awesome books people have been reading. Tom Pollock says The Gone Away World is one of the best books he's ever read and I trust him blindly ever since he put Frances Hardinge on my radar (NO PRESSURE).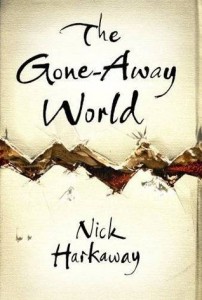 A wildly entertaining debut novel, introducing a bold new voice that combines antic humor (think Joseph Heller and Kurt Vonnegut) with a stunning futuristic vision (?a A Clockwork Orange and 1984, with a little Mad Max thrown in) to give us an electrifyingly original tale of love, friendship, and the apocalypse.

There couldn't be a fire along the Jorgmund Pipe. It was the last thing the world needed. But there it was, burning bright on national television. The Pipe was what kept the Livable Zone safe from the bandits, monsters, and nightmares the Go-Away War had left in its wake. The fire was a very big problem.

Enter Gonzo Lubitsch and his friends, the Haulage & HazMat Emergency Civil Freebooting Company, a team of master troubleshooters who roll into action when things get particularly hot. They helped build the Pipe. Now they have to preserve it—and save humanity yet again. But this job is not all it seems. It will touch more closely on Gonzo's life—and that of his best friend—than either of them can imagine. And it will decide the fate of the Gone-Away World.

Equal parts raucous adventure, comic odyssey, geek nirvana, and ultra-cool epic, The Gone-Away World is a story of—among other things—love, pirates, mimes, greed, and ninjas. But it is also the story of a world, not unlike our own, in desperate need of heroes—however unlikely they may seem.

The other one is Small Change for Stuart, a MG novel that sounds awesome and it has such a great cover! You know, I might be reading this next week, in fact. Fingers crossed it is as good as it sounds.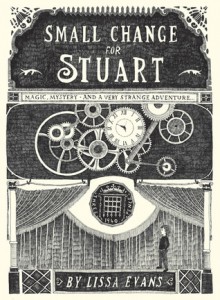 Stuart Horten—ten years old and small for his age—moves to the dreary town of Beeton, far away from all his friends. And then he meets his new next-door neighbours, the unbearable Kingley triplets, and things get even worse.

But in Beeton begins the strangest adventure of Stuart's life as he is swept up in quest to find his great-uncle's lost workshop—a workshop stuffed with trickery and magic. There are clues to follow and puzzles to solve, but what starts as fun ends up as danger, and Stuart begins to realize that he can't finish the task by himself. . . .

Another book Twitter-recommended, a Graphic Novel this time: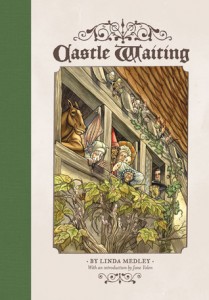 Castle Waiting graphic novel tells the story of an isolated, abandoned castle, and the eccentric inhabitants who bring it back to life. A fable for modern times, Castle Waiting is a fairy tale that's not about rescuing the princess, saving the kingdom, or fighting the ultimate war between Good and Evil, but about being a hero in your own home.

The opening story, "The Brambly Hedge," tells the origin of the castle itself, which is abandoned by its princess in a comic twist on "Sleeping Beauty" when she rides off into the sunset with her Prince Charming. The castle becomes a refuge for misfits, outcasts, and others seeking sanctuary, playing host to a lively and colorful cast of characters that inhabits the subsequent stories, including a talking anthropomorphic horse, a mysteriously pregnant Lady on the run, and a bearded nun.

On Thea's Radar:
Orbit recently teased their upcoming Spring titles online, and I am very, very excited for some of the upcoming list! First up, the third book in James S.A. Corey's expanse trilogy (which reminds me, I really, really need to read Caliban's War soon).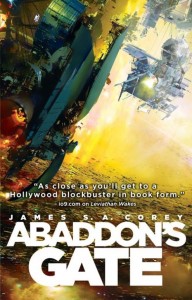 For generations, the solar system – Mars, the Moon, the Asteroid Belt – was humanity's great frontier. Until now. The alien artefact working through its program under the clouds of Venus has emerged to build a massive structure outside the orbit of Uranus: a gate that leads into a starless dark.

Jim Holden and the crew of the Rocinante are part of a vast flotilla of scientific and military ships going out to examine the artefact. But behind the scenes, a complex plot is unfolding, with the destruction of Holden at its core. As the emissaries of the human race try to find whether the gate is an opportunity or a threat, the greatest danger is the one they brought with them.

Then there's this fascinating sounding dystopian science fiction novel (I am checking out the short story on which it is based as I type this):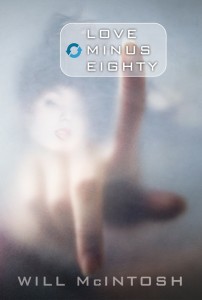 Welcome to dating a hundred years into the future: Technology has extended the lives of the rich and attractive by decades. The wealthy can arrange to be reanimated multiple times. While in cryogenic dating farms, dead women await lonely suitors to resurrect them and take them home…

LOVE MINUS EIGHTY follows interconnected lives touched by these dating farms.

There's Rob, who accidentally kills a jogger, then sells everything to visit her, seeking her forgiveness but instead falling in love.

Veronika, a socially-awkward dating coach, finds herself responsible for the happiness of a man whose life she saved against his will.

And Mira, a gay woman accidentally placed in the heterosexual dating center near its inception, desperately seeks a way to reunite with her frozen partner as the centuries pass.

In this daring and big-hearted novel based on a Hugo-winning short story, the lovelorn navigate a world in which technology has reached the outer limits of morality and romance.

AND OMG OMG OMG THE NEW SPIRITWALKER BOOK from Kate Elliott!!!! I want it. Now. It seems cruel that we have to wait until June for this, though.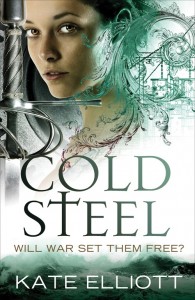 New Brandon Sanderson! The new Brandon Sanderson has a cover! EEEEEE!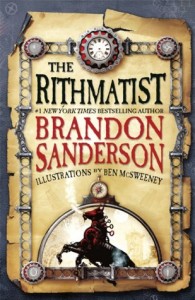 The Rithmatist is an epic fantasy set in an alternate version of our world—a world in which life in the American Isles is threatened by the attacks of mysterious creatures known as Wild Chalklings. Chalklings are two-dimensional drawings that can be infused with life by Rithmatists and it is the job of the Rithmatists to keep the Wild Chalkings at bay.

The Rithmatist is about a 14-year-old kid named Joel who wants desperately to be a Rithmatist. But he wasn't Chosen, so he doesn't have the ability to bring chalklings or Rithmatic lines to life. All he can do is watch as The Rithmatist students at Armedius Academy learn the mystical art that he would give anything to practice. Then Rithmatist students start disappearing, kidnapped from their rooms at night, leaving only trails of blood. Joel's professor asks him to help investigate—putting Joel and his friend Melody on the trail of a discovery that could change Rithmatics—and their world—forever….

Another book about Catalina Island?! What are the chances? As a former Californian, I have to give this a try.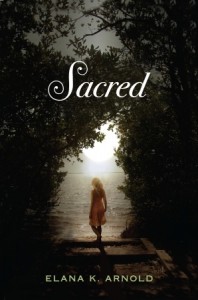 Growing up on Catalina Island, off the California coast, Scarlett Wenderoth has led a fairly isolated life. After her brother dies, her isolation deepens as she withdraws into herself, shutting out her friends and boyfriend. Her parents, shattered by their own sorrow, fail to notice Scarlett's pain and sudden alarming thinness. Scarlett finds pleasure only on her horse, escaping to the heart of the island on long, solitary rides. One day, as she races around a bend, Scarlett is startled by a boy who raises his hand in warning and says one word: "Stop."

The boy—intense, beautiful—is Will Cohen, a newcomer to the island. For reasons he can't or won't explain, he's drawn to Scarlett and feels compelled to keep her safe. To keep her from wasting away. His meddling irritates Scarlett, though she can't deny her attraction to him. As their relationship blossoms into love, Scarlett's body slowly awakens at Will's touch. But just when her grief begins to ebb, she makes a startling discovery about Will, a discovery he's been grappling with himself. A discovery that threatens to force them apart. And if it does, Scarlett fears she will unravel all over again

And finally, received word of this upcoming ebook only new steampunk title. Excited for this as well!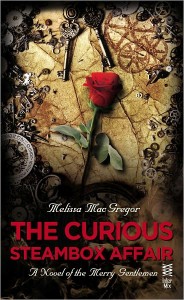 The captivating debut novel in a steampunk mystery series featuring a physician's assistant who is particularly adept with cases of murder.
NEVER BEFORE PUBLISHED

The year is 1827, and Alistair Purefoy, a young physician's assistant, moves to Edinburgh to take a position with one Dr. Hyde. His colleagues call him a monster, while Hyde himself claims to have invented a Steambox that harnesses the human soul. Undaunted by these peculiarities, Alistair proves his mettle with the infamous Doctor, but he soon finds himself occupied outside the Operating Theatre as well…

When someone in his rooming house is murdered, Alistair is unnerved by the lack of interest from the police. He begins to investigate on his own, discovering a string of gruesome murders that appear to be connected, not only to each other, but also to him. Now Alistair can use all the help he can get, and with the aid of a secret society known as The Merry Gentlemen, he's about to uncover a deadly experiment more monstrous than anything of Dr. Hyde's imagining.

And that's it from us! What books do you have on YOUR radar?