"On The Smugglers' Radar" is a new feature for books that have caught our eye: books we have heard of via other bloggers, directly from publishers, and/or from our regular incursions into the Amazon jungle. Thus, the Smugglers' Radar was born. Because we want far more books than we can possibly buy or review (what else is new?), we thought we would make the Smugglers' Radar into a weekly feature – so YOU can tell us which books you have on your radar as well!
On Ana's Radar:
I am at a moment in my reading where I am immediately attracted to anything ContempYA (although, if I see another cover with the headless couple wearing cool sneakers, I will scream!)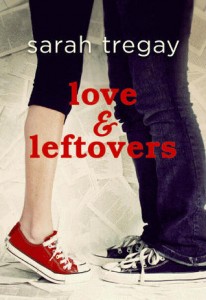 My wish
is to fall
cranium over Converse
in dizzy, daydream-worthy
love.

When her parents split, Marcie is dragged from Idaho to a family summerhouse in New Hampshire. She leaves behind her friends, a group of freaks and geeks called the Leftovers, including her emo-rocker boyfriend, and her father.

By the time Labor Day rolls around, Marcie suspects this "vacation" has become permanent. She starts at a new school where a cute boy brings her breakfast and a new romance heats up. But understanding love, especially when you've watched your parents' affections end, is elusive. What does it feel like, really? can you even know it until you've lost it?

Love and Leftovers is a beautifully written story of one girl's journey navigating family, friends, and love, and a compelling and sexy read that teens will gobble up whole.

Another YA, which I think has a lot of great potential and an intriguing premise.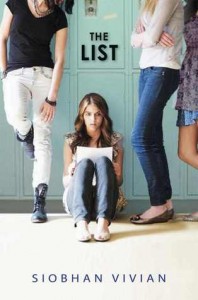 An intense look at the rules of high school attraction-and the price that's paid for them.

It happens every year. A list is posted, and one girl from each grade is chosen as the prettiest, and another is chosen as the ugliest. Nobody knows who makes the list. It almost doesn't matter. The damage is done the minute it goes up.

This is the story of eight girls, freshman to senior, "pretty" and "ugly." And it's also the story of how we see ourselves, and how other people see us, and the tangled connection of the two.

This book had me at "Mia Price is a lightning addict". And I am pretty sure this is as much as a Thea-Book as it is an Ana-Book.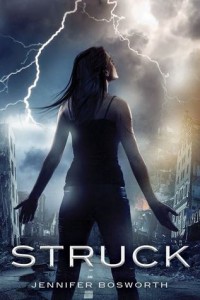 Mia Price is a lightning addict.

She's been struck so many times she's lost count. She can't sleep, she's covered in veiny red "lightning scars," and repeated strikes have even stopped her heart on occasion. Still, Mia can't resist a storm.

That's why Los Angeles, where it never rains, is the perfect place for her to find peace . . . until a massive earthquake devastates the city.

Now Mia finds herself struggling to hold her family together in a strange and terrifying new version of Los Angeles. The beaches have become massive tent cities populated by millions of homeless. Downtown is a wasteland, where a traveling party moves to a different empty building each night, the attendees drawn to the destruction by a magnetic force they cannot deny.

The blind prophet of a doomsday cult called the Church of Light, who predicted the earthquake with frightening accuracy, says a storm is coming to usher in the end of days, and only his Followers will be saved. Mia's traumatized mom has become obsessed with the Church of Light, while her younger brother Parker is desperate to join a second doomsday cult called the Seekers. But Mia is the one both cults need.

The Seekers are recruiting people with an energy-based power they call the "Spark," and Mia has it stronger than most. They claim the false prophet of the Church of Light will bring about the end of the world, and they are the only ones who can stand against him.

But without Mia on their side, they will fail.

Mia's lightning addiction is both the key to saving the world . . . and destroying it.

I had posted about Shifting before but now they changed the cover…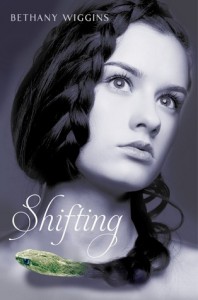 After bouncing from foster home to foster home, Magdalene Mae is transferred to what should be her last foster home in the tiny town of Silver City, New Mexico. Now that she's eighteen and has only a year left in high school, she's determined to stay out of trouble and just be normal. Agreeing to go to the prom with Bridger O'Connell is a good first step. Fitting in has never been her strong suit, but it's not for the reasons most people would expect-it all has to do with the deep secret that she is a shape shifter. But even in her new home danger lurks, waiting in the shadows to pounce. They are the Skinwalkers of Navajo legend, who have traded their souls to become the animal whose skin they wear-and Maggie is their next target.

Full of romance, mysticism, and intrigue, this dark take on Navajo legend will haunt readers to the final page.

And finally, a MG title just because it sounds it could be fun!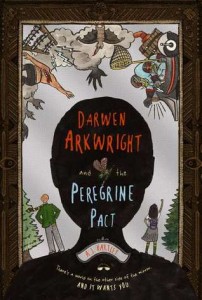 Eleven-year-old Darwen Arkwright has spent his whole life in a tiny town in England. So when he is forced to move to Atlanta, Georgia, to live with his aunt, he knows things will be different – but what he finds there is beyond even his wildest imaginings!

Darwen discovers an enchanting world through the old mirror hanging in his closet – a world that holds as many dangers as it does wonders. Scrobblers on motorbikes with nets big enough to fit a human boy. Gnashers with no eyes, but monstrous mouths full of teeth. Flittercrakes with bat-like bodies and the faces of men. Along with his new friends Rich and Alexandra, Darwen becomes entangled in an adventure and a mystery that involves the safety of his entire school. They soon realize that the creatures are after something in our world – something that only human children possess.

On Thea's Radar:
This cover is amazing, and I am intrigued by the somewhat oxymoronic descriptor, "a whimsical apocalyptic fable."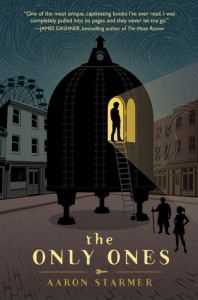 Like the other children who have journeyed to the village of Xibalba, Martin Maple faces an awful truth. He was forgotten. When everyone else in the world disappeared one afternoon, these children were the only ones left behind. There's Darla, who drives a monster truck; Felix, who used string and wood to rebuild the internet; Lane, who crafts elaborate contraptions for live entertainment; and nearly forty others, each equally brilliant and peculiar.

Inspired by the prophecies of a mysterious boy who talks to animals, Martin believes he can reunite them all with their loved ones. But believing and knowing are two different things, as he soon discovers with the push of a button, the flip of a switch, the turn of a dial…

A whimsical apocalyptic fable that carries readers to a future world without adults, a journey filled with dark humor that every reader will want to take.

The early reviews for this next book (a dystopian retelling of The Scarlet Letter) are through the roof, and the synopsis sounds amazing – relevant, terrifying, and poignant. This is going straight to the top of my To-Buy list.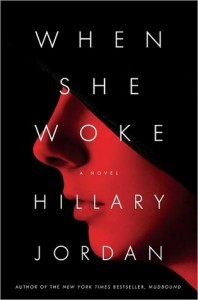 Hannah Payne's life has been devoted to church and family, but after her arrest, she awakens to a nightmare: she is lying on a table in a bare room, covered only by a paper gown, with cameras broadcasting her every move to millions at home, for whom observing new Chromes—criminals whose skin color has been genetically altered to match the class of their crime—is a new and sinister form of entertainment. Hannah is a Red; her crime is murder. The victim, according to the State of Texas, was her unborn child, and Hannah is determined to protect the identity of the father, a public figure with whom she's shared a fierce and forbidden love.

When She Woke is a fable about a stigmatized woman struggling to navigate an America of a not-too-distant future—where the line between church and state has been eradicated and convicted felons are no longer imprisoned and rehabilitated but chromed and released back into the population to survive as best they can. In seeking a path to safety in an alien and hostile world, Hannah unknowingly embarks on a path of self-discovery that forces her to question the values she once held true and the righteousness of a country that politicizes faith.

I really love this series (although I have yet to try Chloe Neill's adult work) and cannot wait for book 3!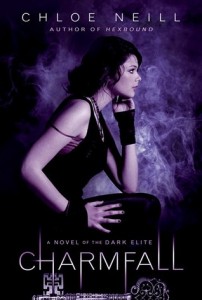 High school can be a battlefield, but for Lily Parker, surviving at St. Sophia's School for Girls is a matter of life and death…

Protecting Chicago from the dark side can be an exhausting job, especially when you're a junior. So when the girls of St. Sophia's start gearing up for Sneak, their fall formal, Lily decides to join in on some good, old-fashioned party prep—even if it means not giving demons, vampires and the twisted magic users known as Reapers her undivided attention.

But when a Reaper infiltrates the school, Lily doesn't forget what she's sworn to protect. She reaches deep into herself to draw out her magic—and finds that it's gone. And it turns out she's not alone. A magical blackout has slammed through paranormal Chicago, and no one knows what—or who—caused it. But Lily knows getting back her magic is worth the risk of going behind enemy lines…

And, since Ana pointed out Shifting, take a look at this cover (familiar)? I haven't read book 1, Darkness Becomes Her, but it sounds good! I'll have to get on board.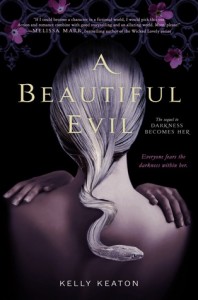 A power she can't deny. A destiny she's determined to fight.

When Ari first arrived in the dilapidated city of New 2, all she wanted was to figure out who she was. But what she discovered was beyond her worst nightmare. Ari can already sense the evil growing inside her—a power the goddess Athena will stop at nothing to possess.

Desperate to hold on to her humanity and protect her loved ones, Ari must fight back. But Athena's playing mind games, not just with Ari but with those she cares about most. And Athena has a very special plan for the brooding and sexy Sebastian.

Ari is determined to defeat Athena, but time is running out. With no other options, Ari must unleash the very thing she's afraid of: herself.

I love this cover, and this book is from the author of The Kneebone Boy. Plus, a Secret Garden retelling? Yes please.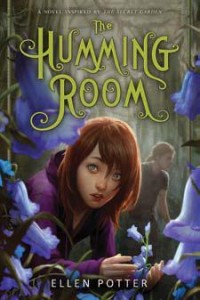 Hiding is Roo Fanshaw's special skill. Living in a frighteningly unstable family, she often needs to disappear at a moment's notice. When her parents are murdered, it's her special hiding place under the trailer that saves her life.

As it turns out, Roo, much to her surprise, has a wealthy if eccentric uncle, who has agreed to take her into his home on Cough Rock Island. Once a tuberculosis sanitarium for children of the rich, the strange house is teeming with ghost stories and secrets. Roo doesn't believe in ghosts or fairy stories, but what are those eerie noises she keeps hearing? And who is that strange wild boy who lives on the river? People are lying to her, and Roo becomes determined to find the truth.

Despite the best efforts of her uncle's assistants, Roo discovers the house's hidden room–a garden with a tragic secret.

Inspired by The Secret Garden, this tale full of unusual characters and mysterious secrets is a story that only Ellen Potter could write

Also, I haven't yet read Fever Crumb (there are SO MANY books I have to catch up on! Argh!), but the sequel is out soon so I really need to get a move on.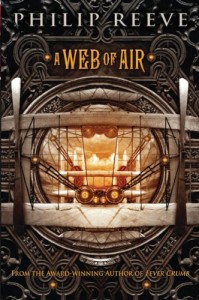 The second, thrilling adventure in the Fever Crumb trilogy from the brilliant and award-winning Philip Reeve.

Two years ago, Fever Crumb escaped the war-torn city of London in a traveling theater. Now, she arrives in the extraordinary city of Mayda, where buildings ascend the cliffs on funicular rails, and a mysterious recluse is building a machine that can fly. Fever is the engineer he needs – but ruthless enemies will kill to possess their secrets.

And finally, there's something about this synopsis that has me excited – the notion of a "fat old man" that is tired of monster-hunting, called back to the game with his young assistant and other friends sounds awesome. Admittedly, the cover is pretty bad. You can't win them all, right?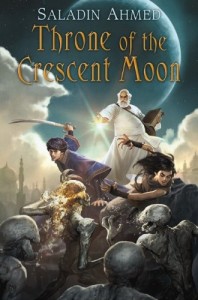 Doctor Adoulla Makhslood, "the last real ghul hunter in the great city of Dhamsawaat," a fat old man who's grown weary of chasing down monsters and saving lives, wants nothing more than to finally marry his old flame and spend his days sitting around his favorite teahouse. But a series of mysterious murders makes it clear that Adoulla's beloved city still desperately needs his monster-hunting magics. To make things worse, Dhamsawaat is in the midst of a power struggle between the Khalif and a mysterious Robin Hood-type figure known as the Falcon Prince.

Adoulla and his uptight assistant, the holy warrior Raseed, soon learn that the murders and the political upheaval are connected. Adoulla, recruiting the help of old companions and new, discovers a sorcerous plot that threatens to turn his city and perhaps the world itself into a flaming, bloody ruin. And only he and his friends can stop this from happening.

And that's it from us! What books do you have on YOUR radar?