"On The Smugglers' Radar" is a new feature for books that have caught our eye: books we have heard of via other bloggers, directly from publishers, and/or from our regular incursions into the Amazon jungle. Thus, the Smugglers' Radar was born. Because we want far more books than we can possibly buy or review (what else is new?), we thought we would make the Smugglers' Radar into a weekly feature – so YOU can tell us which books you have on your radar as well!
On Ana's Radar:
Friends, I went on a Historical Fiction binge and bought ALL THE BOOKS last week. The next three books I bought because of this article from Madeline Miller (The Song of Achilles) recommending good Historical Fiction.
I bought HHhH because I love WWII stories and because this book sounds seriously awesome and different. I will be reading it next week, in fact.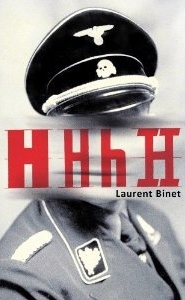 We are in Prague, in 1942. Two men have been enlisted to kill the head of the Gestapo. This is Operation Anthropoid: two Czechoslovakian parachutists sent by London plan to assassinate Reinhard Heydrich—head of the Nazi secret services, 'the hangman of Prague', 'the blond beast', 'the most dangerous man in the Third Reich'.

Heydrich works for Hitler's most powerful henchman, Heinrich Himmler, but in the SS they say 'HHhH': 'Himmlers Hirn heisst Heydrich'—Himmler's brain is called Heydrich.

All the characters in HHhH existed then or still exist now. All the events depicted are true. But alongside the nerve-shredding story of the preparations for the attack runs another story: when you are writing about real people, how do you resist the temptation to make things up?

HHhH is a panorama of the Third Reich told through the life of one outstandingly brutal man, a story of unbearable heroism and loyalty, revenge and betrayal. It is improbably entertaining and electrifyingly modern. It is a moving, tense, and shattering work of fiction.

I had seen Pure around many times at the local bookstore and I always ended up not buying it for some reason. But I finally decided to buy it last week…
Deep in the heart of Paris, its oldest cemetery is, by 1785, overflowing, tainting the very breath of those who live nearby. Into their midst comes Jean-Baptiste Baratte, a young, provincial engineer charged by the king with demolishing it.

At first Baratte sees this as a chance to clear the burden of history, a fitting task for a modern man of reason. But before long, he begins to suspect that the destruction of the cemetery might be a prelude to his own.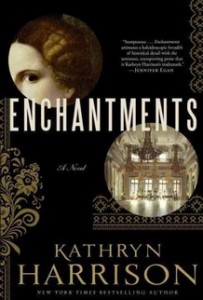 From Kathryn Harrison, one of America's most admired literary voices, comes a gorgeously written, enthralling novel set in the final days of Russia's Romanov Empire.

St. Petersburg, 1917. After Rasputin's body is pulled from the icy waters of the Neva River, his eighteen-year-old daughter, Masha, is sent to live at the imperial palace with Tsar Nikolay and his family—including the headstrong Prince Alyosha. Desperately hoping that Masha has inherited Rasputin's miraculous healing powers, Tsarina Alexandra asks her to tend to Aloysha, who suffers from hemophilia, a blood disease that keeps the boy confined to his sickbed, lest a simple scrape or bump prove fatal.

Two months after Masha arrives at the palace, the tsar is forced to abdicate, and Bolsheviks place the royal family under house arrest. As Russia descends into civil war, Masha and Alyosha grieve the loss of their former lives, finding solace in each other's company. To escape the confinement of the palace, they tell stories—some embellished and some entirely imagined—about Nikolay and Alexandra's courtship, Rasputin's many exploits, and the wild and wonderful country on the brink of an irrevocable transformation. In the worlds of their imagination, the weak become strong, legend becomes fact, and a future that will never come to pass feels close at hand.

Mesmerizing, haunting, and told in Kathryn Harrison's signature crystalline prose, Enchantments is a love story about two people who come together as everything around them is falling apart.

After reading and loving Fly By Night last week, I just HAD to get the sequel pronto:
Mosca Mye and Eponymous Clent are in trouble again. Escaping disaster by the skin of their teeth, they find refuge in Toll, the strange gateway town where visitors may neither enter nor leave without paying a price. By day, the city is well-mannered and orderly; by night, it's the haunt of rogues and villains. Wherever there's a plot, there's sure to be treachery, and wherever there's treachery, there's sure to be trouble – and where there's trouble, Clent, Mosca and the web-footed apocalypse Saracen can't be far behind. But as past deeds catch up with them and old enemies appear, it looks as if this time there's no way out…

Rosemary Clement-Moore's Texas Gothic was a hit with us last year so obvs I will be checking out her 2013 release…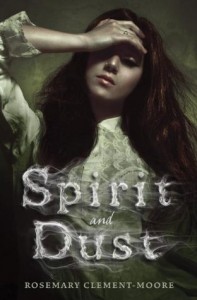 Speaking to the dead is no new thing for Daisy Goodnight. The living, on the other hand, can occasionally be a problem. Especially when they knock you out, kidnap you, and force you to be their magical police dog.

Donald Maguire—mob boss, extraordinaire—has a missing daughter and Daisy is his first choice to track her down. But he didn't actually ask her for help. When she woke up in his guest bedroom, she was told. But why her? And who—or what—in the world is the Black Jackal?

Ok so maybe this cover is more craptastic than fantastic BUT the blurb says "…two telepathic golden rats, Noodle and Pie" so of course, it is on my radar.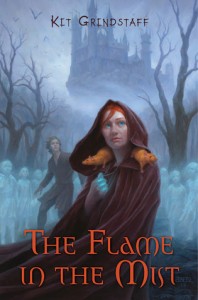 The sun never shines in the land of Anglavia. Its people live within a constant mist created by their rulers, the evil Agromond family. The Agromonds' control is absolute; no one dares defy them. But things are about to change, for the youngest of them is not like the others…

Fiery-headed Jemma has always felt like the family misfit, and is increasingly disturbed by the dark goings-on at Agromond Castle. On the eve of her thirteenth birthday, Jemma discovers the reason why: She is not who she thinks she is, and the Agromonds have terrifying plans for her. In mortal danger, she must flee from the castle.

But saving her skin is just the first of Jemma's ordeals. Ghosts and outcasts, a pair of crystals, a mysterious book, and an ancient prophecy gradually reveal the truth about her past, and proclaim a destiny far greater and more dangerous than any she could imagine.

With her trusted friend, Digby, and her two telepathic golden rats, Noodle and Pie, Jemma faces enemies both human and supernatural. But in the end, she and her untapped powers might be the only hope for a kingdom in peril.

On Thea's Radar:
I must preface this radar by giving a HUGE hug to dear Ana, who stumbled across many of these covers for me whislt populating her own Radar list! Ahem. First up, the cover for the next (AND FINAL!!!!!!!) book in Michael Grant's Gone series. GUH. I am not a fan of these covers, but the books are so amazingly badass.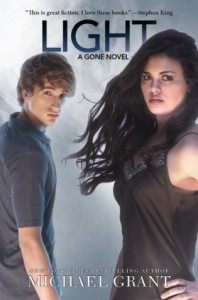 It's been more than a year since every person over the age of fourteen disappeared from the town of Perdido Beach, California. In that time, countless battles have been fought: Battles against hunger and lies and plagues and worse, battles of good against evil, and kid against kid. Allegiances have been won, lost, betrayed, and won again; ideologies have been shattered and created anew, and the kids of the FAYZ have begun to believe that their new society is the only life they'll ever know. But now that the Darkness has found a way to be reborn, the tenuous existence they've established is likely to be shattered for good. Will the kids of Perdido Beach even survive?

Light, the sixth and final book in the New York Times bestselling Gone series (which has spanned more than 3,000 pages!) asks as many profound and provocative questions as it answers, while bestselling mastermind and author Michael Grant creates an unforgettable, arresting conclusion that readers won't able to stop talking about.

Next up, the second book in Veronica Rossi's surprisingly wonderful Under the Never Sky series! Although I will say, I despise these covers. WHO are these people supposed to be? They certainly aren't our main characters. No official blurb yet!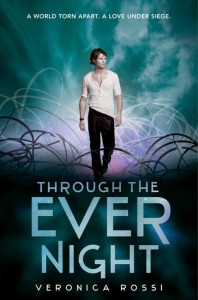 Then, there's the second book in Dan Wells' Partials series! I highly enjoyed the first book and am eager for more in this dystopian(ish) world.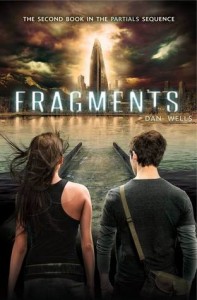 Kira Walker has found the cure for RM, but the battle for the survival of humans and Partials is only just beginning. Kira has left East Meadow in a desperate search for clues as to who she is. That the Partials themselves hold the cure for RM in their blood cannot be a coincidence—it must be part of a larger plan, a plan that Kira knows she is a part of, a plan that could save both races. Her allies are Afa Demoux, an unhinged drifter and former employee of ParaGen, and Samm and Heron, the Partials who betrayed her and saved her life, the only ones who know her secret. But can she trust them?

Meanwhile, back on Long Island, what's left of humanity is gearing up for war with the Partials, and Marcus knows his only hope is to delay them until Kira returns. But Kira's journey will take her deep into the overgrown wasteland of postapocalyptic America, and they will both discover that their greatest enemy may be one they didn't even know existed.

Then, there's this book I hadn't heard of at all and saw at the bookstore. It looks pretty awesome, and I've been meaning to try Heather Brewer's books, ever since I saw her a few years back at the LA Times Festival of Books, talking about her Vlad Tod series!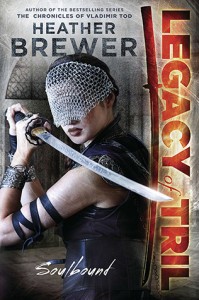 Tril is a world where Barrons and Healers are Bound to each other: Barrons fight and Healers cure their Barrons' wounds in the ongoing war with the evil Graplar King. Seventeen-year-old Kaya was born a Healer, but she wants to fight. In Tril, and at Shadow Academy, where she is sent to learn to heal, it is against Protocol for Healers to fight. So Kaya must learn in secret. Enter two young men: One charming, rule-following Barron who becomes Bound to Kaya and whose life she must protect at all costs. And one with a mysterious past who seems bent on making Kaya's life as difficult as possible. Kaya asks both to train her, but only one will, and the consequences will change their lives forever.

Another lamentable 1980s Cover Girl cover image, but the first book in this series was SO surprisingly great, I'd hate for anyone to pass it by based on the pastel cover. I'm very excited for Asunder.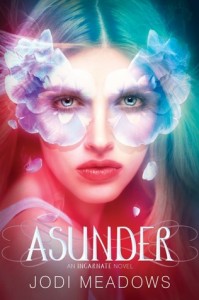 DARKSOULS
Ana has always been the only one. Asunder. Apart. But after Templedark, when many residents of Heart were lost forever, some hold Ana responsible for the darksouls–and the newsouls who may be born in their place.

SHADOWS
Many are afraid of Ana's presence, a constant reminder of unstoppable changes and the unknown. When sylph begin behaving differently toward her and people turn violent, Ana must learn to stand up not only for herself but for those who cannot stand up for themselves.

LOVE
Ana was told that nosouls can't love. But newsouls? More than anything, she wants to live and love as an equal among the citizens of Heart, but even when Sam professes his deepest feelings, it seems impossible to overcome a lifetime of rejection.

In this second book in the Incarnate trilogy, Ana discovers the truth about reincarnation and will have to find a way to embrace love and make her young life meaningful. Once again, Jodi Meadows explores the extraordinary beauty and shadowed depths of the soul in a story equal parts epic romance and captivating fantasy.

I'm a sucker for the A.I.-developing-emotions trope, so this looks pretty promising…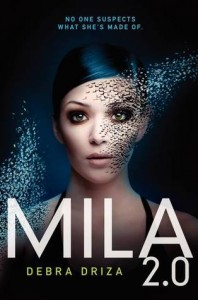 Pitched as a "Bourne Identity"-type sci-fi thriller about a teenage girl who discovers that she is a Mobile Intel Life-like Android, an experiment in artificial intelligence created by the U.S. government, and her scientist mother, who kidnapped her when she was found to have human emotions.

I love the sound of this next fantasy novel!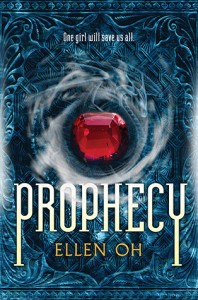 The greatest warrior in all of the Seven Kingdoms… is a girl with yellow eyes.

Kira's the only female in the king's army, and the prince's bodyguard. She's a demon slayer and an outcast, hated by nearly everyone in her home city of Hansong. And, she's their only hope…

Murdered kings and discovered traitors point to a demon invasion, sending Kira on the run with the young prince. He may be the savior predicted in the Dragon King Prophecy, but the missing treasure of myth may be the true key. With only the guidance of the cryptic prophecy, Kira must battle demon soldiers, evil shaman, and the Demon Lord himself to find what was once lost and raise a prince into a king.

Intrigue and mystery, ancient lore and action-packed fantasy come together in this heart-stopping first book in a trilogy.

This next one is another title I didn't hear about until stumbling over it in the bookstore – and it sounds right up my alley.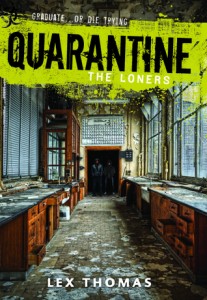 It was just another ordinary day at McKinley High—until a massive explosion devastated the school. When loner David Thorpe tried to help his English teacher to safety, the teacher convulsed and died right in front of him. And that was just the beginning.

A year later, McKinley has descended into chaos. All the students are infected with a virus that makes them deadly to adults. The school is under military quarantine. The teachers are gone. Violent gangs have formed based on high school social cliques. Without a gang, you're as good as dead. And David has no gang. It's just him and his little brother, Will, against the whole school.

In this frighteningly dark and captivating novel, Lex Thomas locks readers inside a school where kids don't fight to be popular, they fight to stay alive.

And that's it from us! What books do you have on YOUR radar?