"On The Smugglers' Radar" is a new feature for books that have caught our eye: books we have heard of via other bloggers, directly from publishers, and/or from our regular incursions into the Amazon jungle. Thus, the Smugglers' Radar was born. Because we want far more books than we can possibly buy or review (what else is new?), we thought we would make the Smugglers' Radar into a weekly feature – so YOU can tell us which books you have on your radar as well!
On Ana's Radar:
One of my most anticipated reads this year is The Girl of Fire and Thorns by Rae Carson. We already posted about the US cover, but the UK cover has been released and it looks WAY WAY WAAAAAAAAAAAY BETTER: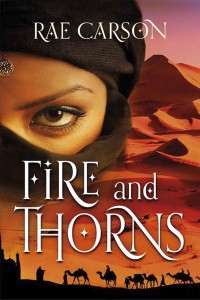 Elisa is the chosen one.

But she is also the younger of two princesses, the one who has never done anything remarkable. She can't see how she ever will.

Now, on her sixteenth birthday, she has become the secret wife of a handsome and worldly king—a king whose country is in turmoil. A king who needs the chosen one, not a failure of a princess.

And he's not the only one who needs her. Savage enemies seething with dark magic are hunting her. A daring, determined revolutionary thinks she could be his people's savior. And he looks at her in a way that no man has ever looked at her before. Soon it is not just her life, but her very heart that is at stake.

Elisa could be everything to those who need her most. If the prophecy is fulfilled. If she finds the power deep within herself. If she doesn't die young.

Most of the chosen do.

I have yet to completely love a Sharon Shinn novel, but I will keep trying damn it. Her next release sounds good? Thanks to Ruby's Reads for putting this one on my radar.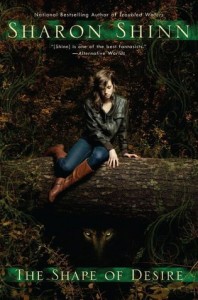 For fifteen years Maria Devane has been desperately, passionately in love with Dante Romano. But despite loving him with all of her heart and soul, Maria knows that Dante can never give all of himself back—at least not all the time. Every month, Dante shifts shape, becoming a wild animal, and leaving Maria alone. Since the beginning, she has kept his secret, knowing that their love is worth the danger. But when a string of brutal attacks occur in local parks during the times when Dante is in animal form, Maria is forced to consider whether the lies she's been telling about her life have become lies she's also telling herself.

I love finding about new books at NetGalley, especially when it comes to smaller publishers…check this one out – it is a LGBT Fantasy and I am intrigued: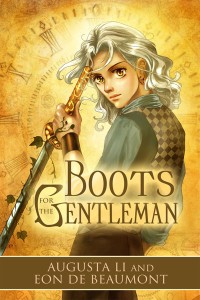 Hired by a mysterious faerie gentleman to steal seemingly worthless artifacts, Querrilous Knotte is seen as a traitor by the humans of Halcyon. But as long as he's getting paid, Querry doesn't mind. When his client makes a cryptic comment about a certain house, Querry contacts his old flame Reg—a former street rat who now works in the Royal Archives—to learn if the property contains anything of value.

Though Reg has no answers for him, Querry learns there is indeed something precious in the house, something Reg is convinced will bring nothing but trouble. The armed guards that attack the thief prove Reg's prediction true, and he can't leave Querry to face it all alone. Not when Reg's feelings for the man may not be as extinct as he'd thought.

The trouble is, Querry's heart doesn't just belong to Reg anymore, and surprisingly, Reg's heart no longer belongs only to Querry. In the end, it may not even matter, because if Querry, Reg, and their hearts' desire can't stop Lord Thimbleroy from draining Halcyon's magic, they won't live long enough to regret their unresolved romance.

I got a copy of Unforgettable during BEA because it sounded so good. Will be reading this one pretty soon.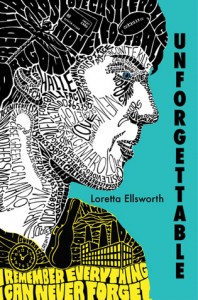 Baxter Green isn't like everyone else. While most people would forget about the little details of everyday life, Baxter never forgets—not pain, not hurt, not embarrassment. In fact, Baxter never forgets anything—not even a string of account numbers, flashed before his eyes by his mother's criminal boyfriend, Dink, for use in a credit card scam. Years after his testimony has locked Dink away, Baxter and his mother are in a new town, trying to forget the danger Dink brought into their lives. Baxter wants to hide his unique ability, but it becomes increasingly more difficult when he reconnects with Hallie, a girl from his childhood who has lived on in his memory long after she has forgotten him. Can Baxter win Hallie's heart? Loretta Ellsworth's newest novel is one readers will never forget.

I really enjoyed reading Hex Hall by Rachel Hawkins last year but haven't read the sequel yet – only because I hear there is a cliffhanger and I prefer not to suffer through these if I can avoid it (I am such a ninny). I am waiting for book 3 Spellbound to come out next year and then I shall read both.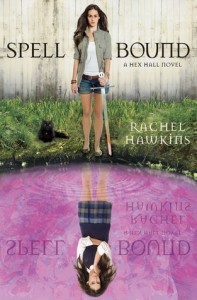 AWESOME-SOUNDING CONTEMPORARY YA ALERT!!!!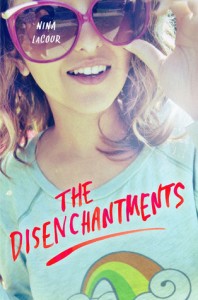 Colby and Bev have a long-standing pact: graduate, hit the road with Bev's band, and then spend the year wandering around Europe. But moments after the tour kicks off, Bev makes a shocking announcement: she's abandoning their plans—and Colby—to start college in the fall.

But the show must go on and The Disenchantments weave through the Pacific Northwest, playing in small towns and dingy venues, while roadie-Colby struggles to deal with Bev's already-growing distance and the most important question of all: what's next?

Morris Award–finalist Nina LaCour draws together the beauty and influences of music and art to brilliantly capture a group of friends on the brink of the rest of their lives.

On Thea's Radar:
I was doing the NetGalley rounds and saw this title – sounds interesting, although I really hope the book doesn't do anything weird given the heroine's name is Kali D'Angelo. Small image only, sorry!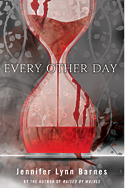 Every other day, Kali D'Angelo is a normal sixteen-year-old girl. She goes to public high school. She attends pep rallies. She's human.

And then every day in between . . .She's something else entirely.

Though she still looks like herself, every twenty-four hours predatory instincts take over and Kali becomes a feared demon-hunter with the undeniable urge to hunt, trap, and kill zombies, hellhounds, and other supernatural creatures. Kali has no idea why she is the way she is, but she gives in to instinct anyway. Even though the government considers it environmental terrorism.

When Kali notices a mark on the lower back of a popular girl at school, she knows instantly that the girl is marked for death by one of these creatures. Kali has twenty-four hours to save her and, unfortunately, she'll have to do it as a human. With the help of a few new friends, Kali takes a risk that her human body might not survive. . .and learns the secrets of her mysterious condition in the process.

This one is also from NetGalley, also from Egmont USA, and has another great cover with an intriguing mystery premise.
Penelope (Lo) Marin has always loved to collect beautiful things. Her dad's consulting job means she's grown up moving from one rundown city to the next, and she's learned to cope by collecting (sometimes even stealing) quirky trinkets and souvenirs in each new place–possessions that allow her to feel at least some semblance of home.

But in the year since her brother Oren's death, Lo's hoarding has blossomed into a full-blown, potentially dangerous obsession. She discovers a beautiful, antique butterfly pendant during a routine scour at a weekend flea market, and recognizes it as having been stolen from the home of a recently murdered girl known only as "Sapphire"–a girl just a few years older than Lo. As usual when Lo begins to obsess over something, she can't get the murder out of her mind.

As she attempts to piece together the mysterious "butterfly clues," with the unlikely help of a street artist named Flynt, Lo quickly finds herself caught up in a seedy, violent underworld much closer to home than she ever imagined–a world, she'll ultimately discover, that could hold the key to her brother's tragic death.

Then I saw this (ENORMOUS!) omnibus of 5 shapeshifter novels on goodreads, and immediately thought: WANT.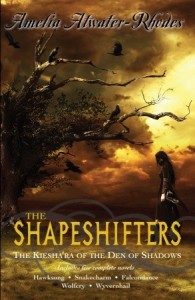 Five shapeshifter novels—one fascinating read!

Hawksong
Danica Shardae, an avian shapeshifter, will do anything in her power to stop the war that has raged between her people and the serpiente—even pretend to be in love with Zane Cobriana, the terrifying leader of her kind's greatest enemy, and accept him as her pair bond. But will Zane strike as swiftly and lethally as the cobra that is his second form?

Snakecharm
A surprising union has brought peace to the avians and serpiente. Soon a child will be born to carry on their royal lines. But Syfka, an ancient falcon, is claiming that one of her people is hidden in the avian and serpiente land. Is Syfka's lost falcon just a ruse to stir up controversy among them?

Falcondance
Nicias is a falcon, the son of two exiles from Ahnmik, and images of this distant island have always haunted his dreams. When his visions become more like reality, his parents send him back to the homeland—and a royal falcon—they've tried their best to forget.

Wolfcry
Oliza Shardae Cobriana is heir to Wyvern's Court, home of the avians and serpiente, whose war with each other ended just before Oliza was born. But hatred is slow to die, and Oliza's serpiente suitor is found beaten in avian land. How can she be expected to lead a unified society if her people still cannot live peacefully together?

Wyvernhail
Hai, daughter of a falcon mother and a deceased cobra father, is considered a mongrel by most, an ally by some, and a friend by few. When Hai's cousin abdicates the throne of Wyvern's Court, Hai has visions of destruction. Now she will do anything to protect her new home—even if it means betraying the very people who need her most.

And look, the newest book in Galen Beckett's series! I still have to read The House on Darrow Street (I'm ashamed it has taken me so long considering how much I loved The Magicians and Mrs. Quent), but I vow to get to it as soon as this next book comes out!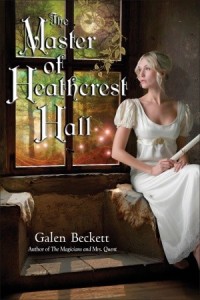 Even as her husband is about to attain undreamed-of power, Ivy Quent fears for her family's safety. With war looming and turmoil sweeping the nation of Altania, Ivy finds the long-abandoned manor on the moors a temporary haven. But nowhere is really safe from the treachery that threatens all the Quents have risked to achieve. And an even greater peril is stirring deep within the countryside's beautiful green estates. As Ivy dares an alliance with a brilliant illusionist and a dangerous lord, she races to master her forbidden talents and unravel the terrible truth at the heart of her land's unrest—even as a triumphant, inhuman darkness rises to claim Altania eternally for its own.

I really, REALLY don't like this cover, but the book itself sounds solid, and it has received a blurb from Jacqueline Carey. SOLD.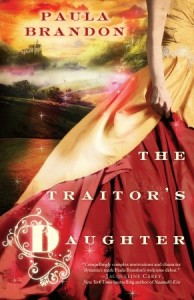 Here's the beginning of a lush, epic, wholly original new trilogy that shines with magic, mystery, and captivating drama.

On the Veiled Isles, ominous signs are apparent to those with the talent to read them. The polarity of magic is wavering at its source, heralding a vast upheaval poised to alter the very balance of nature. Blissfully unaware of the cataclysmic events to come, Jianna Belandor, the beautiful, privileged daughter of a powerful Faerlonnish overlord, has only one concern: the journey to meet her prospective husband. But revolution is stirring as her own conquered people rise up against their oppressors, and Jianna is kidnapped and held captive at a rebel stronghold, insurance against what are perceived as her father's crimes.

The resistance movement opens Jianna's eyes?and her heart. Despite her belief in her father's innocence, she is fascinated by the bold and charming nomadic physician and rebel sympathizer, Falaste Rione—who offers Jianna her only sanctuary in a cold and calculating web of intrigue. As plague and chaos grip the land, Jianna is pushed to the limits of her courage and resourcefulness, while virulent enemies discover that alliance is their only hope to save the human race.

Aaaaaaand more zombies.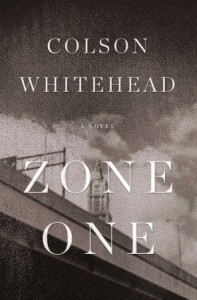 In this wry take on the post-apocalyptic horror novel, a pandemic has devastated the planet. The plague has sorted humanity into two types: the uninfected and the infected, the living and the living dead.

Now the plague is receding, and Americans are busy rebuild­ing civilization under orders from the provisional govern­ment based in Buffalo. Their top mission: the resettlement of Manhattan. Armed forces have successfully reclaimed the island south of Canal Street—aka Zone One—but pockets of plague-ridden squatters remain. While the army has eliminated the most dangerous of the infected, teams of civilian volunteers are tasked with clearing out a more innocuous variety—the "malfunctioning" stragglers, who exist in a catatonic state, transfixed by their former lives.

Mark Spitz is a member of one of the civilian teams work­ing in lower Manhattan. Alternating between flashbacks of Spitz's desperate fight for survival during the worst of the outbreak and his present narrative, the novel unfolds over three surreal days, as it depicts the mundane mission of straggler removal, the rigors of Post-Apocalyptic Stress Disorder, and the impossible job of coming to grips with the fallen world.

And then things start to go wrong.

Both spine chilling and playfully cerebral, Zone One bril­liantly subverts the genre's conventions and deconstructs the zombie myth for the twenty-first century.

And finally, how could I resist a synopsis that proclaims the book is a cross between Titanic and 30 Days of Night? I CAN'T.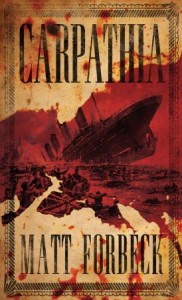 It's Titanic meets 30 Days of Night.

When the survivors of the Titanic are picked up by the passenger steamship Carpathia, they thought their problems were over.

But something's sleeping in the darkest recesses of the ship. Something old. Something hungry.

And that's it from us! What books do you have on YOUR radar?