"On The Smugglers' Radar" is a new feature for books that have caught our eye: books we heard of via other bloggers, directly from publishers, and/or from our regular incursions into the Amazon jungle. Thus, the Smugglers' Radar was born. Because we want far more books than we can possibly buy or review (what else is new?), we thought we would make the Smugglers' Radar into a weekly feature – so YOU can tell us which books you have on your radar as well!
On Ana's Radar
So, I have been doing my usual rounds on Goodreads, looking for upcoming YA
novels and lately, a LOT of the Paranormal/SF ones sound very samey to me specially when it comes to romance (more upcoming Triangle of Doom ahead folks, brace yourselves). Still, quite a few original-souding/looking ones to be found as well:
I love this cover for example: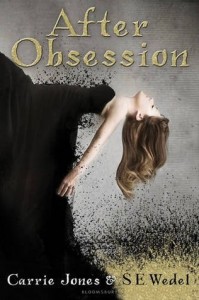 And I quite like the sound of this Contemporary one as well: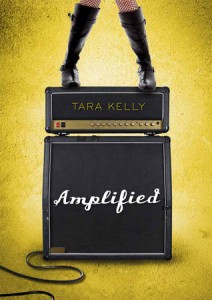 When privileged 17-year-old Jasmine gets kicked out of her house, she takes what is left of her savings and flees to Santa Cruz to pursue her dream of becoming a musician. Jasmine finds the ideal room in an oceanfront house, but needs to convince the three guys living there that she's the perfect roommate and lead guitarist for their industrial rock band, C-Side. Too bad she has major stage fright, and the cute bassist doesn't think a spoiled girl from over the hill can hack it.

Editor Tricia Telep has another collection of YA shorts coming up and I can't wait, since I loved the previous two.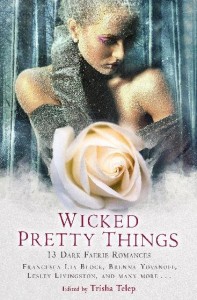 Moving away from YA for just a bit….GASP! Loretta Chase has a new book coming out!! I am so there, since you know, I read and loved all of her books!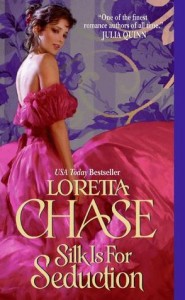 Brilliant and ambitious dressmaker Marcelline Noirot is London's rising star. And who better to benefit from her talent than the worst-dressed lady in London; the Duke of Clevedon's intended bride? Winning the future duchess's patronage means prestige and fortune for Marcelline and her family. To get to the lady, though, Marcelline must win over Clevedon, whose standards are as high as his morals are…not.

The prize seems well worth the risk. This time, though, Marcelline's met her match. Clevedon can design a seduction as irresistible as her dresses; and what begins as a flicker of desire between two of the most passionately stubborn charmers in London soon ignites into a delicious inferno . . .and a blazing scandal.

And now both their futures hang by a thread of silk…

On Thea's Radar:
First up, dearest Ana pointed me to this cover and synopsis that was just released! EEE! I loved Dark Life (like, loved it A LOT) so I am thrilled that the next book is coming out soon.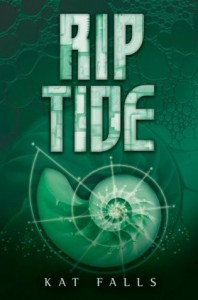 The sequel to the acclaimed subsea adventure DARK LIFE.

Ty has always known that the ocean is a dangerous place. Every time he swims beyond the borders of his family's subsea farm, he's prepared to face all manner of aquatic predators-sharks, squid, killer whales…

What Ty isn't prepared to find in the deep is an entire township chained to a sunken submarine, its inhabitants condemned to an icy underwater grave. It's only the first clue to a mystery that has claimed hundreds of lives and stands to claim two more — lives very precious to Ty and his Topsider ally, Gemma.

Now in a desperate race against the clock, Ty and Gemma find themselves in conflict with outlaws, Seaguard officers, and the savage, trident-wielding surfs — plus a menagerie of the most deadly creatures the ocean has to offer.

Kat Falls brings to life the mysteries, marvels, and monsters of the deep in this fast-paced and inventive action-adventure.

Received this title in the mail and cannot wait to get started on it: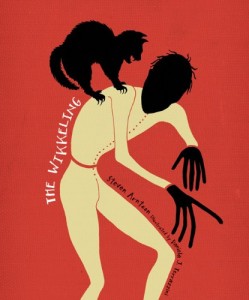 Young Henrietta is about to uncover a mystery she was never supposed to solve. In the new-age world she lives in, everything is ruled by computers, and every person's movements and actions are watched and analyzed. Henrietta feels suffocated by technology's rule and questions a world she's expected to blindly accept. She and her two newfound friends believe that there is more to life than what's expected of them–they just haven't found it yet.

That all changes when Henrietta finds a wounded Wild House Cat in the attic above her bedroom. This discovery sets off a chain of events that begin to poke holes in the secrets left behind by the well-hidden past. It also awakens a mysterious creature called The Wikkeling . . .

And then there's this title, too, with it's awesome cover and tagline! I guess this is the radar of creepy children's books.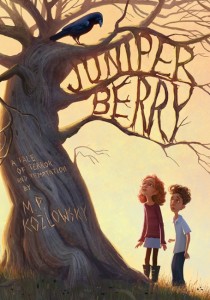 Juniper Berry's parents are the most beloved actor and actress in the world—but Juniper can't help but feel they haven't been quite right lately. And she and her friend Giles are determined to find out why.

On a cold and rainy night, Juniper follows her parents as they sneak out of the house and enter the woods. What she discovers is an underworld filled with contradictions: one that is terrifying and enticing, lorded over by a creature both sinister and seductive, who can sell you all the world's secrets bound in a balloon. For the first time, Juniper and Giles have a choice to make. And it will be up to them to confront their own fears in order to save the ones who couldn't.

M.P. Kozlowsky's debut is a modern-day fairy tale of terror, temptation, and ways in which it is our choices that make us who we are.

Aaaaand a fantastic upcoming novel from Carrie Vaughn (who is all over the place these days – I can't wait for her YA book this month, too).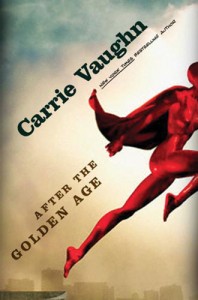 Can an accountant defeat a supervillain? Celia West, only daughter of the heroic leaders of the superpowered Olympiad, has spent the past few years estranged from her parents and their high-powered lifestyle. She's had enough of masks and heroics, and wants only to live her own quiet life out from under the shadow of West Plaza and her rich and famous parents.

Then she is called into her boss' office and told that as the city's top forensic accountant, Celia is the best chance the prosecution has to catch notorious supervillain the Destructor for tax fraud. In the course of the trial, Celia's troubled past comes to light and family secrets are revealed as the rift between Celia and her parents grows deeper. Cut off from friends and family, Celia must come to terms with the fact that she might just be Commerce City's only hope.

This all-new and moving story of love, family, and sacrifice is an homage to Golden Age comics that no fan will want to miss.

Aaaaand another Night SHade title that I have to get started on very soon.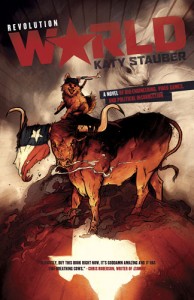 Set in a near-future, post-ecological and post-economic collapse, Revolution World chronicles the romance between rogue genetic engineer Clio Somata, and martial-artist computer-programmer Seth Boucher. Sadly, the road of love is never easy… in this case, an overreaching US military establishment and an evil multi-national bioengineering firm has decided that they want what Clio and her family has–cutting edge bio-technology. The conflict between the Somata clan and the US government ends up being the catalyst that drives a bunch of libertarian Texan gamers to declare a revolt against the oppressive US government, kicking off a new Texas Revolution!

And another Texas book: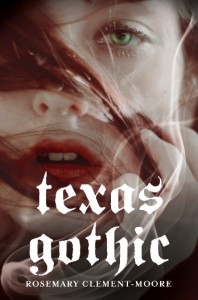 Amy Goodnight's family is far from normal. She comes from a line of witches, but tries her best to stay far outside the family business. Her summer gig? Ranch-sitting for her aunt with her wacky but beautiful sister. Only the Goodnight Ranch is even less normal than it normally is. Bodies are being discovered, a ghost is on the prowl, and everywhere she turns, the hot neighbor cowboy is in her face.

And that's it from us! What books do you have on YOUR radar?