"On The Smugglers' Radar" is a new feature for books that have caught our eye: books we heard of via other bloggers, directly from publishers, and/or from our regular incursions into the Amazon jungle. Thus, the Smugglers' Radar was born. Because we want far more books than we can possibly buy or review (what else is new?), we thought we would make the Smugglers' Radar into a weekly feature – so YOU can tell us which books you have on your radar as well!
On Ana's Radar:
First up, is the cover for one of my most anticipated reads of 2011, Slice of Cherry by Dia Reeves, the follow up to her AMAZING debut Bleeding Violet: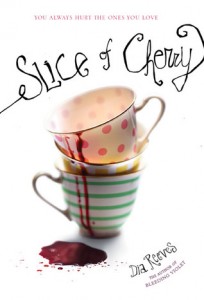 Happiness is a bloody knife.

Kit and Fancy Cordelle are sisters of the best kind: best friends, best confidantes, and best accomplices. The daughters of the infamous Bonesaw Killer, Kit and Fancy are used to feeling like outsiders, and that's just the way they like it. But in Portero, where the weird and wild run rampant, the Cordelle sisters are hardly the oddest or most dangerous creatures around.

It's no surprise when Kit and Fancy start to give in to their deepest desire—the desire to kill. What starts as a fascination with slicing open and stitching up quickly spirals into a gratifying murder spree. Of course, the sisters aren't killing just anyone, only the people who truly deserve it. But the girls have learned from the mistakes of their father, and know that a shred of evidence could get them caught. So when Fancy stumbles upon a mysterious and invisible doorway to another world, she opens a door to endless possibilities…

We will be reading Hunger by Jackie Kessler soon and we can't wait. Now, the cover of the second book, Rage has been released and I love it too!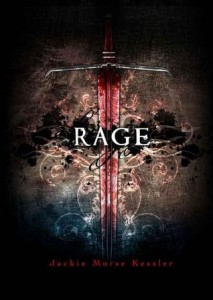 Missy didn't mean to cut so deep. But after the party where she was humiliated in front of practically everyone in school, who could blame her for wanting some comfort? Sure, most people don't find comfort in the touch of a razor blade, but Missy always was . . . different.

That's why she was chosen to become one of the Four Horsemen Apocalypse: War. Now Missy wields a different kind of blade—a big, brutal sword that can cut down anyone and anything in her path. But it's with this weapon in her hand that Missy learns something that could help her triumph over her own pain: control.

A unique approach to the topic of self-mutilation, Rage is the story of a young woman who discovers her own power, and refuses to be defeated by the world.

And I really like the looks of this one as well: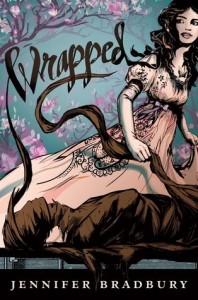 This is Agnes Wilkins' debut season and already she's attracting the attention of one of England's most eligible and desirable men: Lord Showalter. He's been quite forward about his intentions and Agnes finds this at once thrilling and terrifying. He is handsome and wealthy and has this quirky interest in helping England amass the world's finest collection of Egyptian artifacts. It could be a good match—but everything Agnes knows about courtship and high society romance comes from A. Lady novels, and it seems to be a rule that men who are too good to be true are usually hiding something. But, what Showalter is hiding is not crumbling finances or boarish behavior. He is deceiving the whole British Empire. He is spy working for Napoleon, his orders smuggled into London in Egyptian artifacts—like the one Agnes pockets while at a mummy unwrapping party at Showalter's home. Her innocent interest in this trinket (and childish need to keep it) jump starts a chain of events that bring out dangerous characters, dangerous circumstances, and the biggest danger of all—true love. Jennifer Bradbury's knack for suspense and adventure make this an amazingly rich, wildly compelling and utterly fascinating novel about the secrets in and out of a mummy's tomb. Keep your wits and trust your heart.

And I couldn't find a blurb but I LOVE the cover and the title of this one….I am intrigued: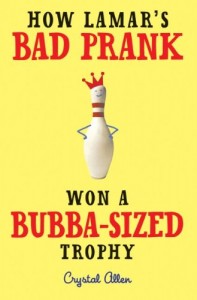 And finally, this one sounds DARK!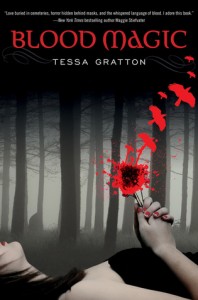 For Nick Pardee and Silla Kennicot, the cemetery is the center of everything.

Nick is a city boy angry at being forced to move back to the nowhere town of Yaleylah, Missouri where he grew up. He can't help remembering his mom and the blood magic she practiced – memories he's tried for five years to escape. Silla, though, doesn't want to forget; her parents' apparent murder-suicide left her numb and needing answers. When a book of magic spells in her dad's handwriting appears on her doorstep, she sees her chance to unravel the mystery of their deaths.

Together they plunge into the world of dark magic, but when a hundred-year-old blood witch comes hunting for the bones of Silla's parents and the spell book, Nick and Silla will have to let go of everything they believe about who they are, the nature of life and death, and the deadly secrets that hide in blood.

On Thea's Radar:
This cover is incredibly striking (and the book sounds pretty cool too):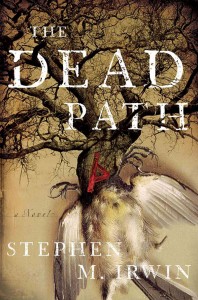 A terrible accident has left Nicholas Close a widower and awoken in him the ability to see the dead. Now, he can't escape visions of tortured spirits, their last moments caught in horrible, endlessly replaying loops. Nicholas leaves London and returns to Australia where he is disturbed to see that a heavily treed tract of land in his childhood suburb has somehow escaped development. These woods have haunted Nicholas since he was a boy and now he knows why: he sees the ghosts of terrified children being dragged from the path into the grinning maw of dark trees. When another local child goes missing, Nicholas himself becomes a suspect … yet he alone knows the girl has been taken into the woods. If he does not act against whatever resides among the shadowy trees, more innocents will be murdered. But the force he resolves to confront is old, cunning, and evil … and wants Nicholas for itself.

Then there's also this new release that piqued my interest – I'm not usually one for these "extension" type stories, but I really, really want Frankenstein's Monster.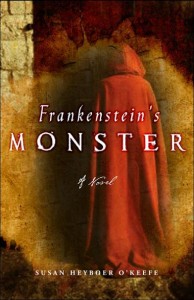 "Behind me, stiffened with frost, lie the remains of Victor Frankenstein."

What becomes of a monster without its maker? At the end of Mary Shelley's classic novel, the creator dies but his creation still lives, cursed to a life of isolation and hatred.

Frankenstein's Monster continues the creature's story as he's compelled to discover his humanity, to escape the ship captain who vowed to the dying Frankenstein to hunt him down—and to resist the woman who would destroy them all.

This is a tale of passion, revenge, violence, and madness—and the desperate search for meaning in an often meaningless world.

More horror! I love October! This cover is gorgeous (in my opinion, of course):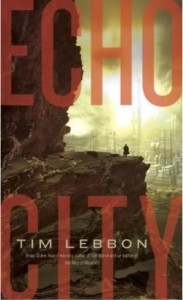 Surrounded by a vast, poisonous desert, Echo City is built upon the graveyard of its own past. Most inhabitants believe that their city and its subterranean Echoes are the whole of the world, but there are a few dissenters. Peer Nadawa is a political exile, forced to live with criminals in a ruinous slum. Gorham, once her lover, leads a ragtag band of rebels against the ruling theocracy. Nophel, a servant of that theocracy, dreams of revenge from his perch atop the city's tallest spire. And beneath the city, a woman called Nadielle conducts macabre experiments in genetic manipulation using a science indistinguishable from sorcery. They believe there is something more beyond the endless desert . . . but what?

It is only when a stranger arrives from out of the wastes that things begin to change. Frail and amnesiac, he holds the key to a new beginning for Echo City—or perhaps to its end, for he is not the only new arrival. From the depths beneath Echo City, something ancient and deadly is rising. Now Peer, Gorham, Nophel, and Nadielle msut test the limits of love and loyalty, courage and compassion, as they struggle to save a city collapsing under the weight of its own history.

And another one… (more gorgeous!)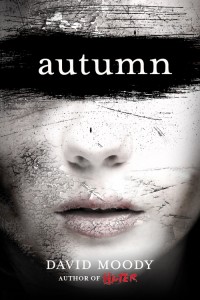 A bastard hybrid of War of the Worlds and Night of the Living Dead, Autumn chronicles the struggle of a small group of survivors forced to contend with a world torn apart by a deadly disease. After 99% of the population of the planet is killed in less than 24 hours, for the very few who have managed to stay alive, things are about to get much worse. Animated by "phase two" of some unknown contagion, the dead begin to rise. At first slow, blind, dumb and lumbering, quickly the bodies regain their most basic senses and abilities… sight, hearing, locomotion… As well as the instinct toward aggression and violence. Held back only by the restraints of their rapidly decomposing flesh, the dead seem to have only one single goal – to lumber forth and destroy the sole remaining attraction in the silent, lifeless world: those who have survived the plague, who now find themselves outnumbered 1,000,000 to 1…

Without ever using the 'Z' word, Autumn offers a new perspective on the traditional zombie story. There's no flesh eating, no fast-moving corpses, no gore for gore's sake. Combining the atmosphere and tone of George Romero's classic living dead films with the attitude and awareness of 28 Days (and Weeks) later, this horrifying and suspenseful novel is filled with relentless cold, dark fear.

And that's it from us! What books do you have on your radar?