"On The Smugglers' Radar" is a feature for books that have caught our eye: books we have heard of via other bloggers, directly from publishers, and/or from our regular incursions into the Amazon jungle. Thus, the Smugglers' Radar was born. Because we want far more books than we can possibly buy or review (what else is new?), we thought we would make the Smugglers' Radar into a weekly feature – so YOU can tell us which books you have on your radar as well!
On Ana's Radar:
Wait, WHAT. Elizabeth E Wein has a new book coming out this year and nobody is talking about it? What's up with that? The blurb intrigues me….and it also makes me a bit wary.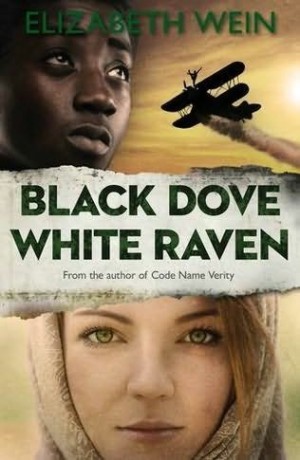 A new historical thriller masterpiece from New York Times bestselling and award-winning author Elizabeth Wein

Emilia and Teo's lives changed in a fiery, terrifying instant when a bird strike brought down the plane their stunt pilot mothers were flying. Teo's mother died immediately, but Em's survived, determined to raise Teo according to his late mother's wishes-in a place where he won't be discriminated against because of the color of his skin. But in 1930s America, a white woman raising a black adoptive son alongside a white daughter is too often seen as a threat.

Seeking a home where her children won't be held back by ethnicity or gender, Rhoda brings Em and Teo to Ethiopia, and all three fall in love with the beautiful, peaceful country. But that peace is shattered by the threat of war with Italy, and teenage Em and Teo are drawn into the conflict. Will their devotion to their country, its culture and people, and each other be their downfall or their salvation?

In the tradition of her award-winning and bestselling Code Name Verity, Elizabeth Wein brings us another thrilling and deeply affecting novel that explores the bonds of friendship, the resilience of young pilots, and the strength of the human spirit.

A new Contemporary LGBT novel from Sara Farizan: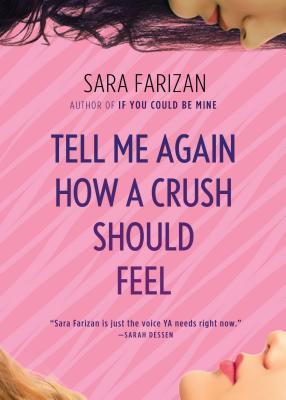 High-school junior Leila has made it most of the way through Armstead Academy without having a crush on anyone, which is something of a relief. Her Persian heritage already makes her different from her classmates; if word got out that she liked girls, life would be twice as hard. But when a sophisticated, beautiful new girl, Saskia, shows up, Leila starts to take risks she never thought she would, especially when it looks as if the attraction between them is mutual. Struggling to sort out her growing feelings and Saskia's confusing signals, Leila confides in her old friend, Lisa, and grows closer to her fellow drama tech-crew members, especially Tomas, whose comments about his own sexuality are frank, funny, wise, and sometimes painful. Gradually, Leila begins to see that almost all her classmates are more complicated than they first appear to be, and many are keeping fascinating secrets of their own."

I really like the sound of this new stand-alone novel by Madeline Ashby: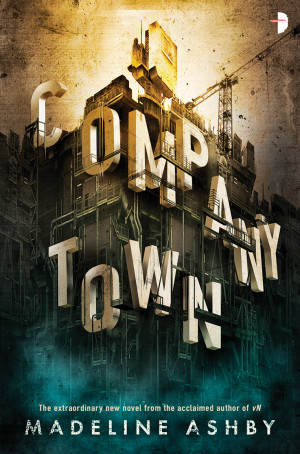 They call it Company Town – a Family-owned city-sized oil rig off the coast of the Canadian Maritimes.

Meet Hwa. One of the few in her community to forego bio-engineered enhancements, she's the last truly organic person left on the rig. But she's an expert in the arts of self-defence, and she's been charged with training the Family's youngest, who has been receiving death threats – seemingly from another timeline.

Meanwhile, a series of interconnected murders threatens the city's stability – serial killer? Or something much, much worse..?

Oh! Look at the amazing cover for Maggie Stiefvater's new entry in her Raven Cycle series!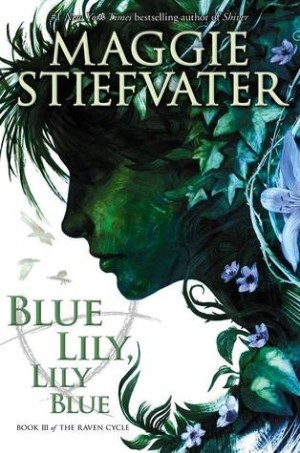 Oh look! Kaleidoscope, the anthology of diverse YA science fiction and fantasy stories which was crowdfunded last year has a cover and table of contents. Looks awesome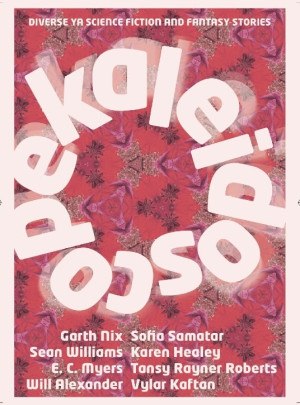 Table of Contents:

"Welcome" by Will Alexander
"Double Time" by John Chu
"Celebration" by Sean Eads
"The Truth about Owls" by Amal El Mohtar
"Careful Magic" by Karen Healey
"Chupacabra's Song" by Jim Hines
"Ordinary Things" by Vylar Kaftan
"Every Little Thing" by Holly Kench
"End of Service" by Gabriela Lee
"Seventh Day of the Seventh Moon" by Ken Liu
"The Day the God Died" by Alena McNamara
"Signature" by Faith Mudge
"Kiss and Kiss and Kiss and Tell" by E. C. Myers
"Happy Go Lucky" by Garth Nix
"Cookie Cutter Superhero" by Tansy Rayner Roberts
"Walkdog" by Sofia Samatar
"The Lovely Duckling" by Tim Susman
"Krishna Blue" by Shveta Thakrar
"The Legend Trap" by Sean Williams

On Thea's Radar:
Hooray for Sara Farizan, who just won an unprecedented two Triangle Publishing Awards for her debut novel If You Could Be Mine. I am so, so excited for Tell Me Again How A Crush Should Feel. Full disclosure: I am an employee of Workman Publishing, of which Algonquin Young Readers is a division. (But even if I worked elsewhere, I would still be thrilled for Sara's new book.)
Anyways! On to my radar. First up is The Girl in the Road: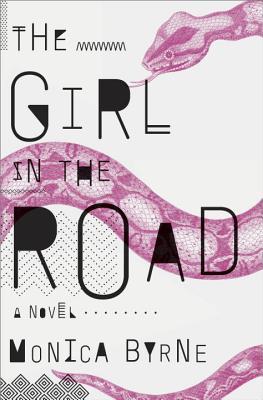 A debut that Neil Gaiman calls "Glorious," The Girl in the Road describes a future that is culturally lush, technologically slick, and emotionally wrenching.

In a world where global power has shifted east and revolution is brewing, two women embark on vastly different journeys—each harrowing and urgent and wholly unexpected.

When Meena finds snakebites on her chest, her worst fears are realized: someone is after her and she must flee India. As she plots her exit, she learns of The Trail, an energy-harvesting bridge spanning the Arabian Sea that has become a refuge for itinerant vagabonds and loners on the run. This is her salvation. Slipping out in the cover of night, with a knapsack full of supplies including a pozit GPS system, a scroll reader, and a sealable waterproof pod, she sets off for Ethiopia, the place of her birth.

Meanwhile, Mariama, a young girl in Africa, is forced to flee her home. She joins up with a caravan of misfits heading across the Sahara. She is taken in by Yemaya, a beautiful and enigmatic woman who becomes her protector and confidante. They are trying to reach Addis Abba, Ethiopia, a metropolis swirling with radical politics and rich culture. But Mariama will find a city far different than she ever expected—romantic, turbulent, and dangerous.

As one heads east and the other west, Meena and Mariama's fates are linked in ways that are mysterious and shocking to the core.

Written with stunning clarity, deep emotion, and a futuristic flair, The Girl in the Road is an artistic feat of the first order: vividly imagined, artfully told, and profoundly moving.

I am SO excited for this next book, from the perspective of the bees: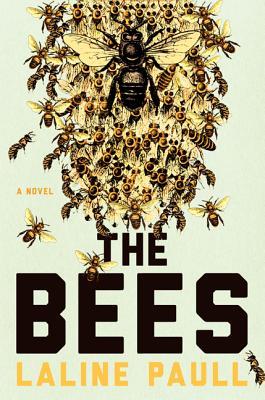 The Handmaid's Tale meets The Hunger Games in this brilliantly imagined debut set in an ancient culture where only the queen may breed and deformity means death.

Flora 717 is a sanitation worker, a member of the lowest caste in her orchard hive where work and sacrifice are the highest virtues and worship of the beloved Queen the only religion. But Flora is not like other bees. With circumstances threatening the hive's survival, her curiosity is regarded as a dangerous flaw but her courage and strength are an asset. She is allowed to feed the newborns in the royal nursery and then to become a forager, flying alone and free to collect pollen. She also finds her way into the Queen's inner sanctum, where she discovers mysteries about the hive that are both profound and ominous.

But when Flora breaks the most sacred law of all—daring to challenge the Queen's fertility—enemies abound, from the fearsome fertility police who enforce the strict social hierarchy to the high priestesses jealously wedded to power. Her deepest instincts to serve and sacrifice are now overshadowed by an even deeper desire, a fierce maternal love that will bring her into conflict with her conscience, her heart, her society—and lead her to unthinkable deeds.

Thrilling, suspenseful and spectacularly imaginative, The Bees gives us a dazzling young heroine and will change forever the way you look at the world outside your window.

And then there's this delicious looking horror novel: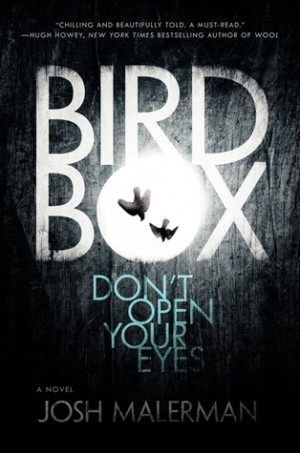 Written with the narrative tension of The Road and the exquisite terror of classic Stephen King, Bird Box is a propulsive, edge-of-your-seat horror thriller, set in an apocalyptic near-future world—a masterpiece of suspense from the brilliantly imaginative Josh Malerman.

Something is out there . . .

Something terrifying that must not be seen. One glimpse and a person is driven to deadly violence. No one knows what it is or where it came from.

Five years after it began, a handful of scattered survivors remain, including Malorie and her two young children. Living in an abandoned house near the river, she has dreamed of fleeing to a place where they might be safe. Now, that the boy and girl are four, it is time to go. But the journey ahead will be terrifying: twenty miles downriver in a rowboat—blindfolded—with nothing to rely on but her wits and the children's trained ears. One wrong choice and they will die. And something is following them. But is it man, animal, or monster?

Engulfed in darkness, surrounded by sounds both familiar and frightening, Malorie embarks on a harrowing odyssey—a trip that takes her into an unseen world and back into the past, to the companions who once saved her. Under the guidance of the stalwart Tom, a motely group of strangers banded together against the unseen terror, creating order from the chaos. But when supplies ran low, they were forced to venture outside—and confront the ultimate question: in a world gone mad, who can really be trusted?

Interweaving past and present, Josh Malerman's breathtaking debut is a horrific and gripping snapshot of a world unraveled that will have you racing to the final page.

Middle grade fantasy, anyone?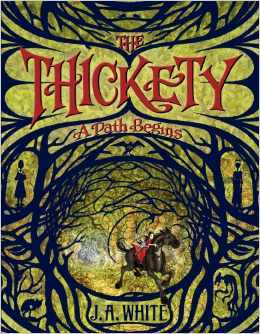 A dark, forbidden forest. Vicious beasts. Deadly plants. An evil spellbook. Secrets. Mysteries. Witches, both good and bad . . . Welcome to the world of the Thickety. Full of action, set in an intriguing and dangerous world, and illustrated with gorgeous and haunting line art, The Thickety: A Path Begins is a truly stunning book.

A Path Begins is the thrilling start of a new middle-grade fantasy series about a girl, a mysterious forest, and a book of untold magical powers. Kara and her brother, Taff, are shunned by their village because their mother was a witch. The villagers believe nothing is more evil than magic, except for what lurks in the nearby Thickety. But when Kara enters the forbidden forest, she discovers a strange book, a grimoire that might have belonged to her mother. The events she then sets in motion are both awe-inspiring and terrifying. . . .

Finally, there's this new YA fantasy/horror series from Kelly Armstrong which looks promising: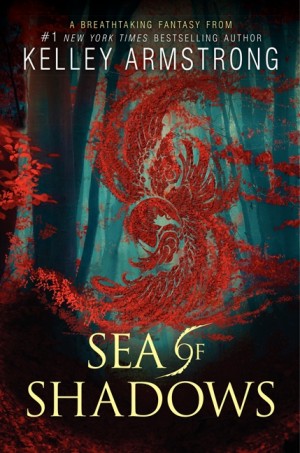 They hear the spirits.
They must obey.

In the Forest of the Dead, where the empire's worst criminals are exiled, twin sisters Moria and Ashyn are charged with a dangerous task. For they are the Keeper and the Seeker, and each year they must quiet the enraged souls of the damned.
Only this year, the souls will not be quieted.

Ambushed and separated by an ancient evil, the sisters' journey to find each other sends them far from the only home they've ever known. Accompanied by a stubborn imperial guard and a dashing condemned thief, the girls cross a once-empty wasteland, now filled with reawakened monsters of legend, as they travel to warn the emperor. But a terrible secret awaits them at court—one that will alter the balance of their world forever.

From #1 New York Times bestselling author Kelley Armstrong comes a captivating new series that blends elements of fantasy and horror with the pulse-pounding action and romance that have earned her a devoted readership worldwide.

And that's it from us! What books do you have on your radar?