"On The Smugglers' Radar" is a feature for books that have caught our eye: books we have heard of via other bloggers, directly from publishers, and/or from our regular incursions into the Amazon jungle. Thus, the Smugglers' Radar was born. Because we want far more books than we can possibly buy or review (what else is new?), we thought we would make the Smugglers' Radar into a weekly feature – so YOU can tell us which books you have on your radar as well!
On Ana's Radar:
Karen Lord has a companion novel to The Best of All Possible Worlds coming out next year: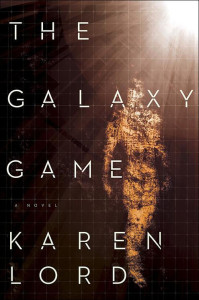 With the literary crossover appeal of Ursula K. Le Guin and China Miéville, Karen Lord is re-envisioning sci-fi for the twenty-first century with the story of a young hero exploring the galaxy-and discovering himself.

Karen Lord returns with The Galaxy Game, a new story and a new set of characters that both enriches its predecessor and stands alone. In this new novel, Rafi — the nephew of the heroine of Best — travels the universe with an intergalactic sports team, encountering strange new worlds and alien cultures.

Lord's bold new vision of 21st-century science fiction has appeal to both devoted genre fans and readers of literary fiction.

I really want to give Sam Sykes books another go. He has a new series coming out "soon" and it sounds good: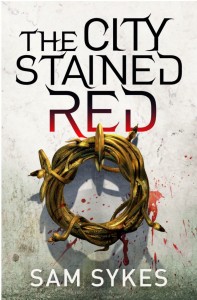 No official blurb yet but check this out:
The City Stained Red is the first chapter in my new trilogy, Bring Down Heaven. Set against the city of Cier'Djaal, economic powerhouse of the world whose horse-sized spiders produce the silk that every nation craves, it is a tale of collapse.

It is the story of how the morals of a society collapse before pragmatism, revolutionary cultists crowing the name of their god in hell as they throw themselves at the organized dynasty of assassins and thieves that have run the city since it began.

It is the story of how the ideas of harmony collapse before ideas of independence, with several races, human and monstrous, set upon a tiny spit of land and given just so many resources to share it and seeing how long it takes for one of them to pick up a knife.

It is the story of how gods collapse before mortals, when god cannot save a man languishing in the shadow of his wealthy neighbors and he finds himself putting aside prayer and picking up a blade.

It is the story of how things change between six people when they find themselves standing at the center of a field full of corpses and wondering just how the hell it happened that they can't let go of the sword in their hands.

Placeholder cover but I don't even care. I love that this sequel to Miss Peregrine is coming soon(ish).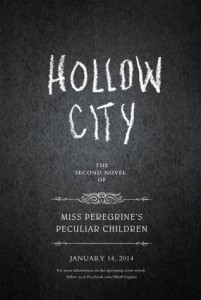 In 1940 after the first book ends, Jacob and his new Welsh island friends flee to London, the Peculiar capital of the world. Caul, a dangerous madman, is Miss Peregrine's brother, and can steal Peculiar abilities for himself. The Peculiars must fight for survival, again.

A man in a cape. A book that has "hero" on its title. You had me at hello. That's catnip to me: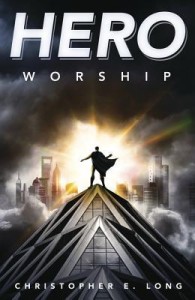 Ever since becoming an IWP—Individual with Powers—Marvin Maywood has dreamed of joining the Core, a group of gifted heroes who save lives and stop crimes. But because he's a homeless teenager who is forbidden to use his amazing powers, wanting and achieving that dream are two very separate things.

But when Marvin saves a family from dangerous hoodlums with his incredible strength and speed, his chance to try out for the Core comes at last. The opportunity seems like a dream come true—until he realizes that the idyllic hero life he imagined is just a mask for the corrupt reality. And when a beloved hero is murdered, Marvin is suspected of being the villain behind the crime.

And a spooky anthology for the coming Halloween – with a story by Frances Hardinge to boot!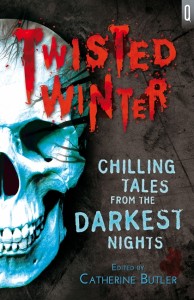 A chilling collection of terrifying winter tales for the darkest nights.

This sinister collection of short stories encapsulates everything human beings fear about the dark half of the year. A Halloween costume party attracts uninvited guests; the long evenings bring out creatures from the deepest darkness; a perfect snowfall brings pure terror. Spine tingling, eye opening and genuinely horrifying – prepare to be scared!

By a stunning line-up of authors: Susan Cooper, Katherine Langrish, Liz Williams, Frances Hardinge, Frances Thomas, Rhiannon Lassiter and Catherine Butler.

On Thea's Radar:
First up on my radar is this new book from Cecil Castellucci that I saw on NetGalley. Hope to get my hands a copy of this soon: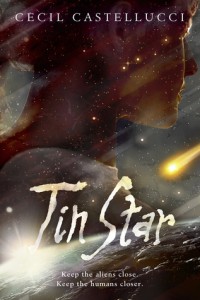 On their way to start a new life, Tula and her family travel on the Prairie Rose, a colony ship headed to a planet in the outer reaches of the galaxy. All is going well until the ship makes a stop at a remote space station, the Yertina Feray, and the colonist's leader, Brother Blue, beats Tula within an inch of her life. An alien, Heckleck, saves her and teaches her the ways of life on the space station.

When three humans crash land onto the station, Tula's desire for escape becomes irresistible, and her desire for companionship becomes unavoidable. But just as Tula begins to concoct a plan to get off the space station and kill Brother Blue, everything goes awry, and suddenly romance is the farthest thing from her mind.

Recently, Ana and I read and reviewed the outstanding Ancillary Justice from Ann Leckie. I was just reading another rave review for this title on io9 – far more eloquent and brilliant and insightful than anything I could ever write – and discovered that the author of the piece is Annalee Newitz (editor-in-chief of io9 and an otherwise badass scientific journalist who specializes in the cultural impact of science and technology). After going down an Aziz Ansari-like rabbit hole of online research, I also learned that somehow I missed that Annalee Newitz authored a new book in 2013! It looks amazing, and I immediately purchased it online. This is that book (aren't you glad I took you on that digression with me?):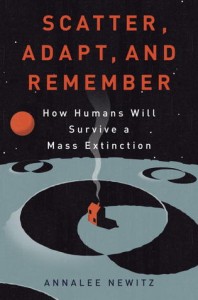 In its 4.5 billion–year history, life on Earth has been almost erased at least half a dozen times: shattered by asteroid impacts, entombed in ice, smothered by methane, and torn apart by unfathomably powerful megavolcanoes. And we know that another global disaster is eventually headed our way. Can we survive it? How?

As a species, Homo sapiens is at a crossroads. Study of our planet's turbulent past suggests that we are overdue for a catastrophic disaster, whether caused by nature or by human interference.

It's a frightening prospect, as each of the Earth's past major disasters—from meteor strikes to bombardment by cosmic radiation—resulted in a mass extinction, where more than 75 percent of the planet's species died out. But in Scatter, Adapt, and Remember, Annalee Newitz, science journalist and editor of the science Web site io9.com explains that although global disaster is all but inevitable, our chances of long-term species survival are better than ever. Life on Earth has come close to annihilation—humans have, more than once, narrowly avoided extinction just during the last million years—but every single time a few creatures survived, evolving to adapt to the harshest of conditions.

This brilliantly speculative work of popular science focuses on humanity's long history of dodging the bullet, as well as on new threats that we may face in years to come. Most important, it explores how scientific breakthroughs today will help us avoid disasters tomorrow. From simulating tsunamis to studying central Turkey's ancient underground cities; from cultivating cyanobacteria for "living cities" to designing space elevators to make space colonies cost-effective; from using math to stop pandemics to studying the remarkable survival strategies of gray whales, scientists and researchers the world over are discovering the keys to long-term resilience and learning how humans can choose life over death.

Newitz's remarkable and fascinating journey through the science of mass extinctions is a powerful argument about human ingenuity and our ability to change. In a world populated by doomsday preppers and media commentators obsessively forecasting our demise, Scatter, Adapt, and Remember is a compelling voice of hope. It leads us away from apocalyptic thinking into a future where we live to build a better world—on this planet and perhaps on others. Readers of this book will be equipped scientifically, intellectually, and emotionally to face whatever the future holds.

Next up, a middle grade novel that looks like it's right up my alley: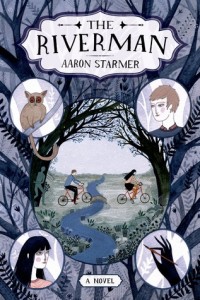 Alistair Cleary is the kid who everyone trusts. Fiona Loomis is not the typical girl next door. Alistair hasn't really thought of her since they were little kids until she shows up at his doorstep with a proposition: she wants him to write her biography. What begins as an odd vanity project gradually turns into a frightening glimpse into the mind of a potentially troubled girl. Fiona says that in her basement, there's a portal that leads to a magical world where a creature called the Riverman is stealing the souls of children. And Fiona's soul could be next. If Fiona really believes what she's saying, Alistair fears she may be crazy. But if it's true, her life could be at risk. It's up to Alistair to separate fact from fiction, fantasy from reality.

I have had Elizabeth Fama's Monstrous Beauty on my TBR for ages, and now she has a new novel coming out (which means I better get a move on Monstrous Beauty). No cover yet, but here's the synopsis for Plus One:
Divided by day and night and on the run from authorities, star-crossed young lovers unearth a sinister conspiracy in this compelling romantic thriller.

Seventeen-year-old Soleil Le Coeur is a Smudge—a night dweller prohibited by law from going out during the day. When she fakes an injury in order to get access to and kidnap her newborn niece—a day dweller, or Ray—she sets in motion a fast-paced adventure that will bring her into conflict with the powerful lawmakers who order her world, and draw her together with the boy she was destined to fall in love with, but who is also a Ray.

Set in a vivid alternate reality and peopled with complex, deeply human characters on both sides of the day-night divide, Plus One is a brilliantly imagined drama of individual liberty and civil rights, and a fast-paced romantic adventure story.

Cheesy synopsis aside, this sounds like it has potential (in a Lost/Hunger Games/The Testing kind of way):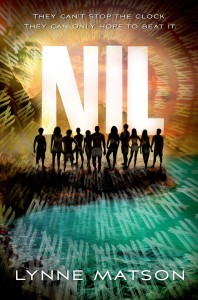 It's a place that doesn't exist. It's nowhere, and yet we're here.

On the mysterious island of Nil, the rules are set. You have exactly 365 days to escape—or you die.

Seventeen-year-old Charley doesn't know the rules. She doesn't even know where she is. The last thing she remembers is blacking out, and when she wakes up, she's naked in an empty rock field.

Lost and alone, Charley finds no sign of other people until she meets Thad, the gorgeous leader of a clan of teenage refugees. Soon Charley learns that leaving the island is harder than she thought . . . and so is falling in love. With Thad's time running out, Charley realizes that she has to find a way to beat the clock, and quickly.

Finally, there's this debut novel that sounds haunting and wonderful: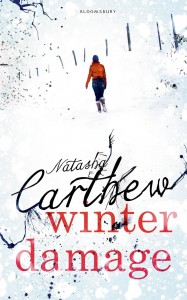 A bone-chillingly powerful debut novel that traps you in its icy grasp then thaws you from the heart out – for readers of Meg Rosoff, Siobhan Dowd, and Patrick Ness.

On a frozen Cornish moor, a fourteen-year-old girl lives in a trailer with her dad and little brother. Ennor's mother left years ago, and gradually their world has fallen apart. Now her father's gravely ill, school has closed, and Ennor knows they're going to take her brother away if things don't pick up soon. Days before Christmas, Ennor packs a blanket, a map, a saucepan and a gun into her rucksack, and sets off to find her mum and bring her home.

Ennor thinks she knows where she's going. But this journey will change her life forever – it becomes a battle for survival, a heartbreaking story of love and friendship, and a fable about not finding what you were looking for, but finding something more important instead . . .

And that's it from us! What books do you have on YOUR radar?