"On The Smugglers' Radar" is a new feature for books that have caught our eye: books we have heard of via other bloggers, directly from publishers, and/or from our regular incursions into the Amazon jungle. Thus, the Smugglers' Radar was born. Because we want far more books than we can possibly buy or review (what else is new?), we thought we would make the Smugglers' Radar into a weekly feature – so YOU can tell us which books you have on your radar as well!
On Thea's Radar
This will be dubbed Thea's Radar of Ongoing Series Books. First up, OMG Fear (book 5 – the penultimate book! – in the Gone series by Michael Grant, originally titled Darkness but renamed because it was too long for the cover) finally has a cover!!!! EEEEEE!!!!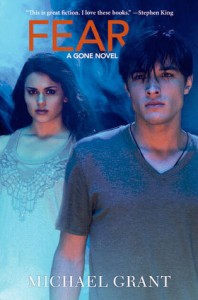 No synopsis yet, but 10 spoilerish hints from Michael Grant:
1) Remember that it was originally titled DARKNESS.

2) At one point Sam will rub Diana's tummy.

3) Astrid-haters will love her by the end.

4) There's a surprising "coming out."

5)… A heart will be broken.

6) You will learn why Sam and not Caine.

7) There is a huge betrayal.

8) Someone will lose their virginity.

9) Someone we know well will die.

10) A scene so dark and anguished my editors wanted me to tone it down. (Of course I didn't. How long have you known me?)
I CANNOT WAIT.

Even though I wasn't crazy about the first book, Birthmarked, I am interested to see where the story goes in this second installment to the planned trilogy.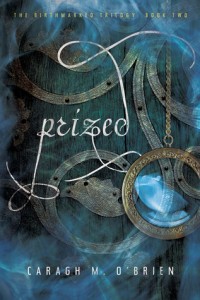 Striking out into the wasteland with nothing but her baby sister, a handful of supplies, and a rumor to guide her, sixteen-year-old midwife Gaia Stone survives only to be captured by the people of Sylum, a dystopian society where women rule the men who drastically outnumber them, and a kiss is a crime. In order to see her sister again, Gaia must submit to their strict social code, but how can she deny her sense of justice, her curiosity, and everything in her heart that makes her whole?

I think this next one is a cool cover, and I do have book 1 waiting to be read…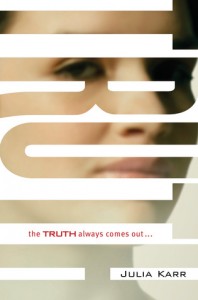 Nina Oberon's life has changed enormously in the last few months. When her mother was killed, Nina discovered the truth about her father, the leader of the Resistance. And now she sports the same Governing Council–ordered tattoo of XVI on her wrist that all sixteen-year-old girls have. The one that announces to the world that she is easy prey to predators. But Nina won't be anyone's stereotype. And when she joins an organization of girls working within the Resistance, she knows that they can put an end to one of the most terrifying secret programs the GC has ever conceived. Because the truth always comes out…and the consequences can be deadly.

I am not a fan of these covers (what is with the random circles? WHAT DOES IT MEAN? She will be playing cards, with HER HANDS, whilst apparently hungover?), but the first book sounded so good and I am sad to say I have not yet picked up the series. I think I'll try to remedy that before this one comes out: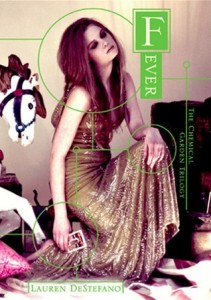 Rhine and Gabriel have escaped the mansion, but danger is never far behind.

Running away brings Rhine and Gabriel right into a trap, in the form of a twisted carnival whose ringmistress keeps watch over a menagerie of girls. Just as Rhine uncovers what plans await her, her fortune turns again. With Gabriel at her side, Rhine travels through an environment as grim as the one she left a year ago – surroundings that mirror her own feelings of fear and hopelessness.

The two are determined to get to Manhattan, to relative safety with Rhine's twin brother, Rowan. But the road there is long and perilous – and in a world where young women only live to age twenty and young men die at twenty-five, time is precious. Worse still, they can't seem to elude Rhine's father-in-law, Vaughn, who is determined to bring Rhine back to the mansion…by any means necessary.

In the sequel to Lauren DeStefano's harrowing Wither, Rhine must decide if freedom is worth the price – now that she has more to lose than ever.

And then YAY! The new book in the Agency series is coming out soon – although I really don't like what they've done to the cover. I loved the model they were using for Mary Quinn and it bothers me that they've taken a PoC heroine off the cover for a more…generic Victorian feel. [EDITED: HOLY SMOKES, the new book has been out since August 1. I need to get on this. NOW.]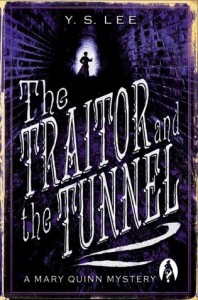 This is the third colourful and action-packed Victorian detective novel about the exploits of agent Mary Quinn. Queen Victoria has a little problem: a series of petty thefts from Buckingham Palace. She calls the Agency for help, and they put Mary Quinn – on her first case as a full-fledged agent – on the case. Going undercover as a domestic servant, Mary's assignment seems simple enough. But before long, a scandal threatens to tear apart the Royal Family. One of the Prince of Wales' irresponsible young friends is murdered in scandalous circumstances and the story, if it became public, would disgrace the young prince. Should the Queen hush things up or permit justice to take its course? Mary's interest in this private matter soon becomes deeply personal: the killer, a drug-addicted Chinese sailor, shares a name with her long-lost father. Meanwhile, James Easton's engineering firm wins a contract to repair some sewers beneath Buckingham Palace. Trouble is, there's a tunnel that's not on the plans. Its purpose is unclear. But it seems to be very much in use – it's just not clear by whom. These overlapping puzzles offer a perfect opportunity for James and Mary to work together again. If they can still trust one another. If they can suppress the emotions that still torture them. If Mary can forget the sight of that exquisite blonde she sees in James' drawing-room…In this, Mary's most personal case yet, she faces struggles at every level – legal, political, personal. And she has everything to lose.

The new Kelley Armstrong Darkness Rising book 2 cover and blurb is out! Again, book 1, waiting to be read. I WILL do it soon. I will. (And not crazy about this cover – it reminds me of the poster for the terrible US remake of horror film The Eye with Jessica Alba)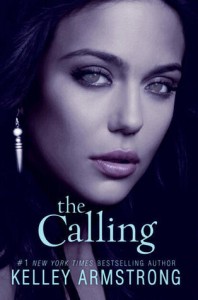 Maya Delaney's paw-print birthmark is the sign of what she truly is a skin-walker. She can run faster, climb higher, and see better than nearly anyone else. Experiencing intense connections with the animals that roam the woods outside her home, Maya knows it's only a matter of time before she's able to Shift and become one of them. And she believes there may be others in her small town with surprising talents.

Now, Maya and her friends have been forced to flee from their homes during a forest fire they suspect was deliberately set. Then they're kidnapped, and after a chilling helicopter crash, they find themselves in the Vancouver Island wilderness with nothing but their extraordinary abilities to help them get back home. Plentiful action and romance in this second installment in the Darkness Rising series will keep readers enthralled to the very last page.

And finally, yet another book 2 in a series that I haven't started yet, but I do have Clarity on my TBR, beckoning me (I prefer the cover of the first book to this one, though).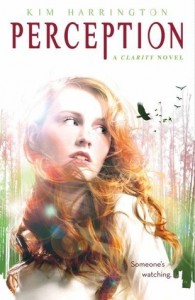 When you can see things others can't, what do you do when someone's watching you?

Everybody knows about Clarity "Clare" Fern. She's the psychic girl in school, the one who can place her hands on something and see hidden visions from the past.

Only Clare would rather not be a celebrity. She prefers hanging back, observing. Her gift is not a game to her.

But then someone starts playing with her head . . . and heart. Messages and gifts from a secret admirer crop up everywhere Clare turns. Could they be from Gabriel, the gorgeous boy who gets Clare's pulse racing? Or from Justin, Clare's hopeful ex-boyfriend who'd do anything to win her back?

One thing is certain. Clare needs to solve this mystery, and soon. Because the messages are becoming sinister, and a girl in town has suddenly disappeared.

On Ana's Radar
Speaking on ongoing series, I finally saw the UK cover of Goliath, the third book in the AWESOME steampunk trilogy by Scott Westerfeld, and I have to say that I love it so much more than the US one (but then again, nothing new here).

True…Sort of is already out and I found it perusing GoodReads – sounds good and I love how the characters seem to create new words like "surpresents" (presents that are a surprise). I really want to read this now.
True: Delly Pattison likes surpresents (presents that are a surprise). The day the Boyds come to town, Delly's sure a special surpresent is on its way. But lately, everything that she thinks will be good and fun turns into trouble. She's never needed a surpresent more than now.

True: Brud Kinney wants to play basketball like nothing anybody's ever seen. When the Boyds arrive, though, Brud meets someone who plays like nothing he's ever seen.

True: Ferris Boyd isn't like anyone Delly or Brud have ever met. Ferris is a real mysturiosity (an extremely curious mystery).

True: Katherine Hannigan's first novel since her acclaimed Ida B is a compelling look at the ways friendships and truths are discovered.

It's all true ( . . . sort of).

WHAAAAAA….a new MG series written by adult Fantasy writers Sean Williams and Garth Nix?? HOW DO I NOT OWN A COPY ALREADY? (Also, is everybody writing children's books now? *ninja*)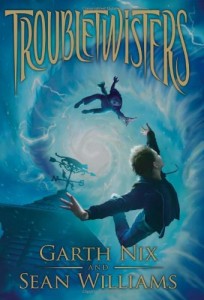 A spectacular new middle-grade fantasy series from NYT bestselling authors Garth Nix and Sean Williams, in which two twins find that they must act as wards against a threatening evil.

The Evil has been trying to break into our dimension and dominate the earth for centuries. Unbeknownst to most of us, there are Wardens all over the globe, who protect humanity from the Evil that asserts itself at the Portals, which are the only places through which the Evil may pass into our world.

Jaide and Jack Shield don't know that the world is under attack. They don't know that their dad and their Grandma X, who they move in with, are Wardens, or that they themselves are troubletwisters, young Wardens just coming into their powers.

Marcus Sedgwick has a new book coming out in October and look at this cover: isn't it creeeeepy?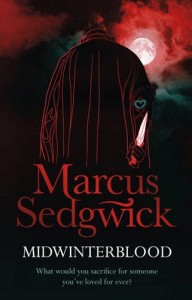 Have you ever had the feeling that you've lived another life? Been somewhere that has felt totally familiar, even though you've never been there before, or felt that you know someone well, even though you are meeting them for the first time? It happens. In 2073 on the remote and secretive island of Blessed, where rumour has it that no one ages and no children are born, a visiting journalist, Eric Seven, and a young local woman known as Merle are ritually slain. Their deaths echo a moment ten centuries before, when, in the dark of the moon, a king was slain, tragically torn from his queen. Their souls search to be reunited, and as mother and son, artist and child, forbidden lovers, victims of a vampire they come close to finding what they've lost. In a novel comprising seven parts, each influenced by a moon – the flower moon, the harvest moon, the hunter's moon, the blood moon – this is the story of Eric and Merle whose souls have been searching for each other since their untimely parting. Beautifully imagined, intricately and cleverly structured, this is a heart-wrenching and breathtaking love story with the hallmark Sedgwick gothic touches of atmosphere, blood-spilling and sacrifice.

And that's it from us! What books do you have on YOUR radar?