"On The Smugglers' Radar" is a feature for books that have caught our eye: books we have heard of via other bloggers, directly from publishers, and/or from our regular incursions into the Amazon jungle. Thus, the Smugglers' Radar was born. Because we want far more books than we can possibly buy or review (what else is new?), we thought we would make the Smugglers' Radar into a weekly feature – so YOU can tell us which books you have on your radar as well!
On Ana's Radar:
I was a little dubious about this book but the Daniel José Older blurb gives me more confidence this will be good: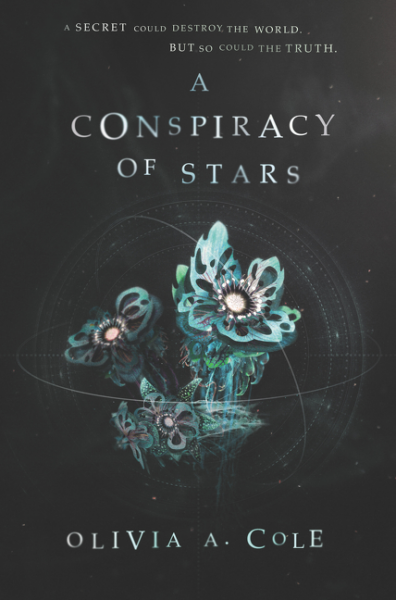 Enter the vivid and cinematic world of Faloiv in the first book of this dazzling YA sci-fi/fantasy duology, perfect for fans of Carve the Mark, Red Rising, and These Broken Stars.

Octavia has always dreamed of becoming a whitecoat, one of the prestigious N'Terra scientists who study the natural wonders of Faloiv. So when the once-secretive labs are suddenly opened to students, she leaps at the chance to see what happens behind their closed doors. However, she quickly discovers that all is not what it seems on Faloiv, and the experiments the whitecoats have been doing run the risk of upsetting the humans' fragile peace with the Faloii, Faloiv's indigenous people.

As secret after disturbing secret comes to light, Octavia finds herself on a collision course with the charismatic and extremist new leader of N'Terra's ruling council. But by uncovering the mysteries behind the history she's been taught, the science she's lived by, and the truth about her family, she threatens to be the catalyst for an all-out war.

I have no idea HOW I missed this novel but thankfully I saw someone talking about it on Twitter and now I must have it.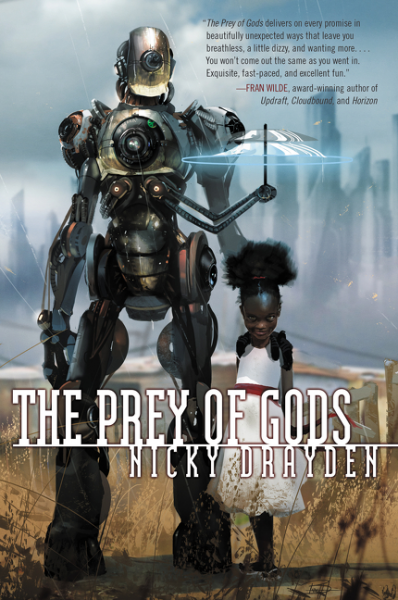 In South Africa, the future looks promising. Personal robots are making life easier for the working class. The government is harnessing renewable energy to provide infrastructure for the poor. And in the bustling coastal town of Port Elizabeth, the economy is booming thanks to the genetic engineering industry which has found a welcome home there. Yes—the days to come are looking very good for South Africans. That is, if they can survive the present challenges:

A new hallucinogenic drug sweeping the country . . .

An emerging AI uprising . . .

And an ancient demigoddess hellbent on regaining her former status by preying on the blood and sweat (but mostly blood) of every human she encounters.

It's up to a young Zulu girl powerful enough to destroy her entire township, a queer teen plagued with the ability to control minds, a pop diva with serious daddy issues, and a politician with even more serious mommy issues to band together to ensure there's a future left to worry about.

Fun and fantastic, Nicky Drayden takes her brilliance as a short story writer and weaves together an elaborate tale that will capture your heart . . . even as one particular demigoddess threatens to rip it out.

Sadly, I don't have much time to read these days, much less time to read non-fiction. But I'd love to take a look at this one by Ta-Nehisi Coates: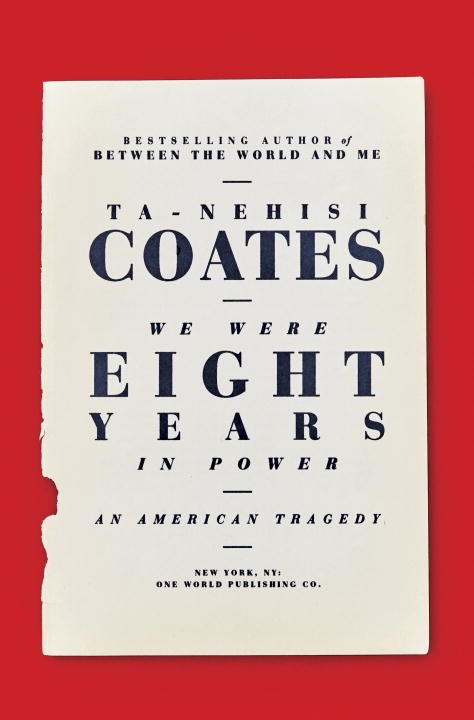 A powerful portrait of the historic Barack Obama era that provocatively combines award-winning journalism with the introspective, searching voice of Ta-Nehisi Coates' memoir, the National Book Award-winning Between the World and Me

The years between 2008 and 2016 don't just mark two terms of a historic presidency but define a dramatic era in politics, activism, culture, and historiography that have reshaped this country and its public discourse. During this same period, Ta-Nehisi Coates, who begins the book in an unemployment office and ends it having interviewed President Obama in the Oval office, became one of the country's most important voices through his work at The Atlantic. There he wrote a series of blockbuster, award-winning articles that changed the public conversation around race, culture and political possibility, and became, himself, an example of how the Obama era changed individual lives and opened opportunities for new voices to find a place at the center of the American story.

This important volume offers Ta-Nehisi's most prominent and influential Atlantic articles, from "Fear of a Black President" to "The Case for Reparations" to "The Black Family in the Age of Mass Incarceration." But the book's daring, imaginative format—real-time journalism combined with retrospective essays that range from the personal to the historical to the analytical and create a cohesive narrative arc—is the key to its uncanny ability to offer the essential account of the Obama years, while also making a powerful, transformative argument about history, identity, and the American future.

And I saw this one on Twitter too: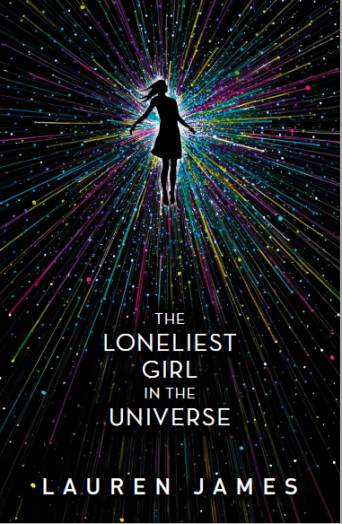 Can you fall in love with someone you've never met, never even spoken to – someone who is light years away?

Romy Silvers is the only surviving crew-member of a spaceship travelling to a new planet, on a mission to establish a second home for humanity amongst the stars. Alone in space, she is the loneliest girl in the universe until she hears about a new ship which has launched from Earth – with a single passenger on board. A boy called J.

Their only communication with each other is via email – and due to the distance between them, their messages take months to transmit across space. And yet Romy finds herself falling in love.

But what does Romy really know about J? And what do the mysterious messages which have started arriving from Earth really mean?

Sometimes, there's something worse than being alone . . .

On Thea's Radar:
First up on my radar, a book I missed from earlier this year: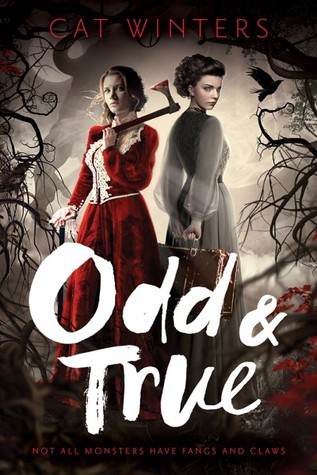 Trudchen grew up hearing Odette's stories of their monster-slaying mother and a magician's curse. But now that Tru's older, she's starting to wonder if her older sister's tales were just comforting lies, especially because there's nothing fantastic about her own life—permanently disabled and in constant pain from childhood polio.

In 1909, after a two-year absence, Od reappears with a suitcase supposedly full of weapons and a promise to rescue Tru from the monsters on their way to attack her. But it's Od who seems haunted by something. And when the sisters' search for their mother leads them to a face-off with the Leeds Devil, a nightmarish beast that's wreaking havoc in the Mid-Atlantic states, Tru discovers the peculiar possibility that she and her sister—despite their dark pasts and ordinary appearances—might, indeed, have magic after all.

And then there's this forthcoming novel about an East German resistance fighter's murder in 1989: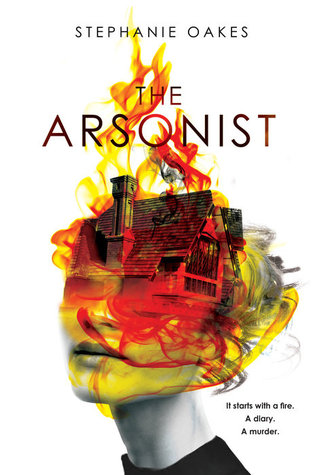 Molly Mavity is not a normal teenage girl. For one thing, her father is a convicted murderer, and his execution date is fast approaching. For another, Molly refuses to believe that her mother is dead, and she waits for the day when they'll be reunited . . . despite all evidence that this will never happen.

Pepper Yusef is not your average teenage boy. A Kuwaiti immigrant with epilepsy, serious girl problems, and the most useless seizure dog in existence, he has to write a series of essays over the summer . . . or fail out of school.

And Ava Dreyman—the brave and beautiful East German resistance fighter whose murder at seventeen led to the destruction of the Berlin Wall—is unlike anyone you've met before.

When Molly gets a package leading her to Pepper, they're tasked with solving a decades-old mystery: find out who killed Ava, back in 1989. Using Ava's diary for clues, Molly and Pepper realize there's more to her life—and death—than meets the eye. Someone is lying to them. And someone out there is guiding them along, desperate for answers.

And then there's this Jim C Hines book that had me at "space janitors":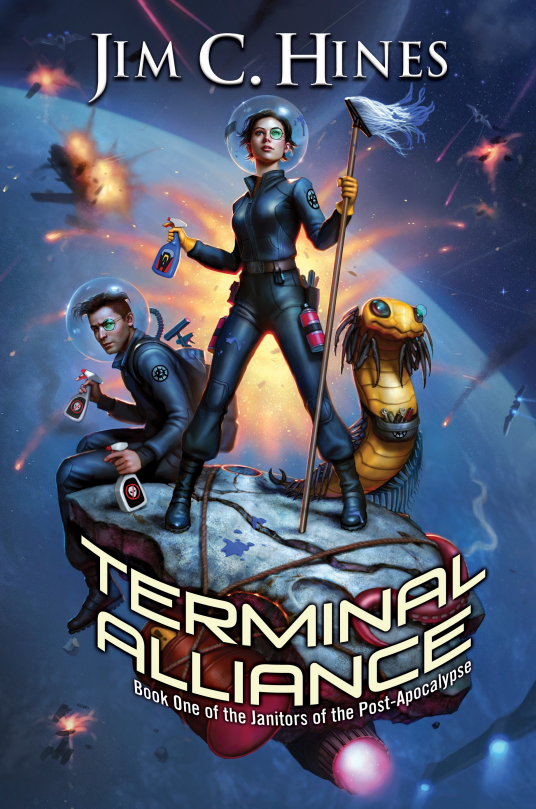 In his hilarious new sci-fi series, Jim C. Hines introduces the unlikely heroes that may just save the galaxy: a crew of space janitors.

The Krakau came to Earth to invite humanity into a growing alliance of sentient species. However, they happened to arrive after a mutated plague wiped out half the planet, turned the rest into shambling, near-unstoppable animals, and basically destroyed human civilization. You know—your standard apocalypse.

The Krakau's first impulse was to turn around and go home. (After all, it's hard to have diplomatic relations with mindless savages who eat your diplomats.) Their second impulse was to try to fix us. Now, a century later, human beings might not be what they once were, but at least they're no longer trying to eat everyone. Mostly.

Marion "Mops" Adamopoulos is surprisingly bright (for a human). As a Lieutenant on the Earth Mercenary Corps Ship Pufferfish, she's in charge of the Shipboard Hygiene and Sanitation team. When a bioweapon attack wipes out the Krakau command crew and reverts the rest of the humans to their feral state, only Mops and her team are left with their minds intact.

Escaping the attacking aliens—not to mention her shambling crewmates—is only the beginning. Sure, Mops and her team of space janitors and plumbers can clean the ship as well as anyone, but flying the damn thing is another matter.

As they struggle to keep the Pufferfish functioning and find a cure for their crew, they stumble onto a conspiracy that could threaten the entire alliance… a conspiracy born from the truth of what happened on Earth all those years ago.

Jim C. Hines has proven himself a master of humorous fantasy with his Jig the Goblin novels, and has turned the usual fantasy tropes sideways and upside down with his Princess and his Magic Ex Libris series. With Terminal Alliance, the debut novel in his humorous military science fiction series, Jim takes us into a brand-new universe of entertainment certain to appeal to fans of both Douglas Adams and Terry Pratchett.

This next novel was shortlisted for a Gemmell award and I desperately want to read it: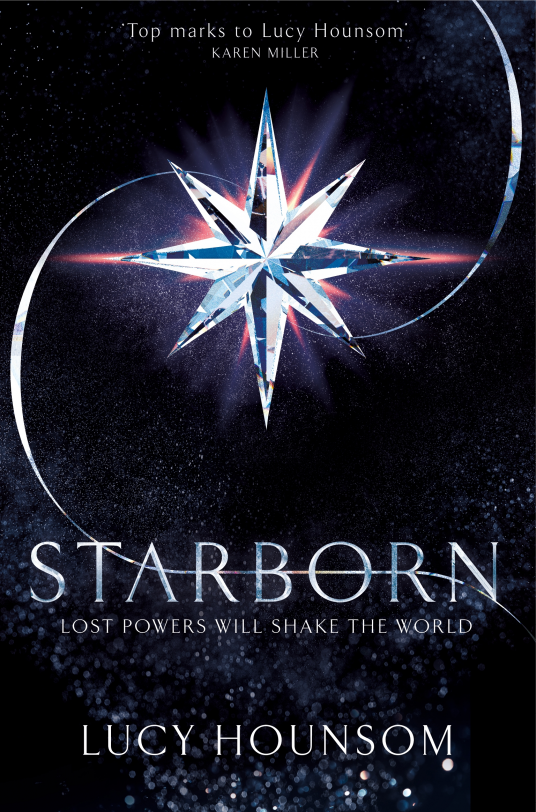 Shortlisted for the 2016 David Gemmell Morningstar Award for Best Debut

Death and destruction will bar her way. . . Kyndra's fate holds betrayal and salvation, but the journey starts in her small village. On the day she comes of age, she accidentally disrupts an ancient ceremony, ending centuries of tradition. So when an unnatural storm targets her superstitious community, Kyndra is blamed. She fears for her life until two strangers save her, by wielding powers not seen for an age – powers fuelled by the sun and the moon. Together, they flee to the hidden citadel of Naris. And here, Kyndra experiences disturbing visions of the past, showing war and one man's terrifying response. She'll learn more in the city's subterranean chambers, amongst fanatics and rebels. But first Kyndra will be brutally tested in a bid to unlock her own magic. If she survives the ordeal, she'll discover a force greater than she could ever have imagined. But could it create as well as destroy? And can she control it, to right an ancient wrong?

With George R. R. Martin's Game of Thrones now a huge TV success, fantasy fiction has never been more popular. And these books are traditional fantasy at its very best.

And last but not least, a new seed ship/generational ship novel–want: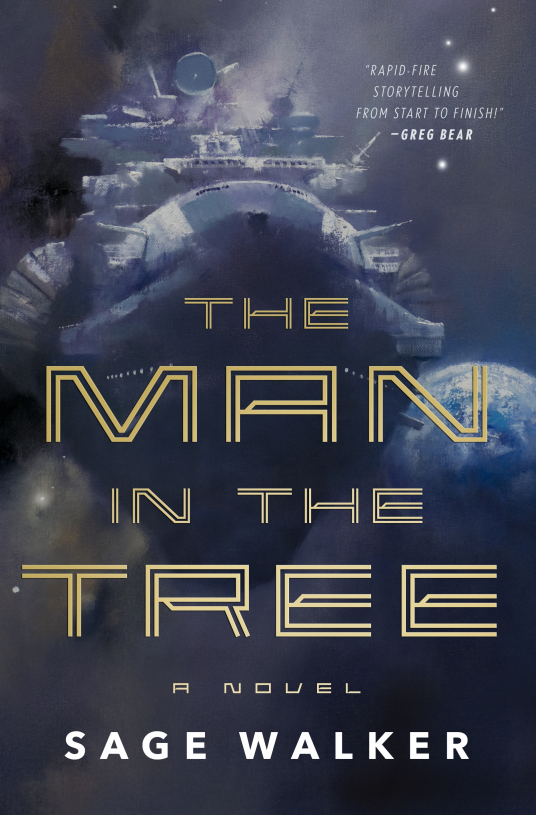 Humanity's last hope of survival lies in space…but will a random death doom the venture?

Our planet is dying and the world's remaining nations have pooled their resources to build a seed ship that will carry colonists on a multi-generational journey to a distant planet.

Everything is set for a bright adventure…and then someone is found hanging dead just weeks before the launch. Fear and paranoia spread as the death begins to look more and more like a murder. The authorities want the case settled quickly and quietly so as not to cause panic…and to prevent a murderer from sabotaging the entire mission.

With The Man in the Tree, Locus Award-winning author Sage Walker has given us a thrilling hard science fiction mystery that explores the intersection of law, justice, and human nature.

"Rapid-fire storytelling from start to finish!"—Greg Bear

And that's it from us! What books do you have on YOUR radar?