"On The Smugglers' Radar" is a feature for books that have caught our eye: books we have heard of via other bloggers, directly from publishers, and/or from our regular incursions into the Amazon jungle. Thus, the Smugglers' Radar was born. Because we want far more books than we can possibly buy or review (what else is new?), we thought we would make the Smugglers' Radar into a weekly feature – so YOU can tell us which books you have on your radar as well!
On Ana's Radar:
A Tangle of Knots is an upcoming MG novel that sounds really good – plus it draws comparisons to When You Reach Me: SOLD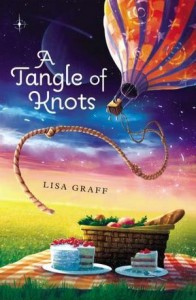 Savvy meets When You Reach Me in this intricately woven, magical tale

Told from multiple viewpoints, A Tangle of Knots is a magnificent puzzle. In a slightly magical world where everyone has a Talent, eleven-year-old Cady is an orphan with a phenomenal Talent for cake baking. But little does she know that fate has set her on a journey from the moment she was born. And her destiny leads her to a mysterious address that houses a lost luggage emporium, an old recipe, a family of children searching for their own Talents, and a Talent Thief who will alter her life forever. However, these encounters hold the key to Cady's mysterious past and how she became an orphan. If she's lucky, fate may reunite her with her long-lost father.
Lisa Graff adds a pinch of magic to a sharply crafted plot to create a novel that will have readers wondering about fate and the way we're all connected.

Breath, the fourth and final book in Jackie Morse Kessle's
Riders of the Apocalypse series has a cover!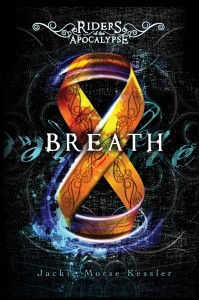 Contrary to popular belief, the Four Horsemen of the Apocalypse aren't just harbingers of doom—they actually keep life in balance. But what happens when their leader and creator, Death, becomes suicidal?

Before the first living thing drew its first gasping breath, he was there. He has watched humanity for millennia. And he has finally decided that humanity is not worth the price he has paid time and again. When Death himself gives up on life, a teenager named Xander Atwood is the world's only hope. But Xander bears a secret, one that may bring about the end of everything.

This heart-pounding final installment of the Riders of the Apocalypse series looks at the value of life, the strength of love, and how a small voice can change everything . . . forever.

I am adding this here purely because I WANT to read a book set in the Belle Epoque but I think this blurb is super confusing (or is that just me?).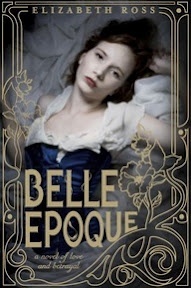 When Maude Pichon runs away from provincial Brittany to Paris, her romantic dreams vanish as quickly as her savings. Desperate for work, she answers an unusual ad. The Durandeau Agency provides its clients with a unique service—the beauty foil. Hire a plain friend and become instantly more attractive.

Monsieur Durandeau has made a fortune from wealthy socialites, and when the Countess Dubern needs a companion for her headstrong daughter, Isabelle, Maude is deemed the perfect foil.

But Isabelle has no idea her new "friend" is the hired help, and Maude's very existence among the aristocracy hinges on her keeping the truth a secret. Yet the more she learns about Isabelle, the more her loyalty is tested. And the longer her deception continues, the more she has to lose.

The Menagerie sounds like it could be the start of a great MG trilogy…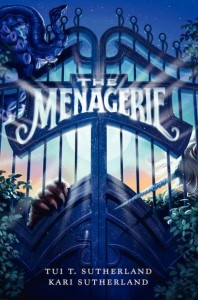 CASE PROFILE: HIGHLY CONFIDENTIAL
• Lost: Six griffin cubs from the Menagerie in Xanadu, Wyoming
• Method of escape: unknown
• Current data: Zoe Kahn claims to have locked the gate to the griffin cage the night before (unconfirmed)
• Emergency level: HIGH. If the Society for the Protection of SuperNatural Animals learns of the situation, the Xanadu branch will be permanently shut down.

Logan Wilde is in for the shock of a lifetime when he finds a baby griffin hiding under his bed, and it leads him straight to the door of his weird classmate, Zoe Kahn. Turns out Zoe's family are the guardians of a top-secret menagerie filled with unicorns, dragons, phoenixes, and more. Even though it breaks every rule in the book, Zoe agrees to let Logan help her track down the missing griffins. But with each cub they find, the real mystery remains: Is someone trying to sabotage the Menagerie? Who let the griffins out…and why?

The Menagerie is the first in an irresistible middle-grade trilogy that combines the magic of Fablehaven with the adventure of the Genius Files and an animal hook worthy of Carl Hiaasen. The page-turning mystery, pitch-perfect tween voice, and realistic setting with a twist are sure to delight-and the lingering questions will leave readers eager for more.

OH MY GOOOOOOOOOD. Look at this awesome cover for this upcoming Orbit title! Also: SUPERHEROES.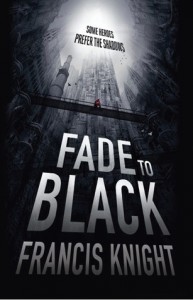 From the depths of a valley rises the city of Mahala.

It's a city built upwards, not across – where streets are built upon streets, buildings upon buildings. A city that the Ministry rules from the sunlit summit, and where the forsaken lurk in the darkness of Under.

Rojan Dizon doesn't mind staying in the shadows, because he's got things to hide. Things like being a pain-mage, with the forbidden power to draw magic from pain. But he can't hide for ever.

Because when Rojan stumbles upon the secrets lurking in the depths of the Pit, the fate of Mahala will depend on him using his magic. And unlucky for Rojan – this is going to hurt.

On Thea's Radar:
First, I would like to echo Ana's excitement for Fade to Black. Second, I received this book in the mail today, and it sounds pretty good – although apparently it is book 3 in an ongoing series (behind Velva Jean Learns to Drive & Velva Jean Learns to Fly). I wonder if I have to read the first two books to get into this one…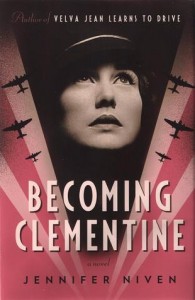 Summer 1944. Paris. A secret mission. A dangerous passion. A spellbinding story you will never forget.

After delivering a B-17 Flying Fortress to Britain, an American volunteers to copilot a plane carrying special agents to their drop spot over Normandy. Her personal mission: to find her brother, who is missing in action. Their plane is shot down, and only she and five agents survive. Now they are on the run for their lives.

As they head to Paris, the beautiful aviatrix Velva Jean Hart becomes Clementine Roux, a daring woman on a mission with her team to capture an operative known only as "Swan." Once settled on Rue de la Néva, Clementine works as a spy with the Resistance and finds herself falling in love with her fellow agent, Émile, a handsome and mysterious Frenchman with secrets of his own. When Clementine ends up in the most brutal prison in Paris, trying to help Émile and the team rescue Swan, she discovers the depths of human cruelty, the triumph of her own spirit, and the bravery of her team, who will stop at nothing to carry out their mission.

Niven is the author of the popular Velva Jean novels, including Velva Jean Learns to Drive and Velva Jean Learns to Fly.

This is going to sound weird, but I got this book in the mail, and I wasn't very interested based on the cover alone. But my kitten, Rambo, has latched onto this book for whatever reason. Seriously. It is a permanent fixture in her little kitten bed – I might have to steal it back from her and see what all the fuss is about.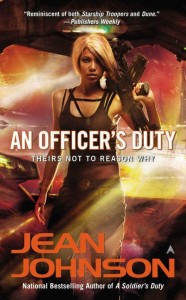 Jean Johnson—the national bestselling author of the Sons of Destiny novels—returns to the world she introduced in A Soldier's Duty with a terrible vision of the future…

Promoted in the field for courage and leadership under fire, Ia is now poised to become an officer in the Space Force Navy—once she undertakes her Academy training. But on a trip back home to Sanctuary, she finds the heavyworld colony being torn apart by religious conflict. Now Ia must prepare her family and followers to secure the galaxy's survival. Her plan is to command a Blockade Patrol ship. Her goal, to save as many lives as she can. But at the Academy, she discovers an unexpected challenge: the one man who could disrupt those plans. The man whose future she cannot foresee…

Recently, we were offered this book for review – naturally, Japanese horror fan that I am, I accepted with alacrity.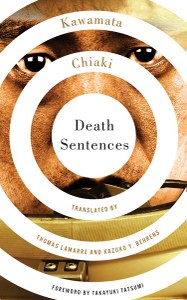 Japanese science fiction meets the European avant-garde—available for the first time in English

Death Sentences is the first novel by the popular and critically acclaimed science fiction author Kawamata Chiaki to be published in English. With echoes of such classic sci-fi works as George Orwell's 1984, Ray Bradbury's Fahrenheit 451, William Gibson's Neuromancer, and Philip K. Dick's Martian Time-Slip, Death Sentences is a fascinating mind-bender with a style all its own.

This next novel caught my eye with its striking cover and title – the subject material is sensitive (the aftermath of a tsunami), but if handled the right way, could be a harrowing novel, heavy-handed marketing blurb aside.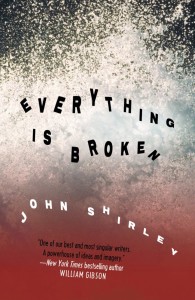 Twenty-year-old Russ arrives in the northern California town of Freedom to visit his dad. Freedom has peculiarities other than its odd name: the local mayor"s ideas of "decentralization" have left it without normal connections to state or federal government and minimal public services. Russ meets an interesting young woman, Pendra, but before he can get to know much about Freedom or its people, a savage tsunami strikes the West Coast. The wave of human brutality that soon hits the isolated town proves more dangerous to the survivors than the natural disaster. Russ, his father, Pendra, and the other townsfolk must tap all their courage and ingenuity – and find strength they never knew they had – if they have any hope of living to find real freedom!

I really, really love the covers of these books – and I now realize that I need to pick up Vacation (the first book in this series) soon.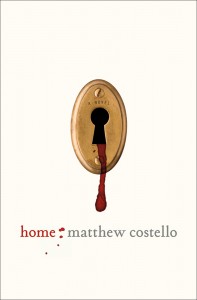 esieged and attacked, a mother and her children must escape a post-apocalyptic nightmare world of cannibals and betrayal

Jack Murphy thought he'd found the perfect escape for his family from a world gone horribly mad. He thought wrong. Matthew Costello's Home begins mere minutes after the terrible sacrifice made by Jack to save his family at Paterville Camp. Barely escaping, Jack's wife, Christie, and two children, Kate and Simon, must accept that their lives and their future have changed forever.

In this intimate and human survivalist horror story, the three of them will face even greater dangers, as well as yet-unknown horrors, to simply stay alive as together they search for a road "home" in this intense and original postapocalyptic thriller.

I also received this book in the mail, and I am beyond excited to give this a read – charming, farcical novel that it seems to be!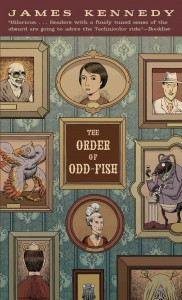 Jo Larouche has lived her thirteen years in the California desert with her Aunt Lily, a faded Hollywood starlet, ever since she found in Lily's laundry room with this note pinned to her blankets: This is Jo. Please take care of her. But beware. This is a DANGEROUS baby.

Up until this point, Jo has been, as Aunt Lily puts it, "as dangerous as a glass of milk." But all that's about to change. At Lily's annual Christmas costume party, several strange things happen: a boy in a hedgehog shoots an elderly Russian colonel; a talking cockroach is found tied up in the basement, moaning about how this will play in the tabloid press; and a box falls from the sky, addressed to Jo from "The Order of Odd-Fish."

Soon, worsening circumstances lead Jo and Lily out of California forever—and into the mysterious, strange, fantastical world of Eldritch City. There, Jo learns the scandalous truth about who she is, and she and Lily join the Order of Odd-Fish, a colorful collection of knights who research useless information. Glamorous cockroach butlers, impossible quests, obsolete weapons and bizarre festivals fill their days, but Jo's dream turns to nightmare when she learns that instead of a hero of Eldritch City, she may in fact become its destroyer. By the novel's wrenching climax, Jo comes to understand who she truly is—and what it means to call a city home.

Equal parts Monty Python and Roald Dahl, The Order of Odd-Fish is an entertaining and hilarious ride through a world that readers will not want to leave.

And that's it from us! What books do you have on YOUR radar?