Title: You Are So Undead To Me
Author: Stacey Jay
Genre: Young Adult, Speculative Fiction, Zombies, Romance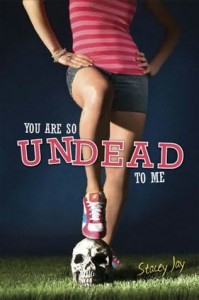 Publisher:Razorbill (Penguin)
Publication Date: January 2009
Paperback: 272 pages
Stand Alone or Series: Book 1 in a planned series.
Why did I read this book: I caught wind of this book from the wonderful Katiebabs of Babbling About Books, and was immediately interested in the premise (zombies, with the possibility of romance?!) and the blatantly cutesy title. So, when I saw this book on display in my local bookstore, I thought what the hey.
Summary: (from Amazon.com)
Megan Berry's social life is so dead. Literally.
Fifteen-year-old Megan is a Zombie Settler by birth, which means she's part-time shrink to a bunch of dead people with a whole lot of issues.
And things are about to get even worse. Someone at school is using black magic to turn average, angsty Undead into flesh-eating Zombies and it's up to Megan to stop the zombie apocalypse…
Review:
Megan, at first glance, seems like your typical fifteen year old – she's young, pretty, practically a shoe-in for a spot on the Pom Squad, and cute boys are finally beginning to notice her. In fact, she's getting ready for a big date with one of the hottest guys in school, when everything goes straight to hell. Megan was born with unique powers as a Zombie Settler; like all Settlers, she inherited her powers from a parent (in Megan's case, her mother). But, when Megan was only ten years old, she was viciously attacked by a reanimated corpse and barely escaped with her life. Since that night, Megan's powers hve gone dormant…until the eve of her big date, and a zombie is waiting on her doorstep. As a Settler, Megan is responsible for talking to the zombie, annotating its unfinished business, and then putting the dead to rest for good (hence, "settling" them). The only problem is, Megan is completely out of practice. Not to mention, she can't let anyone know about her family secret, and she totally wouldn't want her date to think she's some kind of creepy freak anyways. Luckily, the older, mysterious and completely gorgeous Ethan shows up to Megan's rescue and is assigned by Settlers' Affairs (the Zombie Settler governing body) to tutor Megan so she can brush up on her skills. Ethan was Megan's childhood crush – a crush that is reignited now, though Ethan frustratingly treats her like a kid sister. Unfortunately for Megan, her plans for a perfect year of high school come tumbling down when nasty, flesh-eating, malevolent zombies start to come after her and ravage the town. Something – or someone – sinister is behind the attacks, using black magic to commit horrendous acts, and Megan and Evan have to get to the bottom of the mystery before it is too late.
In general, I really enjoyed You Are So Undead To Me. The plotting was tightly paced, and I have to applaud Ms. Jay's original, fresh spin on zombie lore. Much like the ghosts in traditional supernatural tales, Jay's original zombies are inherently benign, simply wanting to settle unfinished business. Of course, what's a zombie novel without hunger for human flesh? Ms. Jay recognizes this essential element, and injects some serious nasty into her take on the shambling, sinew and gristle craving undead. I also loved her world of "Settlers" and their essential role in returning the dead to rest, and how easily things can go awry. There are some solid developments in terms of Megan and her powers, and I'm eager to see how this plays out in the next novel.
That said, I did take issue with a few aspects of the book. My biggest complaint has to be with the narrative voice. Understandably, Megan is a fifteen year old girl, and her maturity level reflects her age. I suppose it is natural that the biggest crisis in a fifteen year old's life is whether or not one will make it on the Pom Squad or score a hot date, which felt genuine enough (if a little superficial). However, what didn't come across as genuine was Megan's voice – many "OMG"s and "Like, totally"s were thrown in the mix, along with liberal use of exclamation points. It came across as an older author writing a teenager, and a tad bit condescending. I think Diana Peterfreund said it best on her blog – young adults are young adults. They are capable of dissertations on Nathaniel Hawthorne and William Golding, so they don't need things dumbed down. (To be fair, this is a pet peeve I have in many a young adult novel) I did like that despite Megan's initial selfish, superficiality, she shows a lot of guts and substance later in the book as her responsibilities mount.
The romantic aspect of the novel is cute, if somewhat dramatic. Ethan and Megan's interactions are sweet, and I did enjoy reading some of their more zombie-ass-kicking encounters. As for the other characters, there's the obligatory cheerleading bitch with a vendetta – another zombie settler, as luck would have it – the best friend, and, naturally, a villain. The final revealing twist was nicely executed, and will easily satisfy readers. I'm eager to see where Megan and Ethan go next in book 2, Undead Much?
Notable Quotes/Parts: An excerpt from the first chapter:
My cell rang at ten till six. Jess was talking before I could even say hello.

"So what are you wearing, the dress or the butt jeans?" she asked, sounding nearly as breathless as I felt.

This was it: the first night of the rest of my life, the beginning of my social ascension at Carol High School. Pom squad try-outs were a couple of weeks away, but it looked like I was going to be accepted into the ranks of the trendy and gorgeous even before I was issued my official Cougar Pride dance team uniform.

I'd scored a date with the hottest guy in school over a Bunsen burner in junior chem. I was a year ahead and Mr. Hottie a year behind, but it was clearly fate–and not smarts or a lack thereof–that had made us lab partners.

"The dress," I said, taking one final spin in front of my mirror. "The one with the yellow and brown flowers."

"Yellow and brown? I thought they were red."

"Nope. Remember, it's the one we got at–"

"Take a picture and send it to my email," she said. "The stepmonster is still borrowing my phone until hers is fixed, but I'm online and–"

The doorbell rang and I did my best to stifle a squeal of excitement. "He's here!" Josh Pickle–lame last name, but trust me, he's studly enough to pull it off–was really here to pick me, Megan Berry, only marginally cool sophomore, up for a date!

"Okay, go! But IM as soon as you get home. I want to hear everything!"

"Will do. Bye," I said, already halfway to the front door. I had to get there before my parents. Dad was wearing his weird "who flung poo?" monkey pajama pants and could not be allowed to interact with anyone. Therefore, I could not afford to play it cool and make my senior sex god wait at least a few seconds so it didn't seem like I'd raced to the door like a total loser.

But whatever, Josh had to know I was into him. It's not like I was very good at hiding my feelings where he was concerned and he'd still asked me out.

"Right. Deep breath," I whispered, my biggest smile on my face before I'd even opened the door. "Hey, give me just a sec and–"

Oh. My. God. There was a dead person on my porch.

Again.

My flesh crawled and my stomach threatened a second showing of the seven-layer salad we'd had for dinner.

"Mom!" I screamed, barely able to force out the word through the massive, softball-sized lump in my throat. I slammed the door in the guy's face, and fumbled with the lock, doing my best not to hyperventilate.

This could not be happening! Josh was supposed to be ringing my doorbell, not some dead guy.

It was a guy right?

I opened the door just a crack. Yep. Definitely a dude. The shoulder length hair had thrown me for a second. The fact that his face was half covered in grave dirt–eww!–didn't help things either. At least he hadn't decomposed…much. He must be a fairly recent member of the Unsettled.

"What is it, Megan? Dad and I were right in the middle of–Oh my god!" Mom spied the dead guy and jumped about a foot in the air, then turned and raced back into the kitchen. She emerged seconds later with a bunch of newspapers and began spreading them on the floor near the front door.

Deja vu hit like a ton of bricks. It was suddenly as if the past five years hadn't happened, as if I hadn't been zombie-free and normal long enough to lull me into thinking that freedom was permanent. Even with the creepy dreams I'd been having lately, I'd never thought my powers were coming back. After the attack, my entire family had assumed I was done with Settling the Dead.

But the guy on the porch, the newspaper on the floor to catch the dirt… God, it was so horribly familiar I expected to look down and find myself wearing the Hello Kitty pajamas I so loved when I was ten.

"Invite him in, Megan. I'll go get the record book. I'm sure I stuck it somewhere in the walk-in." My mom brushed her long brown hair out of her eyes and shot me an excited smile. She was excited about this! Excited I was once again one of the freakiest kids in the Midwest.

"No way, Mom. Josh could be here any second. I'm not going to do this tonight!" Or any night if I had my say about it, but no need to go there just yet. I knew my mom considered our family's legacy as Settlers of the Dead something wonderful, a vital paranormal service to those recently troubled in death and blah blah blah.

"Megan Amanda Berry. You invite that boy in. Now. That is a person out there, a person in need of your help, and–"

"I know it's a person mom, but it's a dead person. His life is already over. Mine doesn't have to be."

"Megan–"

"Seriously, my life will be over if Josh shows up for our first date and sees a corpse in the entryway." I used my most reasonable tone, and willed her with wide brown eyes to take pity on me in my moment of desperation. I mean, couldn't she understand the position I was in? Everyone felt sorry for the kid in The Sixth Sense, and he was the only one who could see the dead people. Creepy, yes, but at least he didn't have to worry about a zombie tailing him to softball practice and scaring half the population of Carol, Arkansas.

"Well then, you'd better hurry and take his statement before Josh gets here." She disappeared into the kitchen, no doubt on her way to her and Dad's room to look for the Book of Unsettled Records. I'd thought I was done with that thing after what happened, after that night—-

Even with the humid air streaming into the house, I shivered. I didn't want to think about that night. Not now. Not ever. The dreams were bad enough.
Additional Thoughts: Book 2, Undead Much? is out January 2010 and has the following cover: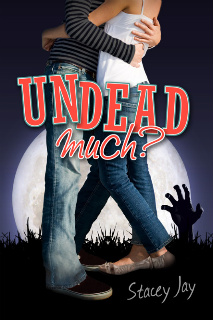 Here's the blurb, from Stacey Jay's website.
Even Zombie Settlers with Super Hot Boyfriends get the Blues…

A few months ago I was a normal girl with a normal life. But that was before my power to Settle the Undead returned and someone tried to kill me with zombies.

Now I work magic and practice kicking butt while trying to find time for pom squad and my boyfriend, Ethan, and trying NOT to think about how freaky my life has become. It can be tough. Still…things could be worse…

Oh yeah, right:
1. Feral new super-strong zombies. Check.
2. Undead psychic hottie predicting a zombie apocolypse. Check.
3. Earth-shattering secrets that could land me in Settler prison for life. Check.
4. Cheerleader vs. pom squad turf war threatening the end of the half time as we know it. Check.

I'm going to need therapy (and a cookie) if I live through the week. Unfortunately I'm learning that's not something Zombie Queens can take for granted.
And you can check out an excerpt HERE.
Verdict: Lighthearted, enjoyable novel with an intriguing new spin on zombies and magic, with a cute romance to boot.
Rating: 6 Good
Reading Next: Night's Rose by Annaliese Evans