I am supposed to be writing a Stash post right now but you see, Thea is NOT here.
What is it that they say again? "When the cat's away the mice will play"? I really feel like rambling about assorted things instead of writing a cohesive post about upcoming stuff. I don't feel cohesive at all. And I blame it on Thea.
She LEFT. For 3 WEEKS. To visit family in a land far, far away and 8 hours ahead of me, which makes her pretty unavailable to talk to me and since we usually exchange thousands of emails every day talking about important stuff like books, and blogging, now I have all of this free time and I don't know what to do with it!
"Why don't you read any of the gazillion books that you have", you may ask me? I DON'T KNOW. There is something wrong with me. I haven't read a single page this week. That is unusual. I usually read at least 3 books per week. Plus I have tons of books that I HAVE to read and I can't open a single one of them. I have been carrying around this one: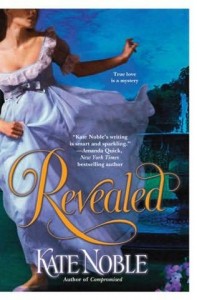 in my bag for days and I didn't read a single line yet. To be fair, I don't know if this is Thea's fault or Julie James' for writing such a good book that now everything I read afterwards pales in comparison. I think I am going with Thea's fault since this seems to be theme of the post. HOW exactly this is her fault, I have no clue. But I am sure it is.
So instead of reading and emailing, I have been occupying my time with other stuff like wandering from room to room like a lost soul in an old manor house. Or watching weird yet addictive TV Shows like Important Things With Demetri Martin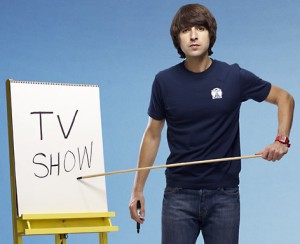 I have yet to ascertain if the show is crap or brilliant. I will keep you posted. Or glued to the TV to know what happens next in the Jon Stewart- Jim Cramer War of Words. I don't even live in America but hell if I don't think Jon is awesome.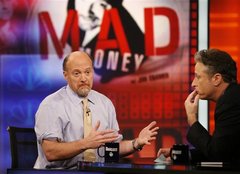 I also twitted a lot this week. Something that I don't usually do, because let's face it: addictive much? I found out we are close to having 500 followers! WOW. That's a lot isn't it? I also found that Joss Whedon and Neil Gaiman twit and immediately started following them! Another thing I found out, we got 4 "Your Blog is Fabulous" Awards from some pretty fabulous blogs out there for which I am so thankful and honoured– and although I had to squee all by myself, I am sure Thea will be super happy when she hears of this. I will soon pass the award ahead.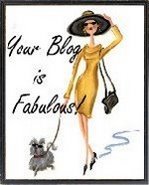 We also won a Premio Dardo award from Tracy. I felt super great about this, because Premio Dardo is a pretty cool award for bloggers and one that has been around everywhere. Plus, Tracy is a sweetheart!!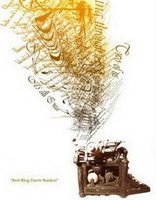 The award "Dardos" appreciates the merits – culturally, literary and individually- of every blogger who expresses him/herself on his/her blog
But the thing took a direction no one could have predicted. CJ from the Thrillionth Page was awarded the same prize from Tracy and she wrote a funny post about it, investigating the origins of the prize, wondering about its name etc. I always wondered about it myself you see. Because Premio and Dardo are Portuguese (my mother tongue) words (they can also be Spanish though) and they mean Prize and Dart respectively. I told CJ this, and decided to do a bit of investigating myself. I googled Premio Dardos (in Portuguese) and found this Yahoo Post column by Alexandre Inagaki who is editor of a big blog in Brazil (he won an International prize called The Bobs promoted by the German site Deutsche Welle em 2007) who wrote a piece about "Blog Prizes" back in February.
In his piece, he talks about prizes and how bloggers love to get and to give them away and how they sometimes resemble those pyramids schemes. One such prize is the Premio Dardo. According to him the fact that you need to give the prize to not less than 15 bloggers makes the prize sort of meaningless and the thing has been translated to English, Italian, Portuguese, Spanish and German. Also according to him the creator of the prize is Spanish Writer Alberto Zambade who owns the blog Leyendas de el pequeno Dardo – Dardo being his nickname. In Feb 15 2008, he published the "I Entrega de Premios Dardo 2008 Best Blog Darts thinker" …. That is an awesome bit of investigating if I may say so myself…but to know more about it , you need to go to CJ's blog and read her second entry about our CSI: Premio Dardo.
I also found out that there are some books that I most positively need to have or DIE.
Like this one for example: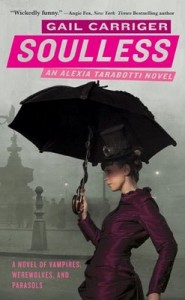 "Soulless" by Gail Carriger. US Release Date: October 2009. Alexia Tarabotti is laboring under a great many social tribulations. First, she has no soul. Second, she's a spinster whose father is both Italian and dead. Third, she is being rudely attacked by a vampire to whom she has not been properly introduced!
Where to go from there? From bad to worse apparently, for Alexia accidentally kills the vampire, and the appalling Lord Maccon (loud, messy, gorgeous, and werewolf) is sent by Queen Victoria to investigate. With unexpected vampires appearing and expected vampires disappearing, everyone seems to believe Alexia responsible.
Can she figure out what is actually happening to London's high society? Will her soulless ability to negate supernatural powers prove useful or just plain embarrassing? And who is the real enemy . . . and do they have treacle tart?
"Soulless" is a comedy of manners set in Victorian London full of werewolves, vampires, dirigibles, and tea-drinking…
Found on Fantasy Book Critic's Blog.
Or this one: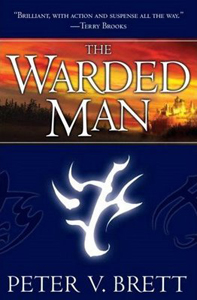 Which every single Fantasy blog seems to be reviewing these days. Aidan loves it. John does too. And DarkWolf and of course, Graeme. . Needless to say: I WANT it. Now, you want to know how long Amazon.UK wants me to wait for it? 1-2 months. *gasps*
And then you have Angie obsessing about these three books and making me literally dream about them. The Thief, The Queen of Attolia and The King of Attolia.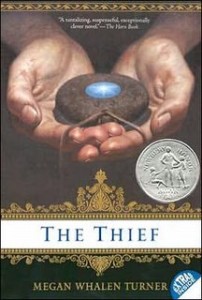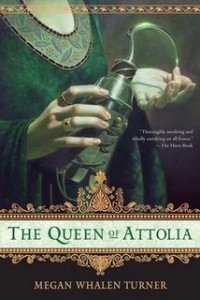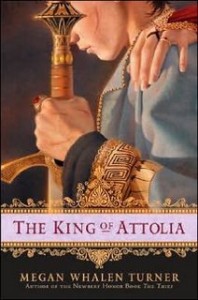 So, this is what happens in a week when I am left to my own devices: I tend to wander, ramble, exaggerate, not to talk about the things I am supposed to (like the review of Smooth Talking Strange by Lisa Kleypas I will post this week, or the review of Forest of Hands of Teeth by Carrie Ryan that Thea will post on Thursday) and to plot about the things that I will be doing for the next two weeks.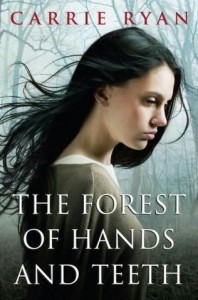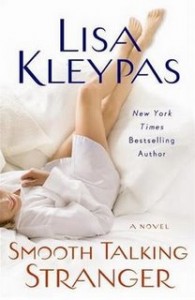 One thing is for certain: this place is so not the same without Thea.