"On The Smugglers' Radar" is a feature for books that have caught our eye: books we have heard of via other bloggers, directly from publishers, and/or from our regular incursions into the Amazon jungle. Thus, the Smugglers' Radar was born. Because we want far more books than we can possibly buy or review (what else is new?), we thought we would make the Smugglers' Radar into a weekly feature – so YOU can tell us which books you have on your radar as well!
On Ana's Radar:
From the series TOR.COM COVERS ARE SO PRETTY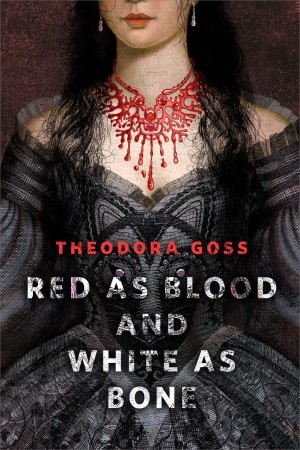 Foz Meadows has a new novel coming out and the cover is amaze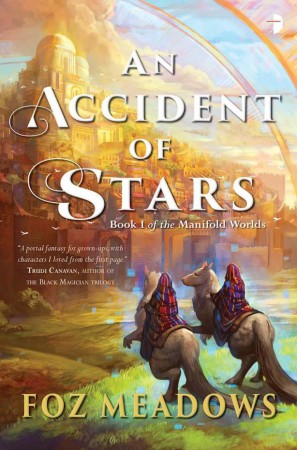 When Saffron Coulter stumbles through a hole in reality, she finds herself trapped in Kena, a magical realm on the brink of civil war.

There, her fate becomes intertwined with that of three very different women: Zech, the fast-thinking acolyte of a cunning, powerful exile; Viya, the spoiled, runaway consort of the empire-building ruler, Vex Leoden; and Gwen, an Earth-born worldwalker whose greatest regret is putting Leoden on the throne. But Leoden has allies, too, chief among them the Vex'Mara Kadeja, a dangerous ex-priestess who shares his dreams of conquest.

Pursued by Leoden and aided by the Shavaktiin, a secretive order of storytellers and mystics, the rebels flee to Veksh, a neighboring matriarchy ruled by the fearsome Council of Queens. Saffron is out of her world and out of her depth, but the further she travels, the more she finds herself bound to her friends with ties of blood and magic.

Can one girl—an accidental worldwalker—really be the key to saving Kena? Or will she just die trying?

I received a UK copy of Sleeping Giants in the post this week: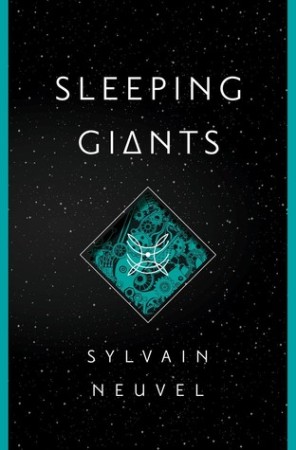 A GIRL NAMED ROSE IS RIDING HER NEW BIKE NEAR HER HOME IN DEADWOOD, South Dakota, when she falls through the earth. She wakes up at the bottom of a square-shaped hole, its walls glowing with intricate carvings. But the firemen who come to save her peer down upon something even stranger: a little girl in the palm of a giant metal hand.

Seventeen years later, the mystery of the bizarre artifact remains unsolved – the object's origins, architects, and purpose unknown.

But some can never stop searching for answers.

Rose Franklin is now a highly trained physicist leading a top-secret team to crack the hand's code. And along with her colleagues, she is being interviewed by a nameless interrogator whose power and purview are as enigmatic as the relic they seek. What's clear is that Rose and her compatriots are on the edge of unravelling history's most perplexing discovery-and finally figuring out what it portends for humanity. But once the pieces of the puzzle are in place, will the result be an instrument of lasting peace or a weapon of mass destruction?

Wintersong does not have a cover yet BUT it's a Labyrinth retelling so it should be here on our radar, your radar, everybody's radar:
All her life, nineteen-year-old Liesl has heard tales of the beautiful, mysterious Goblin King. He is the Lord of Mischief, the Ruler Underground, and the muse around which her music is composed. Yet, as Liesl helps shoulder the burden of running her family's inn, her dreams of composition and childish fancies about the Goblin King must be set aside in favor of more practical concerns.

But when her sister Käthe is taken by the goblins, Liesl journeys to their realm to rescue her sister and return her to the world above. The Goblin King agrees to let Käthe go—for a price. The life of a maiden must be given to the land, in accordance with the old laws. A life for a life, he says. Without sacrifice, nothing good can grow. Without death, there can be no rebirth. In exchange for her sister's freedom, Liesl offers her hand in marriage to the Goblin King. He accepts.

Down in the Underground, Liesl discovers that the Goblin King still inspires her—musically, physically, emotionally. Yet even as her talent blossoms, Liesl's life is slowly fading away, the price she paid for becoming the Goblin King's bride. As the two of them grow closer, they must learn just what it is they are each willing to sacrifice: her life, her music, or the end of the world.

Another book I received this week is Dissension which is billed as "LGBTQ sci-fi dystopia of your dreams". I can't wait to read it actually!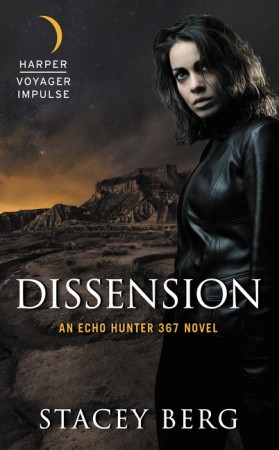 For four hundred years, the Church has led the remnants of humanity as they struggle for survival in the last inhabited city. Echo Hunter 367 is exactly what the Church created her to be: loyal, obedient, lethal. A clone who shouldn't care about anything but her duty. Who shouldn't be able to.

When rebellious citizens challenge the Church's authority, it is Echo's duty to hunt them down before civil war can tumble the city back into the dark. But Echo hides a deadly secret: doubt. And when Echo's mission leads her to Lia, a rebel leader who has a secret of her own, Echo is forced to face that doubt. For Lia holds the key to the city's survival, and Echo must choose between the woman she loves and the purpose she was born to fulfill.

On Thea's Radar:
A new forthcoming novel from Philip Reeve! Cyborgs! Want!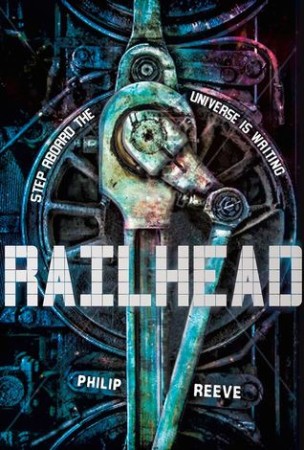 The Great Network is an ancient web of routes and gates, where sentient trains can take you anywhere in the galaxy in the blink of an eye. Zen Starling is a nobody. A petty thief from the filthy streets of Thunder City who aimlessly rides the rails of the Network. So when the mysterious stranger Raven offers Zen a chance to escape the squalor of the city and live the rest of his days in luxury, Zen can't believe his luck. All he has to do is steal one small box from the Emperor's train with the help of Nova, an android girl. But the Great Network is a hazardous mess of twists and turns, and that little box just might bring everything in this galaxy — and the next — to the end of the line. The highly anticipated novel from Carnegie-medal-winning author Philip Reeve, Railhead is a fast, immersive, and heart-pounding ride perfect for any sci-fi fan. Step aboard — the universe is waiting.

Next up, a novella I received in the mail (yay!):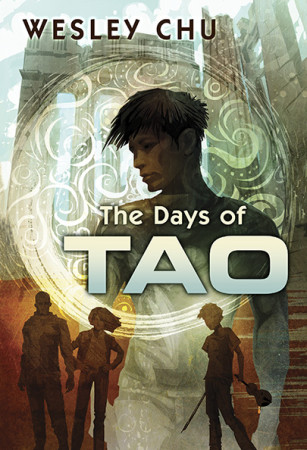 Cameron Tan wouldn't have even been in Greece if he hadn't gotten a 'D' in Art History.

Instead of spending the summer after college completing his training as a Prophus operative, he's doing a study abroad program in Greece, enjoying a normal life – spending time with friends and getting teased about his crush on a classmate.

Then the emergency notification comes in: a Prophus agent with vital information needs immediate extraction, and Cameron is the only agent on the ground, responsible for getting the other agent and data out of the country. The Prophus are relying on him to uncomplicate things.

Easy.

Easy, except the rival Genjix have declared all-out war against the Prophus, which means Greece is about to be a very dangerous place. And the agent isn't the only person relying on Cameron to get them safely out of the country – his friends from the study abroad program are, too. Cameron knows a good agent would leave them to fend for themselves. He also knows a good person wouldn't. Suddenly, things aren't easy at all.

The Days of Tao is the latest in the popular Tao series from award-winning author, Wesley Chu. Following after The Rebirths of Tao, this novella carries on the fast-moving and fun tone of the series.

Next, a new SF novel from Angry Robot that sounds strange, but promising: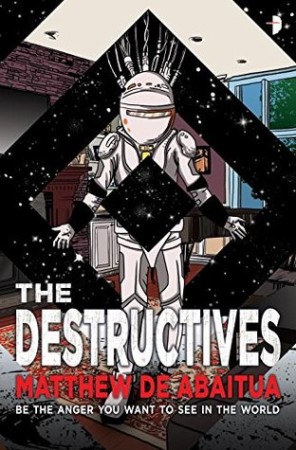 Theodore Drown is a destructive. A recovering addict to weirdcore, he's keeping his head down lecturing at the university of the moon. Twenty years after the appearance of the first artificial intelligence, and humanity is stuck. The AIs or, as they preferred to be called, emergences have left Earth and reside beyond the orbit of Mercury in a Stapledon Sphere known as the university of the sun. The emergences were our future but they chose exile. All except one.

Dr Easy remains, researching a single human life from beginning to end. Theodore's life. One day, Theodore is approached by freelance executive Patricia to investigate an archive of data retrieved from just before the appearance of the first emergence. The secret living in that archive will take him on an adventure through a stunted future of asylum malls, corporate bloodrooms and a secret off-world colony where Theodore must choose between creating a new future for humanity or staying true to his nature, and destroying it.

Next up, I recently finished and very much enjoyed Fran Wilde's Updraft–this novella from Tor.com sounds awesome (IN MINIATURE?!)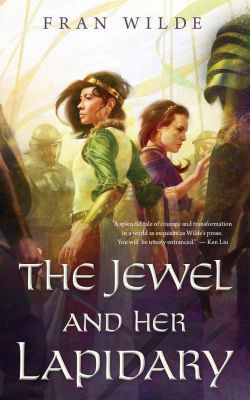 Buried beneath the layers of a traveler's guide is a hidden history: two kingdoms, powerful gems, and the even more powerful Lapidarys who bind them. Lin and Sima, caught in a web of intrigue and deceit, must find a way to escape the traps set by the past and save their kingdom.

An epic fantasy, in miniature.

And two more Fran Wilde covers–first, the MUCH better and more accurate cover for the trade paperback for Updraft…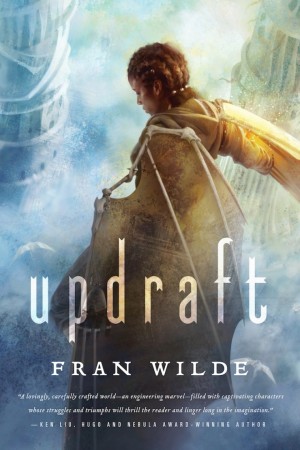 And the cover of the sequel coming out later this year, Cloudbound: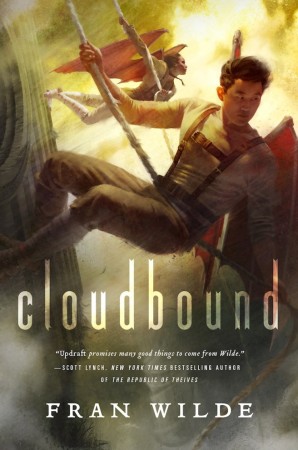 Last but not least, this Tor.com novella also sounds right up my alley: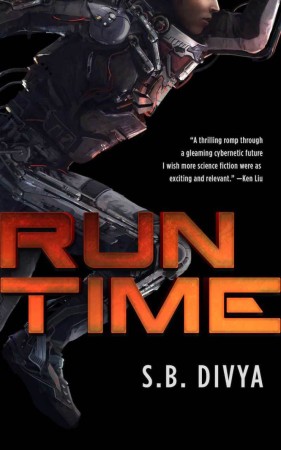 The Minerva Sierra Challenge is a grueling spectacle, the cyborg's Tour de France. Rich thrill-seekers with corporate sponsorships, extensive support teams, and top-of-the-line exoskeletal and internal augmentations pit themselves against the elements in a day-long race across the Sierra Nevada.

Marmeg Guinto doesn't have funding, and she doesn't have support. She cobbled her gear together from parts she found in rich people's dumpsters and spent the money her mother wanted her to use for nursing school to enter the race. But the race is the only chance she has at a better life for herself and her younger brothers, and she's ready to risk it all.

That's it from us! What books do you have on your radar?