"On The Smugglers' Radar" is a new feature for books that have caught our eye: books we have heard of via other bloggers, directly from publishers, and/or from our regular incursions into the Amazon jungle. Thus, the Smugglers' Radar was born. Because we want far more books than we can possibly buy or review (what else is new?), we thought we would make the Smugglers' Radar into a weekly feature – so YOU can tell us which books you have on your radar as well!
On Ana's Radar:
I like sound of this TU Books' published a few months back. The reviews look really promising too.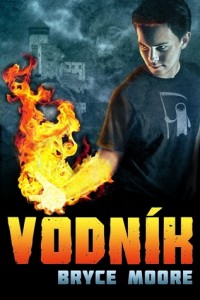 When Tomas was six, someone — something — tried to drown him. And burn him to a crisp. Tomas survived, but whatever was trying to kill him freaked out his parents enough to convince them to move from Slovakia to the United States.

Now sixteen-year-old Tomas and his family are back in Slovakia, and that something still lurks somewhere. Nearby. It wants to drown him again and put his soul in a teacup. And that's not all. There's also the fire víla, the water ghost, pitchfork-happy city folk, and Death herself who are after him.

If Tomas wants to survive, he'll have to embrace the meaning behind the Slovak proverb, So smr?ou ešte nik zmluvu neurobil. With Death, nobody makes a pact.

I have started to see loads of praise for Alif the Unseen – and from people I usually trust as well. Definitely interested now…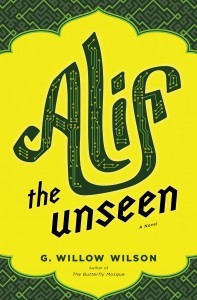 n an unnamed Middle Eastern security state, a young Arab-Indian hacker shields his clients–dissidents, outlaws, Islamists, and other watched groups–from surveillance and tries to stay out of trouble. He goes by Alif–the first letter of the Arabic alphabet, and a convenient handle to hide behind. The aristocratic woman Alif loves has jilted him for a prince chosen by her parents, and his computer has just been breached by the State's electronic security force, putting his clients and his own neck on the line. Then it turns out his lover's new fiance is the head of State security, and his henchmen come after Alif, driving him underground. When Alif discovers "The Thousand and One Days," the secret book of the jinn, which both he and the Hand suspect may unleash a new level of information technology, the stakes are raised and Alif must struggle for life or death, aided by forces seen and unseen. With shades of Neal Stephenson, Neil Gaiman, Philip Pullman, and "The Thousand and One Nights," "Alif the Unseen" is a tour de force debut–a sophisticated melting pot of ideas, philosophy, religion, technology and spirituality smuggled inside an irresistible page-turner.

After I reviewed HHhH by Laurent Binet, I got an email recommending this book: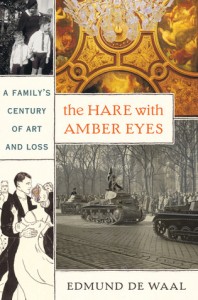 The Ephrussis were a grand banking family, as rich and respected as the Rothschilds, who "burned like a comet" in nineteenth-century Paris and Vienna society. Yet by the end of World War II, almost the only thing remaining of their vast empire was a collection of 264 wood and ivory carvings, none of them larger than a matchbox.

The renowned ceramicist Edmund de Waal became the fifth generation to inherit this small and exquisite collection of netsuke. Entranced by their beauty and mystery, he determined to trace the story of his family through the story of the collection.

The netsuke—drunken monks, almost-ripe plums, snarling tigers—were gathered by Charles Ephrussi at the height of the Parisian rage for all things Japanese. Charles had shunned the place set aside for him in the family business to make a study of art, and of beautiful living. An early supporter of the Impressionists, he appears, oddly formal in a top hat, in Renoir's Luncheon of the Boating Party. Marcel Proust studied Charles closely enough to use him as a model for the aesthete and lover Swann in Remembrance of Things Past.

Charles gave the carvings as a wedding gift to his cousin Viktor in Vienna; his children were allowed to play with one netsuke each while they watched their mother, the Baroness Emmy, dress for ball after ball. Her older daughter grew up to disdain fashionable society. Longing to write, she struck up a correspondence with Rilke, who encouraged her in her poetry.

The Anschluss changed their world beyond recognition. Ephrussi and his cosmopolitan family were imprisoned or scattered, and Hitler's theorist on the "Jewish question" appropriated their magnificent palace on the Ringstrasse. A library of priceless books and a collection of Old Master paintings were confiscated by the Nazis. But the netsuke were smuggled away by a loyal maid, Anna, and hidden in her straw mattress. Years after the war, she would find a way to return them to the family she'd served even in their exile.

In The Hare with Amber Eyes, Edmund de Waal unfolds the story of a remarkable family and a tumultuous century. Sweeping yet intimate, it is a highly original meditation on art, history, and family, as elegant and precise as the netsuke themselves.

This Angry Robot book sounds BRILLIANT and it has a Juliet Marillier bliurb too. SOLD.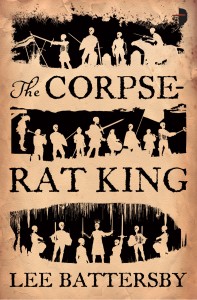 Marius don Hellespont and his apprentice, Gerd, are professional looters of battlefields. When they stumble upon the corpse of the King of Scorby and Gerd is killed, Marius is mistaken for the monarch by one of the dead soldiers and is transported down to the Kingdom of the Dead.

Just like the living citizens, the dead need a King — after all, the King is God's representative, and someone needs to remind God where they are.

And so it comes to pass that Marius is banished to the surface with one message: if he wants to recover his life he must find the dead a King. Which he fully intends to do.

Just as soon as he stops running away.

Whilst doing my Goodreads rounds, I came across this series (5th book just out) which sounds excellent: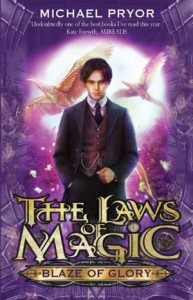 Best friends Aubrey and George begin their magical high jinks in this first book of the Laws of Magic series

At a weekend shooting party at Prince Albert's country estate, Aubrey and George find themselves in a hotbed of intrigue and politics. Together they discover a golem, a magical creature built to perform one task—to kill Prince Albert. Aubrey and George are hailed as heroes for foiling the attempt on the prince's life—but who sent the golem, and why? Aubrey is far too curious to let the authorities handle this one, and he and George start an investigation of their own to get to the bottom of the royal assassination attempt.

On Thea's Radar:
OH MY GOD. Jacqueline Carey has a new series. The new series has a cover. I am not crazy about the cover but I repeat: JACQUELINE CAREY HAS A NEW SERIES.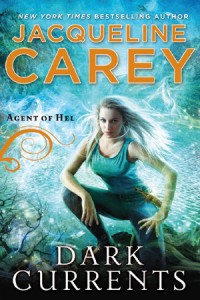 The Midwestern resort town of Pemkowet boasts a diverse population: eccentric locals, wealthy summer people, and tourists by the busload; not to mention fairies, sprites, vampires, naiads, ogres and a whole host of eldritch folk, presided over by Hel, a reclusive Norse goddess.

To Daisy Johanssen, fathered by an incubus and raised by a single mother, it's home. And as Hel's enforcer and the designated liaison to the Pemkowet Police Department, it's up to her to ensure relations between the mundane and eldritch communities run smoothly. But when a young man from a nearby college drowns—and signs point to eldritch involvement—the town's booming paranormal tourism trade is at stake. Teamed up with her childhood crush, Officer Cody Fairfax, a sexy werewolf on the down-low, Daisy must solve the crime—and keep a tight rein on the darker side of her nature. For if she's ever tempted to invoke her demonic birthright, it could accidentally unleash nothing less than Armageddon.

I just received a copy of this next title in the mail, and it sounds FASCINATING. I cannot wait to read it: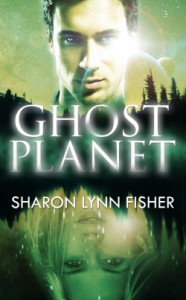 A world in peril. A bond deeper than love.

Psychologist Elizabeth Cole prepared for the worst when she accepted a job on a newly discovered world – a world where every colonist is tethered to an alien who manifests in the form of a dead loved one. But she never expected she'd struggle with the requirement to shun these "ghosts." She never expected to be so attracted to the charming Irishman assigned as her supervisor. And she certainly never expected to discover she died in a transport crash en route to the planet.

As a ghost, Elizabeth is symbiotically linked to her supervisor, Murphy – creator of the Ghost Protocol, which forbids him to acknowledge or interact with her. Confused and alone – oppressed by her ghost status and tormented by forbidden love – Elizabeth works to unlock the secrets of her own existence.

But her quest for answers lands her in a tug-of-war between powerful interests, and she soon finds herself a pawn in the struggle for control of the planet…a struggle that could separate her forever from the man she loves.

While I'm wary of anything that positions itself as Matched (ugh), The Hunger Games, X-Men, and Blade Runner (Matched aside, that's quite a list!), I know I'll be giving this book a try.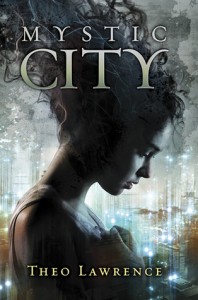 For fans of Matched, The Hunger Games, X-Men, and Blade Runner comes a tale of a magical city divided. A political rebellion ignited. A love that was meant to last forever.

Aria Rose, youngest scion of one of Mystic City's two ruling rival families, finds herself betrothed to Thomas Foster, the son of her parents' sworn enemies. The union of the two will end the generations-long political feud—and unite all those living in the Aeries, the privileged upper reaches of the city, against the banished mystics who dwell below in the Depths. But Aria doesn't remember falling in love with Thomas; in fact, she wakes one day with huge gaps in her memory. And she can't conceive why her parents would have agreed to unite with the Fosters in the first place. Only when Aria meets Hunter, a gorgeous rebel mystic from the Depths, does she start to have glimmers of recollection—and to understand that he holds the key to unlocking her past. The choices she makes can save or doom the city—including herself.

This next book is another one I just received in the mail and it sounds pretty awesome – I will be reading it soon.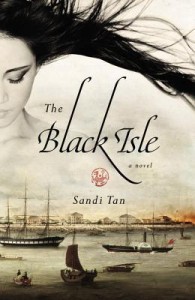 All my life, people have tried to erase me. I refuse to let them win.
I will tell my story. I will not become a ghost.

Uprooted from Shanghai with her father and twin brother Li, young Cassandra finds the Black Isle's bustling, immigrant-filled seaport, swampy jungle, and grand rubber plantations a sharp contrast to the city of her childhood. And she soon discovers something more: the Black Isle is home to a myriad of restless ghosts–ghosts that only she can see.

Haunted and lonely, Cassandra at first tries to ignore the apparitions that crouch in the corner of her bedroom, parade down the street, and hang from the ceiling fan at school. Yet despite her struggles with these spirits, Cassandra comes to love her troubled home. And soon, she attracts the notice of a dangerously charismatic man.

But as she grows into a fearless, strong young woman, the Isle's dark forces won't let her go. War is looming, and Cassandra wonders if her unique gift might be her beloved island's only chance for salvation . . .

Taking readers from the 1920s, through the Japanese occupation during WWII, to the island's radical transformation into a bustling cosmopolitan city, THE BLACK ISLE is a sweeping epic–a deeply imagined, fiercely original tale from a vibrant new voice in fiction.

This next novel caught my eye completely by surprise (by virtue of the gorgeous cover). A historical YA novel set in Spain – Guernica – on the eve of war, I think this is a title that both Ana and I are keen to read.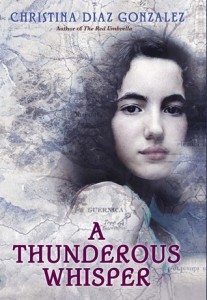 Ani believes she is just an insignificant whisper of a 12-year-old girl in a loud world. This is what her mother tells her anyway. Her father made her feel important, but he's been off fighting in Spain's Civil War, and his voice in her head is fading. Then she meets Mathias. His family has just moved to Guernica and he's as far from a whisper as a 14-year-old boy can be. Ani thinks Mathias is more like lightning. A boy of action. Mathias's father is part of a spy network and soon Ani finds herself helping him deliver messages to other members of the underground. She's actually making a difference in the world.

And then her world explodes. The sleepy little market town of Guernica is destroyed by Nazi bombers. In one afternoon Ani loses her city, her home, her mother. But in helping the other survivors, Ani gains a sense of her own strength. And she and Mathias make plans to fight back in their own unique way.

Finally, on the historical YA front, the second novel in Kathryn Miller Haines' Girl is Murder series is out! I think it's time Ana and I got moving on the first novel, then.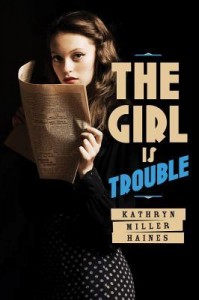 Iris Anderson and her father have finally come to an understanding. Iris is allowed to help out at her Pop's detective agency as long as she follows his rules and learns from his technique. But when Iris uncovers details about her mother's supposed suicide, suddenly Iris is thrown headfirst into her most intense and personal case yet.

And that's it from us! What books do you have on YOUR radar?